The Walukraville Godly Fantendo Death Trio, or Walukraville GFD Trio are a trio of insane gods who rule of the dystopian Fantendo society. Their combined efforts make up the Ybrikulaw.
Members
Neville, the Deathbringer
Main article:

Neville, the Deathbringer
Neville, the Deathbringer is a being that brings death. He is considered by some to be the most dangerous of all things living. It is said that staring into his smile will make your blood boil and your internal organs melt, which has been proven by over 7 million casualties attributed to this, which is approximately 0.0000000000000003% of his total kill count. It is impossible to defeat him unless you know how to cook Norwegian food, and it is also very rare to come across him.
Neville was born at the beginning of time to Mr. Bob Deathbringer and Mrs. Patrice Deathbringer in Bishkek, Kyrgyzstan. At an early age he displayed great interest in classical music and began to play the bassoon, resulting in him becoming the world's best bassoon player by the time dinosaurs began to walk. His favorite food was triceratops leg, something he now misses in the modern world.
After his parents met their doom to a famous warrior from Slovenia, he fled to Indonesia, where he learned to speak Indonesian Bahasa as well as his native tongue, Kyrgyz. He only knows these two languages. He gained education in the Philippine Islands where he was taught by the only person who could be beside him without dying - a blind paraplegic nun, named Maria Velarosa De La Cruz Dolores Santiago II. She taught him the ways of the ninja and how to eat. Because he loved to eat, he set out the world, looking for things to eat. In the now modern world, his favorite cuisine hails from Jamaica and Kiribati, and he has found that food made in Norway makes him sick. He later went on to get a job at Burger King, from where he got fired because of all the dead customers. This made him dislike Burger King and so he went on to find a hobby in chess, which he was the world champion for his opponents always died when trying to read his facial expression, of which there is only one.
Nowadays, he has a grande plan to destroy the country of Sweden because he doesn't like that place very much, and he spends his days watching the Pokémon anime. In a recent interview, he retorted that he enjoys watching a show where all the main cast have a combined IQ of 35. His favorite Pokémon is Girafarig. He currently resides somewhere in Nicaragua.
Kraf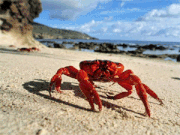 Walukirby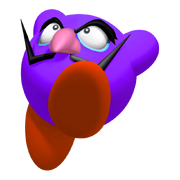 Walukirby is a godly purple popopo that is worshipped by some.  He stares into people's souls, and when they're fully paralysed, they're inhaled and digested.  He is generally fond of saying "WAAAAAA" (usually prolonging the "a" sound).  He shares a friendly rivalry with Neville the Deathbringer.  When the three work together to destroy something, Walukirby finishes it off by inhaling the body/pieces of the object and digesting them.