TO DO LIST:
Welcome!
TechnoTIGZ✪N#4307
---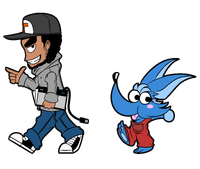 Greetings, stranger!
The name's "TechnoTIGZON" but you can call me "Tigzon", "Tigz", "Tiz", "Techno" or
"Tigzon the TigerStar"
, if you feel like it. I joined the wiki on June 26, 2014 and used to be known as ShonenSeth, PixelManga, and Tigzon the Tigerox. In real life, I'm just an English-speaking Emirati who loves many things; video games, drawings, anime, TV Shows, and music.
Currently working on a new webcomic project, a science-fiction action comedy I guess.
I don't usually do stuff for Fantendo at the moment, but if you like my stuff and wanna get be friends, feel free to leave a message.
---
Cool Friends!
---
My Stuff!
My Workshop - List of work-in-progress projects
My Art Gallery - List of original and fan artworks, WIPs, and unfishsed projects.
Archives - List of archives from deleted projects
---
Community content is available under
CC-BY-SA
unless otherwise noted.