YouTube Dream Team  Poll
Who's Smash Roster do you think is Better?
Havent' seen it yet? See here.
Goals
Make 50 Articles.
Make 100 Articles.
Make 200 Articles.
Make 500 Articles.
Make 1,000 Articles.
Make 5,000 Articles
Make 100,000 Articles.

Be popular on Fantendo.
Have a Fantendo Anniversary for me.
Make a Gaming Company.
Have Someone other than me Join the Gaming Company.

Have a Featured Article.
Have a Popular Game Series that I Created Originally
Make a game with someone.
Current Projects
Super Mario 3D Adventure
Sonic Time
Pokemon of the Month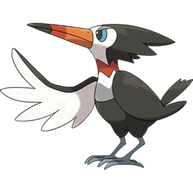 By bending its beak, it can produce a variety of calls and brand itself a noisy nuisance for its neighbors. It eats berries and stores their seeds in its beak. When it encounters enemies or prey, it fires off all the seeds in a burst.

For more, see here
Past Poll of the Months
Community content is available under
CC-BY-SA
unless otherwise noted.