Talk to DK!
Archives: User:Dk64rules/Talk Archive and User:Dk64rules/Talk Archive 2
DK do you seriously think that article is good? I never delete tagged it just because its his, I did it because its terrible. Also it was on Hybrid Fusion and Delta but I removed them.
Maybe a Beat em Up, or Action RPG?

The Ninja

- HAIKU!
can i be a retro reviewer?I totally want to be can i please? inform me on my discussion page
UKA
Ultimate Koopa Arena!
If you've ever played Castle Crashers, then it'll be like the Arena mode on it, except that it'll have special Koopa's who are able to carry up to 2 melee weapons and a combat assistant. Whadaya think? BTW, if you don't know what Castle Crashers is, look it up on youtube and try to find an arena match, K?

Lemmy

Wiki Trolls are the frosting of irritation on the cupcake of stupid
Hey DK, sorry to bother you but we're gonna need alot of signatures for this to work so could you sign this petition to bring Geno back please? Geno/Petition.

Elise (talk)
Fantendo Power
Could you make a new job like "Game Critic" or something, that would be like the game review except more negative (for moi) :P ? JesseRoo ~ "hot damn girl dont tie your shoelaces"
Hey Dk64rules/Talk Archive 3, I was wondering if I could use your character 64 in my game Fantendo Emissary. Mirai Moon 
Remember me?
I certainly hope so. Do you remember joining me? Well, you did. So, can you do 3D models? If so, I need a Kirby by Sunday. Please leave it on my talk page. ObeyWeegee 22:58, October 20, 2011 (UTC)
Dang it...
Well, who can?? ObeyWeegee 16:50, October 21, 2011 (UTC)
Hey DK, can I use Sixty in Paper Fantendo: Dimensions Destiny? I added him to pending but I'll remove if you don't want him in.

Elise (talk)
You are invited to the Fantendo Secret Santa. Sign up if you like there.

Halfblood2000
Stop that nao
You should stop deleting unused files immediately, some of them are mine that are linked to somewhere else. Or at least think about what you are doing before you delete them. Just think you should know before you continue, I mean you can keep on doing that but just be wary :P -leet
You are forgiven...
I understand your mistake, and I accept your apology. I hope that there are no hard feelings.Megamaster7941 22:56, January 24, 2012 (UTC)
Hey
Hey I saw your most recent blog post with the new designs of yours. I was blown away by the skill and talent of what went into them, you're a talented designer. Keep it up!
--LThommo© (talk) 08:05, January 29, 2012 (UTC)
Seriously, XxTimberlakexx deleted Pushmo 2: The Pushmo Star Coins and called it a pile of junk. Plankton5165 22:38, January 30, 2012 (UTC)
DK, you've uploaded a dupe of File:Amy Rose.png. I've read that this duplicate was just deleted with as reason: will reupload, rollback is not working and multiple upload messed this file up. Do you know which files were first uploaded on that file's name?

Arend

(talk)

(contribs.)

I suggest changing on all pages with Amy.png, the said file to Amy Rose.png, since Amy Rose.png is placed on more pages.
However, some games where Amy.png is placed are cr*p.

Arend

(talk)

(contribs.)

Hello Dk64rules/Talk Archive 3, I just want to inform you that I would like to become YOUR friend on the Nintendo 3DS, as I have already included your Friend Code. My FC is 4854-6535-1051, just so you know. Thanks. Mirai Moon 
I'm pretty sure that guy that you just dropped a warning on was a sock.

I

HAVE

EXCLAIMATOR AND HOPEFULLY YOUR VOTE


His name sounds almost suspiciously like Darthtankengine's, but I'm going to wait a bit to make sure my theory is correct.

Sorastitch is your leader
All right buster. I'm gonna improve MK U. Just you wait. Just you wait...
BWAHAHAHAHA!
It could be one of the newer users too, and clearly they messed up on the name.
Watch for Mario Kart Solo, then attack and interrogate on my signal. If my signal doesn't come within 5 minutes, do it anyway.
DK64rules and Sorastitch: Beverly Hill Cops

EGGNOG

MAKES

ME HAPPY

(and so does cleavage and your vote)
why did you delete my page you moron?
from carrera911
2 requests:
1. Can I please have your 3DS Friend Code? If you give it to me, I'll give you mine.
2. Can I have help with making an awesome signature, like you and the other admins?
Thanks. Megamaster7941 21:36, February 24, 2012 (UTC)
Re:Pages
That's because they're yours, so you can edit them freely
Why do you need to accent something even more while it is already clear, and obvious to get it is a new section? No, it is not already bolded in Monobook (my monobook anyway), but level 3 headlines are, I think.
That speaks for itself, but some do not fit in the guidelines I follow. Mine is basic though, although I say that myself.
I can't contradict that. But Elt has also his own styling guidelines I find odd. Like me, he bolds the first mentioning of the article name in the article, but also italicizes that same part, something I only usually do with game titles and series. He also does that for lists (both bolding and italicizing). I think there was something more, but I forgot.
Requests
Would you like to work on an animated series based on the Super Smash Bros. series? This is on behalf ofUniversalGaming Incorporated, and PokeminMaster and EdGeorgenCody are all on board. But, if you're backed up on requests, I understand if you can't join. However, if you can work this in, the jobs are Musician and Writer. Right now, we REALLY need some musicians. Just find YouTube videos with certain themes or compose them yourself. For more information on Super Smash Bros.: A New World, see its page or this blog. Thank you very much. Megamaster7941 03:58, February 24, 2012 (UTC)
DK, can you add me in Fantendo Help: User Profile? Alange95 16:33, February 25, 2012 (UTC)
Thanks for the Friend Code! My friend code is on my user page and my Mii's name is Chaz. But, what exactly is the name of your Mii? Megamaster7941 23:13, February 25, 2012 (UTC)
I just registered your Friend Code on my 3DS, but I just need you to register mine. All of the info is on my user page. Thanks, DK. Megamaster7941 04:39, February 26, 2012 (UTC)
???????????
what do you mean spamming useless comments?????

From Gamerman507
What do u mean? I don't understand what u posted on my page. I saw u were an admin and was wondering, since i'm new, could u tell me how to put articles into sections onthe page i'm working on New Super mario bros ultimate?
please answer me dk64
wow.... you act like i'm stupid

How am i spamming first of all? i haven't recreated ANY of my delted pages.

1. that was new super mario bros ultimate, an extended version of mario bros. new super marios bros ultimate adventure is a mario game with crazy levels, power-ups, and new enemies.
2. don't cuss on my talk page.
3. consider what i said about the differences between the two articles
thanks
gamerman507
get the difference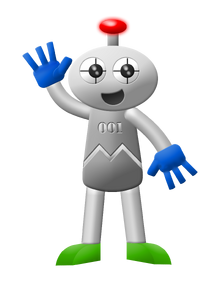 Can you do the Meta-Form one please? Talk to me if you do. =)
Yo! My mascot character was here!
 ????
Im mostly new so i dont know to much about fantendo ,but what happens if you get a warning and what is really the big deal anyway and why cant you delete peoples things on your talk wall if it says edit next to it .
PS.What does Fozzy Bear Here,WAKA WAKA even have to do with this? or did someone else put that here.And now my little fun to make game list is a pice of junk!!!!!!!!!!! (try to answer all questions Thank You)
From Willhenry
Banded and upcoming mario games
1 who bands you?
2 Do they band you by locking your acount?
3 How long do you have a warning stuck in your account/
4 If you get banded how long are you banded
5 I could make upcoming mario games bigger and better if i still had it.
last set of questions
This is my last set of questions because i dont want to bug you.im over the mario thing.
How do you become a sysop or an admin?
how do you warning or band people
thank you for all the information!
Listen here you muther f*cker don't edit or delete my stuff ya b*tch!!!
CRode 23:16, April 25, 2012 (UTC)
 !?
What did I Even edit !?!? Willhenry
nothing
I thought we were going to be friends but you give me warnings!
i'm sorry for breaking fantendo's rules I won't do it again-Willhenry PS. Wan't to be friends?
Hi-Willhenry
Hi

What's your Adobe ID and password?
What do you not like about the logo? And how do I get them to approve it?
Thank you for offering to make the logo! I'll ask the crats to apporove it. I can improve the page, but I want to make the logo, if you can still.
DK, can you help me with Fantendo World again? Too many people have signed up and it's hard to write them down.
Come on Steam when you have a sec. 99.156.213.173 20:31, May 24, 2012 (UTC)
F Power
Hey DK, how can I join Fantendo Power? I might want to be...something. Rumor Mill, maybe. I filled out the form and all that glory.

Check it out! It's...ME!!!!!
Chat with me!

Fanon
Fanon refers to things and ideas that are directly derived from canonical details and could technically be canon even if they aren't officially acknowledged.
Fan games are things like Halo Zero, Sonic Epoch, the King's Quest remakes, and Super Mario Blue Twilight DX.
This "Teardrop" stuff, and indeed everything on this site, appears to have simply been made up with no intention of being developed. I assume you meant to say in your comment that the games don't exist yet, as in they're still being created. That being said, I find it rather wrong to write about games as if they're released before they actually are. It seems quite pompous. Please reply and explain if I'm missing anything. Moleman 9000 02:56, June 5, 2012 (UTC)
Retroviewer!!! WOO!
OK, so what game can I do? I'm considering either Fissure, Mario Kart: Pro Circuit, or Pencil and Paper. Is MKPC old enough to work? Can you guess who this is?

It's...Rocky the Rock!
FP
It just asks why you should add me and any comments I have. Should I also sign up for Community News Reporter? Maybe I should just tell you outside of the application... Never mind, I sent in the application. VictoryStar 01:33, June 10, 2012 (UTC)
Removing redirection
Hey! I'm going to make a game called Mario Strikers 3, but then I saw there was a redirection of that name in Mario Strikers: Power Up!. Since nobody works on that anymore, are you, as a sysop, able to remove the redirection? My game should be uploaded this Friday because now I'm really busy with school. I already asked Wikispeed to remove it but it's still there. It would be really appreciated if you can do that. Thanks!

Hey!
Don't forgot that Fantendo World is tommorow! Master Clyde Super 21:41, June 15, 2012 (UTC)
HELP PLEASE. Can you post the following in all the people signed up for Fantendo World? If not send me a talk.
Today's the day!
Today is Fantendo World! You may post your announcment as soon as I post mine (which will be in alittle bit). Don't forget to come!
Your school idea
OK, so you had an idea for the school thing. Well, I would want to to do that. But with more then just make articles: being good in the comunity. Why where you a sysop? Because you made good articles AND you were a good person. Ow can someone do that one Fantendo? That's what I want to know.
I need to know the answer to a question I have.
I figured I'd come to you to ask because you're my smartest friend. Now, I was wondering:
Bowser's always trying to kidnap Peach. But in the games, they don't explain why. What does Bowser want with her? Is he trying to get ransom money from her?
PLEASE ANSWER
Cloverfield monster 13:22, June 21, 2012 (UTC)Cloverfield Monster
I wasn't overthinking it. It was just a simple question.
Cloverfield monster 15:36, June 21, 2012 (UTC)Cloverfield Monster
ismailferoz is centermk, who admitted to being imansoorferoz :l --Wikispeed

In reply
Funny you should say that. But to answer your question, yes. My name was changed, however. And iMansoorferoz was my old inactive account. User:IsmailFeroz/sig
Hey DK, I was wondering if I may use some of your characters in my new Fantendo Smash Bros. Game.
Could I please use:
Sixty Four
Eight Bit
Jayl Cel
Nick
Igne
Taka-Alaon
Thanks,
Hey, it's me
(Yoshi, Yoshi)

The Art Requests
I don't know if you have seen still Sixty Four art that you asked me, if you haven't yet, look at here. Alange the Dark

Let me show the face of darkness

DK, I want to propose something. Since half of known users here have BoB characters based of them. So I ask you, if you want me to do a bracelet about him. I think it could be pretty good and I would add it in BoB 4. Please, answer and thanks :)
If you don't want a character, let me know. Alange the Dark

Let me show the face of darkness

Oh lol, sorry :P I meant about you. I don't know why I do those mistakes when it makes no sense even in spanish. Nah, it's based of you, a new character. Sorry for the mistake :P -Alange
Oh, if you want to post it in my talk page, I don't have problem. I need: name, age, birthday date (can be false), appearance, personality, abilities (2), weapon and elements (2; fire, water, leaf, thunder, wind...)... -Alange
Ok, thanks, that's perfect chosen, in a few hours you will have it made :D -Alange
Wikia is very frustrating lately, so it was a victory downloading the artwork, anyway, look at it. It's my kind of Birthday gift, the art of Josh:

[[File:|50px]]

Master Clyde Super -

Check out Pete!


TALK - 0 seconds ago
Hey, why aren't any of my games Sysop Appoved? They may not be the best games ever, but they are certantly decent. I've seen some sysops put the SA icon on their own pages, even when they aren't good (not you).
They could be sent to my gmail: halfblood2000@gmail.com

Halfblood2000
Hey DK! I had a doubt, how many games should I review on each issue? For the moment I have thought doing Ella Metals 3, the recent Featured Article Super Mario 3D World and/or Adventure: Circuit Laser. If you need more or fewer games, let me know. Oh, other thing, I have to rank the games, right? And also, the arts are added by the designer, right? Alange the Dark

Let me show the face of darkness

Okay thanks DK. I've done one of my articles now and had to trim it a bit so I can fit on the other review which I'll do tomorrow. Thanks.

Stelios7

(talk)

[[File:|50px]]

Master Clyde Super -

Check out Pete!


TALK - 0 seconds ago
Kay, thanks! Like I said, I don't think you would so that. Also, why do they have sysop aproved anyway? If new people want to see exapmles of good articles, they should check the Featured Pages. But since they have it I guess I'll respect it. (oh, and now since I have this new template I don't need to make new sections! I don't think.
I already sent you the stuff of the magazine, have you seen it? Let me know if it's ok or not. -Alange
50px

MariogumballX - -- MARIOGUMBALLX SIGNING IN! } 22:44, July 19, 2012 (UTC)
TALK - 0 seconds ago
There is a random ip that keeps calling me a faggot("fagit") on my talk page and this article. I told him that I would get a sysop to ban him if he continued, but he went and called me a "fagit" again. Would you ban him from editing and posting comments on Fantendo, please? Thanks in advance! :)
i change my acount to 186.112.205.252 to 190.67.238.169
| | |
| --- | --- |
| [[File:|50px]] | |
Nice
Excellent! Just tell me what to write about, and I'll do it right away!

VictoryStar
| | |
| --- | --- |
| [[File:|50px]] | |
Ok, when is my article due? I still don't have a damn clue what I'm supposed to do.
And your going with the PDF format? Oh yeah, that makes things soooo much easier.
[[File:|50px]]

Master Clyde Super -

Check out Pete!


TALK - 0 seconds ago
OK, thanks! If you don't like the special abilities I gave them then please tell me. EDIT: What ability should I give Sixty Four?
Pre-Review
Hi DK64Rules! Can you pre-review both my film, Wrath of the Dragon and my game, Night Blood? I would most appreciate it. User:IsmailFeroz/sig2
HAY PLEASE DONT DELETE MY PAGE MASTER CLYDE SUPER TRYED THAN HE SAID SORRY FOR IT PLEASE DONT DELETE MY PAGE YOU ARE SUPER IF YOU TRY TO DELETE ANY OF MY PAGES YOU WILL BE BAN FOR INFINTE
A Wild Question
DK, what do you think of my game, Kenny Koopa's Revenge? User:IsmailFeroz/sig5
Thank you, what about my other game, Night Blood? I promise I won't bother you after wards. User:IsmailFeroz/sig5
| | |
| --- | --- |
| [[File:|50px]] | |
| | |
| --- | --- |
| [[File:|50px]] | |
Re:Featured Articles
Thank you, Dk. I'm relieved to hear that. :) User:IsmailFeroz/sig4
Oh, okay. Because I was just debating that little matter with Mariothemovie. Thanks again for the heads-up. User:IsmailFeroz/sig4
Commenting
Hey DK do you know what seems to have frigged up the ability to comment on blogs?
I would have commented on the blog post you made, but of course, the comments dot work
Sincerly, Pizzaguy22
[[File:|50px]]

Master Clyde Super - BJD
TALK - 0 seconds ago
I don't think there is enough room for it though, but I have the same issue (that's why I'm posting here) so there must be some way to get around it (that sounded selfish now that I think about it...)
Hey DK, just wondering, can you lock my Mario Tennis game and my Mario & Luigi game so only registered users can edit it, please? Thanks


Ziegs


Can you please block Dogster (Talk)? He has been spamming userpages and also he have been recreating pages and excesive deletetagging them! We've warned him various times but he still does it, can you please block him?


Ziegs


Thank you very much for banning Dogster, Dk :)

Arend

(talk)

(contribs.)

Hey DK, thanks for banning Dogster. He won't be a problem to us anymore.

I WANT WINGULL

Thanks alot! I never expected that guy should be that troll/n00b! Again, thanks! :)


Ziegs



BRO THANK YOU. Sent me a PM via Twitter if you find it, we kinda' forgot the e-mail too! :P Thanks bro we love you I mean thanks.

Stelios7

(talk)

==Can I port Godzilla: King of Monsters to the Neo? Please?
--Cloverfield monster (talk) 01:07, October 28, 2012 (UTC)Cloverfield monster
Community content is available under
CC-BY-SA
unless otherwise noted.