About me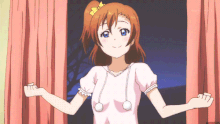 Hello Everyone, My name is Tristan Salvador Ceja Valencia. I have 18 years old, I'm a boy and I'm from Mexico. My birthday is October 12, 1998.
I'm a student from High School, I love Japanese Culture such like Anime, Manga and Light Novels. And remember, I won't tolerate any hateful, negative, and/or insulting comment.
My Favorite Things
Cartoons
Spongebob Squarepants
Fairly OddParents
Adventure Time
Regular Show
The Amazing World of Gumball
The Penguins of Madagascar
T.U.F.F. Puppy
Chowder
Kid vs. Kat
Pucca
Canimals
Steven Universe
Clarence
We Bare Bears
Disney's House of Mouse
Phineas and Ferb
Wander over Yonder
Scaredy Squirrel
Star vs. The Forces of Evil
Powerpuff Girls (1998)
Rocko's Modern Life
Angry Beavers
CatDog
Mickey Mouse and Friends
Looney Tunes
Yogi Bear
Pink Panther and Pals (2010)
Camp Lazlo
Tom and Jerry
My Little Pony: Friendship is Magic
The Simpsons
Futurama
Marc Brown's Arthur
Snoopy & Charlie Brown and Friends in the Peanuts
Ren and Stimpy
Spliced
Martha Speaks
Shaun the Sheep
Kids Shows
Barney and Friends (Just I Watched when as I a little child)
Teletubbies (Just I Watched when as I a little child)
Sarah and Duck
Sesame Street
Pingu
Mickey Mouse Clubhouse
My Friends Tigger and Pooh
Rolie Polie Olie
Jelly Jamm
Jungle Junction
Special Agent Oso
Henry Hugglemonster
Sheriff Callie's Wild West
Poppy Cat
Justin Time
Gaspard and Lisa
Dora the Explorer (Just I Watched when as I a little child)
Blue's Clues (Just I Watched when as I a little child)
The Backyardigans (Just I Watched when as I a little child)
Ni Hao, Kai-Lan
Wonder Pets (Just I Watched when as I a little child)
Max and Ruby
Charlie and Lola (Just I Watched when as I a little child)
Disney's The Lion's Guard
Zoboomafoo
Anime/Manga/Light Novel series
Sakurasou no Pet na Kanojo
Suzumiya Haruhi no Yuuutsu
Hyouka
Hentai Ouji to Warawanai Neko
Toradora
Zero no Tsukaima
Chuunibyou demo Koi ga Shitai
Sword Art Online
Oreshura
Ore no Imouto
To Aru MAautsu no Index/To Aru Kagaku no Railgun
Golden Time
Shakugan no Shana
Accel World
Inu x Boku SS
K-ON
Tamako Market
Puella Magi Madoca Magica
Higurashi no Naku koro ni
YuruYuri
Non Non Biyori
Love Live
Shugo Chara!
Kyokai no Kanata
Girls und Panzer
Vividred Operation
Danmachi
Kin-iro Mosaic
Gochuumon wa Usagi desu ka?
Himouto! Umaru-chan
Hibike Euphonium
Doraemon
Hamtaro
Nichijou
Heidi: Girls of the Alps
Candy Candy
Yo-Kai Watch
Pokémon
Digimon
Tamagotchi
Clannad
Bomberman Jetters
Pan de Peace!
Bonjour Koiaji Pattisserie
Strawberry Panic
Baka and Test
Shinryaku! Ika Musume
School Rumble
Nisekoi
Kirby: Right Back at Ya!
B Gata H Kei
Kiss x Sis
Sakura Trick
Akame ga Kill
Acchi Kocchi
Lucky Star
Vocaloid
Kantai Collection
Koe no Katachi (I saw the movie and i Love this Film)
Fate series (I saw the Chapter 1 from the 2017 film: Heaven Feel and I installed the Visual Novel)
Neon Genesis Evangelion
Pop Team Epic
Bishoujo Senshi Sailor Moon
Shin Megami Tensei - Persona Series
Joshikousei no Mudazukai
Games
NES/Nintendo Entertainment System/Nintendo Family Computer/Famicom
Super Mario Brothers 1
Duck Hunt
Ice Climber
Kirby's Adventure
Bomberman
Yoshi's Cookie
Yume Penguin Monogatari
Donkey Kong
Mickey's Mousecapade
Felix the Cat, The Game
Adventures of Lolo
Bomberman
SNES/Super Nintendo Entertainment System/Super Famicom
Super Mario World
Kirby Super Star
Yoshi's Cookie
Kirby's Dreamland 3
Doraemon 1: Nobita to Yousei no Kuni
Doraemon 2: Nobita no Toys Land Daibouken
Donkey Kong Country 1
Donkey Kong Country 2: Diddy Kong's Quest
Donkey Kong Country 3: Dixie Kong's Double Trouble
Super Bomberman 1
The Legend of the Mystical Ninja
Panel de Pon
Earthbound/Mother 2
Animaniacs
The Simpsons Bart's Nightmare
Crayon Shin-chan: Arashi o Yobu Enji
Disney's Magical Quest 2 - The Great Circus Mystery starring Mickey and Minnie
Sonic the Hedgehog 4 [Bootleg Copy of Looney Tunes - Speedy Gonzalez in Los Gatos Bandidos]
Gangan Gan-chan
Final Fantasy 4
Kirby no Kira Kira Kids
Tamagotchi Town
The Adventures of Yogi Bear
Tokimeki Memorial
Yoshi's Cookie - Kuruppon Oven de Cookie
Final Fantasy 6
Wario's Woods
Super Bomberman 2
Fire Emblem 3: Monshou no Nazo
Sega Genesis
Sonic the Hedgehog 1
Sonic the Hedgehog 3
Nintendo 64
Super Mario 64
Doraemon: Nobita to Mittsu no Seireiseki
Banjo-Kazooie
Donkey Kong 64
Kirby 64: The Crystal Shards
Conker's Bad Fur Day
Doubutsu no Mori/Animal Forest/Animal Crossing 64
Bomberman 64/Baku Bomberman
Bomberman Hero
Bomberman 64: The Second Attack!/Baku Bomberman 2
Wonder Project J2: Cloro no Mori no Josette
64 de Hakken Tamagotchi! Minna de Tamagotchi World
Mystical Ninja Starring Goemon 2
64 Trump Collection: Alice no Waku Waku World
Tom and Jerry in Fist of Furry
Mickey's Speedway USA
Winnie the Pooh in Tigger's Honey Hunt
Yoshi's Story
Super Smash Bros.
Rayman 2: The Great Escape
Neon Genesis Evangelion 64
Chameleon Twist 1 & 2
Mario Party 3
Paper Mario
Pokémon Stadium
Playstation 1
Crash Bandicoot
Another Mind
Final Fantasy 7
Revelations: Persona
GameCube
Super Smash Bros. Melee
Animal Crossing
Super Mario Sunshine
Disney's Magical Mirror Starring Mickey Mouse
Kirby's Air Ride
Bomberman Generations
Mario Party 4
Rayman 3 - Hoodlum Havoc
WarioWare Inc.: Mega Party games
Mario Party 5
Nintendo Wii
Super Smash Bros. Brawl
Kirby's Return to Dreamland
New Super Mario Brothers Wii
Animal Crossing - City Folk
Gameboy & Gameboy Color
Super Mario Land 2: 6 Golden Coins
Kirby's Dreamland 1
Kirby's Dreamland 2
Tamagotchi
Hamtaro: Ham Hams Unite!
Wario Land: Super Mario Land 3
Wario Land 2
The Legend of Zelda: Oracle of Ages
Gameboy Advance
Super Mario Advance 1: Super Mario Brothers 2
Super Mario Advance 2: Super Mario World
Super Mario Advance 4: Super MArio Brothers 3
Kirby: Nightmare in Dreamland
Hamtaro: Rainbow Rescue
Hamtaro: Ham Ham Heartbreak
Dr. Mario & Panel de Pon
Doraemon: Midori no Wakusei
Pokémon LeafGreen Version
Pokémon Sapphire Version
Bomberman Tournament
Mario Party Advance
Mario and Luigi Superstar Saga
Blender Bros
Banjo-Kazooie: Grunty's Revenge
Bomberman Max 2
Daisuki Teddy
Sonic Advance 1
Sonic Battle
Mario vs Donkey Kong
Wario Land 4
WarioWare Inc.: Mega Microgame$
Fire Emblem 7: Blazing Sword
Animal Yokochou
Fire Emblem 8: The Sacred Stones
WarioWare Twisted
Nonono Puzzle Chailien
The Legend of Zelda: The Minish Cap
Nintendo DS
Animal Crossing: Wild World
Kirby Canvas Curse
Kirby Super Star Ultra
Super Mario 64 DS
New Super Mario Brothers
Rayman DS - Rayman 2: The Great Escape
Drawn to Life
Suzumiya Haruhi DS
Higurashi no Naku Koro ni DS
Final Fantasy 4 DS
Pokémon Diamond Version
Fire Emblem 11: Shadow Dragon
Android
Doraemon Repair Shop
Angry Birds
Love Live! School Idol Festival
Moe Girl Cafe
Flappy Bird
Paddington Run
Nyan Cat: Lost in Space
Sailor Moon Drops
Color Switch
Bubble Shooter (Cool Mango)
Heart Star
Yukkuri Daily (Touhou)
Cut the Rope
Fire Emblem Heroes
PSP
Fate/Extra
Bomberman
Sakurasou no Pet na Kanojo
Shin Megami Tensei - Persona 3 Portable
Windows
Fate/Stay Night
Reader Rabbit in Interactive Reading Journey 1 (I have the Latin American Spanish version on my childhood, but I found the Original English version)
JumpStart Artist
Disney's Magic Artist
Rayman 3 - Hoodlum Havoc
Paddington Run (I downloaded from Microsoft Store)
Touhou 6
Slendytubbies 3
Disney's Toontown Online
Madagascar
Super Smash Bros. Crusade
Nintendo Switch
Kirby Star Allies
Super Smash Bros. Ultiamte
Fire Emblem 16: Three Houses
Welcome to my profile!
~~~~Aimechan93
My contributions
My favorite pages
Medals
Community content is available under
CC-BY-SA
unless otherwise noted.