Urbosa is not from Fantendo. However, this article may include related fan ideas.

These external sources may have official, more accurate information:

This article is free to edit. Please follow the article standards and respect good-faith contributions.
"Both you and the princess... I know you have suffered much regarding what happened to us Champions. But this is how things had to happen. No one need carry blame. So please, make it clear so she understands that. Tell her to shed any worries. And let her know... I couldn't be more proud of her. You take good care of the princess. Oh, and also... Take good care of Hyrule."
Urbosa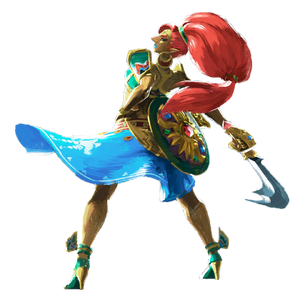 GENERAL INFO

NICKNAME(S)

Lady Urbosa

GENDER

♀

Female
SPECIES
Gerudo
CURRENT STATUS
Deceased
BIRTHPLACE
Gerudo Town
PERSONAL INFO

CLASS
Champion
Urbosa was a Gerudo Cheif that was chosen byKing Rhoam Bosphoramus Hyrule to become the pilot of the camel-like Divine Beast Vah Nabooru.
Urbosa seemed to be close friends with Zelda's Mother, and then with Zelda herself, calling Zelda "Little Bird".
Despite being Chief of the Gerudo, she is still reffered to as Lady Urbosa, simaliar to Mipha.
Physical Appearance
Urbosa is a Gerudo, and is very tall, like most full grown Gerudo. She has bright red hair, and dons her blue champion's cloth, which features Vah Nabooru on the bottom.
She is often depicted with her Scimitar of the Seven and her Daybreaker Shield, which after she was killed by Thunderblight Ganon, was kept by the Gerudo until they were passed along to Link.
Personality
Urbosa is a wise chief who care for her people and Zelda. She is also willing to protect those she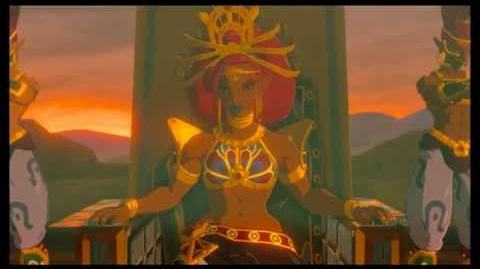 cares about, as seen when she confronts the Yiga outside of Gerudo Town.
Appearances
Urbosa is a playable character in Hyrule Heroes. She attacks with her scimitar, blocks with her shield, and can use powerful lightning attacks. She is also one of the tallest characters in the game, next to Nabooru and Ganondorf, who are also Gerudo.
Gallery
amiibo
| | | |
| --- | --- | --- |
| | An amiibo figure of Urbosa exists! For more info about this amiibo, see this page. | |