This article is part of the Medieverse. Surely you're not looking for the original Unten?
Unten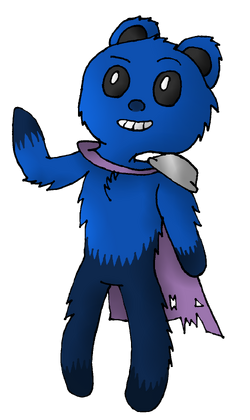 GENERAL INFO

GENDER
♂ Male
SPECIES
Beorn
CURRENT STATUS
Alive
AGE
Mature
BIRTHPLACE
Septent
PERSONAL INFO

OCCUPATION(S)
Soldier
MISCELLANEOUS INFO

SERIES
Medieverse
CANON APPEARANCES

TBA
Unten is a character in the Medieverse who takes a central role in the story.
History
Unten was born on Beorn Island, in the only village that the island held. His father had died quite some time ago, and his mother died at birth. Instead he was adopted by Dongorio, who was the current head of the village and father of his son Mondo. Unten was raised by him, and didn't understand why the other Beorns disliked Dongorio. At some point in time there was the Beorn Rebellion, started by the Beorns to get rid of Dongorio and Mondo who they found unworthy to 'lead' their island and instead the leadership role was given to the leader of the rebellion, Netnu.
Unten was sad to see them go, and actually couldn't quite understand it. At some point he wanted to go to Regno to look for his family, but just as he left the village was set to flames and incinerated everyone on the island. Unten became more depressed, but continued his journey to Regno, and promised himself to become stronger and not fail in trying to protect the ones he loves.
Physical description
Unten looks similar as to how he appears in the regular Fantendoverse, however with notable differences. His shade of blue is a bit darker and his fur is much more messier, as is with most Beorns on Beorn Island. He however becomes more tidy over the course of the story while living in Regno. His eyes don't have their star-shape, but instead are now completely round and more human-like. At the start he doesn't wear anything, but in Fera's army he requires a shoulder plate with a cape attached to it which he kept wearing, although it is worn down during the story because of combat.
Personality
Before the tragic event that happened on Beorn Island, Unten was a person that many on the island loved and he loved them back the same way. He was one of the few who liked having Dongorio around and was sad to see him go after the Beorn Rebellion, But Unten remained the same way. However after he accidentally escaped the burning of the Beorn Village, something changed in him. He became more serious, more pessimistic and has a drive to become stronger. While he is not hung up on revenge, he strives to become a better person who can protect the ones he loves. Then again, he has a harder time nowadays to let people come close to him, and seems a little bit too fixated on becoming a hero.
Abilities
In the Medieverse, Unten's electric abilities seem to be close to non-existent. The power of electricity does linger inside of him, but needs a spark to awaken. Unfortunately for Unten, technology that runs on electricity has not yet been invented in the Medieverse, causing his powers to be asleep. But aside from this slumbering ability, he does have the proper fighting skills. He was a good warrior back in the Beorn Village and continues training while in the army of Fera. At first he wielded regular swords but eventually gets his hands on a special weapon, that helps him awaken his true powers.
Relationships
Dongorio
Mondo/Mioda
Fera
Rachel
Trivia