Turbo Crafter
---
GENERAL INFO

FULL NAME
Turbo Xenel Crafter
NICKNAME(S)

Turbo, Red Crafter, Dough-Nuts

GENDER
♂ Male
SPECIES
Human/Minifigure
AGE
23
BIRTHDAY
 ???
RESIDING AT
His Labratory
ALIGNMENT
Good People of the Fantendoverse
PERSONAL INFO

FAMILY

???

OCCUPATION(S)
Ripple User
LIKES

Beorns, Standing Ripples, his rocket Fists, Nature, Being In

Hyper Mode

DISLIKES
WEAPONS
His Rocket Fists
MISCELLANEOUS INFO

CANON APPEARANCES
"You don't need dough to be nuts"


— Turbo Crafter's Strange but Funny Catchphrase
Turbo Crafter is a 23 Year old boy who has the Ability to retract his hands off at any moment in time. He is named after the User Turbocrafter. Turbocrafter made himself a character because he felt he needed to be a part of his own Series.
Appears In
Turbo Crafter marks his first appearance technically If marking the order of events. He is found by Drakhon Who takes him to CHELPRO. CHELPRO gives him his robotic hands as well as a few moves.
He marks his first appearance in this game as one of the Main Characters in the Story Mode
He appears again in this game as one of the 20+ Characters that can be used. He is unlocked after Unten and Fanti are. He is one of the strongest characters in the game due to his Unknown past.
TBA
Is planed to Appear in this game as one of the Secret Characters. Description:The Mysterious Underdog managed to find his way into the LEGO Fantendoverse by experimenting with portal technology. His standing ripple is also unable to join him thus making so he has less abilities.
Appearance
Turbo Crafter
He is a white boy who has reddish eyes, he also has two arms but they can come off of him at Will. He is wearing a grey hoodie and a white T-Shirt with a peculiar X on it. His hair is red. His shoes are grey and Red and his pants are grey. Lastly he weres a grey hat.
Xavier Bluzen
More info Here
Personality
Pre Legacy
Before legacy he is a timid boy who doesn't like to be near anyone because of his past. Not much else is known about him then
During Legacy
He is a very good person most of the time but when he activates him X-Mode he is very aggressive like anyone with X-form. Because he is aggressive in this form he is also very powerful and this allows him to easily destroy his foes. He is also very artistic, in his free time he likes to draw things.
Post Legacy
After the events of Lapis Legacy he ends up "meeting" his Standing Ripple, which changes him greatly. He feels that he must protect his Standing ripple and he ends up getting even more aggressive to anyone even his best friends. Because of this he loses one of his Friends. He also gives up his dream of a Beorn Scientist to instead research Standing Ripples.
Hobbies
He likes to fight things because it is nature. He also likes to draw because it's one of the things he did before a certain event in his life. His favorite hobbie is studying the beorns. In his travels he is yet to find a new beorn. Right now he is trying to find a way to turn himself into a Beorn.
Specific Abilities
Own Moves

---

Rocket Legend - Turbo Crafter can remove his fists at will and launch them. He can also control where they fly because his Fists are designed so that they can scan certain brain waves to move.
Requiem Scan - After the Events of Last Stand, he is able to copy anyone's ability's by simply fighting them. His Rocket Fists allow him to download those moves to his arms because he can only use 15 Cloned moves at a time.
Change Model - Turbo Crafter can change the shape of his Fist as long as he has gained that shape via Upgrade.

Drill - The Drill Mode is used to mine ores and other minerals that you would find in caves. It can also be used a fairly Decent Weapon.
Chainsaw - This allows him to Chop down tress and plants. It is a Very Decent weapon that is not two heavy.
Mineral Storage - One of the Rarest Models he has, this allows him to shrink minerals and other materials and put them in a secret compartment in his wrist. This secret Compartment teleports the materials to an alternate dimension that only he can access. If he wants these materials back all he has to do is think about it and he will get it back.
Life Form Detector - Another one of his rarest models, this allows him to scan for any form of Human/Alien life that is near by. Note:This only works on Abnormal People/Aliens.

Moves Given to him by CHELPRO

---

Dimension Lister - In the Prologue of Turbo Crafter: Origins he was given the ability to have a list of all dimensions and universe he has been to as well as the inhabitants of the Dimension to.

4th Dimension - The first Dimension he ever visited due to of CHELPRO using him as a test dummy to see if it was a place that was useful to them.
LEGO Fantendoverse - One of the Many Fantendoverses he visits in his Dimensional Travels. In this Dimension he Turns into a LEGO Minifigure.

EyePrinter - After He is captured by CHELPRO he ends up getting blasted by one of their ray guns. Unlike the Harming Ray Guns they have, this one gave him the ability to copy anyone's eyes he meets. It is unknown why they gave him this power because it mostly useless but sometimes useful.

Cloned Moves

---
Forms
He possess multiple useful forms
Hyper Mode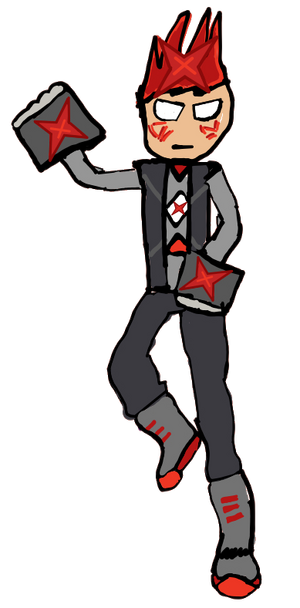 Hyper Mode Turbo Crafter
Is the Full name of Turbo Crafter's Hyper Mode that has yet to appear in canon. This form changes his appearance greatly in which his pupils vanish, his Hair Becomes Spiked, His Rocket Fists become much larger than before and instead of his grey sweatshirt he has grey armor which greatly boosts his strength, he gains Red X-s all over the place including his hair.
His powers are greatly boosted due to the hyper form, he also learns new abilities. One of the three new abilities is an Enhanced Version Of His Rocket Fist known as Rocket Champion, This ability allows him to have a bigger fist and teleport his fist anywhere that he wants. His other ability is the Power to Activate and Deactivate Xenyis. This Ability is known as Xenyis Drifter, he can take anyone's power of Xenyis at Will as long as he is facing them. His last ability is called Imperium Imperial, which allows him to take anyone's Version of Imperium except Unten's for an Unknown Reason.

Overview
Standing Ripple is a concept in the New Fantendoverse used to refer to projections of fighting spirits created by contact with the metal Ripplite. These fighting spirits are created from the hosts' Aura and general will to fight and host incredible but bizarre abilities. These Standing Ripples name themselves, usually off musical artists, and often do not speak or act on their own, but do follow their host everywhere. They have an arguable consciousness; while they can act on their own when not in combat, they do not seem to be consciously aware of their own actions.
Ripplite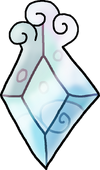 Ripplite is a mineral/metal alloy that can phase light through it to alter it's properties. It is key to being able to produce Standing Ripples. It comes from Vokkskar-created Catalyst Comets that crash into planets. Ripplite can also inversely be used to cut through Standing Ripples. Given it's weak resistance to force, crushing similar to quartzine mineral, it is not good for weapons.
Ocean 11's leader Hammerhead, who has the largest fragment recovered, has used it for monetary gain and on every member of his mob gang.
CHELPRO as corporation has a smaller fragment that they are experimenting with.
Trent Corona has a very small fragment that he uses in the blade of a laser sword known as the Ripple Ripper.
Trivia
Standing Ripples are inspired by the concept of Stands from JoJo's Bizarre Adventure. The name of the concept is even a reference to both the shorthand (Stand) and it's meaning (Ghostly Ripple).

One key difference is that if Standing Ripples interact with the environment, they can be hurt and attacked like a normal character. Additionally, they can be seen by anyone.

Standing Ripples could possibly be seen as a new extension of the music numbers that have been present in both the original Fantendoverse and the new Fantendoverse- where as music punctuated pivotal moments in past stories, now they are literally powering characters.
Coincidentally, Standing Ripples and Stands were both introduced in the third "part" of their respective series' on going narratives- Standing Ripples in Phase 3 of the New Fantendoverse and Stands in Part 3 of JoJo's Bizarre Adventure.
Community content is available under
CC-BY-SA
unless otherwise noted.