Tucker Elliot

♂

️ Male


⚤

️ Heterosexual
6'0"
??? lbs
31 years old
Human

INFO

FULL NAME
Tucker Elliot
POWERS
No real powers


Ability to use Standing Ripple

BIRTHDAY
April 6,
ALIGNMENT
Who Knows?
OCCUPATION(S)
Headhunter
BIRTH LOCATION
 ???
CURRENT LOCATION
New York City

PREFERENCES

LIKES

| | |
| --- | --- |
| Money, lavish lifestyle, his Standing Ripple, parkas, modern art | |

DISLIKES

| | |
| --- | --- |
| Conversations, policemen, being introverted, staying in one place for too long | |

APPEARANCES

CANON
Tucker Elliot is a wandering headhunter, currently living in New York City. He picks up bounties or hunts down targets with the help of his Standing Ripple, Flatbush Zombies. After discovering a small stash of Ripplite through raiding a bounty's home, he was able to experiment with it and giving himself his own Standing Ripple. Although he didn't know what it exactly was, he knew it could assist him in battle, and began to use it as an assistant for his hunts. Although mostly nomadic, Tucker lives lavishly, not bothering to keep himself hidden. Being a notorious bounty hunter, he has friends in high and low places. He often works with his Standing Ripple and only his Standing Ripple, preferring to work alone and avoid cutting costs. Friends with a job like this sounds like bad news to him.
Tucker Elliot is the first of many in Ambrisynth's rebooted set, after giving all but two of their main characters to other Fantendoverse writers after believing their time was up with the Fantendoverse. Nobody ever really leaves Fantendo, of course. The rebooted characters also come from the writer's need to write something new, with new characters and new concepts.
Description
Tucker Elliot
Tucker is an African-Asian male with hazel eyes, a black ponytail and a long beard. He often wears a plain black t-shirt with a brown parka, usually unbuttoned. Hanging from his neck is a silver bracelet with an oversized skull hanging from it, the same skull that his Standing Ripple wears. On both of his arms he has small gauntlets covering his whole fist, one orange and one pink. Each has sharpened fingertips for fighting. He wears worn green pants with military boots, an assortment of weapons often hanging from the utility belt attached to his pants.
Flatbush Zombies
A blue-skinned, smug figure that stands at about 7 feet tall. Flatbush Zombies wears a military jacket, unbuttoned, with a prestigious golden star pinned to one side of it. Large, circular sunglasses cover most of Flatbush Zombie's face, with dreadlocks going down to their chin. A smug smile stretches across their face, showing their sharp triangular teeth. They wear two white gloves, with an unblinking bloodshot eye on each palm. Hanging from their side are 3 skulls, the same that Tucker wears.
Personality
Tucker is quite introverted, often preferring to be by himself or do things by himself. Although, he has come to resent this habit and often tries to break it by going out on lavish trips and going out to clubs. Although he doesn't see bounty hunting as the most morally right thing, he considers it a necessary evil and gains some enjoyment from it. Tucker, when stressed or put under pressure often throws out quick, snarky insults to others. He's a tactician, and easily knows the best way to get in and out of a job through his years of experience.
Although working in a criminal's job, he follows several rules that he himself made up to keep himself in check. He never hunts minors or elders, and only hunts after people who aren't completely innocent. Anything from petty criminals to corrupt businessmen, he will go after, but he never goes after people who have done nothing in the wrong. He sees himself as a force of justice, even if some believe all he does is wrong.
Flatbush Zombies is very smug, almost always having a wide grin on their face. He often works as the brute force of Tucker's job, being able to break through defenses or become a sort of shield for Tucker.
Powers
Tucker doesn't have any superpowers, but is skilled in hand-to-hand combat and well-learned in the art of sharpshooting. He often uses a suppressed pistol for his job, also wearing his sharp-nailed gauntlets for deadly blows during hand-to-hand. He's a master tactician, being able to devise attacks very quickly and fast enough to stop his enemies.
Although he doesn't have any superpowers, his Standing Ripple and him work in harmony to finish the jobs, Flatbush Zombies has a whole assortment of different powers that seem almost abstract and random at some points in time.
Chunky: Flatbush clenches both fists, making them almost immortal. Small projectiles will be absorbed and large projectiles will be reflected. Using melee while Flatbush is in this mode is like hitting an immovable wall.
Vacation: Flatbush can materialize into different spots, fading away from whatever spot he was originally.
M. Bison: Flatbush has a purple aura around them, and often uses this to choke slam enemies. They can also exert this aura through a strong punch or kick, enhancing the hit.
U&I: Both Tucker and Flatbush's skull insignias glow a bright red. Momentarily, they switch consciences and fight together as the other, linked together.
The Odyssey: TBA
Headstone: Flatbush's white gloves turn hot red. At this point, he can either fire a concentrated beam of hellfire or open the eyes on his palms to shoot fire out of his hands like a flamethrower.
Trade-Off: A sort of counter move, Flatbush can stop a person in their tracks if they punch them while their arms are crossed in an X. They are momentarily frozen, allowing Flatbush to attack them without any problem.
Bounce: Pterodactyl wings sprout from Flatbush's back, allowing them to fly and move significantly faster. He can carry Tucker, and they often use this to easily travel across the city or to chase a runaway person.
The Glory: Flatbush creates a yellow aura around themselves, which can heal anyone in the aura significantly faster, although not instantly. Mortal wounds cannot be healed from this aura.
HELL-O: Flatbush creates two female humanoids covered in glitter, orange and pink. They are controlled by Flatbush and can be used as throwaway soldiers or just extra helpers for a job. After they are done with, they fade into glitter.
New World Order: Flatbush creates a large area around themselves, turning the world in this area into an abstract wasteland, although not actually affecting anything in the real world. This seems to throw people into a mini pocket dimension, seemingly meant to disorient them. If in this dimension for too long, they begin to go insane.

---

Beast Coast: Flatbush Zombie's ultimate form. More TBA.
Relationships
TBA
Trivia
This character is full of references to the American hip-hop group from New York City. From everything to their Standing Ripple's design and powers to their skull insignia and last name. Anything I could shove into as a little reference I tried to put in.
Beast Coast is reference to an album made by Flatbush Zombies and other East Coast rappers, but it acts as their ultimate form for this.

Overview
Standing Ripple is a concept in the New Fantendoverse used to refer to projections of fighting spirits created by contact with the metal Ripplite. These fighting spirits are created from the hosts' Aura and general will to fight and host incredible but bizarre abilities. These Standing Ripples name themselves, usually off musical artists, and often do not speak or act on their own, but do follow their host everywhere. They have an arguable consciousness; while they can act on their own when not in combat, they do not seem to be consciously aware of their own actions.
Ripplite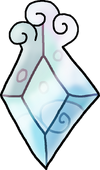 Ripplite is a mineral/metal alloy that can phase light through it to alter it's properties. It is key to being able to produce Standing Ripples. It comes from Vokkskar-created Catalyst Comets that crash into planets. Ripplite can also inversely be used to cut through Standing Ripples. Given it's weak resistance to force, crushing similar to quartzine mineral, it is not good for weapons.
Ocean 11's leader Hammerhead, who has the largest fragment recovered, has used it for monetary gain and on every member of his mob gang.
CHELPRO as corporation has a smaller fragment that they are experimenting with.
Trent Corona has a very small fragment that he uses in the blade of a laser sword known as the Ripple Ripper.
Trivia
Standing Ripples are inspired by the concept of Stands from JoJo's Bizarre Adventure. The name of the concept is even a reference to both the shorthand (Stand) and it's meaning (Ghostly Ripple).

One key difference is that if Standing Ripples interact with the environment, they can be hurt and attacked like a normal character. Additionally, they can be seen by anyone.

Standing Ripples could possibly be seen as a new extension of the music numbers that have been present in both the original Fantendoverse and the new Fantendoverse- where as music punctuated pivotal moments in past stories, now they are literally powering characters.
Coincidentally, Standing Ripples and Stands were both introduced in the third "part" of their respective series' on going narratives- Standing Ripples in Phase 3 of the New Fantendoverse and Stands in Part 3 of JoJo's Bizarre Adventure.
Community content is available under
CC-BY-SA
unless otherwise noted.