Developer(s)
Publisher(s)
Platform(s)
Genre(s)
Fighting Game
Release Date(s)
2/31/16
Mode(s)
none
Age Rating(s)
Media Included
The V² Disc
Trifecta: Multiverse Fighters was a game previously developed by NinRMAX before development was picked up by Toroko sometime after NinRMAX's collapse. The game is a fighting game that stars a wide variety of characters from many other frachises, similar to that of the Fighters of Lapis Series. It is for The V². Like many of Toroko's umbrella games, this is a fighting game.
VSHOP Description
Trifecta: Multiverse Fighters is a new umbrella fighter by the creator of the Fighters of Lapis series and the Mysterious Five Project. It's a return to form fighting game with a couple of new mechanics such as the Multiverse-Drive finishing moves and features a little life simulation with Apartment mode. With a retro 80s/90s aesthetic mixed in with some modern enhancements, Trifecta: Multiverse Fighters is certainly one of the more decorate games out there.
Intro Movie: ADVENTURE

ISOMETRIC
The intro begins with a view of a island, flying high in the sky. The sun rises over the island, with tons of dragons and other flying things coming into view. A angel named Pit flies onto the top of a tower to see Palutena. Palutena points towards them.
YOU'RE ON
Villager is fighting Frisk, Mario, Little Mac, and Rosalina. Suddenly a huge energy blast from Genos intercuts the action. Villager rushes towards Genos only to be hit by Saitama, who sends him propelling through the air to land on a X-Wing being piloted by Finn. Finn lands the X-Wing and the two encounter Megaman, Pikachu, Kirby, and Dipper and Mabel. Villager attempts to attack them but is easily outmatched. Genos suddenly blasts the group, making Villager wonder what side he's on.
OK
A dark cloud rumbles in the distance, catching the attention of Wii Fit Trainer, Lum, and Pikmin. Donkey Kong also notices the dark cloud, which begins spewing out enemies. Rey and Shantae fight them side by side, almost getting overwhelmed until the Ice Climbers show up.
After battling the enemies for a bit, The Countess appears, with dark energy branches grasping Pianta, Ryuko, R.O.B, and Zero Suit Samus. Villager attempts to cut through it but the Countess ends up getting one shotted by Saitama. The group stands and watches the sun set as the logo for the game appears.
Gameplay
General Fighting Information
The gameplay is very similar to Super Smash Bros. Each character has a set of standard and special moves to utilize. Standard moves are very basic and easy to execute moves, while special moves usually have a lot more going on. Characters attack with these special and standard moves while also getting into a good posistion to utilize their moves, which may require a bit of moving around.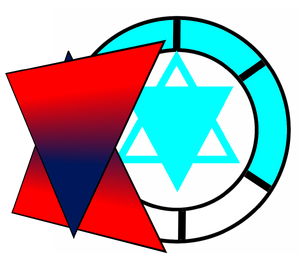 Each character also has a Multiverse-Drive special move. These special moves are not actually stuck with the character and each Multiverse-Drive move can be swapped with another character at leisure, however characters can only have one Multiverse-Drive move. A small, circular gauge is next to every character portrait and slowly fills up when you use attacks or get damaged. When the gauge is full, the next special move you do (with the exception of some Up Specials) will unleash the Multiverse-Drive.
Single Player Modes
Here are some single-player only modes that can be only played by one player.
Apartment - An extension of sorts for Story Mode. Decorate your apartment, invite characters over for chats, that sort of stuff. Really slice of life stuff.
Multiplayer Modes
Here are some modes that have to be played with more than one player.
Story Mode: SPLASHTALK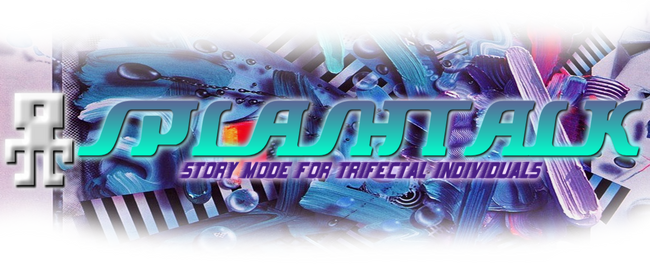 SPLASHTALK: Story Mode for Trifectal Individuals is the story mode for Trifecta: Multiverse Fighters. When VILLAGER is kicked out of town for not paying the rent, they gotta find somewhere else to stay. During a boat cruise gone wrong, Villager washes up on a floating island called TRIFECTA and a threat called THE BRIAR.
READ HERE



Roster














Playable Characters
Starters
Character
Info



Mario

Hero of the Mushroom Kingdom, Mario! He can punch foes, throw fireballs, use his cape... He also carries an assortment of power-ups. Expect to see bells, leaves, feathers, and even flowers with multiple heads.

---

Golden Tanooki Mario





Rosalina

Protector of the Cosmos, Rosalina! And her partners, the Lumas. Her and Luma have a attack connection. They will use the same moves at the same time, with only minor alterations. Rosalina can also use her powers over space to defy gravity.

---




Pianta

From Isle Delfino, Pianta! He uses the power of palm trees, FLUDD, Pianta Dance, groundpound, and Shine Sprites to battle. He is generally seen as a weird character that has heavy attacks but is very floaty. He has some really sick taunts as well, perfect for trolling people you beat online.

---

Frisk
Art by inkerton-kun (nsfw tumblr background).

Frisk is a human from the Underground (in the story mode, it is implied that it takes place AFTER Undertale despite logical inconsistencies with this implication) and uses Attack Types to attack. Orange Attacks don't harm characters that are moving, while blue attacks harm characters that ARE moving. White attacks harm characters no matter what they're doing but are much weaker. Frisk's playstyle requires you to be ahead of your opponent at all times, figuring out when they move and when they don't in order to effectively use them.

---




Villager

The Villager from Animal Crossing is typically a peace-loving person, although they have a bad habit of not paying Tom Nook his money. They prefer to think themselves as gender-neutral, although tending to also associate themselves as a girl. They use a slingshot, a watering can with a sprout to grow, a Gyroid that flys forward, and other tools from Animal Crossing to battle.

---




Kirby

Kirby, the hero that doesn't do anything until effects him personally. I wonder how many tragedies Kirby has failed to stop because they just didn't effect him? He attacks using the Cutter, Sword, Stone, and Hammer Copy Abilities. He can also suck up his opponents to take their powers.

---




Mega Man

The Blue Bomber, Megaman! He has a large variety of special attacks from Megaman 1-7 and the Capcom vs games, including Metal Blade, Leaf Shield, Magnet Blade, Super Arm, and Fire Storm.

---




Pikachu

The mascot of Pokemon, the Electric Mouse, Pikachu! He has Quick Attack, Iron Tail, Agility, and, most importantly, his Electric Type attacks - ranging from Thunder to Volt Tackle to even... Nuzzle?

---




Little Mac

Little Mac from Punch Out. He is a force to be reckoned with on ground, yet extremely vulnerable in midair. He also has the 1-hit kill, the KO Uppercut. Slightly overpowered, but comes in handy when in trouble.

---




Ice Climbers

The Ice Climbers climb into battle! This dynamic duo proves strength in numbers is a force to be reckoned with! They wield their hammers, and utilize their teamwork and climbing abilities in fights.

---




Dipper & Mabel

Dipper and Mabel use mysteries from Gravity Falls, and a Grappling Hook, for their attacks.

---




Donkey Kong

Donkey Kong. He has abilities from Country Return Games and others. Along with some things from other games.

---




Pit

Servant of the Goddess of Light, Pit is an angel. Naturally, being so, he fights extremely well in air. He uses a large armory of weapons - claws, blades, palms, and more - when he enters the fray.

---

Wii Fit Trainer

Originating from the Wii Fit series, she is a fast and agile character that uses "healthy moves" based on fitness exercises. Boasting a good dash speed and jump height, along with one of the more reliable recoveries in Trifecta. Her physical attacks all involve her posing in various yoga poses that appear in Wii Fit, which gives her attacks some unusual hitboxes.

---

Pikmin

Three giant Pikmin that attack in a group of three. They have no leader, they have killed him. They attack by forming into a three-Pikmin totem and falling, or gathering resources to attack. They can also inadvertently send giant creatures to attack for them.

---

Lum Invader

Lum is royalty and the daughter of the Oni alien Invader and is capable of flying and generating massive electrical discharges. She's pretty medium in terms of weight and attacks primarily with electricity and do many attacks from the sky. Her outfit is based on the tiger-striped loincloths of mythical oni, which were made out of man's bad karma.

---

Shantae
Art by Blue Paint Sea.

Shantae uses her different forms to fulfill certain requirements during the match. Her human form has decent tools to use in all situations, but she can become great at certain tasks by switching to her different forms. For example, her monkey form can be used to approach and start harassing an opponent, her elephant form can be used to punish predictable opponents, her spider form can be used to harass slow characters and heal herself, and her harpy form can be used for edgeguarding. All of her forms are most likely the best in the game at what they do, but they are all severely limited individually and most are scary to be off-stage with.

---

R.O.B
Art by Emilykiwi.

Although R.O.B. is a heavyweight character, he possesses great mobility courtesy of decent walking and dashing speeds, good traction, above average air speed and falling speed, low gravity and incredible jump force, but low air acceleration. R.O.B. is a zoning-oriented character with a very strong projectile game to keep his opponents at bay.

---

Zero Suit Samus

Samus, but in a thinner suit that favors agility over power. The weapon she carries is a self-protection device known as a Paralyzer that stops enemies cold. Samus is a fast and strong, but lightweight and tall character. She starts the match with a huge advantage over most characters in that she has readily throw-able projectiles that are extremely powerful and combo well with her glide toss. She can dash quickly, crawl, wall jump, combined with one of the highest initial jump and second jump, allowing her to reach characters that are higher. Many of her attacks have the advantage of coming out fast, and can combo most heavy weights with her aerials very easily.

---

Finn

As a child he was raised to be a Stormtrooper with the code name FN-2187. After witnessing a massacre of in cont people on the village Tuanul on the planet of Jakku he decided he didn't want to be a Stormtrooper more and decided to help Poe Dameron escape from the First Order's clutches. They became fast friends and FN-2187 was known as Finn from that point on. He attacks with a laser rifle gun and an explosive charge. He can also summon a Rathtar to do some heavy damage close range attacks.

---

Rey

Rey was born to unknown parents and at the age of five was dropped off on the planet Jakku. For the next 15 years, she waited for their return in vain. Over the years, she became a proficient scavenger, and had to turn in scrap she salvaged in return to food. Then Star Wars: The Force Awakens happened. She uses a staff for combat, allowing for long reaching melee attacks. She can also utilize the force to pull or push things toward/away from her, as well as being able to counter attacks she sees in the future.

---

Saitama

For a superhero, Saitama is thought to be quite indifferent. Even the mightiest foes pose no challenge to him, so he doesn't take his hero work very seriously and beats monsters like swatting insects. Since his superhero work has begun to bore him, he is constantly searching for an opponent that can challenge him. The lack of any such opponents has led him to suffer from an existential crisis, and he claims that his ability to feel any and all emotions has dulled considerably. Despite being an incredibly powerful fighter, Saitama is not unbeatable, making many of his attacks punishable for other fighters to feel somewhat challenged. He is a good sport but it is clear that he's limiting himself very heavily.

---

Genos

Genos is an extremely serious character. He constantly strives to become stronger and pesters Saitama to train him frequently. Since becoming Saitama's disciple, Genos is very reverent and protective towards his "teacher", although he does express annoyance and disbelief at the mundane training regimen Saitama used to gain his powers. While immensely strong, he is able to loose limbs and not be able to execute some of his attacks, meaning that the less damage he has, the more dangerous he becomes.

---

Ryuko

Ryūko has a relatively simple personality: fierce and stubborn. She fears little but is somewhat self-conscious. Ryuko is armed with one half of a giant scissor and has a living suit on her body that can transform into a powerful suit that enhances her speed and strength at the cost of being very punishable.

---
Unlockable
There are a total of 40 unlockable characters.
Character
Info



Bowser

The King of the Koopas, Bowser. He's a heavier character that also can move pretty quickly for a heavy character. If you don't use his moves correctly, you're not going to have a good time. He attacks with fire, his shell, his fist, and groundpounding.


Win 5 Games as Mario.

---




Luigi

The brother of Mario, Luigi! He as thunder, ice, other abilities, and he can jump higher.


Win 10 Games as any Mario character.

---




Toad

Toad, one of the main 4 Playables for Super Mario Bros 2, and one of the main 5 for 3D World. How could we not put him in?


Win 30 Games as any Mario character.

---

Bowser Jr/Shadow Mario

Bowser Jr! Son of Bowser, and he can transform into Shadow Mario. Shadow Mario has a similar moveset to Mario along with throwing paint. Bowser Jr has a moveset involving Bob-Ombs, and shells.


Play 45 Games as Bowser.

---

Mulan

Mulan is the main protagonist of the Disney film Mulan. She is a quick and nimble character that has good recovery but not the best attacks, so you have to be smart and wait for situtations to occur in order to do ton of damage. She attacks with a sword, Mushu, and fireworks, and recovers by a climbing a giant wooden pole.


Play 15 matches as anyone.

---

Metaknight

The leader of the Halberd, wielder of Galaxia, Metaknight! He can fly, slash, and his Ultimate Attack is from Super Star and Super Star Ultra.


Win 10 Games as Kirby.

---

King Dedede

The king of Mt. Dedede and one of Kirby's villains. He has his hammer, flying, inhaling, and other attacks.


Win 10 Games as any Kirby Character.

---

Prince Fluff

Kirby's friend from Patchland. When it was under attack by Yin Yarn, Kirby and Prince Fluff saved it. So Prince Fluff was invited to join the battle, for having a worthy moveset.


Win 15 Games as Kirby.

---

Greninja

The best of the Final Evolutions of Pokemon X and Y's Starters. He attacks with Water Type Attacks, and Ninja like abilities.


Play 30 Games as Pikachu.

---

Zumba Fitness Trainer

Wii Fit Trainer's rival, who dances to work out. She's considered more fun to hang out with but doesn't take fitness as seriously as Wii Fit Trainer would like her to. She uses a wild and wide variety of dance moves and is generally faster than Wii Fit Trainer at executing them but not so much at damaging.


Win 20 battles as Wii Fit Trainer.

---

Cia

Cia is a powerful sorceress who wages war over the land of Hyrule in the aim to conquer it. She also harbors serious affections for Link, and desires to claim him as well. In battle, Cia is primarily a spell-caster of dark magic. Her weapon, the Scepter which also doubles as a whip, allows her to conjure powerful magical attacks. Her battle style primarily relies on area coverage and long range over brute force.


Collect 5 Dark Relics.

---

Night Nurse

Night Nurse is just a regular old nurse that heals super heroes. Despite being called a nurse, she has also become a skilled doctor as well. She uses pills, syringes, scissors, and bandages to attack, being a character that while doesn't do a lot of initial damage, can focus on a number of foes with her attacks.


Using healing items 15 times.

---

Sky

Sky is an ally and long-time friend of Shantae's who lives in Oasis Town and later Scuttle Town. Sky owns a loyal war bird named Wrench and a hatchery of some sort where she trains war birds. Said birds aid in her attacks, with many of her attacks staying in the air, making her more of an aerial fighter. She can also lob egg-shaped projectiles.


Win 15 Matches as Shantae.

---

Rottytops

Rotty travels the land by caravan, gaining worldly skills and threatening to eat peoples' brains. She has two nasty brothers (Abner Cadaver and Poe) that seem capable of bringing out the worst in her whenever they're all together. Rotty is obsessed with Shantae and the challenge of corrupting her pure nature. She can attack by deattaching her limbs or summoning undead freaks to help her out in battle.


Win 30 Matches as any Shantae series character.

---

Undyne

Leader of the Royal Guard, Undyne is strong-willed and confident as a result of her training under King Asgore, and is merciless to her enemies. She battles with a spear, which can be either white or blue. In white mode, the spear does some damage no matter what, while in blue mode it damages moving characters quite a bit more than the white, but is completely ineffective on characters standing still.


Win 15 Matches as Frisk.

---

Robo-Ky

As his name implies, he is a robotic version of Ky Kiske (from Guilty Gear, who does not appear in this game) and likes to talk up his strength as well being kind of a flirt. In Trifecta, he is part of Undyne's Royal Guard. He's a heavy hitter with high defense options, but isn't very fast or have good recovery moves. Like the original Ky, he has control over lightning and utilizes it in his attacks.


Win 150 matches as any character.

---

Miss Frizzle

Miss Frizzle is an eccentric third grade teacher at Walkerville Elementary School. She uses a variety of unusual magic devices to teach the class scientific concepts. The most notable of these is her magical school bus, a shape-shifting vehicle that seems to have a mind of its own sometimes. Miss Frizzle also has a complete lack of fear despite any kind of danger. She can utilize the schoolbus as a heavy falling projectile or a ramming attack, as well as use it's transformation abilities for attacks.


Win 250 matches as any character.

---

Lina Inverse

Lina Inverse is a teenage sorceress and is a member of the Sorcerer's Guild. She specializes in black magic, yet she is also skilled in shamanism, slightly versed in white magic, and can also hold her own with the short sword. For attacks, she utilizes Shadow Snap, a move that when used correctly, freezes the opponent, Ray Wing which creates a vortex of air around the caster, which can be used for flight. and used as a means of shielding the caster from physical attacks, Flare Arrow which creates a fiery arrow of flame, and Dill Brando which sends objects and people flying up and come crashing down (depending on how much damage the opponent has suffered, the Dill Brando will send them up higher).


Win 50 matches as Lum.

---

Naga the Serpent

Being a princess, Naga knows when to be graceful, and when to be self-confident. Although she keeps her true identity secret, she acts in a self-confident and sometimes arrogant manner. When she stands before other members of royalty, she speaks to them as equals. In her attacks, she utilizes white magic. She primarily uses Freeze Arrow, which is a projectile attack that has the chance to freeze a opponent, Grey Bomb as an explosive attack, create Golems which are AI partners that don't always do what the player wants, and Zelas Gort, which summons a jellyfish.

Win 50 matches as Lina Inverse.

---

Kisarah Westfield

Kisarah Westfield is a popular high school idol whose family came from England and now resides in Japan. She is the class madonna, admired by girls and boys alike for her whimsical charms. Although she has been living in Japan for awhile, she still isn't used to the local slang and often takes off-hand comments very literally. She fights at a close range with elbow attacks and high angled kicks and even slaps the opponent in the face; her attack range can be made slightly longer with her school bag. Her flying kicks resemble the ones found in cheer leading routines.


Win 50 matches in Team Battles.

---

Tatsumaki

TBA


Win 50 matches as any One Punch Man character.

---

Fubuki

TBA


Win 100 matches as any One Punch Man character.

---

Zool

Zool is a ninja from the Nth Dimension who crash landed on Trifecta. Zool has the ability to perform jumps, punches, kicks, sliding tackles, fire a "magic cannon" weapon and perform three different magic spells. The magic spells vary greatly, and include an invincibility spell, a duplication spell which creates a second Zool, doubling the players fire power and one that increases his jumping ability. Zool can also climb walls by clinging onto the wall, and jumping upwards before clinging to it again.


Playing for a total of 50 hours.

---

Akira Kazama

Akira Kazama is a silent girl who rarely speaks out her thoughts. She may be tough and commanding while wearing her biker outfit, but is a docile and gentle person without it. Most of Akira's fighting techniques are based on different fighting styles, notably Taikyoku-ken and Tai-chi-chuan. Most of of her moves are melee attacks that knock the opponent into the air or moves that allow her to move from one area to another very quickly.


Win 700 matches as any character.

---

Deathsaurus

Deathsaurus began terrorizing the galaxy long before ascending to the position of Decepticon Emperor of Destruction. For thousands of years, this savage and cruel dictator has spread terror throughout the universe, and has now set his sights upon the Earth as a source of energy to power his terrifying superweapon, the Planet-Destroying Fortress. Deathsaurus is a surprisingly "hands off" leader, who is perfectly happy to allow his subordinates to formulate their own plans and schemes to gather energy for him—but if they should fail, he'll always be there to berate and brutalize them. He wields a deadly spiked flail, and the Living-Metal-Destroying Cannon, which erodes the living metallic cells of super-robot lifeforms. The bladed wings of his creature mode absorb sunlight, converting it into dark energy, and he can then launch these energized blades at his opponents in an attack known as his "Death Wing".


Collect 10 Dark Artifacts.

---

Windblade

Windblade was a Transformer who hailed from the planet Caminus, born from the hot spot within the Metrotitan Caminus who colonized the world and for whom it became named. As on the other Metrotitan colonies and unlike on Cybertron, the citizens of Caminus maintained gender dimorphism, with Windblade being female. She uses a blade made of flowing energy and can transform into a jet, which allows her to attack mostly in the air. Despite having almost infinite recovery due to her jet form, one good attack can send her spiraling down.


Preform a combo that has at least two fighters in the air for 30 seconds or longer.

---

Kurisu Makise

Kurisu Makise (牧瀬 紅莉栖 Makise Kurisu) is a genius girl who graduated from university at the age of seventeen. Her research on the brain's memory retention system has earned critical acclaim in the scientific community. She uses a variety of lasers and futurstic gadgets in her moveset, such as sending a giant satellite down or spewing out a flame trap.


Complete Classic Mode with any character.

---

K'

K's backstory is very complicated and involves a cloning cartel that goes under the name of NESTS. K' has a very serious personality but is very easy to enrage due to his more high-strung side. K's fighting style is said to be "Pure Violence", but it has several similarities with Bruce Lee's Jeet Kune Do. He even uses some of his famous moves, such as the One inch punch and Flying Kicks. As a nod to hinting of said "violence", K's moves tend to show very violent mannerisms due to his high-strung nature. This ranges from violent elbow strikes, enraged battle cries, and even resorting to throw his sunglasses at his foe and following up with a beatdown, no holds barred.


Complete Classic Mode with three characters.

---

Shidaru Hotaru

A girl from the city whose father owns a world famous sweets company. Since she will one day inherit the company, she desires to make it the best sweets company in the world. She attacks with what else: candy. She utilizes jaw breakers as heavy, low range projectiles, caramel as a quick and paralyzing attack, small doughnuts as a far away projectile, and a giant blue lollipop that is "sticky", meaning when it is used, opponents are trapped until the attack ends.


Complete Classic Mode with five characters.

---

Lucina

A girl from a broken future who ended up being part of the Tomorrowland Initiative. During Battle for Tomorrowland, she had to stop Homura from fusing the Lapisverse and the Tangerineverse due to the innumerable tragedy it would cause. Now she's here with Ingrid again, what's going on? Lucina fights primarily with her sword and can counter and charge moves. She's not the most agile or strongest or fastest character but her sword moves have a lot going for her.


Complete Classic Mode with seven characters.

---

Ingrid

Ingrid is an extremely powerful being who detests the evil nature of the Satsui no Hado. She is very wise and intelligent in spite of her apparent physical age, and also has a playful side to her, as she enjoys tickling defeated opponents. Ingrid fights using an unknown power that infuses all her attacks with a mystical energy. Telekinesis, energy blasts, and strange magical sigils are all parts of her fighting style. Ingrid almost seems to toy with her opponents, and with such powerful abilities at her disposal, she certainly gives the impression of being from a higher plane than the average fighter.


Complete Classic Mode with seventeen characters.

---




Palutena
Art by Go-Shogawara

A very important character in a lot of things, from Kid Icarus to the Fantendoverse to the Lapisverse. She's a goddess of light and not many can match her powers. She isn't a very mobile character per say, most of her attacks are ranged and she floats instead of walking. She attacks with mostly light-based attacks and orbs. Ultimately, she's a light character without a ton of useful mobility options but heavy hitting power, and she can move where she can at a quick speed. She can also create a grind rail to recover, sketching her way back onto the stage.


Complete Classic Mode with Pit.

---




Dig'Em

He's a goddamn frog who advertises the cereal Honey Smacks. There's not much to this guy, he just loves that cereal. In 2011, it was reported that Honey Smacks was 55.6 percent sugar by weight. It looks like a bunch of festering bugs too. Just disgusting. Anyway, Dig'Em uses a giant spoon and bowl to attack, as well as bouncing flakes of Honey Smacks and causing them to explode similar to Duck Hunt. He is actually a serious threat if used right.


Collect 30 bugs.

---




Marceline

Marceline is a half-demon/half-human, and vampire who is over 1003 years old. Her father, Hunson Abadeer, is the demon who rules the Nightosphere. She uses her ax bass to attack as well as her fangs to suck red out of objects and people, which replenishes her health. She can also shape-shift into numerous monstrous forms, including a bat, a wolf, a reptilian creature, and a large tentacled monster to do massively powerful attacks.


Complete All-Star mode once.

---




Emperor Zurg

Zurg is the sworn enemy of the Galactic Alliance and the archenemy of Buzz Lightyear. He attacks using an ion blaster which he can set to various levels, although each level requires charging and changes how he fast he moves and how high he jumps. He can also make use of his claws, summoning robotic mooks, and seeker drones.


Collect one of every single Dark Artifact.

---




Merlee

Merlee is a fortune teller who speaks exclusively in rhyme in every appearance, and, for a price, she will perform a spell with her various magical devices. She attacks through usage of powering herself up with shrooms and shakes and then battling. She can also use a crystal ball to counter moves.


Defeat 500 enemies.

---




Scarlet Witch

TBA


Win 1000 matches as any character.

---




Vision

TBA


Win 1001 matches as any character.

---




Tharja

TBA


Complete Classic Mode with all characters.

---




Yazoka

TBA


Unlock them just randomly. You're not even sure what you did to unlock them.

---
Multiverse-Drives
| Multiverse-Drive | Info |
| --- | --- |
| Golden Tanooki | Transforms the user into a golden state with a tanooki tale, making them effectively invincible. They harm on contact, they float down at a slow speed, and they get a lot of golden particles flying off them. |
| Power Star | A giant power star appears, flinging smaller stars at characters which can harm them for a large amount of damage. |
| Shine Sprite Power | The player holds up a Shine Sprite, which then explodes into a giant beam made from solar energy that spans the entire stage. |
| Determination | The Six Souls surround the player and then head to a unlucky opponent, stripping them of all their moves so they can only move, not attack. They then give the player "green" attacks that will heal them. |
| Dream Home | The player and Tom Nook build a house to trap an opponent in before blowing it up. |
| Ultra Sword | The player grabs a giant sword that cuts through the stage like it's butter and it's aftershocks are pretty deadly too. |
| Generation Beam | The player, along with the several versions of Megaman throughout the years, fire a powerful combined laser. |
| Volt Tackle | The player turns into a giant ball of electricity which they can control. |
| Giga Forme | The player turns big and their power is maxed out. |
| Iceberg | Summons an iceberg to hit the stage. |
| Rumble McSkirmish | Summons Rumble McSkirmish, who hits any opponents in his way. |
| Boss KO | A powerful series of hits that makes the opponent fly back. |
| Three Sacred Treasures | The player obtains the powerful set of armor known as the Three Sacred Treasures and can do massive damage with it. |
| Wii Fit | Summons a bunch of colorful images of yoga poses that harm and knock back players. |
| Olimar Soul | Unleashes an ungodly version of Olimar that has eight arms and Pikmin heads growing out like pulsing sores. It makes loud whistle sounds and summons dead Pikmin spirits to overwhelm foes. |
| Thundercloud | A giant thundercloud appears in the middle of the stage and begins flinging bolts randomly. |
| Nega Shantae Team-Up | Nega Shantae appears and attacks alongside the player. |
| Omega Beam | Unleashes a huge ray from the character's eyes that can be angled while firing. |
| Ship Snipe | Goes into Samus' ship and displays a crosshair that can be aimed over players to fire at them. |
| Poe's Fleet | Summons a fleet of X-Wings that attack opponents on the stage from afar. Players can actually defeat the X-Wings if they have a strong enough attack. |
| Use the Force | Force pushes a opponent off the stage. If other opponents are within the path of the pushed back opponent, they get knocked back as well. |
| One Punch Man | Releases a single powerful punch that knocks whatever in it's vicinity the FUCK out. |
| Arms Mode | Releases a powerful burst of energy from cybernetic arms and the player can aim this beam vertically. |
| Berserk Mode | Red energy basks off the player as their stats are maxed, allowing for much more powerful and faster attacks. |
| Super Size Me | Turns the player into a giant version of themselves with limited mobility options but vast strength. Works similar to Giga Forme, with the major differences being mobility. |
| Toad Army | Summons an army of Toads to swarm the stage, attacking anyone in their paths. |
| Koopa Clown Car | Gets in the Koopa Clown Car and throws red Koopa shells in a floaty, basically unhittable machine. |
| Be A Man | Gets to the top of a long pole and then kicks it down, usually covering the entire width of a stage. |
| Knight's Fury | The screen turns black and Meta Knight cuts across vertically, taking anyone in his path out. |
| Grand Hammer | The player gets a massive hammer which they slam into the stage, creating dangerous shockwaves. |
| Tankbot | Summons Tankbot and pilots it. |
| Night Slash | Brings the opponent up where the goddamn moon is and slashes away before knocking them down back to the stage. |
| World Party | Gets a bunch of people to dance to the rhythm, creating musical shock waves that can juggle opponents before killing them with one killer move. |
| Link Husbando Attack | Summons hundreds of Link Clones who crawl to get over to the player, anyone in their way killed. |
| Deadly Injection | The lights go out and then suddenly a red streak goes across the stage, sending out a variety of multicolored pills that bounce across the screen which harm opponents. |
| Omega Bird | Summons a giant bird to grab an opponent and disappear off into the sky. |
| Dead of Night | Summons Abner Cadaver and Poe who fling pumpkin bombs out of a rickety wagon at opponents, running them over if they get in their path. |
| Ring of Spears | A ring of spears surrounds an opponent, killing them once they move. If they don't move, they begin to fade into nothingness. |
| #13 KY-Dan/13 Luc-KY | Summons tiny clones from their hands and makes a massive explosion. |
| Ragna Blade | Calls forth the power of the Lord of Nightmares in the shape of a sword and slices through whoever is on the ground, knocking them the hell away from everyone. |
| Hell Blast | Creates a spear of darkness that pierces anyone within range, stealing all their health and knocking them back very hard. The health goes back to the user. |
| Jealousy Bomber | Shoots a heart-shaped projectile to the opponent. If it hits, the player will kiss Joe (who magically appears behind them), making their opponents heartbroken and explode with envy. |
| Meteorite Drop | Sends down a giant meteorite crashing down the center of the stage. |
| Psychic Whirlwind | A giant psychic whirlwind that blows opponents past the edges. If the opponent somehow survives, their special moves are disabled. |
| Fire Blast | Fire blasts across the screen, doing a ton of damage. |
| Heaven's Barrage | Character preforms a backflip kick, launching the opponent high into the air. They then immediately jump to follow suit, then unleash a barrage of kicks in mid-air. The last two punches knock the opponent down to the ground. |
| Planet-Destroying Fortress | The Planet-Destroying Fortress comes into the background of the stage and begins firing bombs and lasers before blasting off. On the Planet-Destroying Fortress stage, a golden colored Planet-Destroying Fortress appears instead. |
| Metrotitan Summon | Summons a Metrotitan that freezes any opponents while also doing some hefty damage. |
| FG204 | A clone of the character arrives from the future in the FG204 and basically acts as an AI assist, focusing on opponents that aren't being currently dealt with. |
| Hyper Chain Drive | Summons a firey pillar geyser that goes right under the opponent. |
| Time Portal | A portal appears in the center of the stage that begins ripping the stage apart, causing great earthquakes and disasters. |
| Psycho Drive | A giant ray of Psycho Power blasts across the stage, damaging anyone in it's path. |
| Black Hole | A black hole that sucks in opponents appears near Palutena's origin point, allowing her to hit opponents with a variety of methods. |
| Excess Sugar Energy | Makes the character go at insane speeds. |
| Vampire King | Summons the Vampire King, who attacks with strong and brutish attacks. |
| Power of 11 | All attacks are super powerful for a short amount of time. |
| POW Block | Any characters that are on the ground receive a ton of damage. This attack can be done three times. |
| Red Mind | Allows player to control their opponent in any way they want for a short time. KOs effect the opponent but you loose control of them after they are KO'd. |
| Power Cosmic | Strong, cosmic waves follow every attack. |
| Yazzania | Attacks wildly with two energy katanas. |
| !!!SEAPUNK!!! | Summons a dolphin that makes crass comments and jumps through hoops. Highly implied to be dolphin from Vaporwave Z. |
Assist Characters
Picture
Assist Information

Metal Mario

Metal Mario walks around the stage punching and groundpounding any opponents it comes across.

---

Common

Knuckle Joe

Knuckle Joe runs around the stage punching and kicking players. After awhile he vanishes.

---

Rare

Doc Robot

Doc Robot takes the ability of one of 4 Robot Masters. Metal Man, Wood Man, Gutsman, or Snakeman. Then he uses their ability, and vanishes after a little bit.

---

Rare

Mini Toad

Walks across the stage, pummeling any person that gets in his way.

---

Common

Mewtwo Ball

Rolls across the stage, making vague threats but never actually doing anything.

---

Common

Spyke

Gives a random boost to the person who summoned it.

---

Rare

Squid Smith

Lines up five Heart Squids and then melts them down to fully recover the summoner's health.

---

Rare

XR

Fires a bunch of guns that do a lot of damage to characters that get caught in the crossfire.

---

Common
Stages
Starter
| Stage | Info |
| --- | --- |
| | Battlefield, the place for a true battle. 3 Platforms, and some ground. There are no hazards. |
| | Final Destination. Battle between the Sun, and Earth on a platform rotating around both. |
| | The Smash Bros Arena! You can jump off the ropes and smash the light to harm foes. It also becomes the Punch Out World Championship too. |
| | Rainbow Road! It's a stage that moves around while you ride a platform. Shy Guys come in Karts as hazards. |
| | Cookie Country from Kirby. You walk through the meadows, trees, water, and blocks. Waddle Dees are the hazard, but can be killed easily. |
| | One of the best stages from one of the best Megaman games. The stage starts on a few blocks with a waterfall in the background. Soon the waterfall gets bigger and crushes the ground, leading you to the underwater part with lots of hazards. |
| | Smashvile, from Animal Crossing. Home to the non killer Villager. The only hazards are the moving platforms, if you even count them as one. |
| | The Pokemon Stadium! The terrain randomly changes from Mountains to Ice to Electric to Fire. |
| | Wii Fit Studio! No hazards. But a Sandbag to train on. And those platforms. |
| | A Japanese Temple! A flat stage with not a ton going on, but sure looks nice. |
| | Gloomy Galleon is the fourth world in Donkey Kong 64. It is a water-based cove area featuring King K. Rool's sunken navy from earlier Donkey Kong games. This stage features a lighthouse which can be used a high platform and a bunch of water to sink your opponent into. |
| | Jakku is a planet that totally isn't Tatooine. It's a flat stage in a desert full of scavengers. Don't let them steal your items or cool junk like Dark Artifacts and rare insects or you'll have to fight them. |
Unlockable
Stage
Info



Bowser's Castle

Bowser's Castle. This stage takes place in two areas. One is filled with lava, along with a bridge that can be destroyed. The other is from Mario Kart, and contains Lava Rock Bowser and Thwomps.

---

Unlock the king Bowser.




The Glitz Pit

The Glitz Pit. This arena like stage is similar to the Boxing Arena, except it has no ropes.

---

Unlock the green banana Luigi.




The Halberd

The Halberd. Meta Knight's battleship.

---

Unlock the mysterious Meta Knight




Quilty Square

Quilty Square, from Patch Land. The only hazards are Yarn Foes that come from Grass Land or Space Land from the left or right sides.

---

Unlock the soft Prince Fluff.




Gutsman's Stage

Gutsman's stage. It's a scroller like Bubbleman's stage, but it's harder because it's rather easy to fall and die if you are not careful.

---

Win 50 matches.




Zumba Fitness Floor

Zumba Fitness Trainer's stage. It's a flat stage that has a bunch of mono-color dancers in it. You'll wanna get away from the center when the group dances forward.

---

Unlock the energetic Zumba Fitness Trainer.




Chicken Church

Deep in the forests of Central Java, towering above the surrounding trees, lies an abandoned, crumbling church in the shape of a giant chicken with its beak open mid-squawk. It takes place outside this sacred place of poultry worship, with nary a pit or edge. A couple of cuccos may show up, and you do not want to upset them.

---

Win 150 matches.




Saillune

Saillune City is also known as the Capital of White Magic, with good reason. The city's layout was designed by a trusted advisor of the king, a white sorcerer, to resemble a giant white magic seal, or a hexagram. The stage takes place upon it's walls, with no real obstacles.

---

Unlock the enemy of all who live, Lina Inverse.




Sweet World Fountain

Zool's Stage. This a fountain that pushes opponents away from the center if they're standing still, pushing them towards the end of the platform. In the center is a log, which will start moving if someone's on it.

---

Unlock the illusive Zool.




Planet-Destroying Fortress

Deathsaurus' Stage. The Planet-Destroying Fortress is a massive structure created by the Decepticon Emperor of Destruction Deathsaurus as his ultimate weapon to conquer the universe. It is said to be capable of destroying entire planets with its giant laser cannon. Even without that, its other laser cannons are deadly even to combiners, as are the bombs it shoots out, which can apparently survive entering the Earth's atmosphere. The stage takes place on top it's giant laser and you do not want to be on it when it goes off.

---

Unlock the destructive Deathsaurus.




Camp Kidney

A summer camp attended by a group of boy scout-like campers called The Bean Scouts. It's a pretty standard walk-off stage for the most part; place has been shut down for years! Don't make too much noise or you'll attract bears.

---

Win 200 matches.




Master Fortress Pit

Forced into his Master Core form, Master Hand's fortress contains his past and his deepest fears, although deciphering them is a bit hard. In this stage, you fight in a "stomach pit" containing acid and nightmarish versions of Nintendo enemies.

---

Win 500 matches.




Magicant

TBA

---

Unlock ???
Dark Artifacts
These are collectible items that drop randomly during matches or during story mode. They are the key to unlocking certain characters or stages and also the key to unlocking the Briar Door in the menu.
| Dark Artifact | Info |
| --- | --- |
| Dark Cannon | In Super Smash Bros. Brawl: The Subspace Emissary, those who fall in battle return to their forms as trophies. This Dark Cannon is powerful enough to turn a fighter back into a trophy with a single shot. Originally created by the Subspace Army, they were then given to Bowser and Wario for the purpose of collecting fighters who exist in this world. |
| Dark Matter | Material that may make up the known universe around us, in concentrated, unstable form. Best to keep this away from your baby or kids. Or anyone else for that matter. |
| Demon's Blood Tailsmans | In the Slayers universe, The Demon's Blood Talismans are composed of an unknown substance, contrary to what the name implies. It is said that it contains the power of the ma-ō of the four planes: Ruby Eye Shabranigdu, Dark Star Dugradigdu, Chaotic Blue and Death Fog. |
| Ztar | Ztars are black counterparts to Stars found exclusively within the Mario Party series. They serve various functions from game to game, but usually take away one Star from the player's possession. |
| The Dark Prognosticus | The Dark Prognosticus is a book of prophecies that appeared in Super Paper Mario. The author of the book and the source of his or her knowledge is never revealed in the game. At the beginning of this powerful object is a warning: anyone who has possessed the book has never found happiness. |
| The Dark Stone | The Dark Stone is an ancient Pi'illo artifact appearing in Mario & Luigi: Dream Team. The Dark Stone is a dark purple stone in the shape of a spiral with jagged edges. Unlike the Dream Stone, which was made from the happy dreams of the inhabitants, the Dark Stone is fueled by the nightmares of people. |
| Muur Tailsman | The Muur Talisman was the first of the three Great Amulets created by the Sith Lord Sorzus Syn. Designed for her fellow Lord Karness Muur, the Talisman had the ability to turn other beings into mindless thralls that were at the possessor's command. It was a powerful object of great antiquity and was mentioned in many Sith holocrons dating from before the Golden Age of the Sith. It kind of looks like a dick, yes. |
| Defunct Master Core | A dead Master Core, probably belonging to some version of Master Hand in another universe. If it was still alive, it could generate a mass of black particles known as the "Swarm" that take on various forms depending on the difficulty level and battle progression. But it's dead now, so forget whatever I just said! |
| Nightosphere Amulet | Hunson Abadeer's amulet. The amulet transforms the wearer into an evil demon in a black business suit. The amulet's effect on the wearer's appearance varies. Wearers of the amulet also gain the ability to suck the souls of the living. The wearer will lose all powers and their demonic form once the amulet is removed. |
| Lemonsweets | Unspeakable evil. |
| Heart Research | The research Ansem and his apprentices produced on the Heart. This would become the genesis that would create the Heartless. Who knows what else one could do with this information? |
Collection Bugs
Bugs will occasionally manifest on stages and during story mode. You can collect these bugs by attempting to grab them with your bare hands or by buying the bug net item which you can get out by taunting. The bug net replaces your normal attacks, so it's never a good idea to have it while fighting normally.
Bugs can unlock certain characters and stages as well.
Bugs are marked by rarity. Here is a guide.
| Bug | Info |
| --- | --- |
| Slashing Snitchbug | TBA |
| Scatterbug | TBA |
| Genesect | TBA |
Bounties
In Bounty Hunter Mode, you can go after another character with a bounty on their head in a western town setting. Here is a list of what each character is worth.
| Character | Worth | Character | Worth |
| --- | --- | --- | --- |
| | $5,000 | | $6,500 |
| | $5 | | $300 |
| | $400 | | $400 |
| | $100 | | $9,000 |
| | $1,000 | | $200 |
| | $20,000 | | $640 |
| | $10,000,000 | | $900,000,000 |
| | $30 | | $30,000 |
| | $2,002 | | $481 |
| | $5,000,000 | | $2,187 |
| | $2,015 | | $70,000 |
| | $80,000 | | $50,000 |
| | $19,850 | | $1,985 |
| | $198.5 | | $20,020 |
| | $51,998 | | $33,777 |
| | $991,414 | | $20 |
| | $45 | | $55 |
| | $8,800 | | $100 |
| | $202.02 | | $200.02 |
| | $200.15 | | $258 |
| | $1,120 | | $450 |
| | $500 | | $304 |
| | $50,555 | | $40,444 |
| | $222 | | $347 |
| | $500,000 | | $452 |
| | $335,655 | | $17,171 |
| | $467 | | $10,006 |
| | $10,007 | | $10,008 |
| | $13 | | $5,045 |
| | $28,764 | | $659 |
| | $616 | | $617 |
| | $856 | | $75,467 |
Story Mode Bosses
| Boss | Info |
| --- | --- |
| Tom Nook | He wants his money. The boss battle begins with him popping out of trash cans and throwing bills, which are pretty fast but thin projectiles that won't hurt you too much. Then he becomes rabid and starts attacking you for major damage, but this is your opportunity to strike back. Just get his health all the way down and consider yourself done. |
| Splash Woman | Splash Woman attacks mainly with her trident, hopping over your boat as she sends projectiles down. You have to attack her while she's up in the air or when she's in your boat. Once her health's all the way down, consider yourself done. |
| Kracko | Kracko's attacks range from dropping Waddle Doos, crashing into your character, and emitting a blast of twinkling stars from his body. Once his health's all the way down, consider yourself done. |
| Giant Salaryman | Taking up 2/3rds of the screen, this giant Salaryman spits rocks out of his mouth. And that's it. Get his health lower and face gets red and spews out rocks even faster. He's kind of a push-over in that sense. |
| Mosquito Girl | Mosquito Girl is a prototype artificial mutant created by Dr. Genus of the House of Evolution. As a hybrid between human and mosquito, she has control over large swarms of the insects, using them to collect blood as sustenance or repair any bodily damage. She will send weak attacks that merely up your damage meter (not knock you back) but will upgrade her attacks to far more devastating ones. This is the first boss not to be a huge push-over; you're going to need a lot of good attacks on her and not let her get too powerful. |
| Slot Machine | It's a slot machine from out of this dimension! Shooting its arm will activate it, and give you various combinations. To defeat it, the player must get three 7's in a row, which will cause it to self-destruct. If the player gets at least one Countess Symbol, missiles and lasers will come out. Other combinations may give you coins to heal your character's damage, or will simply do nothing. |
| Patchezza | TBA |
| The Countess | TBA |
Story Mode Enemies
| Enemy | Info |
| --- | --- |
| Fire Pac | Goes around, spitting out fire or becoming a fast, fiery ball. Take him out when he's not so hot. |
| Ice Pac | Goes around, spitting out ice based attacks that will give you cold feet! He'll also turn into a giant snowball. Take him out when he's not so cold. |
| Pac Kong | Climbs up platforms and throws barrels. You can reflect their barrels back at them to defeat them or simply lob at them with your attacks. |
| Metal Pac | Magnetizes items to go towards him, with the intent of hitting you along the way. He then propels them away from him to hit you. Just damage him to take him out, but careful! He has a lot of health. |
| Abstract Daddy | This enemy needs to get close to harm you, with it's main attack trapping you. By mashing the buttons, you can escape. Using ranged attacks is a good idea. Once the player inflicts enough damage upon the creature, it will fall and deflate, deceased. |
| Bobblehead Nurse | They attack with steel pipes, and will swarm the player if they finds themselves trapped in an area with several of them. Attack if there's only a couple but it's best to just run if there's a swarm. |
| Mannequin | They'll stand still while you're looking at them, then start skittering towards you if you get too close. One pair of legs supports the hideous creature, while the other acts like praying mantis mandibles that slice in your direction. |
| Aero-Diver | Aero-Divers prefer aerial combat tactics that make full use of the maneuverability afforded by their rocket belt packs. They swarm all over their opponents in overwhelming group formations. |
| Briar Bug | An anime girl infected with The Briar. It goes around, crawling on it's mutated body, looking for characters to eat. Only attack from afar. |
| Eyeless Pioneer | An anime boy who has been infected with The Briar. It wraps people up in their eye tendrils, poisoning them. Attack only from afar. |
| Luigi Clone Riding Dry Bones | A Luigi clone that is riding a Dry Bones. They work the same way a regular Dry Bones does; stomp on them to temporarily defeat them. You can attack the collapsed Dry Bones and Luigi to make them go away for good. |
| Luigi Magikoopa | A Luigi clone that has Magikoopa DNA in them. They teleport, attacking with magic. They'll transform enemies into tougher ones and their magic will force you into a chibi-like state. Simply stomping on them or throwing a projectile will do the job. |
| Luigi's Impossible Cloud Fortress | A Luigi clone that is sitting pretty in a Latiku's cloud while holding up a Piranha Plant while firing Bullet Bills, while a Chain Chomp dangles in the air, waiting to strike. There is no possible weak point to this amazing "impossible floating fortress" except the back. Hit the back as hard as you can, because you're going to get killed if you don't. |
| Naga | These slithery women are half snake, half woman. Their screams are powerful long range attacks, so watch out. They have quite a bit of HP, so it's best to use your most damaging moves on them. |
| Harem Guard | These are big, bulky soldiers that stand around. You can't fight them, they're way too strong, but to be fair, they don't attack either. You'll have to sneak around them to avoid their attention. If they spot you, they'll send enemies after you. |
| Bat Girl | Half bat, half girl, these creatures turn into bats which are hard to kill and attack with whips. They are weakest in bat form, so go for that when you try and hit them. |
| Scarecrow | These stitched up bird scarers stand around, looking for opponents to lob explosive pumpkins at. Avoid the pumpkins because they do a lot of damage and the scarecrow itself shouldn't give you a lot of trouble to attack. |
| ScorpGal | Scorpion people, or girtablilu, are an aggressive race who live in the deserts. They are half scorpion, half human hybrids who attack with swords. Unlike most enemies, they can actually block your attacks and then counter attack. Be careful! |
| Digital Pokey | An annoying enemy that will do whatever it can to annoy you. Healing item? If a Digital Pokey is next to it, it'll eat it. About to get a finishing blow on a enemy? A Digital Pokey will block it. You wanna take care of them as soon as you can. Defeating one "bans" any of these guys from showing up for a minute. |
| Bulky Vendor | A rare Heartless that can be found in certain areas of levels. It requires you to use very heavy attacks and usage of "reaction" commands. Doing so will drop rare items like Dark Artifacts and rare bugs. |
| Nightwalker | This heartless jumps around while attacking persistently, so attack it and defeat it immediately. Watch out for its powerful counterattack. |
| Bolt Tower | This heartless has very high defense, and can only take damage in the face. Attack the face! If caught by it's snag laser, use the reaction command Bolt Reversal continuously to escape. If successful, a big explosion will unleash damage upon nearby enemies. |
| Assault Rider | This big and heavy heartless is not one to mess around. Avoid getting hit with its spear by using the well-guarded Jump attack to defeat it. When it's HP gets low, its attacks begin to get bold. Use big attacks to defeat it before it uses its explosive attack. |
Soundtrack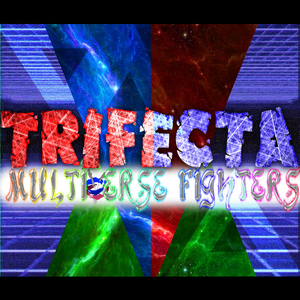 Trifecta: Multiverse Fighters Soundtrack
#
Song Title
Artist
Length
1
Better
SAINT PEPSI
3:54
2
tell me
SAINT PEPSI
2:17
3
Just Begun
SAINT PEPSI
2:18
4
Cherry Pepsi
SAINT PEPSI
3:07
Total Running Time
Unknown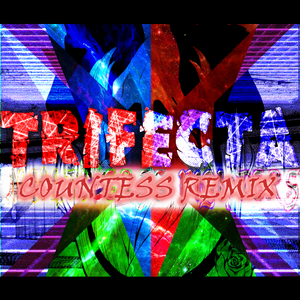 TBA
amiibo

The amiibo in Trifecta: Multiverse Fighters act similar to how they did in Super Smash Bros. for Wii U/3DS, with them essentially being training tools. Fighting your amiibo will make them learn how to attack you more effectively and take on traits of the person they're fighting. Like to taunt a lot? Your amiibo will do that. Like to do stand-offs with your opponents? The amiibo will do that. As opposed to how they act in Super Smash Bros. for Wii U/3DS, they may not be looking for the most efficient way to fight, making them more "human" in that sense.
You can use pre-existing amiibo figures as well as new Trifecta Cards that serve the same function.
Trifecta Cards
Existing amiibo
Badges
Trifecta: Multiverse Fighters Badges
Badge
Unlock Conditions

First Place Badge
Unlock by obtaining first place in a battle with a level 9 CPU.

The Vision Badge
Win 10 matches as the Vision.

The Countess Badge
Unknown unlock conditions.
Trivia
This is Exotoro's first umbrella game to be worked on here since the Mysterious Five Project. Since then, his later games were on Lapis Wiki.
NinRMAX's vision for the game was more of a substandard Super Smash Bros. clone with many of the same characters but also threw in some TOME characters for good measure. In Toroko's rework:

The tables were extended out, reformatted and given space backgrounds. Many characters also saw reworked play styles.
A lot of characters were actually removed, such as all the TOME characters and some of the more odder choices such as 3DS Kirby and the fan-voted character Pink Gold Peach.
Multiverse-Drives did not exist like they did in Toroko's version. They were just normal Super Moves.

Much of the article's "aesthetics" is based off Vaporwave, making it the second game of Exotoro's to be based off this aesthetic.

Enemy selection was inspired by the old Minecraft mod Mo Creeps and Weirdos.

An upside down Shidaru Hotaru appears on the cover for the Trifecta: Multiverse Fighters OST (Countess Remix) soundtrack.
Community content is available under
CC-BY-SA
unless otherwise noted.