Torque did not originate from fanon. This article can be edited freely by everyone in the community.

Despite covering an existing subject, this article may include related Fantendo content. These external sources may have more official information:
"The only reason I lent him my rig was 'cause he got on his knees and begged. And what happens? He's in it for one second before he completely totals it! Idiot!"


— Torque, Paper Mario: The Thousand-Year Door
Torque
トルク Toruku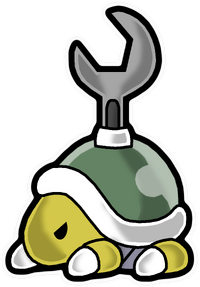 Torque, the Spike Top mechanic
GENERAL INFO

FULL NAME
Torque
GENDER
♂ Male
SPECIES
Spike Top
BIRTHPLACE
Circuit Break Island
ALIGNMENT
Good
PERSONAL INFO

RELATIONSHIPS
MISCELLANEOUS INFO

CANON APPEARANCES

Paper Mario: The Thousand-Year Door
Toruqe is a Spike Top that teams up with Luigi in order to find the Marvelous Compass during the events of Paper Mario: The Thousand-Year Door. Before joining Luigi's party, he lived on Circuit Break Island, the home of extreme kart racing.
When Luigi arrived at Circuit Break Island, he discovered that the champion of kart races would earn a trophy, which had a piece of the Marvelous Compass on it. He claims he entered the race with the help of Torque, whom he was paired with, and won the race and claimed the trophy. If Torque is talked to however, he reveals that Luigi accidentally went in reverse at the start of the race, destroying the other karts and thus winning by default. He says he is only tagging along with Luigi so he can eventually pay him for all the damages he caused on Circuit Break Island, and he seems to hold a lot of resentment for him.
Torque is a green-shelled Spike Top, who has a wrench on top of his shell instead of a spike. According to Goombella, Torque has the ability to switch out the wrench on his shell for other tools, which is presumably how he became a go-kart mechanic.
Appearances
In the upcoming game, Torque, still hating Luigi, reluctantly tags along with him to repair a special clock that can control and alter time. He develops a sort of alliance with Blooey because of their rivalry with Luigi, as did Jerry and Hayzee for their defending Luigi.
In Paper Luigi: The Thousand-Year Compass, Luigi travels to Circuit Break Island, in order to win the trophy containing a piece of the Marvelous Compass. Luigi pairs with Torque, but at the beginning of the race, Luigi went in reverse, smashing all of the other cars. He won the trophy by default, but Torque just wants his money back.
Gallery
Community content is available under
CC-BY-SA
unless otherwise noted.