"By boogity! Mario/Luigi, I have found Bowser's current location, but something is very odd; he seems to be based...in the sky!"
—
Toadbert to Mario/Luigi, Super Mario Exploit
Toadbert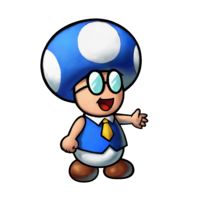 GENERAL INFO

GENDER
♂ Male
AGE
Unknown
BIRTHPLACE
Toad Town
PERSONAL INFO

RELATIONSHIPS
CLASS
Helper
Hero
MISCELLANEOUS INFO

CANON APPEARANCES
Toadbert is a male Toad who debuted in Mario & Luigi: Partners in Time.
Bearing a very strong resemblance to famed comic strip character Dilbert, he seems to be good friends with Toadiko and has a tendency to say by boogity very often. He is easily one of the most recurring Toad characters throughout the Mario & Luigi series (others include Toad and Toadsworth). Toadbert is distinguished by his blue mushroom cap with white spots and thick glasses.
Toadbert appears to be on very good terms with Mario Bros. as seen by the help that he had provided for them throughout the series like in Mario & Luigi: Rivals in Adventure.
Appearances
Mario & Luigi: Rivals in Adventure
Toadbert appears in various parts in the game and helps the Mario Bros. a few times.
Toadbert appears on this game with a minor role, he is the owner of the Toadbert's Lab and help Mario with the Virtual World things.
Toadbert is confirmed to be playable (for his artwork only) in Super Mario Nation.
Toadbert appears briefly in Lets-a-go, Mario. He only appears in the intro, telling Mario and Luigi about Bowser's plan. He rarely appears anywhere else in the game.
Toadbert appears in Super Mario Bros. V to give you the Holospeaker he also gives it major updates Blue Toad gives the minor updates
Gallery