Toad is not from Fantendo. However, this article may include related fan ideas.

These external sources may have official, more accurate information:

This article is free to edit. Please follow the article standards and respect good-faith contributions.
"Thank you Mario, but our princess is in another castle."


— Toad, Super Mario Bros. 2010
Toad
MISCELLANEOUS INFO

VOICE ACTOR(S)

Samantha Kelly (current; Super Mario Galaxy-present)
Miki Nagasawa (games)
Tomoko Maruno (previous; Mario Kart 64 (only Japanese version)-Mario Kart: Super Circuit)
Isaac Marshall (previous; Mario Kart 64 (only International version))
Jen Taylor (previous; Mario Tennis-Mario Party DS)
Kelsey Hutchinson (previous; Super Mario Strikers)
Nanae Sumitomo (previous, not discovered; Satellaview)
John Stocker (other media)
Bob Bergen (Super Mario Party)
Toad is Peach's long-time assistant and is the name of a single character, and an entire Toad race, similar to Yoshi. His role is sometimes taken by Toadsworth instead. He often shows up at Mario's house and tells him that the Princess has been kidnapped. In Toad: Agent of the FBI, he gains a deeper voice and is revealed to be an agent of the Fungus Bureau of Investigation. He has a best friend named Toadette.
Game Appearances
Early Life
Main Article: Baby Toad
For a long time, little was known regarding Toad's past. This was finally revealed in Yoshi's Island 2. While on Yoshi's Island with Baby Mario, Baby Wario, and a few others, Toad witnessed the kidnapping of Baby Peach by Kamek. Toad then got kidnapped himself(along with everyone but Baby Mario) and was kept hidden inside a level, where Baby Mario and Baby Luigi later found him. Then he hopped on a Rex and went to save Baby Peach. This is likely why he dislikes Kamek.
Toad is a playable character in the Super Smash Bros. series. He made his playable debut in Super Smash Bros. Combat and later returned in Super Smash Bros. Clash. In the latter, his special moves are based on his Mario Party Appearances. In Super Smash Bros. Clash, he also appears as an attack for Peach.
In conflict, he has an entirely different move set.
Basic A: Punch, Kick, Hammer
Smash A: Headbutt
B: Mushroom Mist
Side B: Shell Toss
Up B: Note Block
Down B: Turnip
In Channel, Toad is one of the eight downloadable characters. After downloading him, you also get the Toad's Factory stage.
Standard Smash: Item Box
Side Smash: Bullet Bike
Up Smash: Propeller Spin
Down Smash: Turnip
Final Smash: Golden Mushroom
Toad has been announced to be a default newcomer in Super Smash Bros. Brutal Duel. His attacks mainly use the various power-ups from New. Super Mario Bros. Wii and Super Mario 3D World!
B: Iceball
B Side: Penguin Suit
B Up: Propeller Mushroom
B Down: Cat Dive
Final Smash: Mega Mushroom
Toad is one of the racers in Super Mario Hover Race.
In New Super Mario Bros U 2: Return to the Mushroom World, Toad goes with Peach, Mario, and Luigi to save the Mushroom world from Bowser and Metal Mario. Like in Super Mario Bros 2, Toad is the fastest character but has a poor jump
In the stage, Toad's Factory (from Mario Kart Wii) Toad makes a cameo.
In the real-time strategy game Smash Tactics, Toad is the worker unit for the Mushroom Kingdom team, i.e., he collects coins, harvests food and builds structures. Toads are created from the Castle.
Mini-games
Toad will be playable in Mario Party Infinite. Not much else is known, but he has been seen standing behind Peach in a screenshot. What this means is unknown. Toad will also be a playable character in Nintendo Party. Not much is known about his either, however.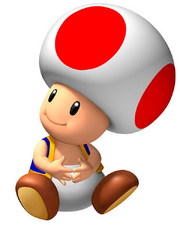 Toad is a playable character in Super Mario Legends. He has to be unlocked by finding him in a chapter. He is confirmed to also be kidnapped by Bowser early in the game. He is also confirmed to be a speedy character.
Toad is a player on the Peach Royals team on the multiplayer Wii sports game Mario Rugby League. He is one of only two males on the team and is one of the strongest, he is of above-average strength and below-average speed. He can release spores to prevent tackling.
Singalong Country!
Toad appears in all of the Mario Singalong! Series games however he is not playable in all of them. In Mario Singalong Superstar! along with the rest of the Toads he is hidden behind music doors. He is the first playable in Mario Singalong Country! where he is in full cowboy attire, he returns in Mario Singalong Boys vs Girls! as a member of the Boys team, recently in Mario Singalong Disney!, Mario Singalong Rocks!, Mario Singalong Down Under! and Mario Singalong Legends!
Toad is the first character that Tucker meets in The Mushroom Kingdom. He also volunteers to save Peach with Tucker, something he wouldn't normally do. Throughout the game, Toad develops a strong friendship with Tucker. He can gain any of the power-ups and is a very basic character, and also Tucker's "sidekick".
In Super Princess Peach: Mushroom Kingdom's Drought, Toad becomes a playable character in World 4-The

Jungle. He helps Princess Peach and Luigi get to an island that a Hawk took their water supply tank to. In this game, Toad can swing on weak ropes/vines due to his lightweight and he can also fit through small holes because of his size.
A Damsel in the Levels
In New Super Mario Bros.: Clash of the Koopas, Toad gets kidnapped by Bowser Jr., and he gets trapped in a ? Block in a random level. Only the player(s) can save him. If the player(s) bring him to the Flag Pole, then he/she will get a Mushroom House (0, 1, and 2 for Green, 3, 4, 5, and 6 for Red, and 7, 8, and 9 for Yellow). He introduces you to the red ones. Blue Toad and Yellow Toad are also playable in the game.
Other Appearances
In Ultra DK a Toad can be seen in a cage in one of the levels. This cameo was in-game made by WiiSmarts Inc., a company that Toad is the mascot of. He is also set to appear in New Super Mario Kart as a light-weight.
Toads appear in the Chinese anime, where they were working for Peach in her castle.
Redesigned

Along with Mario and the other famous characters in his series, Toad was recently redesigned for The Legacy of Mario. He is presented in a vastly different manner, being a noble (albeit clumsy and occasionally useless) Knight, who even joins the heroes on several adventures.
Finally Playable in a 3D game
Toad is a playable character in Super Mario Star Journey, a 3-Dimensional game for the Wii. Toad is the very first character to be unlocked. Since there is at least one Super Key needed. Toad is a very fast character, but his jumps are very poor. His special Power-Up is the Moon-Jump Mushroom, an item that transforms him into Moon-Jump Toad. As Moon-Jump Toad, he can jump very high, which is very handy for his jumping stat.
Toad is playable in Mario Kart: Blazing wheels as a default.
Toad appears as a playable character in Mario Kart 8 Wii U. His special move is Golden Mushroom.
Stats:
Speed: 4
Acceleration: 3
Drift: 2.25
Handling: 2
Off-Road: 3.75
Toad appears as a playable character in Mario Kart Wii 2.0.
Toad appears in Super Mario Bros. V as hostages of  False Bowser on World 1 and the host of Red Toad Houses he gives an item away this time it's like at the casino when it lands on the powerup you get that powerup
Toad is the main protagonist in the game. He must save Toadette, because she's been kidnapped by someone, at first through to be Bowser.
In this crossover game, Toad (as Captain Toad) is the main protagonist, alongside Toadette. He is the trainer who has to start his journey, making friends, catching and training Pokémon, defeating the Gym Leaders, etc. His story starts in Toad Town and he lives in Princess Peach's Castle.
Ready to Party!
Toad reappears in the New Nintendo 3DS game Mario Party: Wonder World for his most recent appearance in the series. His Celebration Spirit is Bud.
Toad appears as a playable fighter in Lumoshi's Cookies: War.
Toad appears in Runner Collection as the main character in the game Toad Run. He has to go on an adventure to save his friends from Bowser.
Extreme Mario World
Toad appears again in Extreme Mario World. Unlike SM3DW, he is in his red/original design.
Toad appears in Mario Hoops 3-On-3 Switch (mainly known as Mario Hoops 3-On-3 Deluxe) as a playable character. He is a Speedy character type and his special move is Flutter Dunk. He is a starter character. His default partner is Toadette. His team name is the Toad Mushrooms
Green and Blue Toads appear as playable characters in this game but, Red Toads and Toadette can be found in shops and Toad houses.
Toad appears as a playable character in Mario Tennis: Heroes Vs Villains. It is a speedy playing type being very fast but not very strong. Toad's zone shots are Toad Head Slide (Toad slides on his head either forward or backward) and Dizzying Spin (Toad spins fast either left or right). Toad's Special Shot is Propeller Box Dive in which Toad puts on a Propeller Box and uses it to gain height and then dives towards the ball (this references a thing Toad does in Super Mario 3D Land). Toad's villain is Wario and his Hero Special Shot is Color Bomb Rain where Toad sends a bunch of colored bombs down on Wario (this references Wario Woods). If Wario uses his Hero Special Shot Cancel Toad will throw the colored bombs but they will not explode causing the cutscene to end.
Toad appears as both a playable character and a referee. He is a referee from Sydney 2000 to Torino (Turin) 2006. He is playable at the 2019 Dream Olympics, where he is a speed type character.
Toad appears in Super Mario: Emoji Battle as a playable emoji. Toad is one of four starter characters the player can choose from alongside Mario, Luigi, and Peach. Toad's Special is: Toad emits spores across the board that clear emojis. Toad's Attack Special is: Toad creates Mushroom hazards on the opponent's board. Toad is a common emoji that can be unlocked by opening a ? Block, opening a Brick Block, or battling Toad in Character Battles. Toad's favorite item is the Mega Mushroom. If Toad has the SMB2 Mushroom Item equipped his Special will change to: Toad picks up and throws a Banzai Bill which clears emojis in its path. Toad's emoji can be fought in the following Character Battles: Toad and Toadette. Toad's Badge can be unlocked by unlocking Toad, using Toad's Special within fifteen seconds of the match, and unlocking any Mushroom item.
Toad is a playable character in Mario Super Sluggers HD, a remake of Mario Super Sluggers. He has 20 palette swaps.
amiibo
| | | |
| --- | --- | --- |
| | An amiibo figure of Toad exists! For more info about this amiibo, see this page. | |
Gallery
Navigation Templates
Mario Kart: Double Dash The Sequel
Starting Characters
Mario, Luigi, Peach, Daisy, Yoshi, Birdo, Toad, Toadette, Koopa, Paratroopa
Goomba, Paragoomba, Shy Guy, Fly Guy, Wario, Waluigi, Rosalina and Luma, Pauline, Mowz, Bandit.
Unlockable Characters
Baby Mario, Baby Luigi, Baby Peach, Baby Daisy, Bowser, Bowser Jr., Donkey Kong, Diddy Kong
King Boo, Petey Piranha, Dixie Kong, Funky Kong, Dry Bones, Dry Bowser, Noki, Pianta
Lakitu, Honey Queen, Hammer Bro., Blooper, Bullet Bill, Banzai Bill, Mii Kart Outift, Mii Bike Outfit
Nitro Courses
Mushroom Cup: Mario's Rainbow Castle, Shroom Circuit, Rainbow Road, Bowser's Fortress, Mariachi Mole Mine.
Flower Cup: Luigi's Mansion II, Koopa's Seaside Bonanza, Shroom Woods, Mowz's Hideout, Paratroopa Party.
Star Cup: Bowser Jr's Castle, DK's Jungle Hijinks, Bullet Bill Highway, Funky Kong Circuit, Music Mania.
Special Cup: Peach's Palace, Fly Guy Isle, Mosh Pit Playroom, Rainbow Road 2, Heatwave House
Hammer Cup: C'est Defino, Rio de Janeiro, Biddybud Dash, Bomb-omb Brigade Prix, Kalimari Railway
Retro Courses
Shell Cup: NDS Luigi's Mansion, 3DS Music Park, N64 Kalimari Desert, GCN Dino Dino Jungle, ARC Mario Beach.
Banana Cup: GBA Shy Guy Beach, GCN Sherbet Land, Wii Dry Dry Ruins, 3DS Koopa City, ARC Yoshi Park 1.
Leaf Cup: Wii Grumble Volcano, GBA Vanilla Lake, NDS Cheep Cheep Beach, GCN Mushroom Bridge, ARC Waluigi Stadium.
Lightning Cup: SNES Rainbow Road, N64 Toad Turnpike, GBA Sky Garden, Wii Wario's Gold Mine, ARC Banana Ruins.
Mega 'Shroom Cup: N64 Choco Mountain, 3DS Maka Wuhu, GCN Luigi Circuit, Wii Rainbow City, ARC Diamond City.
Battle Courses
Nitro: Theatre Stage, Chocolate Cake, Isle Defino, Nintendo Wii, Nintendo 3DS
Retro: Wii Delfino Pier, GCN Pipe Plaza, NDS Tart Top, N64 Double Deck, GBA Battle Course 2
Community content is available under
CC-BY-SA
unless otherwise noted.