Timmy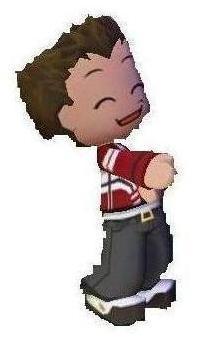 Timmy
GENERAL INFO

GENDER
♂ Male
BIRTHPLACE
FunTown, PartyTown
MISCELLANEOUS INFO

CANON APPEARANCES
Timmy is a sim who appears in the MySims Series. He really likes video games.
MySims
Timmy likes to go places, like other sims houses. His Interests are:
Likes:
Hates:
MySims Kingdom, MySims Kingdom (3DS)
Timmy lives on Rocket Reef with Vic Vector as a gamer. Like the first game, he obviously likes video games. His Interest is Tech.
MySims Party
Timmy hosts the mini game, Sim Racers, where the player has to race to the finish before anyone else does. There are several obstacles on the track, like banana peels. His mini game is like Renee's and Jimmy Watanabe's.
MySims Racing (Wii), MySims Racing (3DS)
Timmy works at a game store called "Timmy's Game Store". He gives the player a few tasks, like doing a race so he can call in the video game company to make a video game of it. He is not a playable character in the Wii game, but he is playable in the 3DS game.
MySims Racing (DS)
Timmy is a resident in Speedville and has the player do a few tasks for him, like taking him to places and picking things up for him.
MySims Agents
At first, Timmy is a agent around Main Street, helping you on your first tasks. He will give use full hints on what to do. When you get your Headquarters, he will ask you if he can be one of your agents.
MySims SkyHeroes (Wii), MySims SkyHeroes (DS)
Timmy is a member of SkyForce. He is on your side on some missions. In the Wii version, he is one of the few characters that you can play as right away.
Timmy is a character in Matt's MySims Mania for the Wii and Wii U. He owns a video game store that sells any kind of video game. He has a few tasks. Here's the first one: one time, Foster got gushed into Timmy's house while he was at the game store, and Renée was looking for him. When Renée tells Timmy that Foster was sleeping in his house, Timmy gives you a task to find out why Foster was sleeping in his house. He did not know that Foster had some trouble with the wind. His other task takes place in his game store, and he has a task where the player must put games on the shelf's of his store. He is not a member of RogerCo. He also lives in the Wild Forest.
Timmy is a character in Mario Kart 9:MySims Racing. He is one of the playable characters from the start.
Trivia
Timmy's beta appearance was a lot differesnt. Instead of having his smirk as a mouth, he had just a basic happy mouth. He also wore a different outfit. He wore a blue coat and wore green shoes.
Timmy was going to appear in MySims Party (DS) but was cut.
Timmy seems to forget being a sky hero in Mario and MySims!.
Gallery
Community content is available under
CC-BY-SA
unless otherwise noted.