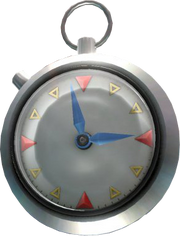 The Timer is an item that mainly appears in the Super Smash Bros. series. When used, it slows down all players for a short period of time, even though it may also backfire on the user.
HammerBro101's Mario Kart Games
The Timer is set to be a new item in an upcoming Mario Kart game made by HammerBro101. The item will slow down all racers ahead of the user for ten seconds, but not those behind the user. It will be obtainable in middle positions. When activated, it will appear above the karts and give the racers ahead of the user a three second warning before it slows down time for them (denoted by spinning thrice and losing all speed and items), making them bounce a little for each second as it shakes the ground. The item will not affect players who are airborne once the timer runs out. Players can also minimize the slowdown time to two seconds if they press the tricks button when the timer reaches zero (denoted by spinning once and losing items, but retaining current speed).