TimeStrike was an American video game company based in Los Angeles, California, founded by Zeus Panacea in early March 1993. They were best known for their classic approach to video games, which were well known for their high difficulty curves and design philosophy of being "easy to learn, but hard to master". Some of their crown achievements include their 1995 classic BowieQuest, innovative 2009 game IMMORTALS, and the highly emotional Zinfestation, the story mode to 2021's successful COLD❄BLOOD. Their policy was to always ship out their products out on time without delaying them, always making sure everything was functioning well and being sure to never waste their consumers' time. The company's mascot was Chronia during their active stint, but Silver Zin and Bowie the Teddy Bear saw plenty of usage for advertisements and sponsorships as well.
The company was managed by Athena Panacea, who was in control of the company's creative direction since the mid-2000's. She suddenly went missing on August 4th, 2024, leading to TimeStrike's sudden dissolve a week later, and was later discovered in an asylum. Many conspiracies circulate around the internet wondering whatever happened to her and where her whereabouts are, although her employees politely ask for nobody to worry about her.
Please do not use anything they have ever made, ever, after August 2020. Anything under this category that explicitly belongs to her is forbidden from public use.
Products


BowieQuest, 1995 release for the Sega Genesis
(Finished, featured article)


Crescent Kicker, 1995 release for the Sega Genesis
(Finished, featured article)

Aftershock, 1995 release for the Sega Genesis
(Finished, sysop approved)


IMMORTALS, 2009 release for the Nintendo Wii
(Finished, sysop approved)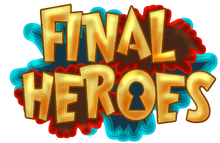 Final Heroes, 2015 release for Steam
(Finished, featured article)


COLD❄BLOOD, 2021 release for The V²
(Finished, featured article)
Trivia
TimeStrike was chosen as a name to reflect the company's policies and to also "catch on" with the public.
The remaining members of TimeStrike became a trading card company and regularly diss Ms. Panacea through livestreams.
Community content is available under
CC-BY-SA
unless otherwise noted.