Timber the Tiger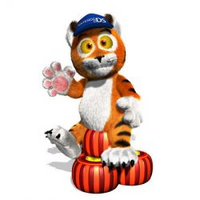 Timber's artwork from Diddy Kong Racing DS.
GENERAL INFO

GENDER
♂ Male
CURRENT STATUS
Alive
AGE
13
PERSONAL INFO

CLASS
Pilot
WEAPONS
Claws, Weapons, Missiles
MISCELLANEOUS INFO

CANON APPEARANCES

Diddy Kong Racing (1997)
Donkey Kong Racing (2008)
Timber the Tiger is a tiger who first appeared in the Nintendo 64 game Diddy Kong Racing in which his island was being invaded by Wizpig he then appeared in the Nintendo DS remake. Most recently he has appeared in Donkey Kong Racing and Mario Rugby League before receiving his own game, Timber's Island.
Appearances
Timber appeared in the Wii racing game Donkey Kong Racing amongst many of his Diddy Kong Racing co-stars and other characters from the Donkey Kong franchise. He was part of the other category. In the land battles Timber could bite and scratch.
He appears as a playable character in Donkey Kong Kart D.I.Y.
Timber is a player on the Diddy Kong Racers team on the multiplayer Wii sports game Mario Rugby League. He is a fast character with average skill and strength. His special skill is to launch a missile as an extended tackle.
Timber returns as a playable character on the Diddy Kong Racers Team on the multiplayer Wii sports game Mario Rugby League 2. The sequel to the first Mario Rugby League. He is the Sub-Captain of the team, the original sub-captain was Dixie Kong but Timber got the role when Dixie Kong was placed back on the Donkey Kong Wild Ones team.
Timber received his own game in the wii platformer Timber's Island where he had to stop his island from being invaded by the evil Captain Blackeye and his pirates. With help from his friends Pipsy and Bumper he defeated the pirates and saved the island and his parents from destruction.
Shortly after Timber's Island, Pipsy and Bumper moved back home which left just Timber on the island with his parents what a drag! However two children soon wash up on shore and he has fun with them until Captain Blackeye the wicked pirate returns and attacks Timber again. They defeat Blackeye and he winds up left on the island with Timber and his family while Iron and Amber go on to save the world, much to the dismay of Blackeye Timber's new best friend whether he wants to be or not!
Cricket Player
Timber appears on the Rocking Racers team in Donkey Kong Test Cricket.
Timber The Tiger is a playable character in Bobby The Bunny (Wii U) who plays as Bobby's nephew. He now is on an adventure with his friends to rescue the golden banana. He is 7 years old in this game.
Gallery