' is not from Fantendo. However, this article may include related fan ideas.

These external sources may have official, more accurate information:

This character's article is free to edit. Please follow the article standards and respect good-faith contributions.
Tiara
ティアラ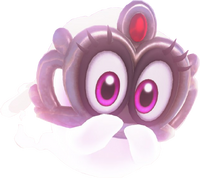 GENERAL INFO

GENDER

♀

Female
SPECIES
Bonneter
CURRENT STATUS
Alive
BIRTHPLACE
Bonneton
ALIGNMENT
Good
MISCELLANEOUS INFO

CANON APPEARANCES

Super Mario Odyssey
Tiara is a supporting character in Super Mario Odyssey. She lives with her brother Cappy in Bonneton, the Cap Kingdom. She is kidnapped by Bowser and was used to be Princess Peach's tiara in their wedding, making Mario and Cappy both team up and both rescue them.
Physical Appearance
Simillar to her brother, she has magenta eyes with a body that resembles an Eerie. Tiara can transform into different tiaras just like how Cappy can turn into different hats.
Fanon Appearances
Tiara has more of starring role along with Peach in this DLC, acting as Peach's "Cappy".
Tiara reappears as Peach's partner in the game, although she is the slowest to capture targets. To make up for this, when Peach successfully Captures a target, she gets a second of invincibility after Capturing.
Similarly to in Super Mario Odyssey, Tiara is kidnapped along with Peach at the start of Super Mario Quartz, this time by Bowser Jr. instead of Bowser. However, Mario and Cappy rescue them at the end of the first kingdom, the Zen Kingdom, after defeating Metal Mario. She helps Peach pilot the Odyssey and manages Mario's costume collection for most of the game, until Peach is kidnapped again by Bowser Jr. She pilots to Odyssey to Bowser Jr's Kingdom, where Mario goes to save Peach.
When Peach is saved, Pauline realises that Bowser's ultimate weapon cannot be stopped, so Cappy and Tiara sacrifice themselves to carry the weapon into space, where they are killed as it safely explodes high in the sky. In the postgame, Mario is able to bring Tiara, as well as Cappy, back to life by visiting the Sun Shrine and completing a quest set by Rosalina. When Cappy and Tiara return, they rejoice and Tiara reunites with Peach, spending the rest of the game with her inside the Odyssey.
Gallery