Boare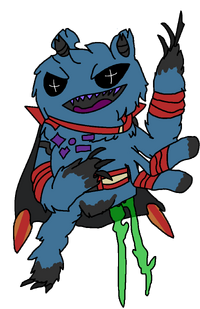 THE OX • BOARE
MUTANT BEORN
ZODIAC KILLER
THE HERO*
GENERAL INFO

NICKNAME(S)

The Ox

GENDER
♂ Male
SEXUALITY
⚢ Lesbian
SPECIES
Mutated Beorn
CURRENT STATUS
Alive
AGE
23
BIRTHDAY
April 30th
ZODIAC
Killer
HEIGHT
7'4
WEIGHT
354lbs lbs
BIRTHPLACE
¯\_(ツ)_/¯
ALIGNMENT
Lawful Evil
PERSONAL INFO

RELATIONSHIPS
CLASS
Zodiac Killer
OCCUPATION(S)
Assassin
WEAPONS
A large Halberd
MISCELLANEOUS INFO

SERIES
Fantendoverse
CANON APPEARANCES
VOICE ACTOR(S)

Brion James
Boare (more commonly known as The Ox) is a Beorn and Zodiac Killer from the Neotendoverse. He debuts in Volume One of Scattered Panes as an antagonist. He was a Beorn mutated by a strange creature deep in Zeon's core and strives to gain respect as a hero to the point of tampering with an ancient prophecy so he could take an Orange Beorn's place as the one to fight Doomulus Shine.
Appearance
Pre-Mutation
Boare was a large beorn with ultramarine fur and the usual starred eyes. He wore a red,orange and black cape and red arm and leg bands. He mostly looked similar to the prime universe's Boare.
Mutation
After his mutation he lost a leg and instead gained 2 spindly crystals he walks on, he grew 2 arms on his right side and his ears became warped. His tongue and teeth became varying shades of purple and his once bright blue fur became greyer.
Personality
The Ox considers himself a hero despite his actions. As long as some figure of authority tells him its the right thing he will continue to do it but he does have his limits which has caused him to butt heads with Sudanima in the past. This code of honour could potentially cause more conflict in the future.
Abilities
The Ox has incredible strength, being able to break bones like glass and smash through buildings with relative ease. His main power is his ability to generate a cement-like sludge that after a small time will solidify into a material as hard as steel. He can use this sludge to form weapons or slow down his enemies.
History
TBA
Relationships
TBA
Trivia
Community content is available under
CC-BY-SA
unless otherwise noted.