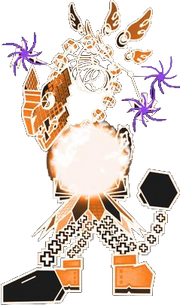 The Neverworlder is an antagonist in Neverworld The First.
Appearances
Neverworld The First
In Neverworld The First, The Neverworlder grants Nintendo heroes characters immense power, only to betray them to The Freakmeister, a new villain. He manipulates all the factions into fighting. At the end of Neverworld The First, he is killed and replaced by the Freakmeister.
Neverworld Rift
In the upcoming reboot of the Neverworld series, Neverworld Rift, The Neverworlder has been confirmed to be the main antagonist. Unlike the original series, in which the Neverworlder was referred to with male pronouns, it has been confirmed that it will be genderless in this new entry. Not much else is known about it's role at this time.
Gallery