The Legend of Zelda: The Mystery Orb
Developer(s)
KeeganOnline
Publisher(s)
Nintendo
Platform(s)
Wii U
Release Date(s)
2015 TBD
Mode(s)
TBA
Age Rating(s)
E10+ (Cartoon Violence)
Genre(s)
Action, Adventure
Series
The Legend of Zelda
Predecessor
The Legend of Zelda: A Link Between Worlds
Media Included
Wii U optical disc, download software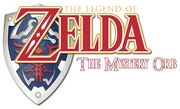 The Legend of Zelda: The Mystery Orb is a game taking place after A Link Between Worlds. It's launch date is to be announced.
Story
Once, in the land of Hyrule, peace was true. In all things, Link, the legendary
hero, was awakened by Ganon's loud laugh. He had broken the Mystery Orb - the orb that kept peace with Hyrule - and sped its 8 shards across Hyrule. Now, its up to Link to save Hyrule once again - and stop Ganon from taking it over. But a legandary sword will help Link on the way.....the Four Sword.....
Community content is available under
CC-BY-SA
unless otherwise noted.