The Groundskeeper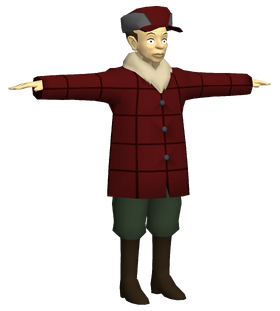 The Groundskeeper's model from Scooby-Doo! Night of 100 Frights
GENERAL INFO

NICKNAME(S)
GENDER
♂ Male
SPECIES
Human
RESIDING AT
Mystic Manor
NATIONALITY
American (presumably)
ALIGNMENT
Neutral-Good
PERSONAL INFO

RELATIONSHIPS

Alexander Graham (employer)

Holly Graham (employer)

Scooby-Doo

(ally)

OCCUPATION(S)
Groundskeeper
MISCELLANEOUS INFO

CANON APPEARANCES
VOICE ACTOR(S)
"Oh, yeah! That's right, blame the spooky groundskeeper! It's always the spooky groundskeeper! What do you people have against groundskeepers?"
—
The Groundskeeper
The Groundskeeper is a minor character that appears in the 2002 video game Scooby-Doo! Night of 100 Frights. Employed at Mystic Manor, the unnamed Groundskeeper's job is to maintain the grounds of the mansion and the surrounding areas. In terms of gameplay the Groundskeeper primarily gives hints to Scooby-Doo during his time at Mystic Manor, and provides the Great Dane with his first "invention": the Shovel.
The Groundskeeper was voiced by - and physically based upon - the late comedian Don Knotts, who had previously lent both his voice and likeness to a variety of Scooby-Doo! properties. Notably, the Groundskeeper was Knotts' only credited role in a video game prior to his death in 2006.
Personality
The Groundskeeper is a sarcastic older man who appears to dislike his job to some extent. While he provides assistance to Scooby-Doo through a variety of hints, he seems apathetic towards the disappearance of his employer, Professor Alexander Graham, and does not attempt to assist in locating him. Additionally, the Groundskeeper appears to be somewhat spiteful of younger people or possesses a shorter temper, as he angrily storms in when Shaggy suggests that he may have been the Mastermind behind the game's events.
Despite this, the Groundskeeper is not a malevolent, or even threatening, individual. As he provides assistance to Scooby-Doo throughout the game, it can be assumed that his remarks are meant to be somewhat friendly and taken in a comedic way rather than a spiteful one.
Physical Appearance
Physically, the Groundskeeper is based upon a characterized appearance of his voice actor, the late comedian Don Knotts. A Caucasian male, the Groundskeeper has short brown hair and large round eyes. His nose is large and rounded, while his lips are fairly pronounced.
The Groundskeeper wears heavier clothing, suggesting that - despite the members of Mystery Inc. wearing their normal summer clothing - either Mystic Manor is located in a cooler climate, or the events of Scooby-Doo! Night of 100 Frights take place later in the year. He wears a comically large red and grey brimmed cap on his head, and matching red plaid parka that has a beige-coloured fur collar. The Groundskeeper also wears green pants that he tucks into his high brown boots.
Fanon Appearances
The Groundskeeper makes a minor cameo appearance in Jake's Super Smash Bros., where he appears on the Mystic Playground stage. Occasionally wandering into the background of the stage, the Groundskeeper will speak some of his lines from Scooby-Doo! Night of 100 Frights before exiting the stage. These voice lines are ripped directly from the original game, with Don Knotts being credited for the role postmortem.
Trivia
As previously mentioned, the Groundskeeper is not the first time that Don Knotts has portrayed a character (both in voice and likeness) in the Scooby-Doo! franchise. Knotts also appeared on two episodes of The New Scooby-Doo Movies: in The Spooky Fog of Juneberry he played a caricature of himself as a police officer (a reference to his portrayal of Barney Fife on The Andy Griffith Show); while in Guess Who's Knott Coming to Dinner he portrayed the character of Homer Pipsqueak, who once again shared Knotts' appearance.

Knotts was also originally written to be the main villain of the 2002 live action film Scooby-Doo, though he was removed after the first draft. In the final film, he is offhandedly mentioned as having been the host of a party that Mystery Inc. attended.
Only a couple weeks prior to his death, a character based upon Don Knotts also appeared in Toy Scary Boo, an episode of What's New, Scooby-Doo? This character, Walter Claphammer, was voiced by Kevin McDonald and appeared to have been based on Knotts' aforementioned character of Barney Fife.