The Curse of Life (series) is a video game series for Windows, Mac and Linux computers. It is a sidescrolling adventure/action metroidvania-ish series, at first about the genetically engineered humanoid known as L-b1.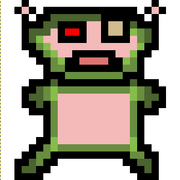 Plot
This plot is in chronological order, not narrative order. Expect major spoilers - more and more spoilers as more games are made! Then again, these games aren't real, so...
Pre-TCoL 1
A group of scientists were attempting to create life in their own, specially created environment. A strange element, Element 138, Birthion, was found in the environment. It eventually created a lifeform - a small, odd humanoid - inside a capsule. The scientists were worried about what they would do when the capsule opened because they thought the government might not consider their experiments to be just, so they fled their labs.
TCoL 1
Nine months later, L-b1 emerges from his capsule. He is born. The labs are old and barely have any electricity, and strange monsters have grown in the various experiments the scientists conducted. L-b1 will have to survive and find his way outside.
Games
Characters
Community content is available under
CC-BY-SA
unless otherwise noted.