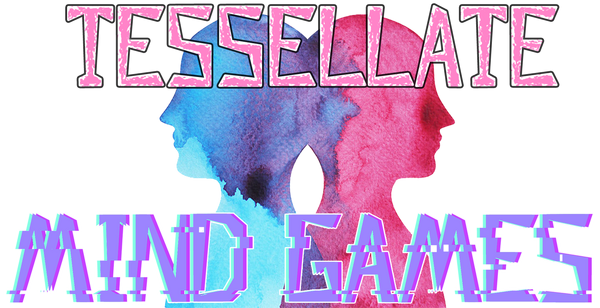 Tessellate: Mind Games
Developer(s)

Platform(s)

Genre(s)
Role-Playing, Action, Adventure, Open-World, Fighting
Series
Tessellate
Predecessor
Tessellate: Bad Luck
Successor
Unknown
Release Date(s)
2017
Age Rating(s)
"Lies don't end relationships, the truth does."

Tessellate: Mind Games is a role-playing action video game developed by Bleak Industries to be released worldwide on the Nintendo Switch console, sometime in 2017. It is the third main instalment in the Tessellate series, and takes place directly after the previous title, Tessellate: Bad Luck. The game is also stated to end the first trilogy in the timeline, as future titles will take place in a different setting and time period.
The main plot of the game, Broken Personality, takes place directly after the conclusion of Tessellate: Bad Luck. It focuses on Tess, as her personalities become harder and harder for her to control, which eventually leads to the discovery of an unknown source hunting them down individually, which forces Tess to take extreme action to save her other selves from a dead end.
Like with the other two titles in the series, Mind Games was rated a "T" rating by ESRB, and a "16" by PEGI, however, this is subject to change as the final version of the game has yet to be released. Similarly to the previous instalments, the release date has been simply expressed as 2017, however it seems a Winter 2017 release date is most likely for the game.
Development

Mind Games was initially revealed and teased through a beta version of the logo at the Fantendo 10th Anniversary Showcase, confirming the third game in the series. The game was properly announced at the Fantendo Fanon Feature 2017 with half of the presentation dedicated to explaining the game. The idea behind changing the genre came around as Mind Games was planned to be a more serious game, with darker themes than previously explored. Therefore, the visual novel genre may have been a drawback for the game's events. It was later decided the game would be turned into an action RPG. 
An aim of the game was to revert the attention of the series back onto Tess specifically, and her personas, as the previous games focused on her relationship with her daughter, Tiffany. Also, to expand on what already existed with her personas, as they hadn't been explored as a property before, with the main projects regarding them focusing on their individual journies as humans instead of the process of personas themselves.
Broken Personality
Broken Personality is the name given to the story mode of Mind Games.
| | |
| --- | --- |
| PROLOGUE: A War is Waged | A fight begins between two underground clans in the now ruined Bude Corp. Upon hearing about the dispute, Tiffany arrives on scene to restore peace, where the tutorial begins. She manages to restore the peace between the two clans, but the leader of one of the clans swears revenge on her. Tiffany returns to the base, and meets Tess to give an update on the situation. Soon after, Selene regroups with the gang and reveals that she sold the story of Tess and Tiffany as a science-fiction novel, and it's been selling greatly overseas. Selene mentions she feels awful about not asking permission first, but she wants to donate the money to the group to help aid them in repairing the city. Despite feeling used, Tess admits they're going to need financial assistence to get the city up and running again, and thanks Selene for offering to help.  |
| CHAPTER 1: Life | TBA |
Gameplay
Due to the genre transition from Bad Luck to Mind Games, becoming a role-playing action title as opposed to the open world shooter scenario created in the former two titles, Mind Games has a newly developed engine. As a role-playing title, the main goal for the player is to defeat the given enemy by any means necessary, without dying in combat.
However, there are many factors which will determine the success rate of defeating enemies, beginning with the core eight combat-oriented stats that are improved upon throughout the course of the game through many different methods.
Health

: A number which signifies the amount of damage points you can receive until you die. 

Mana

: A number which signifies the amount of attack points you can use in special attacks. Melee attacks do not affect this number.

Melee Attack

: The amount of damage you deal when you attack with physical attacks, such as punching, kicking and shooting. As well as any damage dealt with melee weapons like knives.

Special Attack

: Special attacks are stronger attacks that will cost you Mana in combat. They are also affected by the element of the character, dealing less or more damage to an opponent based on strengths and weaknesses.

Defence

: How protective and bulky you are, which will lessen the amount of damage dealt by enemy attacks.

Speed

: How agile and fast you are, which will determine the turn order in which characters take their turns.

Magic

: Magic helps boost damage of attacks that are element-based.

Luck

: Luck will allow you to occasionally dodge attacks based on the percentage of luckiness you are. Other perks such as discounts in shops and extra stat points will also become more likely.
Stats can be increased through either levelling up, or through completing activities in your daily life to subsequently boost them. 
All characters have a large move pool which develops as they level up. Naturally, they start with weaker moves and less effective moves which become stronger and more powerful as they are replaced with heavier hitting moves. Also, moves can be levelled up based on how much they are used, which will boost their effectiveness. 
Each individual has a different stat differentiation which means that they will be more skilled in different areas, based on the characteristics and personalities of that character. It also helps to give the player a better insight to the character's play style, for example, Tess has a Melee Boost and a Magic drop, which reflects her as a stronger physical attacker. All characters also have a unique element aligned with them, which deals less or more damage to an enemy based on their strengths and weaknesses. 
Elements
Every character in the game is also assigned an element based on their characteristics. Different enemies have weaknesses or strengths for these elements, giving them an attack boost or drop depending on the effectiveness of the move. It has yet to be confirmed if moves will have their own separate typings or not.
| | | | |
| --- | --- | --- | --- |
| Elements | Strong Against | Weak Against | User |
| FIRE | Metal, Ice | Water | Leire |
| WATER | Fire | Ice | Delilah |
| PSYCHIC | Nuclear | Darkness | Tiffany |
| DARKNESS | Psychic | Nuclear | Grieve |
| NUCLEAR | Darkness | Psychic | Tess |
| COMBAT | Metal | | Vermilion |
| INK | Money | Metal | Selene |
| MONEY | Science | Ink, Metal, Science | Vertigo |
| METAL | Ink, Money | Fire, Combat | Scaide |
| ICE | Water | Fire, Science | Ice Breaker |
| SCIENCE | Ice, Science | Money | Aveira |
Item Equipping
Items can be equipped to party members to strengthen them in different fields. Every character has a slot open for armour, a short-range weapon, a long-range weapon, and a mendallion which can increase their special stats like magic and luck. Weapons and Armour can be combined with other items in your arsenal to boost their effect, and make them more effective in battle. For example, you can combine pieces of metal with a sword to increase its power. You can also add items like Poison to a weapon to make a poisoned weapon, for example.
Psychosis Meter
The Psychosis Meter is a gameplay mechanic which drastically changes the landscapes in the game, based on how full or empty it is. If the Psychosis meter is high, the landscape will become more trippy and psychedelic, and can make it harder to decide what's real and what's fake. 
It can be harder to identify items in the world when the psychosis meter is high, and it can make you less likely to land attacks, but otherwise has no major effects on the overall game.
Mind Blown
A Mind Blown occurs when a character has reached it's peak potential. They transform into a radical new appearance and gain a boost to all their stats. They also unlock a new devastating move which will have drastic effects on the battle.
USER
TESS
Tess' strength becomes doubled, and her attacks are off the charts!
TIFFANY
Tiffany turns the battlefield into a psychedelic mess. This strengthens her attacks and reduces the accuracy of all other attacks.
GRIEVE
Grieve opens a rift in the ground, sending the opponent plummeting. It takes them a few turns to get back out, giving Grieve some extra turns to set himself up.
SCAIDE
TBA
SELENE
TBA
LEIRE
TBA
VERMILION
TBA
DELILAH
TBA
ICE BREAKER
TBA
VERTIGO
TBA
AVEIRA
TBA
Rebuilding Pader City
Due to Selene's latest income, the player can choose to invest her money in whatever they desire. They can choose whether to research new weapons, new moves, or rebuild the city to gain more investments and added bonuses for the characters. For example, if you decide to rebuild Bude Corp, Selene's power in battle will increase by 20%, similarly for Tiffany with the Genetics Facility. 
Enemy Units
Enemy Units have their own classification, and their own powers and abilities. 
Game Modes
Story Mode
The main game mode in Mind Games is the story mode, Broken Personality. In the story, you take turns playing as the respective characters in the interactive story which adapts as you play. Through the choices that are made over the course of the game by the player, the story builds and changes based on what you decide. Despite this, there is only one true ending which is the conclusive ending, however, there are several other endings to discover.
Online
Mind Games also has an expansive online mode which is unlocked after you complete the game for the first time. 
Characters
Here are all of the characters currently in Mind Games. You can click on a character's portrait to be taken to their respective page. 
Tess is the main character of Mind Games. After receiving a strange phone call, her whole life is about to change. Due to her newly founded caring nature, she is very worried about her renegade personalities after they are being threatened by an unknown assailant who is hunting them down. She is very determined to find out more about the whole situation, and ultimately bring it to an end. Her move set is filled with physical attacks, including her many martial arts. She can also use a martian gun decently to shoot enemies. Later on in the game, she also learns how to use a whip, which becomes another attack mechanism she has at her disposal.

+MELEE

-MAGIC

NUCLEAR
MAX STATS
Health
300
Mana
200
Physical Attack
210
Special Attack
130
Defence
150
Speed
180
Magic
150
Luck
200
1520
Tiffany is the daughter of Tess, who is ready to finally start acting like a family with her again, after being abandoned the day of her creation. She is suffering from schizophrenia, and is receiving a lot of support from her friend Leire to overcome it, after it was revealed that her best friend Kimiko was created inside her head. She is very courageous and potentially impulsive, however she does have a level head and can act very quickly when needed. Tiffany's move set revolves around her gun, the Revolvise, and her many elemental bullets. She can also use her heels to kick and dig into opponents and cause severe bleeding, but would prefer to not get them dirty.


+LUCK

-SPEED

PSYCHIC
MAX STATS
Health

Mana

Physical Attack

Special Attack

Defence

Speed

Magic

Luck

Grieve is a personality of Tess, said to be the 'ultimate evil' that resided within her until they separated, relieving Tess of most of her psychopathic nature. Despite being 'evil', Grieve is very clumsy and very forgetful, which eventually leads to his downfall whenever he has an evil plan in motion. He hasn't be in contact with Tess in quite a while, so he definitely has some catching up to do with her, if she doesn't kill him first. While his priorities are unknown, knowing his life is in danger is surely enough to make them get along for a little while? Grieve has a variety of moves, including a lot of stat boosting moves, and a lot of magic moves involving the darkness which he craves. 


+MAGIC

-DEFENCE

DARKNESS
MAX STATS
Health

Mana

Physical Attack

Special Attack

Defence

Speed

Magic

Luck

Vermilion is a personality of Tess, who is very hard-working individual who used to work as a special agent. She is very skilled in arm-to-arm combat and is very nimble and flexible. She was initially very anxious of Tess, but after realising Grieve existed, she started to accept being a personality of hers and felt proud to be a good person despite the evil. She has been between jobs since, but after learning about Tiffany, she returns to see Tess to be a bigger part of her life, and to get to know Tiffany a lot better. She has also been curious about her creation since their last stint together, but after learning they're under threat, she knows she has to lend her agent talents.


+SPEED

-SPECIAL

COMBAT
MAX STATS
Health

Mana

Physical Attack

Special Attack

Defence

Speed

Magic

Luck

Leire is one of Tiffany's closest friends. They originally met as enemies until Leire jumped ship from helping Tess and decided to help Tiffany instead. She is a pyromaniac, and rarely shows any care for another living thing, apart from Tiffany. How she learned about Tiffany or anything relating to them is unknown, but she feels a strong sense of belonging with them. She is not the strongest attacker, but her fire damage can help in a lot of dire situations whenever they arise. She can also meld her fire powers to weapons to make them more effective, as well as causing burn damage to opponents, which makes them steadily lose health turn after turn if left untreated.

+SPECIAL

-MELEE

FIRE
MAX STATS
Health

Mana

Physical Attack

Special Attack

Defence

Speed

Magic

Luck

Selene is a journalist that previously helped Tiffany and co. in Bad Luck when Pader City was being overthrown by the Predators. After documenting the whole event, and writing a report of the crisis of Pader City, she managed to become a multimedia journalist, and now works for a prestigious company doing what she loves. When she learns about Tiffany and co. being in trouble again, she returns to help in any way she can, in exchange for being able to publicly write about their adventures.
Selene
art tba

+DEFENCE

-MAGIC

INK
MAX STATS
Health

Mana

Physical Attack

Special Attack

Defence

Speed

Magic

Luck

Delilah


art tba
Delilah is a mermaid/human hybrid that Tess created as a child in her dreams to fill the void of having no mother figure in her life. She gave Delilah the perfect life, and Delilah helped inspire her as a kid to reach her dreams. Delilah would read her storybooks at night and keep her safe from the monsters hiding under her bed and in the closet. Delilah has been a jack of all trades when it comes to jobs, ranging from pop star to astronaut, reflecting all the desires Tess had as a child. 


+MANA

-MELEE

WATER
MAX STATS
Health

Mana

Physical Attack

Special Attack

Defence

Speed

Magic

Luck

Scaide is the biological daughter of Grieve and Mallory, who is very isolated from everyone around her, especially her parents. Mallory is too busy to care what she's doing, and didn't learn about her dad's existence until she hired a private eye to do some digging for her when she became fed up of being alone in the world. However, she isn't all nice, she is very obsessive and psychopathic at times with her obsessions, which rubs people the wrong way. She is completely oblivious to her dad's relations to Tess and is incredibly bewildered when the concept of personas is explained to her. Her ultimate goal is to find her role in the universe, and Grieve may be the answer.


+MAGIC

-LUCK

METAL
MAX STATS
Health

Mana

Physical Attack

Special Attack

Defence

Speed

Magic

Luck

Vertigo
art tba
Vertigo is a snobby millionaire that came into wealth by complete chance. He married the love of his life at a young age, however, as soon as he discovered that she had a vast fortune left for her, he organised her murder and inherited the fortune after she never left a will. Now, he lives in luxury, and has a long line of mistresses begging for him. One of his favourite mistresses was Ice Breaker, however, she left him after learning about the origins of his wealth, and now he is determined to hunt her down to be his prime mistress.


+LUCK

-HEALTH

MONEY
MAX STATS
Health

Mana

Physical Attack

Special Attack

Defence

Speed

Magic

Luck

Ice Breaker is a "femme fatale" and special agent that works under her own morals and intelligence. She is regarded as one of the fastest human beings in existence, and is extremely quick and agile. She is also very powerful and can withstand attacks 10 times her own power, and exactly how she does this is unknown. Despite her physical strength, she is a hopeless romantic, and easily falls in love with other people. She fell in love with Vertigo, but left him after learning about the origins of his fortune, which made her disgusted. She now currently does her best to conceal her identity, and tries to keep her emotions under control when in the line of duty.  

Ice Breaker
art tba

+SPEED

-LUCK

ICE
MAX STATS
Health

Mana

Physical Attack

Special Attack

Defence

Speed

Magic

Luck

Aveira is an aspiring scientist, however she is very clumsy which often hinders her work despite how clever she is. She found her love for science accidentally, when she stumbled into the wrong class at college, and because she found the class so fun, she pretended as if she chose to do it. She is also an inventor in her spare time, and has created many useful inventions like her glasses, which have many useful tools hidden inside of them which she can use at her leisure. She wants to eventually become known after her death from helping with something extraordinary, and learning about the connection between Tess and Vermilion, she is keen to investigate further.

+SPECIAL

-SPEED

SCIENCE
MAX STATS
Health

Mana

Physical Attack

Special Attack

Defence

Speed

Magic

Luck

Locations
Location
Pader City
Pader City is the starting location in the game, being the residence of Tiffany. The city became desolate, but is being restored by Tess and the othef characters. As restoration continues, more and more areas in the city are being discovered. It has many districts, most of which are still in ruin.
Ruined Bude Corp
Bude Corp has been completely ruined by the riots and attacks in the city, however, it becomes the new base for Aveira and is later turned into an incredible lab for the team to use.
Reception
To be elaborated.
Gallery
Trivia
This is the third game in the Tessellate series.
The game is inspired by many forms of media, especially video games and television shows. Notable inspirations would be psychological horror movies like mother!, and video games such as Bravely Default.
The game continues the theme of bad luck and good luck from the previous title.
Update Log
July 5th, 2017: Created the page.
July 6th, 2017: Added Grieve and Vermilion to the game.
July 7th, 2017: Added Selene and Leire to the game.
July 9th, 2017: Gameplay overhaul.
July 10th, 2017: Added Delilah to the game.
July 11th, 2017: Added Scaide to the game.
July 12th, 2017: Created Tess' sub page.
July 13th, 2017: Added an infobox and more headers.
July 14th, 2017: Two new characters, Vertigo and Ice Breaker.
July 21st, 2017: New logo.
July 30th, 2017: Added and redone a few tables.
August 09, 2017: Converted all of the characters to the newer format, and added a table for in-game locations.
August 11, 2017: Added Aveira to the game.
October 15, 2017: General updates.