This article is part of the Medieverse. Surely you're not looking for the original Tayshaun Fitzgerald?
Tayshaun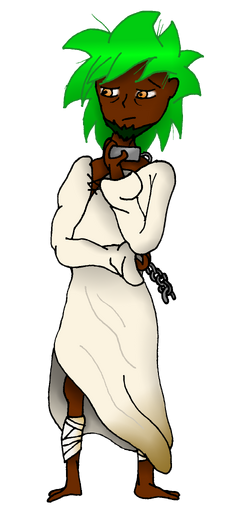 GENERAL INFO

GENDER
♂ Male
SPECIES
Human
CURRENT STATUS
Alive
AGE
19
BIRTHPLACE
Septent
PERSONAL INFO

OCCUPATION(S)
Servant
MISCELLANEOUS INFO

SERIES
Medieverse
CANON APPEARANCES

TBA
Tayshaun is a character in the Medieverse who takes a major role in the story.
History
Tayshaun has lived on the streets for most of his live, but was taken in by the king to serve for him if he wants to make something of his life. Tayshaun agreed to being his slave, despite not really getting paid, although he was provided food and shelter. Tayshaun knows nothing about his family, but it is something he desperately wants to know about.
Physical description
As normal Tayshaun has a dark skin, something that many people discriminate to him about. He also still sports his notable green hair. Before on the streets he had nothing, but inside of the castle he was given a creme-colored cloth to cover himself with, with a piece of cloth wrapped around his waist as well. He wears black shorts under it, has no shoes and wears a chain around his neck.
Personality
Most of the time Tayshaun has to put on a mask to hide his true emotions, not because he wants to, but because he needs to. He has to be cheerful yet be silent. He never can voice his opinions, which really bothers him. He is fed up with how he is treated, but hasn't found motivation to do anything about it, despite how much he wants to do something. However when finding he finally has a goal set in mind, he will do his best to achieve it, although hesitant to do dangerous things.
Abilities
While he is not considered as a strong individual, or a intellectual one, he does get credit for something. Scarlet has noted that he is an excellent lover, despite his lack of experience, but maybe because he is strong in another place.
Relationships
Scarlet
Pixel
Trivia