Taranza is not from Fantendo. However, this article may include related fan ideas.

These external sources may have official, more accurate information:

This article is free to edit. Please follow the article standards and respect good-faith contributions.
Taranza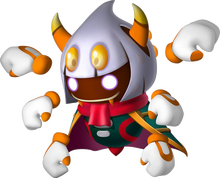 Taranza as he appears in Kirby: Triple Deluxe
GENERAL INFO

GENDER
♂ Male
CURRENT STATUS
Alive
ALIGNMENT
Anti-Villain
Taranza is a character from the Kirby series who made his first appearance in Kirby: Triple Deluxe for the Nintendo 3DS. He is a spider-like mage who can control spider webs and even use them to control people like puppets. He was the faithful retainer of Queen Sectonia prior to her death. He later becomes an ally of Kirby. He made his playable debut as one of the downloadable Dream Friends in Kirby Star Allies.
Personality
Taranza is intelligent and cunning, being able to utilize his magic in devious ways. He also has undying loyalty to Queen Sectonia, being willing to do anything to make her happy. After she is killed by Kirby, he mourns her death.
Appearances
Taranza appears as a secret character. He is unlocked by playing every type of Stadium event at least once in any mode.
Stat Modifiers: +2 Turn, +2 Boost, -2 Offense, -2 Glide
Special Ability: Sticky Webs - Taranza can shoot three balls of web in front of him, which will disappear similar to Sensor Bombs.  Any racer who drives over them will get encapsuled into a ball of web, which will slowly damage them and lower their defense until they break free, leaving them open to attacks by Taranza or other racers.