Taizo Hori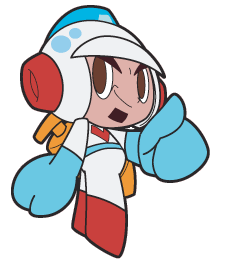 GENERAL INFO

GENDER
♂ Male
SPECIES
Human
CURRENT STATUS
Alive
BIRTHDAY
January 1st (45 years old)
PERSONAL INFO

RELATIONSHIPS

Masuyo Tobi

(Former wife)

Susumu Hori

(Daughter)

Ataru Hori

(Son)

Taiyo Tobi

(Son)

WEAPONS
Pump
Drill Gun
MISCELLANEOUS INFO

CANON APPEARANCES

Dig Dug (1982)
Dig Dug II (1985)
Dig Dug: Digging Strike (2005)
Dig Dug Island (2009)


NON-CANON APPEARANCES

Star Trigon
Namco Super Wars (2002)
Namco X Capcom (2005)
Dig Dug BIG NCT
Namco High (2013)
Taizo Hori or before known as Dig Dug, is the main protagonist of the Dig Dug series and a main character in Mr.Driller series, he debuted on the first Dig Dug game.
Story
In 1982, Taizo solved the "Dig Dug incident" caused by Pookas and Fygars, and some time later the problem in the tropical islands that happened in Dig Dug II, afterwards, he was treated as a hero. At one point of his life, Taizo was married with Masuyo Tobi, but they separated for unknown reasons. They had three sons: Susumu Hori, Ataru Hori, and Taiyo Tobi. Taizo is the chairman of the Driller Council.
In Taizo's appearances in the Mr. Driller games as a playable character, he can drill at high speed, but his air gauge decreases fast.
In Dig Dug: Digging Strike, Taizo is jealous of Susumu receiving all the attention as he was the first Driller. When he received a call from Horinesia to ask for help from Susumu, Taizo said he could help with it, but as the person never heard of him and insisted to talk with Susumu, he got angry and decided to do the job himself.
Game Appearances
Taizo appears as a Solo Unit.
Gallery
Characters