"Help! I must to get the Key to been not trapped!"
—
T.T.,

New Super Mario Bros. Pole
T.T.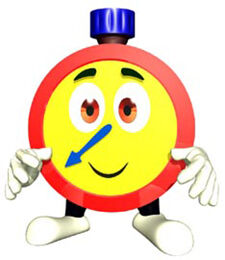 GENERAL INFO

FULL NAME
TicToc
GENDER
♂ Male
CURRENT STATUS
Alive
AGE
Unknown
BIRTHPLACE
Mushroom Kingdom, his house
PERSONAL INFO

CLASS
Hero
Pilot
Racer
Timer
OCCUPATION(S)
Racer
WEAPONS
Clock Form
Missle
Oil Stick
MISCELLANEOUS INFO

CANON APPEARANCES

Diddy Kong Racing
Diddy Kong Racing DS
T.T. is a red stopwatch that first appeared as a secret character in the Nintendo 64 game Diddy Kong racing. He then appeared in the DS remake of the game.
Apperances
T.T. Reappered in the Nintendo Wii racing game Donkey Kong Racing with other Donkey Kong characters. He was a part of the other category. In the Land battle T.T. could punch and kick.
T.T. is a player on the Diddy Kong Racers team on the multiplayer wii sports game Mario Rugby League. He is a fast character with good skill and poor strength. His special skill is to send out a sludge bubble as an extended tackle.
Cricket Player
T.T. appears on the Rocking Racers team in Donkey Kong Test Cricket.
Tennis Player
T.T. appears on the Mario Mushrooms team in Mario Test Tennis.
Gallery