Sylphiu is the third planet from the sun, and the densest and fifth-largest of the eight planets in the Solar System. It is also the largest of the Solar System's four terrestrial planets. It is the future state of Earth, after the Flood of Gods, now populated by various species, such as Oceanians, and animals. It has two moons, one called Dawn, and the other called Dusk.
History
When the gods saw how Earth had become polluted by humans, the water had disappeared, and the skies were just filled with smoke, they couldn't believe it. In mid of rage, big floods started to shake Earth and fill it with Water one more time, trying to change it, and destroying humans in the proccess. After millions of years, Earth was completely filled with water. The gods choose to create new species that would never do the same as humans did to the planet. With this, they created new continents and islands.
Countries
Atlantica, populated by Oceanians.
Ignitia, populated by Jesters.
Nievalia, populated by Glacies.
Foresta, populated by Woodiurs.
Tempestos, populated by Flashes.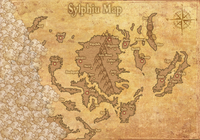 Community content is available under
CC-BY-SA
unless otherwise noted.