This page is finished.
The author of this article has completed it to the extent they are satisfied with. They do not plan to expand it in the future, so further major updates should not be expected.
ATTENTION
This page belongs to Oswald C., also known as Oswald C. D. and Oswald Tyriaroth. If you aren't Oswald, which is probably the case, please do not make any edits on this article for anything else than grammatical mistakes, formatting errors or otherwise things that do not affect its contents. Thank you for your time and enjoy reading the article!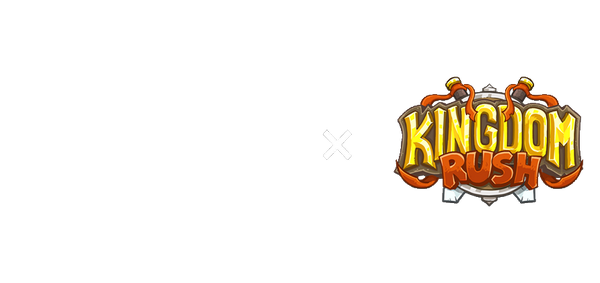 Super Smash Bros. Ultimate x Kingdom Rush is a collaboration between Super Smash Bros. Ultimate and Kingdom Rush, announced on 23 February 2020 and released on 3 June 2020. It is also the first Fighter Pack in the third Fighters Pass of the game, titled Fighters Pass Omicron.
The pack includes two playable characters, a stage, 42 music tracks, a Spirit Board of 20 Spirits and 6 Mii costumes.
What is Kingdom Rush?
Kingdom Rush is a tower defense game series that began as a flash game published in 2011 on Armor Games and various other less noteworthy websites by Ironhide Games. Thanks to its innovative gameplay, distinctive artstyle, catchy music and creative worldbuilding, Kingdom Rush the first quickly rose to the top, today standing as the most played game on Armor Games, having about as much plays as there are people in France. Following this overwhelming success, the game received ports on mobile devices, and, as this showed to be not only another huge commercial success but an extremely good fit for the series' gameplay, mobile versions became Ironhide's main concern. In 2013, a sequel titled Kingdom Rush Frontiers, which served as a complete change of setting from the first game rather than a straightforward, expected follow-up, and enhanced every already great thing about the original, released, first on mobile and then on Flash (currently standing as the 4th most played on Armor Games, with about as much plays as there are people in Iraq). Colossal praise ensued, a strong community started forming around this strangely elaborate and polished series of flash games and over the following years, the first two games received new heroes and campaigns as well as rather successful Steam ports that removed all paywalls. In 2014, Kingdom Rush Origins was released for mobile devices only, and, while Origins was an excellent game that received its fair share of praise especially for a mobile game, the series went into hiatus for a while.
In 2017, a then untitled fourth entry was teased. The following year, Kingdom Rush Vengeance, a completely new entry that took our pre-conceived ideas of the series and flipped them inside out, , was released on mobile to universal acclaim, reviving the series and opening the door to an Origins Steam port only a month after. To this day, Vengeance continues to receive new campaigns, heroes and towers, most of which reference or build upon elements from the previous games as homages to components of the seires now iconic among the community. Recently, a Nintendo Switch port of Kingdom Rush: Frontiers was released - marking Ironhide and Kingdom Rush's first installment on consoles - with plans to port every other game onto the platform.
Now, as for the games themselves: the series' gameplay follows a basic model, that of a map with paths, entry points from which enemies arrive, exits points where enemies take lives - leading to the player losing the level - and, most importantly, pre-determined strategical points where the player can build towers. There are four tower types in KR: Archers, that shoot arrows to deal physical damage (affected by armor but not magic resistance), Mages, that deal magical damage (affected by magic resistance but not armor), Artilleries, that can either deal physical or magical damage but all share the trait of dealing damage to multiple enemies at once and Barracks, which are really where KR's originality comes into play: in most tower defense games, enemies simply progress towards the exit and are damaged by towers on their way, the goal being to damage enemies enough so that they die before reach the exit. Kingdom Rush adds a layer of complexity to that template, can be blocked along their path: indeed, Barracks don't actually do anything by themselves but produce units that go on the path and block one enemy at once. The enemy then cannot move again until the unit that has blocked him is dead. Units also attack enemies they have blocked, and vice-versa, so most special enemy traits are built on their interactions with units: whether they have the ability to fly to completely avoid being blocked, to attack multiple units at once or from a distance, to explode upon dying to damage units, etc. In addition to units generated by Barracks, the player also chooses a Hero before the level starts from a large roster that expands as the game progresses (and unfortunately requires micro-transactions to be completed in the mobile versions). The Hero will appear as a fully controllable unit on the map, that acts as a stronger footsoldier with both passive and special abilities, such as being able to teleport across the stage, inflict debuffs upon foes, summon ally units, one-shot certain enemies, buff nearby towers... While most heroes use melee and special attacks as their main way to deal damage, some are ranged heroes, and though they can still block enemy units, they most likely have lackluster health, melee damage and cannot use their special attacks when blocking. Other, rarer heroes are flying units, that cannot block enemies but deal damage to them from above, and can themselves only be damaged by ranged enemy units.
Story-wise, the games have a rather standard fantasy setting and lore: after all, the first game was not designed to take place in a particularly unique universe but a generic, conventional one that left room for the gameplay to really shine. As such, the first game had three main areas: green plains, frosty mountains and dark wastelands. Further updates introduced extra areas that re-used elements of the other three, namely haunted graveyards and literal Hell. The second game, appropriately titled Frontiers, pushed the frontiers of the world of KR as it took place outside of the main and titular Kingdom, and introduced a strangely populated desert, a supernatural jungle, a lizard-inhabited underground and a sea monster-infested beach. The third game, which also had a very appropriate title (Origins) as it took place a few decades prior to the other games in the series, had a more dream-like, magical setting, and less distinct environments, being a woodland, an enchanted forest and flying ruins. The final game mainly revisited locations from the previous game with some added flair: a volcanic dwarf kingdom, frozen mountains and the familiar plains from the first game being the main areas, with further updates adding mystical ponds, more frozen lands and the graveyard area from the first two games. As for the deadly inhabitants of those areas - enemies and bosses -, they are numerous and quite diverse, ranging from goblins, orcs, spiders, demons, treants and zombies to scorpions, wasps, voodoo wizards, saurians, amphibians, ghosts, gnolls, satyrs, boars, dark elves, etc. You can find a detailed and informative list of enemies and bosses on the Kingdom Rush wiki, which is the best way to learn more about the series besides playing the games.
Playable characters
#1
The first character in the pack is King Denas, the titular Kingdom's bumbling, lumpish ruler constantly carried in his own throne by servants. His default skin retains his appearance from Kingdom Rush Vengeance, as seen above, although two of his alternate skins give him the purple pajamas of his original look. Denas seemed appropriate as the first Kingdom Rush representative, since, aside from being the overlooking protagonist and the driving force behind the entire series, he is the only character to appear in all 4 games, even if only as an ending cameo in the second one.
While the source material to pull from is, as such, somewhat richer than other characters that could've been chosen, KR is still a Tower Defense series where singular heroes are not the focus. Still, Denas is shown to have a very... bombastic fighting style, throwing food and cups at foes, calling on catapults to do the work for himself and even swearing as a way to buff nearby towers. Though he rarely uses it as his older self, he is also constantly seen carrying a sword and wields it skillfully in Origins. In the same game, as his younger self, he is also shown to be able to lift and smash a giant mace, this, coupled with his large stature, hints at him having formidable strength. But, much like his worst enemies, the King's minions are the real threat and the ones who evidently do all the work for him. Not only do they carry him around, but, extrapolating from Denas' size, supposed strength and his visible discontent for his servants, he also uses them as portable weapons in-game, lifting them up and swinging them around like flails.
To mimick the tower construction system of the original series, his Neutral Special, most complex attack and main "gimmick", if you consider he does have one, is exactly that: he leaves a peasant on the ground, another comes out of a magic portal to keep him... lifted, and the first one starts building. Just like in-game, one of four type of towers can be built as explained in the full detailed moveset and they can all be upgraded into four special and very powerful towers each. Besides that, magic is also shown to be used on various instances throughout his movesets, presumably coming from an off-stage wizard employed in Denas' army. Overall, his set of abilities and attacks is a healthy combination of canon appearances and extrapolation/adaptation.
In-game, Denas is, as expected, a defense-oriented character who focuses on keeping the enemy away from him while he stacks up towers, builds up Swear Meter (it's going to make a lot more sense when you read the moveset below, I swear) and his Royal Guard. Still, and thanks to his insane stage-control tools, he isn't exactly annoying to fight against more than he is challenging, as spamming attacks is not a viable solution for Denas players due to their relative clunkiness (the attacks', not the players').
Moveset
---
Ground attacks
---
Jab is a single large, low-knockback sword slash that can lead into other moves.
Forward Tilt is a turkey swing that can kill at higher percentages.
For his Up Tilt, Denas' servants lift his throne higher than usual and swing it in an arc from back to front as he headbutts in the same arc.
For his Down Tilt, Denas' pushes the servant carrying his throne in front of him, making both the front of his throne and the servant fall down. Both act as a hitbox, the ending lag being made of the peasant getting up and lifting up the throne again.
For his Dash Attack, Denas' servants almost tumble while carrying his throne, spinning around a couple of times while the King panics and sticks his cup out for a disjointed hitbox.
Forward Smash is a large mace slam, similar to one of his attacks as Prince Denas in Kingdom Rush Origins. It is a slow but very powerful kill move with great range.
For his Up Smash, Denas sees a fly above him and angrily swings his sword front to back in an attempt to make it go away.
For his Down Smash, Denas lifts both servants carrying his throne, one with each hand, and slams them down on the ground on each side.
---
Air attacks
---
Neutral Air is a large circular sword sweep that can be used as an edgeguarding tool thanks to its generous hitbox.
Forward Air is a mace slam that sends opponents downwards.
for his Back Air, Denas throws a turkey behind his shoulder that acts as a projectile, disappearing only after hitting an enemy or the blast zone.
For his Up Air, Denas swings his cup upwards, spilling wine in the air as an off-screen wizard makes it explode in blue magic energy.
For his Down Air, Denas grabs one of the servants carrying his throne and swings them downwards in a wide arc before putting them back where they were.
---
Grab and throws
---
Denas grabs by using the servant in front of him to grab the enemy and hold them above the servant's head while he still carries the throne, like a human operating table, and pummels by stabbing them with the bone of his turkey.
For his Forward Throw, Denas swings his sword at the opponent like a baseball bat, sending them forward.
For his Back Throw, Denas takes the opponent in one hand, pours a hot beverage on them from his cup with the other, then tosses them behind his shoulder.
For his Up Throw, Denas launches the opponent upwards with both hands.
For his Down Throw, Denas smashes both the opponent and the servant with his mace, sending the former in front of him at an upwards angle and the latter lying on the ground, though he resumes his place shortly after.
---
Special attacks
---
GIMMICK: Denas' gimmick consists of a coin meter nexts to his damage percentage that appears exactly as in Kingdom Rush, as a simple coin icon with a black bar and the number of coins you have next to it. Coins are obtained by damaging the opponent - coins even pop out of them when they are hit - and are lost, although at a rather slow rate when damaged.
Neutral Special is Tower Construction: 4 tower icons appear around Denas, just like in the Kingdom Rush games when building a new tower. Holding the Special button and directing it towards a tower icon causes a servant to away from Denas' throne as a new one appears from a portal to lift him up instead. The servant that stepped away starts building a tower on-stage, which takes about 3 seconds, while he is building, the foundations can be destroyed if 30% of damage is inflicted upon them, in which case the servant will simply disappear. Otherwise, the tower will be built and immediately start attacking the opponent:
Archer towers shoot damaging arrows that do very minimal knockback at the opponent.
Barrack towers spawn foot soldiers that follow and attack the opponent, also dealing damage very minimal knockback. Up to 3 soldiers can be on-screen at the same time.
Mage towers shoot seeking magic projectiles that don't do any knockback.
Artillery towers shoot slow, powerful projectiles that only explode when hitting the ground.
Only one tower of each type and a total of two towers can be on-screen at the same time. Any tower can be destroyed by inflicting 50% of damage upon it. If Denas stands next to a tower he has placed and presses Neutral Special again, he will upgrade the tower, enhancing its range, damage, rate of fire and health. If he presses Neutral Special again next to an upgraded tower, he will be faced with another 4 options. Each tower type has 4 special variations taken from the first two Kingdom Rush games that enhance its effect and add special abilities.
For Archer towers:
The Rangers Hideout give a poison effect to arrows, enhances the rate of fire of the tower and makes vines that slow down the opponent randomly sprout from the ground.
The Musketeers Hideout turns arrows into bullets that travel instantly and deal more damage, enhances the range of the tower greatly and makes it randomly shoot a shrapnel shot that explodes in a very large radius an deals more damage.
The Crossbows Fort enhances the rate of fire and range of the tower, makes a crow hover around it, debuffing the opponent if they come close to the crow and makes the tower randomly shoot a quick and powerful barrage of arrows.
The Tribal Axethrowers enhance the damage and knockback of the tower and makes totems that debuff the opponent and buff the player character randomly spawn on the stage.
For Barracks towers:
The Holy Horder enhances the health and damage of the soldiers but makes them slower, and gives them the ability to heal themselves and their allies, including the player.
The Barbarian Mead Hall enhances the damage of the soldiers but gives them less health, and gives them the ability to throw axes that deal minimal knockback and small damage.
The Assassin's Guild enhances the damage of the soldiers but gives the less health, gives them the ability to dodge attacks, deal bleeding damage over time and steal coins from enemies.
The Knights Templar enhances the damage and health of the soldiers drastically but makes them much slower, and gives them a 40% chance to revive themselves after dying once.
For Mage towers:
The Arcane Wizard makes the tower shoot continuous beams (instead of ball projectiles) that deal more damage and gives it the ability to teleport the opponent off-stage when they are on the ground.
The Sorcerer Mage makes the magic projectiles slow down the opponent as well as damage them over time, and makes a powerful but sluggish Golem spawn on-stage that attacks the opponent and can take 40% before dying.
The Archmage greatly enhances the magic projectiles' damage and makes the tower stack up up to 3 projectiles when the opponent isn't in range before releasing them all at once, and gives it the ability to summon large tornados that acts as windboxes.
The Necromancer enhances the magic projectiles' damage and makes skeletons randomly spawn on the stage, acting as weaker soldiers, and gives the tower the ability to spawn a damaging cloud of pestilence on-stage.
For Artillery towers:
The 500mm Big Bertha greatly enhances the bombs' damage and radius of explosion and gives the tower the ability to shoot long-range seeking missiles and cluster bombs that explodes all over the stage.
The Tesla x104 turns the artillery into a Tesla coil with more range that shoots slow, powerful multi-hitting lightning bolts instead, and emits small damaging lightning particules around it.
The DWAARP turns the artillery into a giant mining apparatus that produces miniature earthquakes around it that pop enemies upwards and burn the ground, making it deal continuous flinching damage to grounded enemies.
The Battle Mecha T-2000 turns the artillery into a large dwarf-piloted walking robot that drops bombs, oil which slow downs the opponent if they walk on it and shoots powerful seeking missiles.
Each basic tower costs 100 coin to build. Each basic tower upgrade costs another 125 coins and each specialized upgrade costs 175 coins.
Side Special is For the Kin- me!: Denas lifts a fancily armored knight from his royal guard above his shoulder as they appear from a portal behind him and throw them in front of him. Guards continue to walk around and attack foes on the stage after being thrown, if they land on the ground, and disappear after 12 seconds. Only 3 guards can be on the stage at the same time. The guards closely resemble the King's Guard in Kingdom Rush Origins.
Up Special is Get off my land!: Denas' servants swing his throne, throwing him upwards rather high while they fall downwards into the void. After being thrown, any press of the attack or special button while Denas is still flying will result in the same aerial, a unique spinning mace spin with a large hitbox and potent knockback. When landing, two new servants and a throne come out of a magic portal to lift him up again.
Down Special is @#$%&!: Denas puts his hands up and yells unintelligible curses as a purple aura radiates around him. With each Down Special, a royally decorated violet meter above Denas' damage percentage fills itself a bit more. The higher the meter is, the faster Denas is, and the stronger his towers created by his Neutral Special and guards created by his Side Special become.
Final Smash is Medieval Warfare: In a cinematic Final Smash, Denas charges towards the opponent, impaling them on his sword and launching them upwards. Time slows down for a second at the peak of their leap as battle rages down under, gargoyles from the right and griffins from the left each launch themselves toward the opposite side, bumping into the opponent: we are now in the world of Kingdom Rush. The opponent falls into a great pile of knights and skeletons, are thrown around by soldiers and monsters, launched back up high into the air, hit by colossal meteor-like projectiles thrown by Denas' catapults and enormous green magic beams falling from the sky summoned by Vez'nan. Finally, they fall back on the ground, alone, all soldiers step aside and make room for the final blow: on the right side, Vez'nan summons the humongous, bulky Archdemon from a red pentagram on the ground; on the left side, Denas' castle's gates open to reveal three tiny mace-carrying soldiers that each drink a magic potion, turning them into mighty knights nearly twice the size of catapults, the Paragons! Both the Archdemon and the Paragons charge into each other, crushing the opponent between them, and the Final Smash ends.
---
Miscellaneous
---
For his first taunt, Denas takes a big sip of his cup, then burps very loudly.
For his second taunt, Denas grabs both servants carrying his throne and shakes them like maracas while yelling "The party after this victory will be glorious!" before putting them back.
For his third taunt, Denas bites into the middle of his turkey, then rips it in half and throws both pieces behind his shoulder.
Denas' victory theme is a remixed version of the start of the Kingdom Rush Frontiers main theme.
For his first victory screen, Denas' servants spin his throne around as he whees.
For his second victory screen, Denas stands on his portable throne up in his castle and grins as the camera zooms in on him, a shuffled sound of Vez'nan screaming in anger being heard in the background.
For Denas' third victory screen, the camera zooms in on him laughing cheerfully in a giant banquet of all the KR1 and Frontiers heroes in his castle, biting into a large turkey right after.
#2
The second character in the pack is Vez'nan, the most powerful sorcerer in the titular Kingdom, the main antagonist of the first game, the indirect antagonist of the second one, the secondary anti-hero of the third one and the overlooking protagonist of the fourth one. His default skin retains his appearance from Kindgom Rush Vengeance, although two of his alternate skins give him the bulkier, cloaked look from the first and third games. Aside from Denas, Vez'nan is undeniably the driving force of the entire series, as most enemies you fight, and later on most towers you control are his very own army.
Thanks to the overabundance of creatures under Vez'nan's control showcased throughout the series and his vast array of dark magic powers, the hardest part of making his moveset wasn't so much finding references as it was choosing which ones to include. Indeed, the Dark Lord's army is extremely diverse, consisting of a motley crew of bandits, outcasts, tyrants and beasts taken from every corner of the Kingdom Rush universe, and most of what they do, Vez'nan himself can't really do. This manifests in his moveset by a very heavy use of teleportation to bring various monsters in and use them as attacks, as well as constantly phasing his staff from the third game in and out of existence to use it as a blunt weapon and a vessel for dark spells.
To mimick the tower construction system of the fourth game, the one where Vez'nan is the overarching protagonist, his Neutral Special works as a faster, more nervous version of Denas' with a card system giving it a unique element of versatility and randomness.
In-game, sharply contrasting with Denas, Vez'nan is an extremely aggressive character with erratic mobility, being able to quickly bounce all around the stage while summoning Towers and enemies, and unleash devastating though hard to pull of combos. While Denas' stage control tools are used as a zoning tool and a way for him to create himself a large area on control on the stage, Vez'nan's allow him to make the stage his area of control, trading durability on his minions for speed and (though temporary) damage.
Moveset
---
Ground attacks
---
Jab is a series of three disjointed attacks using bone weapons that skeletons emerging from the ground behind Vez'nan hand him before collapsing. The first is a poke using a thin, sharp spear-like bone, the second is a horizontal swing using a broadsword-like bone and the last is a overhead slam using a huge bone club.
For his Forward Tilt, Vez'nan does a classy advancing staff thrust, then slams the staff on the ground as a wave of firey energy shoots itself forward.
For his Up Tilt, Vez'nan consecutively spawns three large spider eggs above him in an arc from portals as he swings his staff in the same arc, breaking each egg right after it appears. This move has large area damage thanks to the web explosions generated by the eggs.
For his Down Tilt, a Dune Terror comes out of the ground below Vez'nan who rides it for a short distance as it sprints and bites forward, before being punched by Vez and diving back into the ground. A very fast move that greatly helps Vez'nan's mobility.
For his Dash Attack, Vez'nan summons a large Worg out of a portal behind him and rides it as he bites a few time before going back into a portal in front of Vez'nan.
Forward Strong is a powerful staff slam that generates a large arcane explosion in front of Vez'nan, much like his Arcane Nova move in Origins.
For his Up Strong, Vez'nan creates a large ball of green energy and lifts him up in the air telekinetically, before making it explode in a large radius. Similar to his only physical appearance on the battlefield in Vengeance.
For his Down Strong, Vez'nan points his hands to the ground in front of and behind him in an energetic manner as large tentacles come out of water portals and flail around before disappearing back into the portals.
---
Air attacks
---
For his Neutral Air, a blue ghost comes out of Vez'nan's robe and travels in a circle around him before being grabbed and thrown back into the robe by Vez. The ball and chain that the ghost carries also provides a disjoint.
For his Forward Air, Vez'nan grabs a screaming goblin out of a portal next to him and swings it around before tossing it back into another portal opposite to where it came from.
For his Back Air, Vez'nan summons a Screecher Bat from a portal behind him that immediately howls a damaging scream with a large hitbox. The scream also slightly propels Vez'nan forward in the air as he puts his hands on his ears.
For his Up Air, Vez'nan summons a small Demon Spawn above him and smashes it with his staff as it explodes in flames.
Down Air is a staff swing in a wide arc where the tip of Vez'nan's staff extends into a purple arcane scythe.
---
Grab and throws
---
Vez'nan grabs by flailing his staff as purple magical shackles bind the opponent he is grabbing, in a very similar manner to the Magic Shackles move he has in Origins. He pummels by absorbing a bit of the life force of the opponent, manifesting visually in a green orb exiting their body and going into Vez'nan's staff, similar to his Soul Burn move in both KR1 and Origins.
For his Forward Throw, Vez'nan summons a Gulaemon from a portal behind the opponent. He stabs the latter with his pitchfork and slams it behind him, popping the opponent upwards.
For his Back Throw, Vez'nan telekinetically lifts the opponent and slams them in an arc on the ground behind him, in front of him, behind him, in front of him and loops like that a few times before finally slamming them on the ground behind him, popping them into the air.
For his Up Throw, Vez'nan makes an egyptian sarcophagus come out of the ground under the opponent as a horde of mummies come out of the sarcophagus and rush to the foe, wrestling with them before launching them upwards.
For his Down Throw, Vez'nan summons two portals, one above the opponent and the other between them and himself. A Webspitter Spider comes out of the one above the foe and webs him to the ground while an Ettin comes out of the one between the two characters and slams his tree trunk onto them, popping them into the air.
---
Special attacks
---
GIMMICK: Vez'nan gimmick is multi-layered, but most of it will be explained in the Neutral Special. In addition to the latter's "cards" system, a Soul meter is present next to Vez'nan's damage percentage, which functions identically to Denas' coin meter, the only difference being Soul is obtained from being damaged as well rather than lost.
Neutral Special is Tower Summoning: 5 tower icons appear around Vez'nan, just like in Kingdom Rush Vengeance when building a new tower. Holding the Special button and directing it towards a tower icon causes a demonic portal to appear on the ground in front of Vez'nan. The basic tower takes about 7 seconds to summon itself, but, unlike Denas' Neutral Special, it does not require to be manually upgraded, instead, it continuously builds itself up by slowly draining Vez'nan's Soul meter. Each tower has four levels which all increase its general firepower and durability.
The tower selection is linked to a hand of 5 colored cards above Vez'nan's damage percentage. While only 5 are available at a time, there are actually 18 different towers; each time a tower is summoned, its corresponding card is removed and replaced with a new one. If every tower has been summoned once, the selection loops back to previous cards. Here are all available towers, with the color of the text corresponding to the color of their card in the HUD:
The

Shadow Archer

shoots extremely fast arrows barely affected by gravity. The third and fourth levels can summon a crow that attacks nearby players, teleport onto the ground and backstab a player dealing tremendous damage and shoot marked arrows that poison a player.
The

Orc Warriors Den

has three Orc footsoldiers with average stats. The fourth and third levels promote one of the Orcs to the Orc Captain, giving him extra health and damage and making other Orc Warriors follow him. They also make them regenerate health when not attacking or being attacked.
The

Infernal Mage

shoots slow but high damage fireballs. The third and fourth levels can summon infernal runes that continuously damage grounded players, fire geysers emerging from the ground and can teleport players around.
The

Rocket Riders

shoot rocket-jetpack-carried Goblins that explode on contact with the ground or a player. The third and fourth levels can place landmines, fire defective, makeshift shrapnel rockets and nitro boosted long range rockets.
The

Dark Knights

are two very durable and strong footsoldiers. The third and fourth levels soldiers reflect damage when attacks, and have special abilities where they either deal tremendous damage in one hit or protect themselves from all attack and charge into enemies dealing knockback.
The

Melting Furnace

creates firey shockwaves that deal large area damage and stun players. The third and fourth levels throw pieces of hot coal on the ground that burn it and boost the speed of the Furnace at random intervals.
The

Specter Mausoleum

shoots specter wisps that can be stacked when no players are in range. The third and fourth levels summon gargoyles that act as aerial soldiers and can possess players to make them walk towards the nearest blast zone.
The

Goblirangs

shoots percing boomerangs with big range. The third and fourth levels can throw massive boomerangs, stunning boomerangs and beehives.
The

Bone Flingers

shoot weak but extremely fast bones. The third and fourth levels can spawn Skeleton footsoldiers, warriors and giant skeleton golems.
The

Elite Harassers

are two elusive warriors able to use both melee and ranged attacks, as well as dodge attacks. The third and fourth levels can shoot storms of arrows and resurrect for a short time after being killed as Dark Elven Berserkers.
The

Orc Shaman

summons stunning lightning bolts that do area damage. The third and fourth levels can spawn healing roots for the player who constructed and cast meteor showers.
The

Grim Cemetary

randomly summons clunky but strong zombies (up to 4 at the same time). The third and fourth levels have zombies explode upon death and gripping hands occasionally come grab the opponent from the ground.
The

Rotten Forest

grows spiky entangling roots around it that act as hitboxes directly around it and ground poisoning/slowing effects further away, both growing larger and larger as the towe r upgrades itself. The third and fourth level can summon treants that wrestle opponents and temporarily grow the poisoning/slowing roots into fully fledged hitboxes like the roots closest to the foret. They also constantly have a large cloud of fog around the forest that weakens enemy attacks inside of it.
The

Blazing Gem

shoots a continuous, very powerful ray of red energy at a single opponent that gets stronger the longer said opponent is in range of the tower. The third and fourth level can produce explosions on the ground around the tower when no opponent is in range and momentarily shoot devastating lasers with unlimited range.
The

Deep Devil's Reef

has both a ranged seeking projectile in the form of a Bluegale on top of the reef and footsoldier in the form of two Greenfins that become Deviltides at level 3 and Redspines at level 4. The third and fourth level give them the ability to shoot immobilizing nets and gives the Bluegale the ability to summon storming clouds that travel along the stage shooting lightning below them.
The

Wicked Sisters

fire magical bolts that either poison or stun enemies, the actual witch doing the damage hover around the stage with the tower itself not doing anything. The third and fourth levels increase the speed and range of the witch, allow the tower itself to place voodoo totems that prevent nearby opponents from using special moves and give the witches the ability to temporarily turn opponents into frogs, rendering them both impossible to harm and harmless, interrupting their attacks and essentially teleporting them around the stage.
The

Swamp Thing

alternates between throwing long range rocks and acting a single, large, powerful foot soldier that deals area damage. The third and fourth level have the Thing stun enemies using gooey liquid with each rock and attack, regenerate health by dealing damage and create damaging roots around the tower.
The

Goblin War Zeppelin

hovers above opponents and drops bombs onto them. The tower itself serves as the Zeppelin's supply point and a goblin lookout. The third and fourth levels can throw tar bombs that make the ground sticky and slow down grounded opponents, turn the goblin in the lookout into a Zapper that throws bombs onto enemies and airdrop automatic turrets that stay on the ground and shoot knockback-less bullets at opponents at a high rate of fire.
Side Special is Villain Spell: Vez'nan consumes the first card in his hand and performs a different dark spell depending on its color:
If the card is red or orange (

Infernal Mage

,

Rocket Riders

,

Dark Knights

,

Melting Furnace

,

Blazing Gem

,

Goblin War Zeppelin

), the attack is a counter where Vez'nan creates a shield of fire around him with his staff. If a projectile comes into contact with it, he will launch the shield, now a wave of firey energy, at the source of the projectile dealing good damage and knockback. If an attack comes into contact with it, he will quickly pop the shield, making it dissipate almost immediately and giving Vez'nan the opportunity to combo in any move or series of moves.
If the card is blue or purple (

Shadow Archer

,

Specter Mausoleum

,

Bone Flingers

,

Elite Harassers

,

Orc Shaman

,

Deep Devil's Reef

), the attack is a very slow armored staff slam. The move takes about 4 seconds to wind up, during all of which Vez'nan has super armor, and consists of Vez'nan slamming the ground in front of him with the lower part of his staff, releasing a devastating wave of light blue energy and several ghastly wisps that travel in curved trajectories across the stage, dealing no knockback but some damage.
If the card is green (

Orc Warriors Den

,

Goblirangs

,

Grim Cemetary

,

Rotten Forest

,

Wicked Sisters

,

Swamp Thing

), the attack is a command grab where a green vine grows out of Vez'nan's staff and he swings it forward. If he hits an enemy with the vine, he will latch onto them and flip around, jumping above and behind them and then smashing them in front of him. if the opponent is on a ledge and he jumps into the void, he will not execute the last part and simply drop into the air with no end lag and his double jump still, allow him to recover. If the spacing is in such a way that Vez'nan can execute the jump, but doesn't have space in front of him to smash the opponent into the ground, he will throw them into the air, leaving them with no jump.
Up Special is Trail of Shadows: In a somwehat similar manner to Pikachu's Quick Attack, Vez'nan quickly creates 5 straight separate lines of purple magic in any selected direction. Releasing the button afterwards makes Vez'nan wrap himself up in his cape and spin rapidly along the lines, dealing multi-hitting damage to foes and acting as his recovery move. Pressing the shield button after the 5 lines have been created makes the explode in large purple magic blasts, acting as an unconventional long-range projectile.
Down Special is Dancing In The Dark: Vez'nan wraps himself up in his robe and disappears. Upon releasing the button or automatically after 6 seconds, he will re-appear roughly one Battlefield platform away (or in the same spot where he disappeared if no direction was inputted) and immediately do a different unique attack based on how long he was gone:
If the Special button was simply tapped, he will not do anything and will not go into freefall if teleporting into the air, the move having very minimal end lag.
If the Special button was held for 1 second, he will release a blast of green necromantic energy around him, doing moderate knockback and damage, the move having moderate end lag.
If the Special button was held for 2-3 seconds, he will strike the ground with the lower part of his staff, making waves of swampy green mud/water come out of the ground on his left and right and damage foes from afar. In the air, he will come down crashing on the ground. The move is roughly identical to the 1 second attack in terms of frame data but has more range and less damage and knockback.
If the Special button was held for 4-5 seconds, he will release a green cloud of poisoned air and float inside of it, intangible, for a short time. The cloud will continue its straight trajectory and slow movement until it hits a blast zone, and it will spit out skeletons directly below it, that either crash and damage opponents if fallen from too high or become footsoldiers that act similarly to the ones spawned by Neutral Special towers or in the Linirea stage.
If the Special button was held for the maximum amount, 6 seconds, he will switch places with the opponent closest to him, the latter suddenly finding themselves at the place Vez'nan was when teleporting and Vez'nan finding themselves where the opponent is when releasing the button. A lingering, knockback-less poison effect is also inflicted upon the opponent, dealing a total of 15% over the course of 15 seconds.
Final Smash is Archdemon: Vez'nan turns into a gigantic Archdemon, a mix between his final form in KR1 and the Archdemon in Vengeance. He proceeds to walk forward, breathing fire, and hitting the opponent with said fire will trigger a cinematic. In it, Vez'nan and the opponent will find themselves in a dark, rocky place with volcanos and magma and fire geysers all around, conceptually similar to Hell, and the Archdemon Vez'nan will execute a series of devastating attacks. First, he summons two Infernal Mages besides the opponent and grabs the in his palms as a fire geyser is summoned by the mages below the opponent. He grabs them, dropping them into the geyser and flying high in the air. The geyser erupts, the opponent is propulsed upwards and Vez'nan catches them with a flaming punch, diving downwards rapidly and crashing into the ground. As he gets up, his Archdemon form is visibly deteriorating as the shadow of Moloch appears on the ground behind him. For the final attack, he rips the opponent's soul out of their body, manifesting as a floating green blob, and crushes it between his hands as the cinematic ends. Opponents with a percentage at or higher than 100% instantly get K.O.'d from the attack.
---
Miscellaneous
---
For his first taunt, Vez'nan angrily points forward with one finger, then to the ground, accidentally summoning a skeleton and punching it on the head to make it go back into the ground.
For his second taunt, he waves his staff around energetically as a small ghostly dragon appears, following the trajectory of his staff before going into the ground. On the edge of a stage, it becomes a downwards projectile with no knockback.
For his third taunt, he briefly transforms into the third game's Archdemon and looks upwards as he roars violently before transforming back.
Vez'nan's victory theme is a remixed version of the start of the Kingdom Rush Vengeance main theme.
For his first victory screen, Vez'nan summons himself a throne of bones and weapons, sits in it, and laughs maniacally as the camera zooms away from him.
For his second victory screen, he summons two small Demon Spawns from portals besides him and juggles with them for a while, then throws them in the air and blow them up by clapping.
For his third victory screen, he summons an army of various monsters from the first game behind him by slamming the lower part of his staff to the ground, then starts screaming and pointing at one because he didn't hold his weapon right, while the rest of the army quietly and embarrasingly starts to move away before jumping in fear as he shouts at them, resuming his classy stance afterwards.
Stage
Linirea
LINIREA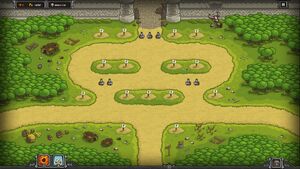 Linirea is a transformation or travel-based stage featuring three iconic locations from the titular Kingdom of Linirea taken from the first game. All three locations are major boss fights in the game, and all three have some kind of significance both in-universe and in-game.
The first location used is the Citadel, the very first boss fight of Kingdom Rush. For many players, the Citadel was both the first level to present a real threat, with the infamous Juggernaut and his seeking hand missiles that spawn enemies right next to the exit point, as well as the first to provide the player with unique ways to overcome those challenges, with the introduction of the Arcane Wizard and Holy Order as specialized towers. In Smash, the Citadel stage is depicted as an arcing hill with a large royal castle on top of it, with a similar aesthetic to Denas' Castle as portrayed in Vengeance. The hill curves downwards and its lower, unseen part forms bottom blast zones using the steep curve. The castle cannot be entered , despite having doors on both sides as invisible walls block the entry. Two unmoving royal guards defend each door, although they will not attack players.
The hazard of the stage is in the form of waves, mimicking the tower defense system of the games; there are three waves, each lasting about 30 minute. All units can be damaged by players regardless of teams and in-oppositions, and failing to prevent units form entering the castle will result in global debuffs for all players, requiring them to cooperate in order to win a game of Kingdom Rush inside of Smash. All of them will slowly move up the hill towards the door, and the royal guards will attack incoming enemies.
The first wave is made of Goblins, Orcs, Ogres, Shamans and Gargoyles. Goblins, Orcs and Ogres are all increasingly powerful and slow ground enemies with melee weapons. Shamans are identical, but weaker in health and heal themselves and allies. Gargoyles fly above other enemies but are otherwise somewhat weak. The second wave is made of Bandits, Brigands , Marauders , Wulves and Worgs. The first three all correspond to better versions of first wave enemies: Bandits and Brigands are faster than Goblins and Orcs, while Marauders have better weapons than Ogres. Wulves and Worgs are both extremely fast, but rather weak, with Worgs being bigger and stronger than wWlves. The final wave is made of Dark Knights and Shadow Archers, with The Juggernaut leading them. Dark Knights are very resistant but sluggish while Shadow Archers attack from a distance.
The Juggernaut is a large and imposing foe who walks very slowly but has several special abilities: firstly, he deals tremendous damage and knockback to players. Second, he shoots missiles on top of the castle, a normally safe zone, that spawn small minions that will not seek the entry but only attack players. After all waves are complete, buffs (if they have been completed with a minimal number of enemies entering the castle) or debuffs will be dealt and KR1's Vez'nan will swoop in and change the stage to the next area.
The second area is the Stormcloud Temple, the second boss fight and final level of the Mountains area in KR1. In the game, this level is a tricky one, utilizing the various gimmicks of the area to their full extent, such as curved paths, mine entrances that essentially teleport enemies, as well as a unique special tower that only this level has and a boss with the ability to one shot units and immobilize towers easily. In Smash, the stage is similar to the Citadel but much larger, and has several spiky mountains forming a chain rather than one curved hill. Rather than being a solid construct, the Temple is in the background, with protruding statues that can be interacted with by attacking them, and a Sunray Tower also in the background to the right of the mountain chain that regularly one-shoots a random enemy.
The Stormcloud Temple also has 3 waves. The first wave is made of Trolls, Troll Champions, Troll Chieftains and Winter Wolves. All three types of Trolls regenerate with time, while Troll Champions throw ranged hatchets and Troll Chieftains beat on their drums, making other enemies faster and stronger. Winter Wolves are faster versions of Worgs. The second wave is made of Rocket Riders, Dark Knights and Dark Slayers. Rocket Riders are essentially Gargoyles that can do high speed dashes, while Dark Slayers are all-around tougher Dark Knights. The third wave is made of Yetis led by J.T.. Yetis have very high health and can deal area damage. J.T. is extremely strong, durable, and has the ability to freeze players. After all waves are complete, buffs (if they have been completed with a minimal number of enemies entering the castle) or debuffs will be dealt and KR1's Vez'nan will swoop in and change the stage to the next area.
The third area is the Dark Tower, the third and final boss fight of the main campaign in KR1. In the game, the level is not only the culminating point of tension of the entire narrative but a recurring location in the series, being the tutorial level of Vengeance as well. It also, as usual with boss levels, utilizes various mechanics from the rpevious levels, such as Summoning Circles from which enemies spawn or a cemetery that constantly spits out weak, slow skeletons in large numbers. In Smash, the stage is slightly less large than the Stormcloud Temple, but much larger vertically. Most of it consists of a large tower mimicking the aesthetic of Vez'nan's in the level, with 9 floors each representing a boss from the first 3 games in reverse order (1st Origins boss, 2nd Origins boss, 3rd Origins boss, 1st Frontiers boss, etc.). Unlike every previous stage, the lower part of it has walk-offs rather than a bottom blast zone, composed of volcanos on each side and a cemetery on the left side.
The first floor represents Hi-Hi Enha. It appears as a desecrated grove with a large, old Gnoll (Enha, years after his first appearance) running around wildly knocking players away. The second floor represents Malicia. It appears as a green-blue tinted pond in an enchanted oasis with a dark purple aura. An old Malicia overtaken by the grass is responsible for that aura, which makes all player attacks weaker in it. The third floor represents the Spider Goddess, and appears as a series of floating platforms that enemies jump to to climb up the floor, as opposed to simply walking up the stairs, making the floor much shorter than other ones. Spiders are also crawling all over it, and will immobilize players if the stay on the floor for too long - the decomposing corpse of the Spider Goddess is visible in the background. The fourth floor represents Nazeru, and appears as an oriental palace with the genie in the background on a throne. Nazeru will randomly snap his fingers, teleporting a random enemy to another random floor. The fifth floor represents Quincu, and appears as a small jungle with Quincu in the background beating his chest, making enemies move faster. The sixth floor represents Umbra, and appears as a dark cavern with an almost dead Umbra quickly rushing itself from left to right, left to right, left to right again and again sending players flying. The seventh floor represents the Juggernaut, and appears as a furnace with a disassembled Juggernaut in the background producing damaging fire from its chest. The eighth floor represents J.T. and appears as the inside of an iceberg with J.T. exhaling freezing air from his comically large mouth onto enemies. The ninth, final floor, has Vez'nan sitting on his Vengeance throne. Vez'nan does not do anything but make demeaning comments to the players through black and orange speech bubbles before the final wave.
The stage has three waves as well. The first wave is made of Demon Spawns, Demon Imps, Demon Hounds and Demon Lords . The first three are powered up versions of respectively Goblins, Gargoyles and Worgs that blow up when killed and the Demon Lords can summon magic shields for other units, and also blow up when killed. The second wave is made of Necromancers, Magma Elementals and Flareons. Necromancers are ranged attackers who summon hordes of weak skeletons from the ground, Magma Elementals are massive creatures with the highest health of any enemy in Linirea and big area damage out of their fist slams, while Flaerons are fast and powerful ranged demons who spit out flames and also blow up when killed.
The final wave is composed of three mini-bosses and the final boss: the Demon Legion, the Gulaemon, the Cerberus, and Vez'nan. The Demon Legion is a single armored demon soldier that can duplicate itself massively, its clones also being able to duplicate though to a less extreme extent, and every Demon Legion produced blows up when killed. The Gulaemon is a single obese demon with a tiny pitchfork that is able to lift iself up using comically small wings and come crashing down on the ground, generating large fire shockwaves. The Cerberus is an osteoderm-armored, colossal three-headed Demon Hound with very high speed, health, and damage, making it the biggest threat of the three.
All mini-bosses will spawn at the same time, while Vez'nan will spawn after all three have been defeated. Vez'nan is a level 3-9 (depending on how well the players have performed throughout the stage) A.I. using the playable character Vez'nan. No matter its level, the A.I. has a noticeable preference for grabbing players and continuously pummeling them, never throwing them. One of two unique characteristics the Boss Vez'nan possesses is the ability to deal large chunks of damage by doing so, referencing the character's Soul Burn in KR1. The other ability he has allows him to summon any enemies from the stage, including ones from the Citadel or Temple, from various summoning circles around the stage. He also constantly has super armor, essentially making him a regular enemy despite being a full playable character. After Vez'nan is defeated by sustaining 250% of damage, he triggers his Final Smash and becomes the Archdemon. Instead of being a temporary transformation for a massive attack, it becomes a permanent transformation until another 250% is dealt to him. During the transformation, Vez'nan is able to execute weaker versions of all attacks he would normally do during his Final Smash, but separately.
After Vez'nan's true form is defeated or it reaches the exit, the stage automatically ends whether all stocks have been lost/the timer is over or not. In the case of the former, stocks will be counted like points in a Time battle.
Music Tracks
Kingdom Rush
Kingdom Rush Frontiers
Kingdom Rush Origins
Kingdom Rush Vengeance
Main Theme
Frontiers Theme
Menu Theme (Origins)
Vengeance Main Theme
Battle Preparations
Frontiers Map
Origins Map Theme
Dwarves Theme
Under Attack
Desert Preparation
Elven Woods Preparation
Ice Theme
Creatures of the Forest
Desert Battle
Elven Woods Battle
Humans Theme
Icewind Pass
Jungle Preparation
Fairy Grove Preparation
Endgame Theme
Winter is Here
Jungle Battle
Fairy Grove Battle
Map Theme
Dancing With Skeletons
Underground Preparation
Ancient City Preparation
Tutorial Theme
Unholy March
Underground Battle
Ancient City Battle
Anurians Theme
Battle With Vez'nan
Boss Theme
Final Boss Pre-Battle
Rising Tides Preparation
Final Boss Battle
Rising Tides Battle
Credits Theme
Before the Moon
Before the Battle
Shadowmoon Battle
Spirit Board
Primary Spirits
SHOOTING ATTACK ↑

Slightly increases the power of projectile weapons.

| | | | |
| --- | --- | --- | --- |
| | [[File:|50px|link=|Byleth]] | [[File:|50px|link=|Byleth]] | Linirea (Temple) Under Attack |

• The enemy favors Up and Down Smash
• The floor is sticky
CRITICAL-HEALTH ATTACK ↑

Increases attack power for a while when badly damaged.

| | | | |
| --- | --- | --- | --- |
| | [[File:|50px|link=|Byleth]] | [[File:|50px|link=|Byleth]] | Brinstar Frontiers Theme |

• The enemy favors Neutral Special
• The enemy explodes when K.O.'d
• Being K.O.'d by the resulting explosion counts as losing
HAMMER EQUIPPED

Starts the battle with a Hammer. Continuously deal devastating blows while it last.

| | | | |
| --- | --- | --- | --- |
| | [[File:|50px|link=|Byleth]] | [[File:|50px|link=|Byleth]] | Fountain of Dreams Fairy Groves Battle |

• The enemy starts with a hammer
• The enemy is giant
VENGEANCE ATTACK ↑

Increases attack power with damage percentage.

| | | | |
| --- | --- | --- | --- |
| | | [[File:|50px|link=|Byleth]] | The Great Cave Offensive Shadowmoon Battle |

• Defeat the main fighter to win
• The enemy starts in a minecart
• The enemy can teleport between minecarts
• The enemy can use aerial attacks while in minecarts
• The enemy cannot exit minecarts
SPECIAL-MOVE POWER ↑

Slightly increases the power of all special moves.

| | | | |
| --- | --- | --- | --- |
| | [[File:|50px|link=|Byleth]] | [[File:|50px|link=|Byleth]] | Linirea (Citadel) Battle Preparations (KR1) |

• Copies of the enemy will appear
• The enemy starts with a staff
UNFLINCHING SMASHES

Gain super armor by charging smash attacks.

| | | | |
| --- | --- | --- | --- |
| | [[File:|50px|link=|Byleth]] | [[File:|50px|link=|Byleth]] | Mushroomy Kingdom (World 1-2) Underground Battle |

• The enemy has slow super armor
• The enemy's attacks have larger hitboxes
SHIELD DURABILITY ↑

Increases shield strength.

| | | | |
| --- | --- | --- | --- |
| | [[File:|50px|link=|Byleth]] | [[File:|50px|link=|Byleth]] | Reset Bomb Forest (Post-Reset Bomb) Final Boss Battle (KRO) |

• You cannot use your special moves while on the ground
• The enemy has increased defense
PHYSICAL ATTACK ↑

Slightly increases the power of physical attacks.

| | | | |
| --- | --- | --- | --- |
| | [[File:|50px|link=|Byleth]] | [[File:|50px|link=|Byleth]] | Linirea (Temple) Icewind Pass |

• The enemy's hammer attacks generate shockwaves
• Earthquakes will randomly shake the ground
AUTOHEAL

Recover a small amount of health every five seconds.

| | | | |
| --- | --- | --- | --- |
| | | [[File:|50px|link=|Byleth]] | Jungle Hijinx Jungle Battle |

• Defeat the main fighter to win
• The enemy favors moves that use the Sword of the Creator as a whip
• Rambi the Rhinoceros will fight alongside the enemy
TRADE-OFF ATTACKS ↑

Start battles with 30% damage and higher attack power.

| | | | |
| --- | --- | --- | --- |
| | [[File:|50px|link=|Byleth]] | [[File:|50px|link=|Byleth]] | Skyloft Ancient City Battle |

• Your attacks are weaker
• You are slower
• The enemy has increased attack power
LAVA-FLOOR IMMUNITY

Grants immunity to lava floors.

| | | | |
| --- | --- | --- | --- |
| | [[File:|50px|link=|Byleth]] | [[File:|50px|link=|Byleth]] | The Great Cave Offensive (Omega form) Underground Preparations |

• The enemy is giant
• The floor is on fire
• The enemy favors Neutral Special
• The enemy has a Super Leaf that never runs out
CRTICIAL-HEALTH HEALING ↑↑

Recovers a ton of health when a certain amount of damage is taken.

| | | | |
| --- | --- | --- | --- |
| | [[File:|50px|link=|Byleth]] | [[File:|50px|link=|Byleth]] | Linirea (Citadel) Under Attack |

• The enemy has increased defense
• The enemy has slow super armor
• The enemy randomly recovers large amounts of health
CRITICAL HIT ↑↑

Grants a 12% chance to land a devastating critical hit.

| | | | |
| --- | --- | --- | --- |
| | | [[File:|50px|link=|Byleth]] | Green Greens Creatures of the Forest |

• Defeat the main fighter to win
• The enemy favors Neutral Special
• The enemy can teleport around the stage
DAMAGE REFLECTION

1/4 of all the dmaage you take is reflected on the enemy, with no knockback.

| | | | |
| --- | --- | --- | --- |
| | | [[File:|50px|link=|Byleth]] | Gerudo Valley Desert Battle |

• Defeat the main fighter to win
• The enemy (Mr. Game & Watch) will respawn infinitely
• The enemy deflects 1/4 of all damage inflicted upon him
DOUBLE FINAL SMASH

Grants a second Final Smash after using a Final Smash.

| | | | |
| --- | --- | --- | --- |
| | [[File:|50px|link=|Byleth]] | [[File:|50px|link=|Byleth]] | Dracula's Castle Final Boss Battle (Origins) |

• The enemy favors Neutral Special
• The enemy can always use a much weaker Final Smash
• The enemy's Up Special is much, much faster
HYPER SMASH ATTACKS

Increases attack power and smash-attack charge speed.

| | | | |
| --- | --- | --- | --- |
| | [[File:|50px|link=|Byleth]] | [[File:|50px|link=|Byleth]] | Garreg Mach Monastery (Battlefield form) Origins Map Theme |

• The enemy has increased defense
• The enemy has increased attack
• The enemy will randomly recover large amounts of health
Support Spirits
IMPACT RUN

Damages enemies when dashing into them.

| | | | |
| --- | --- | --- | --- |
| | [[File:|50px|link=|Byleth]] | [[File:|50px|link=|Byleth]] | Castle Siege Under Attack |

• The enemy deals damage when dashing
• The enemy has increased speed
SLOWING AURA

Slows down nearby enemies.

| | | | |
| --- | --- | --- | --- |
| | [[File:|50px|link=|Byleth]] | [[File:|50px|link=|Byleth]] | Kongo Falls Jungle Preparations |

• The enemy starts the battle with a Lip's Stick
• You will randomly be dealt 30%
BEAM SWORD EQUIPPED

Start battles with a Beam Sword.

| | | | |
| --- | --- | --- | --- |
| | [[File:|50px|link=|Byleth]] | [[File:|50px|link=|Byleth]] | Garden of Hope Elven Woods Battle |

• The enemy favors moves that use water swords
• The enemy can duplicate himself
POISON DAMAGE

Inflict a poisonous effect on enemies when damaging them.

| | | | |
| --- | --- | --- | --- |
| | [[File:|50px|link=|Byleth]] | [[File:|50px|link=|Byleth]] | Find Mii Endgame Theme |

• The enemy favors Neutral Special
• The enemy can teleport around the stage
• The floor is poisonous
GIANT

Become giant for a while at the start of the battle.

| | | | |
| --- | --- | --- | --- |
| | [[File:|50px|link=|Byleth]] | [[File:|50px|link=|Byleth]] | Norfair Unholy March |

• The enemy is giant
• The enemy has super armor
• The enemy breathes fire
• The enemy has increased speed
Mii costumes
| | | | | | |
| --- | --- | --- | --- | --- | --- |
| Gerald | Lord Blackburn | Cronan | Grawl | Lynn | Jigou |
Note: Cronan is considered a Gunner because he uses his whip as a harpoon, firing it and pulling it back in place of regular projectiles in the moveset and spinning it around rapidly in place of explosions. His various animals, as well as unique organic projectiles, are used in place of special attacks that would normally require an actual gun.
For this pack, no Mii costumes from franchises other than Kingdom Rush were chosen, as a separate pack of 6 costumes of various 3rd-party characters (Solaire from Dark Souls and Kratos from God of War as Swordfighters, Claptrap from Borderlands and the Bullet Kin from Enter The Gungeon as Gunners and Madeline from Celeste and the Tragedian from Pathologic as Brawlers) was announced at the same time and released shortly after.
Credits
Lennongrad (t∣b∣c) for making the template used in the Spirit Board.
Smashwiki for various spirit effect descriptions, and providing stock icons for SSBU characters.
The Kingdom Rush Wiki for making this entire process a thousand times easier than it could've been if less dedicated people were in the community, and more tangibly speaking for providing most images in this article.
Pakky/Bongoman/Polipede for making Denas' stock icon.
Ironhide Game Studio for making and releasing Kingdom Rush games for almost a decade as of writing.
Community content is available under
CC-BY-SA
unless otherwise noted.