Developer(s)
Publisher(s)
Platform(s)
Genre(s)
Fighting Game
Release Date(s)
TBA
Mode(s)
none
Age Rating(s)
Media Included
V² Disc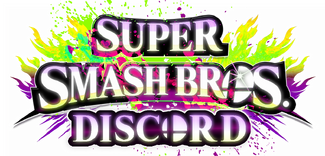 Super Smash Bros. Discord (formerly known as Super Smash Bros. for The V²) is the seventh Super Smash Bros. game. After Sakurai returned to the series in the sixth installment, it was decided that the next Super Smash Bros. for The V² console would be directed and developed by Toroko. As such, it picks up slightly from Super Smash Bros. Assemble. It would later be ported to the TimeStrike Falcon console.
Super Smash Bros. Discord is a Super Smash Bros. game that references other fan-made material as well as focusing on customization. Almost all characters now have a alternate outfit or multiple alternate outfits, and custom moves have been heavily retooled so that most characters have completely different moves to choose from as opposed to the variants that mostly dominated Super Smash Bros. for Wii U and Super Smash Bros. for 3DS. Custom moves can also be switched mid-match, allowing for unbelievable mix-ups. Numerous new mechanics add a ton of variety to the game. Additionally, there is a brand new story mode with story telling devices inspired by Kid Icarus Uprising. The roster is more focused in the vein of author appeal similar to Super Smash Bros. Assemble or Ultra Smash Bros. Burst as opposed to a "realistic" roster.
A sister game called Super Smash Bros. Spectrum is being developed as well on the Super Smash Bros. Fanon wiki that will have an even less realistic roster and features some shared elements such as characters. A third game, Super Smash Bros. Ethereal is supposed to collect all the content from the two games as well as bring in new features and characters itself. Both sister games are currently on hiatus.
Development
The game was originally known as Super Smash Bros. for The V² and was announced at the Winter Showcase 2015. At the time, this was more of a concept and not something actually in progress, but it showed the intentions of the roster to expand past not just in Nintendo's canonical past, but also in it's fanon history (as shown by the reveal of Cosmetta). It also showed the reveal of Goku, a 4th party character that would be replacing Popeye.
Super Smash Bros. Discord was revealed on 7/14/16 as more or less a "follow-up" from Super Mario Maker Phi in that it was a sequel to one of Toroko's Exotendo works. The new title was revealed as well. The game would relinquish in development hell for quite a long time, reappearing under the Infinite Content branding on 3/25/18. It is hoped that this new development leads to a more complete product over the course of the year.
The game was completely retooled during this new development cycle. Originally it was more along the lines of a more standard Smash bros. game in that it lacked customs, although they were added during development to help add more information to the characters. They carried onto the second cycle of development, where they were given more emphasis. Characters like Mario were retooled during this period and Dragon Queen was created as a new starting character, a controversial move at the time.
The game began to find more of a footing when the decision was made to cut back on the starting roster, giving players only 20 characters at the start. A lot more characters were turned into unlockable characters and development began on what would become Smash Run + and X Marks the Spot as a way to unlock them. Additionally, elements like Classic Mode and Smash Fishing were added. More modes and features were added during this development period. Jump Holds and differing final Smashes were added to accommodate for characters like Ganondorf, who received a lengthy overhaul to his moveset, as well as Palutena.
Currently, the focus is now on the overwhelming number of unlockable characters as well as fleshing out the game with more singleplayer content and features.
Gameplay
The gameplay of Super Smash Bros. Discord functions much like the past titles in the series. As opposed to lifebars, fighters can build up infinite amounts of damage which will increase their knockback, which leads to knockouts from falling off the stage or getting launched out of bounds. While many rules can be tacked on to change this simple gameplay, that's ultimately the game. Each character has a set of simple attacks, usually known as Smash attacks and Special attacks. Smash attacks are generally basic attacks but Special attacks are usually much more involved and in this game, can be altered and customized between three additional attacks.
New Mechanics
Gameplay Changes
Better Custom Moves - Custom moves have been retooled for this installment. Every character now has three custom moves for each special move to use, and many of the custom moves are now either more apparent variants or entirely brand new moves.
Custom Move Switch - You can change your entire moveset midbattle via the trigger buttons now. You can rapidly switch between three different loadouts, but once you decide one, you have a one minute cool-down before you can switch again. It also resets any charges or passive effects you have on your character (Limit Breaks, Game and Watch bucket, cannon charges). This can be disabled before battle.
Jump Holds - Some characters, such as Ganondorf and Dragon Queen, now possess different jump types when holding the jump button in the air.
Power Smash - A small meter that appears inside the portrait of a character slowly fills up the more attacks that land. When it is full, the next attack that lands will have double the power. This can be turned off in the options or be customized to have 3x or 4x the power. Additionally, all elements applied to the Power Smash meter (such as the new X-Cancel and Knockback Cancel) can be enabled or disabled.

X-Cancel - At the cost of some of your Power Smash energy, you can cancel ANY move at any time and execute a different one with the shield button. Some moves take more energy to cancel and can't be cancelled if you don't have enough Power Smash energy.
Taunt Overhaul - By using taunts, you can fill up the Power Smash meter without attacking or getting hurt, however using taunts usually end up leaving you pretty vulnerable and if you are attacked during a taunt, you will lose Power Smash energy!
Rage Overhaul - The higher your percentage, the faster the Power Smash meter fills. Characters with lots of rage become more susceptible to grab attacks.
Knockback Cancel - Using some Power Smash energy, if you press the shield button while in knockback state, you can boost back towards the stage. This has a cooldown of 5 seconds after use, so use it wisely.
Galeem Shield - By tapping the shield button three times in rapid succession, fighters will be able to use a limited time shield that encircles around them. This drains Power Smash meter, and only covers three quarters of the fighter, allowing attacks to still harm the fighter, but it lasts longer and acts as a passive shield on top of the fighter, not effecting their moves.

Air Grabs - You can now grab opponents while in air. These are shorter grabs but allow you to deal an attack to the opponent and then launch them in the other direction. You can have a lot of fun just grabbing opponents in air and then launching them higher into the air.
Air Shields - You can now shield at half power while in the air. When broken, the shield will launch you high into the air.
Moving Revival Platform - The player can now move the Revival Platform after being KO'd, which leads straight into the next new feature.
Revival Platform Cancel - By hitting the attack button during the revival period, you can launch straight into a attack at the cost of your temporary invincibility period. By moving the Revival Platform and launching into a new attack, you suddenly have so many new options at the start of your next stock, and your opponent will have to find ways to counter.
Calming Rage - There is now options you can pull off to calm a character with Rage, such as down-taunting near a character with Rage (a incredibly risky maneuver that pays off for lightweights against heavyweights) or utilizing moves that put the opponent to sleep that calms down Rage for a short time.
Stale Indicators - The character portrait will slowly grow a sepia color if the player continues to use the same moves over and over, which decrease their power and knockback. The sepia colors will disappear if the player starts to use other moves.
New Rule Selects
Character Morphing - An option during your battles to switch between characters mid-match, similar to Super Smash Bros. Ultimate's Stage Morph option. You can set it to be completely random or in minute intervals.
Tiered items - Items now have tiers, with Tier 1 Items showing up at the beginning of the match, with Tier 2 and 3 items showing up later in the match. Tiered Items can be turned off and customized.
Omega, Alpha, Zeta, Beta Stages - Omega Stages return, being Final Destination versions for every stage. Joining them are Alpha Stages (Battlefield versions of every stage) and Zeta Stages (No hazards). New to this installment are Beta Stages, which transforms the stage into a walk-off stage.
Half and Half Stages - An option in stage selection, you can select two different stages and have them split down the middle, with one stage half on the right and the other stage half on the left. As such, you can create interesting combinations of stages existing in the game.
Sudden Death Match - This option makes the entire match acts like a prolonged Sudden Death, with bo-ombs raining down from the screen and the blast radiuses shortened. All characters will be 300% damage to start as well.
Fight Mixes - You can set up playlists for stages, which will play songs after the other after amount of time for longer matches or when a certain condition is met such as after a Final Smash occurs or when both characters only have a single stock.
Stage Bosses - On Beta Stages, you can now send in any of the bosses from both Classic Mode and Smash Run +/X Marks the Spot to join the battle and fight against them with up to eight players. The bosses get more intense the more players join to fight them!
Coin Battle + - Coin Battle has gotten a huge overhaul. Every fighter starts with 500 coins, and now Anna (from the Fire Emblem series) will appear in the center of the match. Anna will offer am item for a set amount of coins, with the first player to run to her with the correct amount of coins getting the item immediately equipped to them. This is the only way items show up in this option select and the player can adjust what items appear, or a blanket Tier on what items appear. Additionally, the classic version of Coin Battle is still selectable, now under the title Coin Battle Classic.
Breaker Battle - Breaker Battle is a new mode for VS. Play that sees the battlefield littered with Targets to be broken, with up to 10 being present at a time before being swapped in with new targets. While the standard targets take on a gray color and award a single point for being broken, special targets appear that take on the color of either a player's port or team color and award three points to whoever breaks them. If your opponent breaks a target with your color, you lose a single point while they get the three points, so don't let them break your targets! Breaking your own targets will create an explosion that deals 10% damage around in a sphere, which grows bigger as the match begins to reach the end. The victor is the one who has the most points at the end of the battle. Inspired by the ill-fated Breakout mode from Devilish Smash Bros..
Soft Touches - In Team Battles, you can now restore your teammate's health via tapping the taunt button when near them. This works like it does in the Kirby series; if you have excess health from overhealing, you can feed this excess to your partner. You can also level out your health as well. This might drain health from you too, so be careful you turn this on!
Chakra - Adjust your fighters power and abilities through Chakra in single player modes, being able to fine tune your fighter's strength, speed, and defense through 300 point values. Chakra values allow you to focus on what you find important to your fighter, being the replacement of equipment where you don't have to unlock anything and can just focus on making the most optimal fighter builds for single player modes if you desire.
Misc.
Custom Music - Load any music from your SD Card (must be a MP3 or WAV file) and play it on any stage! Up to ten custom songs for each stage.
Custom Alternate Colors - The player can create their own alternate colors for each character, allowing from up to 3-7 colors that can be altered for each character and their outfits. Each character can have 10 custom colors per costume.
Custom Victory Screen - The player can select a variety of locations to have the victory screen take place in, as well as add effects like fireworks or a crowd cheering.
Special Team Names - A minor addition, but most characters have special team names with other characters that the announcer will use during team battles. They only apply to 2v2 matches.
Menu Customization - The player can customize the menu to change it to six different styles:

64 - Resembles the menus of the original Super Smash Bros..
Melee - Resembles the menus of Super Smash Bros. Melee.
Brawl - Resembles the menus of Super Smash Bros. Brawl.
Wii U - Resembles the menus of Super Smash Bros. for Wii U.
Ultimate - Resembles the menus of Super Smash Bros. Ultimate.
Discord - Resets to default Super Smash Bros. Discord theme.

Character Select Customization - The player can customize the character select menu how they wish by tapping the options icon on the upper right corner. They can drag the icons around how they like, swapping positions or even rearranging how many characters there are per line. There are pre-select options to sort by fighter number, by series, or by when they were chronologically created by order of release of their first game. Like in Ultimate, you can also put Echoes on their own slot and even set which character appears most prominent in the slot.
Master Revival - By using a Crazy Orders ticket, Master Hand will revive the player in any challenge mode (Classic Mode, Crazy/Master Orders, Possession Battles) on their current difficulty with buffs, acting as Super Guide feature of sorts. This allows the player to complete challenges on the Challenges board much easier, although a bronze glint will be added to challenges completed using Master Revival.
Unlocking Characters
Unlocking characters has been completely retooled. Unlike Ultimate, which utilized a 10 minute system in addition to Classic Mode routes as well as other varying conditions, Discord utilizes a multiple unlock system as well as allowing tournament organizers to quickly unlock all characters for the first time in the series.
Each character has a unique unlock condition that allows you to streamline to them if you want. At the start of the game, you are capable of unlocking any of the 100+ unlockable characters with any of the original 20. These conditions vary from character to character. See "Unlock Conditions" for unlockable fighters.
Both Story Mode: X Marks the Spot and Spirits Run allow you to unlock a majority of the roster very quickly, with Spirits Run being markedly the fastest of the two.
Overlapping conditions for each fighter allow you to face up to four challengers at a time if their conditions overlap. This Multi-Challengers Approach allows for you to unlock more than one fighter at a time.
Tournament organizers can unlock all the fighters at once through Training Mode. This option is hidden away normally and requires a special input- a quarter circle and the smash attack button, to even see the option.
All characters can also be bought at the shop at the very start for 10,000 Gold each.
Challenger's Approach returns from Ultimate but severely retooled. If you lose against a opponent, a door will appear in the Games and More section of the menu and will be open immediately afterwards. The challenger will not approach you again unless you go here. In this menu, you take on all challengers you were not able to beat in an straight-forward stream and the game offers difficulty options against them.
After unlocking all characters, the player has the option to start over in Options. This will reset all unlock conditions and reset the roster back to 20 fighters but keep everything else the player has unlocked.
Returning from Ultimate
Final Smash Meter - This option allows you to toggle a Final Smash meter that builds up as you take or give damage. These are weakened Final Smashes with half of the original range and power, but still can turn the tide of battle. Combine this with Power Smash and you can really change the game up.
Stage Morphing - Improved over Ultimate is Stage Morphing. You can now select up to five stages that randomly change over the course of the match, and you can set a more precise interval of a minute, a minute and a half, two minutes, two minutes and a half, or three minutes.
Additional UI Elements - Characters like Villager and Little Mac now have extra visual information next to their icon to tell you information of how much their meter has been charged or what item is stored. Additionally, a box shows up when any fighter leaves the camera area, showing where the blast lines.
Rules, Stage, and Character Select - Like Ultimate, before you begin any match, you start with selecting the rules, stage, and characters in that order. 8-Player Smash has been rolled into the main mode as opposed to being it's own mode.
Modes
Smash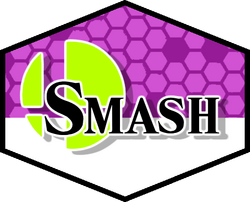 Smash
(also known as
VS MODE
) is a multiplayer mode that enables players and/or computer players to fight against each other or in a variety of settings. The characters can participate in a variety of battles, including Free-for-alls and team battles. The players can also set the rules for the battle including the amount of time, the amount of stock, the items that can be used, handicaps, and the stage that the battle will take place on. The players can also choose settings for the computer players including computer players' levels. Some of these features, however, have to be unlocked in order for them to be used.
This is considered the main mode of the game and almost everything in the game is based off this mode. Like in Super Smash Bros. Ultimate, 8-Player smash has been dropped from being it's own mode to being integrated as part of it. In addition to red, blue, yellow, and green indicators for players 1-4, players 5-8 receive new indicators colored orange, cyan, purple, and slate respectively. In Team Battles, an additional team color, the yellow team, can be selected.
Story Mode: X Marks the Spot

X Marks the Spot is a extensive side scrolling beat-em-up platformer not unlike the Subspace Emissary. However, the structure of the story and how the player progresses through this mode is altered; it is instead more open to exploration and problem solving. The player is tasked with finding various treasures and using them to open paths to new levels. Each level contains four treasures and finding one will end the level.
The plot concerns a treasure hunt that sees the Smash characters going against each other to find the legendary "X" treasure; a treasure so elusive and valuable that even pits the best of friends against each other. With various factions and bonds being forged and betrayed, everyone must work with and against each other should they desire the treasure.
More information can be found at Story Mode: X Marks the Spot!
Smash Run +

Smash Run + is the new and enhanced version of Smash Run from Super Smash Bros. for 3DS, with several new submodes and maps. More information will be coming soon.
Quick Run

This is the basic version of Smash Run from Super Smash Bros. for 3DS, which features an array of enemies spread across five different huge maps. You will have to collect as many stat boosts as you can to power up your fighter within 3/5/10 minutes. Getting KO'd will remove some of the ones you have collected. You will have to find doors that lead into minigames. You can collect trophies and coins in this mode as well. At the end, you will be pitted against a challenge where your boosts will come into play.
Exclusive Rewards

The Firelord Bowser costume for Bowser is unlocked via winning a game of Quick Run as Bowser.

Spirit Run

In Spirit Run, things basically flip on their head. You're not just upgrading your fighter- you're trying to find the trophies of every other fighter on the map. You get to pick 4 out of 20 characters, the entire starting roster, and are to search this giant, mazelike map filled with various doors that lead into other areas or even against fights against other characters or bosses. Simply put, this is the easiest way to unlock every fighter, but good luck combing through everything. You can return to various save doors to save your progress as well as to restock on your fighters.

Exclusive Rewards

The Blossom Bowser costume for Bowser is unlocked after using Bowser at least once during one run of the mode.

Mine Run

In Mine Run, you're not really against the clock so much as you are against the daily cycle. In this mode, your attacks don't just damage enemies, but are also used to mine ore and rock to build up weapons and items to further your exploration into a randomly generated map. You build up structures and complete objectives to craft portals to challenging fights against other fighters and bosses that in turn, are rewards such as trophies, tickets for Special Orders, alternate costumes for fighters, or even unlockable characters and stages.
Exclusive Rewards

The Black Quartz Bowser costume for Bowser is unlocked after crafting the portal to fight him in this mode. The portal uses Black Quartz and a P-Crystal.
Games and More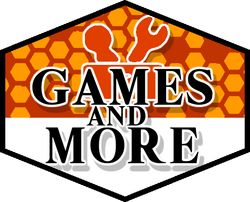 Classic

Complete a total of ten stages, each presenting a new battle, sprinkled in with mini-games such as Break the Targets, Board the Platforms, or Bust up the Car, a new mini-game based off the car-smashing game from Street Fighter II. Classic Mode has adjustable difficulty, which influences the toughness of the opponents and how great your rewards are, as well as how much you must pay to play on that difficulty. Additionally, you can choose multiple pathways (ala Super Smash Bros. for the 3DS) to influence your rewards even further, as well as have your rewards influenced by a slot machine that will reward you for completing the stage on the first try. A brand new option is All-Star Stock, which allows you to pick up to five different characters that you switch between upon death.
In Classic Mode, you will typically come across a randomized challenge with a certain formula to it; your opponent may challenge you in a 1-1 battle or a 2-2 team battle. Additionally, you may have to defeat a group of a dozen of the same opponent but with weakened health, or a metal version that is harder to knock away with attacks and can sustain more damage. Just to spice things up this time around, you face off a boss in the 8th stage, although the pathways influence who you'll come across. In the ninth stage, you face off against the Fighting Shadow Team, a distorted and dark team consisting of the shadows of several fighters who lack special moves.
At the end of Classic Mode, you'll face off Master Hand, and if you meet certain conditions and have a difficulty level over 4.0, Crazy Hand. If the player is on 6.0 or higher, they'll face off Master Core, which occurs after one of the hands is defeated. On 9.0, Master Fortress will occur when the shadowy clone Master Core creates is defeated. After defeating Master Fortress, the player will unlock the shadowy 10th difficulty, which sees the player face off a mysterious foe that has yet to be revealed.
Exclusive Rewards

The original twelve (Mario, Luigi, Donkey Kong, Yoshi, Pikachu, Jigglypuff, Samus, Captain Falcon, Ness, Fox, and Link) get retro costumes that are based off their Super Smash Bros. 64 look upon completing this mode on any difficulty. This is per individual basis, although with All-Star stock, you can unlock 5 costumes at a time (10 on co-op).
Polygon Team costumes are unlocked for the original twelve after beating this mode on Difficulty 5.0. This is per individual basis, although with All-Star stock, you can unlock 5 costumes at a time (10 on co-op).
Battlefield 64 is unlocked after beating this mode on Difficulty 7.0.
This mode is where the seven star Dragon Ball is hidden and can be unlocked by beating this mode on difficulty 7.7. You can only carry a single seven star Dragon Ball at a time, and once you use it, you must wait a 24 hour period before unlocking it again.
Master Shadow costumes for every single character on the roster are unlocked after defeating Master Fortress on Difficulty 9.0. This is per individual basis, although with All-Star stock, you can unlock 5 costumes at a time (10 on co-op).

All Star Mode

All Star Mode returns with a whole new look and way of defeating it. You get a total of three to five stocks, of which can be completely different characters. Thus each of the five stocks can be a different character. When you arrive in All Star Mode, you land inside a pit with two sets of elevators, that lead up and down to portals marked by a period of time in Nintendo history. Entering the door will lead you the fighters from this period that you must then fight. You must close all the portals to finish All Star Mode and have a limited amount of health items. There are 120+ characters you must defeat, so to make things easier you can complete All Star Mode with up to five characters at once. Additionally, you only need to defeat seven of the portals to complete the mode, although you can continue to press on with defeating all of them if you want for even bigger rewards. This mode is unlocked after you unlock all the fighters. More information about the portals and who appears in what time period will be released after all 120 fighters for the base game have been revealed.

Home Run Mode

Home Run Contest returns as it's own mode, with four new ways to play:

Home Run Classic - Deal as much damage to the Sandbag as possible and then perform a swing with the baseball bat to launch! The farther you launch him, the better score you get, as well as the better your rewards are. Go for the highest score!
Home Run Bouncy - The Home Run platform bounces up and down on a spring, with five extra seconds to deal damage to the Sandbag. The bouncy platform will not effect your movement or attacks, but it adds a new layer to when you decide to launch the Sandbag- higher base height will result in even further distances than starting at a lower height, so you want to aim for the apex of the bounce.
Home Run Crazy - Choose up to three items to summon to help you rack up damage against the Mad Sandbag, which will appear on the platform when you begin. You get less time, so make it count and rack up a crazy score!
Home Run Master - You get three sandbags, one of which is a Mad Sandbag, and must launch them at a chained Master Hand to deal damage. The more damage you to the sandbag, the more power they'll have against the Master Hand. Succeed and reap wild rewards. Fail and you'll have to fight a unchained, lunatic Master Hand.

Last Light Mode

Last Light Mode is a unlockable mode that can only be unlocked after completing X Marks the Spot. More details are coming later.

Challenges

Complete the 100 challenges on the challenge board to win prizes such as trophies and stages. You can complete various objectives throughout all the mods on this board. Additionally, you gain Golden Hammers that can be used to smash off certain objectives early, although you can still complete them later if you wish.

Smash Fishing

You place your fishing pole in the water and wait until something bites. A variety of fish appear from all walks of lifes, from Magikarps to Sea Bass. Sometimes fish contain something such as a trophy, a Special Orders ticket, or even a rare Dragon Ball...


Giant Fish
A huge fish! These are really rare outside of their home on Mount Paozu lake! This is worth a fortune! And it might even have something inside...

---

1,000 Gold
One Star Dragon Ball (Once a Day)

Possession Battles

Possession Battles are the successor of Spirits and the return of Trophies. Possession Battles pit you against powered Spirits who have possessed Puppet Fighters, allowing you to enact battles against hundreds of different characters. Unlike Spirits, however, when these Spirits are freed from their Puppet Fighter, they return to their trophy. Trophies can be collected in either this mode or other modes, but collecting the trophy's Spirit will animate the trophy, making them play an animation similar to Kid Icarus Uprising's Idols. More information can be found here.

Summon Shenron

Collecting the Dragon Balls from the various modes allows you to summon Shenron, who will grant you one wish. These wishes include:

I want money! - Shenron gives the player 50,000 coins.
I want a rare trophy! - Shenron grants a very rare trophy.
I want a golden hammer! - Shenron gives the player a golden hammer to break one of the Challenge Panels.
I want a new challenger! - Shenron either puts the player against ???, ???, or ???. After those characters have been unlocked, this option is no longer available.
I want something stylish! - Shenron grants a new alternate costume to the character of your choosing.
Online
Vault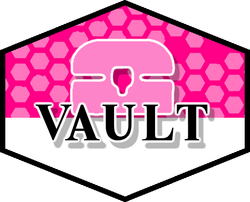 Characters
Super Smash Bros. Discord starts with a generally smaller roster than most Smash games, with a total of 20 starting characters overall. As of writing, there are a total of 120 characters planned, with 100 of those being unlockable. Each character can be accessed on the table shown below, with the hand on the right side of the screen used to redirect you back to the table for easier access of each character's section. You can click here to return to the top of the page or click here to skip down to the bottom of the article.
There are a current total of 100 (85 if discounting Echoes) characters confirmed for the game.
Starting Characters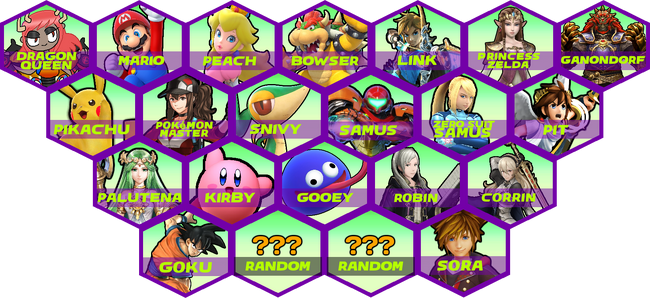 Image + Name
Info




Dragon Queen is a new character joining the roster, not hailing from any series and being exclusive to Smash Bros. Hailing from a long lineage of fighters known as Dragon Kings, Dragon Queen is the first woman to take up the title. Dragon Queen is seen as the most rounded character of the cast, replacing Mario in this role. Dragon Queen is portrayed as a ambitious young woman who does not take her responsibilities seriously, usually goofing off. She will have to learn to take her title more seriously during the course of X Marks the Spot. Interestingly, the fire on her wings will change based off what element of attack she is using, which will change if you switch between her custom moves.

Move
Description
Entrance
Dragon Queen enters out from a flaming hoop, spreading her wings as she cracks her knuckles.
Jump/Flutter
Dragon Queen has the standard two jumps most fighters have, but if you hold the jump button while in the air, she "flutters" with her wings, allowing for a slower descent than usual. This allows her more time to pull off aerial attacks.
Neutral Special
Burning Knuckle
Dragon Queen breathes fire on her glove and jabs it forward, landing it in her opponent's stomach, causing them to fly back horizontally. A good keepaway melee attack that deals 7% damage.

Customs

Custom 1 - Freezing Knuckle: Dragon Queen breathes ice on her glove and jabs it forward, creating a piercing sword-like attack that will freeze opponents if they are hit with just the tip. Otherwise it does 5% damage.
Custom 2 - Shocking Knuckle: Dragon Queen breathes thunder on her glove and jabs it forward, shocking the opponent and causing them to flinch but not get knocked back. Deals 9% damage.
Custom 3 - Tectonic Knuckle: Dragon Queen breathes gaia energy on her glove and jabs it forward, creating shockwaves across the ground that stun opponents before knocking them away. It deals 13% damage but has a longer start up time.

Side Special
Dragon Flame
Dragon Queen blasts a burst of flame in front of her, releasing it as a giant ball of fire that goes horizontally. She can charge up this burst of flame to deal even more damage. The attack in total does 5%-13% damage depending on it's level of charge.

Customs

Custom 1 - Dragon Glacier: Dragon Queen breathes out a giant glacier that slides across the ground before starting to lose friction and then melting away. The attack does the most damage at the start, dealing 13% damage, while dealing 5% at it's farthest possible point. Has a longer start up.
Custom 2 - Dragon Spark: Dragon Queen breathes out a ball of thunder that zips in a diagonal pattern, doing 8% damage. Has a longer start up.
Custom 3 - Dragon Crystal: Dragon Queen breathes out green crystal shards embedded with gaia energy, which encase the opponent in dirt for 3% damage, but prevent them from being able to move for a short time.

Up Special
Tail Sweep
Dragon Queen soars upwards, allowing her extra height to use her jumps while her tail reflects projectiles and does 3% damage on contact with opponents. Acts as both a loose recovery move and a loose counter, although the timing needs to be concise.

Customs

Custom 1 - Tail Rotor: Dragon Queen soars upwards as her tail spins rapidly, blowing opponents and projectiles while not able to do any damage. Has a higher jump height than Tail Sweep.
Custom 2 - Tail Tornado: Dragon Queen jumps forward and unleashes a tornado with her tail that stays on screen for two seconds before fizzling out. The tornado deals 1% damage for each three frames that the opponent is trapped inside of it in.
Custom 3 - Tail Whip: Dragon Queen jumps forward and lashes out her tongue like a whip, dealing 8% damage and high knockback.

Down Special
Dragon's Gate
Dragon Queen charges up a burst of flame and blows it out forwards, able to burn up projectiles and keep foes away from her by dealing 6% damage.

Customs

Custom 1 - Dragon's Wall: Dragon Queen breathes out an ice wall that freezes opponents on contact, dealing 8% damage. Has longer start up.
Custom 2 - Dragon's Aura: Dragon Queen surrounds herself in electricity, making contact with her deal 4% damage. This wears off after 4 seconds.
Custom 3 - Dragon's Fence: Dragon Queen breathes out giant green green crystal wall that reflects projectiles. The wall shatters after three projectiles hits it.

Final Smash
Loyalty to the Scales
Four dragons surround Dragon Queen in a wheel behind her as she unleashes four flaming geysers to the left and right of the stage (which deal 25% damage), able to shoot flaming projectiles (dealing 5% damage) to toss her opponents towards the flames on the left and right of the stages until the timer runs out.
Taunts

Up Taunt - Snickers as she flaps her wings, sitting back in the air.
Side Taunt - Smashes her fists together as she cracks her neck.
Down Taunt - Raises both arms in the air before swinging them downwards.

Special Team-Up Names

With Captain Falcon - Dragon Punchers

Alternate Costumes





Mario was first created by Shigeru Miyamoto as the protagonist for the game Donkey Kong for the Arcade. He would follow this up with more arcade games such as Donkey Kong Jr. and Mario Bros. He's practically Nintendo's biggest character and their mascot and he just recently celebrated his 30th anniversary. Mario's moveset has gained more of an overhaul and as such, has no longer become the balanced character that he was in previous entries, but rather more of an aerial fighter thanks to his multiple options in the air.

Move
Description
Entrance
Mario out of a pipe like in Super Mario 64, taking off his hat before putting it back on as he lands.
Jump
Triple Jump
Long Jump
Mario has a total of two jumps, although unlike most characters who merely bounce off their opponent should they land on them without actually dealing damage, Mario actually can do 3% damage when he jumps on his opponent and his down smash allows him to spike his opponent while jumping on top of them and deal 5% damage. In addition to this, Mario has a "snap" feature that allows him to easily do this compared to the other fighters.
Like in the 3D games, Mario can perform an extra high jump after jumping two times (while landing on the ground after each jump) in a row while moving forward, with the third jump being extra high and having a bit of a spin to it.


Additionally, Mario has his Long Jump which he can execute while dashing forward, giving him more horizontal distance as opposed to vertical distance. He can do an additional jump at the end of the long jump, but it will kill his momentum, where as doing just the long jump will allow him to preserve the momentum. His dash attack adds a kick to the end of the long jump as well.

Neutral Special
Fireball
Mario fires out a classic fireball that is good for spacing out opponents or unleashing a quick attack. It can hit the ground three times before vanishing. it deals 6% damage. Mario can also charge it to do more damage, up to 11%, which will also inflict Burn on opponents.

Customs

Custom 1 - Fast Fireball: Mario can fire and charge his fireballs faster, but only deals 4% damage uncharged and 6% damage charged.
Custom 2 - Iceball: Mario can fire ice balls that have a 30% chance to freeze opponents; they deal 6% damage but cannot be charged.
Custom 3 - Poisonball: Mario can fire poison charged balls that have a 30% chance to poison opponents, dealing 3% damage per second until it wears off; they deal 5% damage otherwise. Cannot be charged.

Side Special
Cape
Mario uses a cape from Super Mario World to reflect projectiles and deals 5% damage. This move completely differs in the air, where it instead lifts Mario up in a "bump" like fashion, giving him additional air time and spiking opponents on the down frames, although this is the only damaging part of the move, dealing 5% damage.

Customs

Custom 1 - Black Cape: Mario can ensheath himself in the cape to soften attacks by 50% of their original damage. Aerial version acts identical except with a sharper height and shorter increase of air time.
Custom 2 - Tanooki Tail: Mario can swipe at opponents to deal 5% damage and can parry attacks with the correct timing. In the air, this will allow him to slow down his falling unless hit, which will cancel the move but not leave him in a helpless state.
Custom 3 - Star Spin: Mario can spin around, reflecting attacks and can be used to extend his jumps. The move can clothesline for a total of 3-7% damage, although has some end lag. Will put him in a helpless state if used in the air.

Up Special
FLUDD Jet
Mario propels up into the air using FLUDD, keeping him up into the air. Anyone under him will be damaged by 3% when they get under his water jets. Will put Mario in a helpess state after the move finishes.

Customs

Custom 1 - Scalding FLUDD: Mario deals 6% damage with FLUDD's jets, but his propulsion is severely cut down.
Custom 2 - Paint FLUDD: Mario can cover opponents in paint from above, which will increase the amount of damage they take from further attacks but has less time in air and deals 2% damage instead.
Custom 3 - Super FLUDD Jet: Mario can propel high into the air in a single burst, dealing 5% damage to anyone underneath him. He cannot maintain his position in the air.

Down Special
Hat Spin
Mario spins his cap around him, clearing the area around him and dealing 7% damage. He can also hold it and release it for a temporary platform.

Customs

Custom 1 - Spiked Hat Spin: Mario deals 9% damage with a spiked hat, but is somewhat slower to execute.
Custom 2 - Magic Hat Spin: Mario can teleport foes away with him when he spins the hat, but won't do any actual damage, just knockback.
Custom 3 - Fire Hat Spin: Mario fires fireballs out from his hat when executing this move, dealing extra damage. Fireballs deal 6% damage and burn opponents.

Final Smash
Final 64
Mario puts on the wing cap and flies across the stage, before putting on the Metal Cap and crushing a opponent on the head like a Thwomp, before grabbing a opponent and swinging them across the stage to a spiked sphere that explodes. Mario then does a backflip and does the peace sign, finishing his smash with a circular fade to black before the fight resumes. The attack does 164 damage to one opponent, and 64 to any other opponents nearby the activation.
Taunts

Up Taunt - Does the victory sign from Super Mario World.
Side Taunt - Takes off his cap and wipes sweat from his brow.
Down Taunt - Takes a nap like he does in Super Mario 64.

Special Team-Up Names

With Luigi - Mario Bros.
With Peach - Cake Companions
With Bowser - Mortal Frenemies
With Wario - Mirror Starrios
With Yoshi - Childhood Friends
With Rosalina - Stargazed Somethings

Alternate Costumes





The ruler of the Mushroom Kingdom and common target of kidnappings from the king of the Koopas himself, Bowser. Peach often acts as a peacemaker, but that doesn't mean she's above fighting. She has a smart and feisty side to her that she sometimes showcases. She has a unique passive floating ability that gives her an advantage in battle in that she is able to gain more horizontal distance while in the air and fall slower. Perry can be used to extend this even further. Peach

Move
Description
Entrance
Peach appears spinning out of a shower of hearts, then winks and poses with her parasol saying "Hi!"
Neutral Special
Toad
Peach pulls a Toad to cancel projectiles and launch a multi-hit spore counter attack that deals 9% damage on top of the attacker's original attack damage. As such, the forumula is (1.0x + 9%) for how much the attack deals.

Customs

Custom 1 - Sleepy Toad: Peach pulls a Toad that sends her opponents to sleep should they attack Toad.
Custom 2 - Grumpy Toad: Peach pulls a Toad that releases 9% damaging spores. This loses it's countering damage, which makes this a weaker move overall but is more reliable to use.
Custom 3 - Bashful Toad: Peach pulls a Toad that catches the projectiles and then releases them when Peach executes the attack again, dealing 1.5x the original damage of the projectile.

Side Special
Peach Bomber
Peach lunges her hips forward, knocking opponents away from her for 10% damage. Peach's momentum stops after the collision, although she is not rendered helpless while in the air, able to follow up with Perry Parasol. Attempting to do this move again in the air will produce a small lunge that deals helplessness to her.

Customs

Custom 1 - Flower Bomber: Peach does a hip bash that plants flowers on enemies' heads. Deals 8% damage on contact.
Custom 2 - Flying Peach Bomber: Peach does a farther hip bash that is harder to hit with but does 13% damage when it lands.
Custom 3 - Daisy Bomber: Peach does a shorter hip bash that makes opponents catch on fire, dealing the burning status effect. Deals 6% damage on contact.

Up Special
Perry Parasol
Peach leaps into the air, unleashing Perry to hover in the air. When Perry is attack, he will unleash a emotional attack onto the attacker while closing up. The emotional attack will deal either 10% (Gloom), 8% (Joy), or 12% (Rage) damage. Very rarely Peach will instead be healed for 3% damage (Calm) when she hits an opponent. Gloom will result in making opponents wet, Joy will inflict opponents with paralysis, Rage will increase a opponent's rage and burn them, while Calm has no side effects.

Customs

Custom 1 - Gloomy Perry: Perry flies up much lower and always deals 10% damage to opponents. He closes after two hits.
Custom 2 - Joyful Perry: Perry flies up much higher and always deals 8% damage to opponents. He closes after one hit.
Custom 3 - Raging Perry: Perry flies up with a burning side effect, closing when he reaches his max height. He always deals 12% damage to opponents.

Down Special
Vegetable
Peach pulls a vegetable out from the ground and releases it onto her opponent for various amounts of damage depending on what she pulls out, ranging from 4%, 7%, or 12% damage.

Customs

Custom 1 - Super Vegetables: Peach takes longer to pull out vegetables (55 frames) with the added benefit of them being heavier and more damaging. The vegetable types can deal 8%, 14%, or 24% damage.
Custom 2 - Micro Vegetables: Peach is quicker to pull out vegetables (30 frames) but they are smaller and do less damage. The vegetables can deal 2%, 4%, or 8% damage.
Custom 3 - Rocket Pluck: Peach takes a long time to pluck out a rocket ship (220 frames), which can be used to propel herself in the air and do 22% damage to aerial opponents in it's path.

Final Smash
Peach Blossom
Peach unleashes a move that puts everyone to sleep and drops blossoms for her to snack on while everyone's in sleepyvile. This move has a wider range unmetered and lasts for a longer time, while in metered mode it has a smaller range and lasts less time.
Taunts

Up Taunt - Peach twirls her parasol and does the victory sign like Mario.
Side Taunt - Peach dances in a taunting way.
Down Taunt - Peach wags her finger and winks.

Special Team-Up Names

With Mario - Cake Companions
With Luigi - Waltzing Brawlers
With Bowser - Bride and Groom?!
With Wario - Golddigger and Gold Heart
With Yoshi - Fruit Pals
With Rosalina - Planet Princesses

Alternate Costumes





Bowser is the King of the Koopas, often depicted as Mario's greatest foe. A strong turtle with a fire breath and a spiky shell, Bowser relies on brute strength to get what he wants and doesn't really resort to trickery- that's for lesser villains like King Boo or Fawful. Like him or not, he's honest about what he wants. Bowser is a strong character with mostly damaging options, although can be easy to punish. As a heavy-weight, he doesn't have a lot recovery potential but can inflict damage as well as KO opponents easily.

Move
Description
Entrance
Bowser emerges from a wall of flame, roaring as he enters the arena.
Neutral Special
Fire Breath
Bowser lets out a jet of fire from his mouth, able to aim it upwards or downwards in the direction he faces. It will gradually lose strength and range the longer used, but after a period of not being used it will regain it's full strength and power. It deals 15%-6% damage, the damage lowering the longer it's active for.

Customs

Custom 1 - Fire Shot: Bowser releases a single, giant fireball from his mouth, does not weaken with use. Can pierce opponents and shields. Deals 15% damage.
Custom 2 - Fire Roar: Bowser lets out a jet of fire that is twice the size and has twice the range, but loses it's charge much faster and takes longer to recharge. Deals 22%-3% damage, weakening the longer it is active.
Custom 3 - Blue Flame Breath: Bowser lets out a blue jet of flames, which starts small but increases in range the more it is used, but does less damage the bigger it is. It deals 20%-2% damage, weakening the longer it is active.

Side Special
Goomba Storm
Bowser holds a Goomba Ball in his hand and throws it, with a bunch of summoned Goombas running towards the nearest opponent to swarm them and latch onto them, doing varying degrees of damage.

Customs

Custom 1 - Big Goomba: Bowser throws a Big Goomba Ball, which gets two giant Goombas to attack his opponent instead, dealing more damage but can be countered easier.
Custom 2 - Flying Slam: Bowser grabs his opponent and takes them up into the air to do a belly slam- this move is infamous for it's ability to be used to kill both the player and their opponent and can KO opponents at 120% damage.
Custom 3 - Dash Slam: A variant of the Flying Slam that is faster and has less aerial distance, but does less damage.

Up Special
Whirling Fortress
Bowser goes into his shell and spins rapidly with his spikes, defending him against projectile damage and allows him to move forward or back while in this state.

Customs

Custom 1 - Spike Ball: Bowser turns into a ball and can move around freely and faster inside, although he doesn't get any defensive bonuses.
Custom 2 - Flying Fortress: This variant of the Whirling Fortress makes Bowser float off the ground while sliding and allows him to jump, although the defensive bonuses are severely downgraded.
Custom 3 - Bombing Fortress: This move can only be used once before Bowser returns to his normal form, but does the most damage. Any projectiles that hit will cause him to retract out of his shell early.

Down Special
Whirlwind Throw
Bowser grabs his opponent and holds them in one hand. Hitting the attack button will allow Bowser to swing up into a powerful toss that throws them far across the attack field, grounding them if they hit the stage ground.

Customs

Custom 1 - Bowser Bomb: A powerful Ground Pound move where Bowser jumps into the air and slams into the ground with his full force. Emits a shockwave upon landing and will break full shields if all of its grounded hitboxes connect.
Custom 2 - Sliding Punch: Bowser can perform a powerful punch that makes him slide forward, allowing him to cross across platforms and do serious damage, although the move does have a windup.
Custom 3 - Hammer King: Bowser pulls out two hammers and tosses them in arc ahead of him, dealing moderate damage.

Final Smash
Giga Bowser
Bowser unleashes his mighty Giga Bowser form, which uses his moveset from Melee and Brawl but supersized and doing increased elemental damage. He can't use for very long, but his absurd reach and power will allow Bowser to deal a lot of damage.
Taunts

Up Taunt - Sways his head backward around while roaring and exhaling steam from his mouth.
Side Taunt - Lets out a fierce roar, with flakes of ash spewing out from his mouth.
Down Taunt - Opens up his arms and makes a motion waving towards him, growling.

Special Team-Up Names

With Mario - Mortal Frenemies
With Luigi - Greenskinned Grapplers
With Peach - Bride and Groom?!
With Wario - Enemy of Enemies
With Yoshi - Legendary Dragons
With Rosalina - Galactic Empires

Alternate Costumes


Link




Link is the valiant hero of "The Legend of Zelda" series in which they fight against the evil Ganon to recover the Triforce. They wield the Triforce of Courage. This incarnation takes after Breath of the Wild, a wildly different Zelda game that has a huge world for you to explore. There are two genders players can choose from: Male or Female. Neither do anything different but they have different models and voices.

Move
Description
Entrance
The Triforce of Courage flashes on screen as Link comes in by the way of Paraglider, pulling out the Master Sword from the hilt.
Neutral Special
Magnesis
Link uses the Magnesis rune to pull a magnetic object towards them. This can be used to pull opponents close to Link or pull in certain projectiles or even character towards them.

Customs

Custom 1 - Magnesis+: Link has a longer ranger Magnesis attack that doesn't do as much damage.
Custom 2 - Urbosa's Fury: Link releases Urbosa's Fury, a shocking electrical attack around him that can only be used once before it has to be charged up again. A yellow wheel of energy will appear next to Link on the status and model, slowly filling up over time and disappearing once fully charged.
Custom 3 - Urbosa's Fury+: A more bigger, and damaging version of Urbosa's Fury that takes much longer to charge.

Side Special
Stasis
Link blasts the Statis Rune at his opponent, freezing them in the air for a limited time. Doesn't do any damage and is fairly short, but can be used with other attacks to launch them away and accumulate damage quickly.

Customs

Custom 1 - Stasis+: A longer lasting version of Stasis that absorbs less damage and generally takes more effort to launch further.
Custom 2 - Thunderblade: Link swings with the Thunderblade, electrifying their foe with the strike.
Custom 3 - Lizal Boomerang: Link tosses a Lizal Boomerang to hurt his opponent from a distance. They can use it as a short range weapon if the opponent is close.

Up Special
Cryonis
Link freezes a pool of water under him to create a elevating platform that can be used to get higher or serve to block projectiles.

Customs

Custom 1 - Cryonis+: A longer wind up for a much bigger ice block that is fortified against projectiles.
Custom 2 - Revali's Gale: Creates a gale that lets Link soar up high in the sky, floating down with the Paraglider. Can be used in the air.
Custom 3 - Revali's Gale+: This move blasts Link way higher in the air, although it cannot be used in the air.

Down Special
Remote Bomb
Link drops a cube shaped bomb, which can be detonated once Link performs the down B motion again. Opponents can pick it up, although this can be their undoing if Link decides it's a good time to detonate it!

Customs

Custom 1 - Remote Roll Bomb: A rolling version of the Remote Bomb, which slides in the direction Link was facing. Does the same damage and has the same range. Can be picked up as well.
Custom 2 - Daruk's Protection: A shield forms around Link, protecting them from damage for as long as Link has energy for it. Is cancelled as soon as the player stops pressing the Down Special.
Custom 3 - Daruk's Protection +: A shield forms around Link to protect them from harm. Has a larger energy meter but cannot be cancelled.

Final Smash
Mipha's Grace
Link heals a huge amount of health and will continue to heal for a short time. Additionally, Link gains three yellow hearts on their HUD that allows them to take 30% damage without it counting towards their damage counter.
Taunts

Up Taunt - Eats a pepper to keep their tempature up in cold stages, a Chillfin Trout in hotter stages, and a apple in non-specific tempature stages.
Side Taunt - Link rubs their wrist and hangs their head back.
Down Taunt - Link nearly nods themselves to sleep before waking themselves up.

Special Team-Up Names

With Linkle - Heroes of Time
With Cia - Green Hearts

Alternate Costumes





Princess Zelda is the princess of as well as part of a blood-lineage of the reincarnations of the Goddess Hylia. She wields the Triforce of Wisdom. Taking their appearance after the incarnation seen in Twilight Princess (aka the Era of Twilight), Princess Zelda uses her magic to fight against the other Smash Bros.

Move
Description
Entrance
The Triforce of Wisdom flashes onto the screen as Zelda teleports with both hands out, magic emanating from underneath her.
Neutral Special
Nayru's Love
Zelda surrounds herself in a diamond-shaped barrier which deals a small bit of damage and reflects projectiles with 25% more power and speed than they originally had. Has a slow start-up and end time.

Customs

Custom 1 - Nayru's Rejection: Zelda surrounds herself in a navy crystal that spins around a opponent similar to the Cape effect Mario has. Deals a fair bit of damage and knockback as well. Has a lowered multiplier for projectiles (13%).
Custom 2 - Nayru's Passion: Zelda spins around and sucks in opponents with a vacuum effect, and then unleashes a fiery explosion that deals a lot of damage (24%) but does not reflect projectiles.
Custom 3 - Nayru's Song: Zelda plays a harp that plays a time-warping melody, which allows her to stop projectiles and opponents near her for a very brief time (1.5 seconds). Has a bit of a start up time and does no damage nor reflect projectiles.

Side Special
Din's Fire
Zelda unleashes a magical fire projectile that deals 7%-14% damage that can be moved up or down while holding the attack button. As long as the attack button is held down, Din's Fire will keep moving forward at a rapid pace.

Customs

Custom 1 - Din's Flare: Deals 14% damage no matter what, cannot be aimed up or down, travels further overall. The projectile itself is also somewhat smaller. Overall properties are the same as Din's Fire.
Custom 2 - Din's Blaze: Zelda releases a fireball has a larger explosion and significantly better vertical maneuverability. However, it travels much slower and hangs in the air for a moment before detonating. Can deal up to 18% damage.
Custom 3 - Din's Inferno: Zelda releases a big wall of flame near her, with incredibly tiny range but deals upwards to 24% damage.

Up Special
Farore's Wind
Zelda teleports in the direction of the control stick and reappears in a free fall state. The teleport animation deals 6-14% damage. The distance is somewhat limited.

Customs

Custom 1 - Farore's Squall: Farther teleportation range and is faster, but deals no damage. Zelda releases a gust of wind that can blow opponents away from her at the end of her animation.
Custom 2 - Farore's Windfall: Farore's Windfall allows Zelda to only directly teleport up, but gives her a rather increased verticalality to it, especially when combined with a jump. Foes hit when Zelda reappears are meteor smashed.
Custom 3 - Faoroe's Gust: Zelda teleports a shorter range, but summons a tornado projectile that blasts opponents sky high into the air similar to the tornado that would appear in Hyrule Castle 64.

Down Special
Phantom Slash
Zelda releases a purple projectile that transforms into a Phantom, slashing forward at foes for immense damage and knockback. Has a set distance that it will appear at, which increases the longer it is charged.

Customs

Custom 1 - Phantom Breaker: A version of the Phantom Slash where it cannot be charged (appears approximately where the second charge of Phantom Slash would be), dealing a ton of shield damage but not so much damage to the opponent unshielded.
Custom 2 - Eldin Grab: Zelda summons the Spirit of Light Eldin to grab a opponent with it's talons and drop them a set distance, meteor smashing them.
Custom 3 - Faron Roller: Zelda summons the Spirit of Light Faron to roll into foes, knocking them back a distance. Cannot be charged and has the lowest range, but does the highest damage.

Final Smash
Triforce of Wisdom
Zelda releases a line of light that extends a distance away from her, looking for nearby opponents. If a opponent is found, Zelda teleports near them and seals them into the Triforce of Wisdom, dealing 120% damage.
Taunts

Up Taunt - Zelda holds one arm straight up while assuming an elegant pose and having her hand infused with magic.
Side Taunt - Zelda readies a bow and arrow before shooting it diagonally downwards. Deals 2% damage with a secret hitbox.
Down Taunt - Zelda leans forward and waves while smiling.

Special Team-Up Names

With Link - Keepers of the Light
With Cia - Embittered Rivals

Alternate Costumes





Ganondorf is the reincarnation of Demise's rage towards Link and the reincarnations of Hylia that followed. He wields the Triforce of Power. Ganondorf takes his appearance from Hyrule Warriors (aka the Era of Wars). Ganondorf is a powerhouse of a character, although his moveset has been mostly, if not entirely completely redone. However, his old moves return as customs, giving you quite the options for your King of Thieves.

Move
Description
Entrance
The Triforce of Power flashes onto the screen as Ganondorf stomps out from a portal made of dark magic, grinning.
Jump/Float
One unique thing about Ganondorf is that while he still has two jumps, you can hold the jump button while in the air to make Ganondorf float. This only lasts for about two seconds above a platform, while only a mere 0.5 second over air or a too far distance away from a platform. This can be chained into his attacks, giving him a odd aerial advantage for some of his moves, especially for a heavy fighter like himself.
Neutral Special
Dead Man's Volley
Ganondorf casts a giant purple orb that homes towards an opponent that can be reflected with an physcial attack, although it gets faster the longer it is on the field. While attack can be hit back towards Ganondorf, he can just as well fling it back to his original target. The orb can take up to three volleys before disappearing. The orb does 11-20% damage, with it's damage increasing the longer it is on the field.

Customs

Custom 1 - Phantom Volley: Ganondorf releases a yellow orb that goes much faster but can only be volleyed once, requiring Ganondorf to get out of the way if he doesn't want to get hit by his own projectile. Does 10%-15% damage.
Custom 2 - Warlock Punch: Ganondorf charges up his fist with dark energy before unleashing it, dealing up to 37% damage. It has a lot of start up time and can even be reversed to do even more damage, although that costs even more start up time.
Custom 3 - Warlock Blade: Ganondorf pulls out the Sword of the Six Sages and performs a reverse gripped thrust. Deals less damage overall than Warlock Punch when sourspotted, but has greater range, faster start-up, and a powerful sweetspot at the blade's tip.

Side Special
Penta Laser
Ganondorf holds out his arm as five yellow energy beams shoot out from his hand, being aimed at the nearest opponent. While the attack has a bit of a start up, it deals 10% damage and will break shields.

Customs

Custom 1 - Tri Laser: Ganondorf shoots three red laser from his palm, dealing 15% damage but doesn't have the shield breaking ability the original move had and has an even longer start up.
Custom 2 - Flame Choke: Ganondorf grabs his opponent and encases them in flame, dealing 15% damage as they are knocked back to the ground. Can be used to grab edges when recovering and bypasses shields.
Custom 3 - Flame Wave: Ganondorf grabs his opponent and knocks them high into the air. Has more power and more KOing potential, but moves slower and doesn't operate the same in the air, simply putting both Ganondorf and his foe to the ground instead of launching the opponent.

Up Special
Dark Demise
Ganondorf summons a very low range teleport that can only teleport Ganondorf up, but if he does it near a opponent, he'll grab them and bring them with him to his teleported destination, only to meteor smash them with a dark energy energy attack that deals 10% damage.

Customs

Custom 1 - Dark Shift: A bigger range teleport that allows Ganondorf to teleport in any direction with the direction pad, but he is slow to emerge and deals 3% damage when emerging from the portal.
Custom 2 - Dark Dive: Genondorf leaps upward and, upon coming into contact with an opponent, latches onto them and discharges dark electricity before launching off of them with an explosion that deals 9% damage. Covers a very small amount of horizontal distance, but a decent amount of vertical making it a sub-par recovery.
Custom 3 - Dark Fists: Ganondorf leaps upward and, instead of latching onto the opponent like Dark Dive, performs two dark magic-infused swiping punches. The punches can chain into each other and has more KO potential, as well being a more effective recovery.

Down Special
Blight Beam
Ganondorf puts both hands out as he unleashes a black and purple beam that covers quite the distance, but has a long start up time and is easily telegraphed. In the air, he aims it directly downward. It deals 20% damage.

Customs

Custom 1 - Calamity Cry: Ganondorf unleashes a series of small beams below him that go upwards, not unlike Palutena's up-smash. Each beam does 10% damage but it has a long start-up.
Custom 2 - Wizard's Foot: Ganondorf unleashes a dark magic flying kick that deals 14%-15% damage. Deals decent damage and knockback, but has considerable ending lag.
Custom 3 - Wizard's Dropkick: Ganondorf slightly jumps into the air before performing a blue-colored dark magic flying kick. The grounded version has minimal ending lag and enables Ganondorf to jump over most projectiles and lead into combos. Deals 9%-11% damage, which is less than the original move.

Final Smash
Ganon Unleashed
Ganondorf transforms into a huge beast form of himself that goes into the stage backward, stabbing the stage with his trident three times (dealing 45% damage each) before reverting back to his normal self, with dark waves reverberating off him that deal 5% damage on contact.
Taunts

Up Taunt - Ganondorf laughs as he spins around, pumping out his chest as both hands glow with dark energy.
Side Taunt - Ganondorf taps his foot as he crosses his arms, his cape flowing in the wind.
Down Taunt - Ganondorf unsheathes the Sword of Sages, mockingly smirking as he looks at it before sheathing it.

Special Team-Up Names

With Link - Endless Foes
With Zelda - Reincarnated Rivals
With Cia - Corrupting Mages

Alternate Costumes





Recognized the world over, Pikachu is an Electric-type Pokémon that stores energy in its cheeks for use in battle. Pikachu is a well-rounded fighter with speedy, powerful electric attacks. He can execute Thunder Jolt as a projectile attack, shoot itself forward and attack with it's head, use a quick melee attack that can be executed multiple times in quick succession, and summon thunder from the sky. He's so popular that he overshadows his evolution Raichu and a ton of Pokemon look eerily similar to him...

Move
Description
Entrance
Pikachu emerges from a Poké Ball, then briefly discharges electricity around itself.
Neutral Special
Thunder Jolt
Pikachu releases a blue projectile made of electricity. Thunder Jolt is a very useful move for keeping on-stage opponents at bay and threatening off-stage opponents. The grounded version travels forward while bouncing along the ground, travelling up walls, below the edge, and along ceilings. The aerial version travels downward diagonally and in the shape of a ball. These projectiles disappear after 3 seconds and deal 4.8% damage.

Customs

Custom 1 - Thunder Wave: Pikachu releases a projectile that paralyzes opponents and deals 3% damage, but travels less distance.
Custom 2 - Thunder Shock: Pikachu releases a projectile that moves across the air horizontally and deals 13% damage when it explodes. It can't stay out in the air for very long.
Custom 3 - Surf: Pikachu creates water underneath, slowly ramping up in speed as they hop on a surfboard and start moving in a surf animation. They can do this until they either get knocked off or jump. Contact with opponents will deal 7% damage.

Side Special
Skull Bash
Pikachu crouches and then shoots itself forward to perform a corkscrew battering ram with it's head. Can be charged up. The attack itself deals 6% damage uncharged, but 21 damage charged.

Customs

Custom 1 - Meteor Mash: Pikachu charges up their hand and then unleashes a giant, far reaching blue energy punch that will blow opponents back for 14% damage. Long start up time but good knockback.
Custom 2 - Draining Kiss: Pikachu leaps forward and latches onto their opponent, kissing them while leeching their health to heal their own. Pikachu can do this as long as they want until the opponent either breaks out of it or Pikachu has drained 15%.
Custom 3 - Tail Whip: Pikachu whips with their tail, with sparkles flying off it. This move does not damage opponents, but decreases their shield size for a while and makes them more susceptible to damage. Opponents are given a sparkle effect which can increase the more that Pikachu uses this move. The move has to connect in order to have an effect.

Up Special
Quick Attack
Pikachu moves in a straight line in the direction in which the player's control stick is tilted, or upwards if it is not tilted. A tilt of the control stick in a different direction will cause another, similar burst. It deals 1-3% damage, although the attack is quick and allows Pikachu to easily escape follow-ups.

Customs

Custom 1 - Flying Press: Pikachu jumps in the air and then slams down on their opponent with Flying Press, dealing 12% damage. This move has a bit of a lag in the rise and fall, making it less of a fast move and while the fall can be cancelled, it will leave Pikachu in a helpless state, making it a fairly bad recovery move.
Custom 2 - Agility: Pikachu zips forward three times in the direction of the control stick, almost in a quick teleporting fashion. Deals no damage.
Custom 3 - Fly: Pikachu straps a bunch of balloons to himself and flies upwards. Doesn't deal any damage, move is cancelled if balloons are popped, and Pikachu can only remain in the air for 3 seconds before entering a free-fall state.

Down Special
Thunder
Pikachu generates a thundercloud to drop a large thunderbolt onto itself. It is laggy overall, although the shockwave around Pikachu is strong enough to KO middleweights at 124% while near the edge. The shockwave also grants invincibility on frames 34-44, which makes it relatively safe against nearby opponents. The thunder bolt deals 6-8% damage, while the shockwave deals 15% damage.

Customs

Custom 1 - Icicle Crash: Similar to Thunder, but Pikachu summons a icy vortex that Icicles fall from instead. There is no shockwave but it is much faster and has no lag except for the start up. Deals 9% damage.
Custom 2 - Electric Terrain: Pikachu shocks the ground, creating an electric tile that shocks anyone that stands on it, dealing 4% damage per second. The tile can stay on the screen for 10 seconds, and Pikachu can create up to three.
Custom 3 - Wild Charge: Pikachu's body is surrounded in thunder as they dash forward, dealing 20% damage, but receives 5% recoil damage. The move knocks back opponents fairly heavily as well.

Final Smash
Catastropika
Pikachu teleports the opponent into a cutscene where a Pikanium Z floats in front of Pikachu, allowing Pikachu to perform a dance that powers itself up and then flies up into the air, rolling into a electric ball that zips straight into the opponent, dealing 120% damage.
Taunts

Up Taunt - Pikachu hunches and discharges electricity around itself while saying "Piiiii!".
Side Taunt - Pikachu faces the screen and waves its left paw twice and then its right paw twice while saying "Pika Pika!".
Down Taunt - Pikachu rolls on its back while saying "Pikaaaaa!".

Special Team-Up Names

With Pokémon Master - Pokémon Adventurers

Alternate Costumes





Pokémon Master




Pokémon Master is a brand new take on the Pokémon Trainer character, who not only fights using Pokémon, but also with the tools they use on the field such as Repels, Bikes, and Escape Rope. You see, this isn't just a ordinary Pokémon Trainer you're dealing with here; this is a Pokémon Master. Comes in either a female or male form, and has the most alternate costumes out of every character on the roster.

Move
Description
Entrance
The Pokémon Master comes in, flying on a Charizard before getting off and brandishing out their Pokéball.
Neutral Special
Repel
The Pokémon Master gets out a can of Repel and sprays a cloud that lasts 5 seconds on the field, staying mostly stationary. When any character enters into the cloud, all their moves are disabled, only allowing them to walk and jump while near the field. Has a lingering effect of 30 frames. The Repel field can be made even bigger by holding down the button while spraying.

Customs

Custom 1 - Max Repel: Pokémon Master's Repel has a bigger horizontal range but opponents can jump up and do aerial attacks with no lingering effect on them.
Custom 2 - Toxic Repel: A version of Pokémon Master's Repel that instead of disabling moves, poisons those caught in the Repel Cloud, dealing 3% damage a second. Has a lingering effect of 25 frames.
Custom 3 - Pure Incense: A counter move that briefly disables the move against the Pokémon Master, although the timing gets more and more precise. The disabled move cannot be used for 2 seconds.

Side Special
Bike
Pokémon Master rides a bike, able to run into foes for 8% damage. Will automatically turn at ledges and can be cancelled fairly easy, but comes with a slow end time that makes activating this into other moves somewhat tricky. Tapping the attack button again will cause the bike to go faster ahead, dealing 15% damage.

Customs

Custom 1 - Rollerskates: Increases the speed of the Pokémon Master, but loses the 5% damage they do on contact compared to the bike. The Pokémon Master can sprint forward to go even faster and deal 4% damage to those they run into. Can be used in conjunction with the other moves. Roller Skates can only stay on so long as the Pokémon Master doesn't get knocked down or gets lauched into the air.
Custom 2 - Tauros Charge: The Pokémon Master rides ontop of a Tauros, which charges forward to deal 20%. Ignores ledges, meaning it's entirely impossible to just fall off the stage, although contact with a opponent will end the move.
Custom 3 - Machamp Shove: The Pokémon Master is carried in the arms of a Machamp, who carries them across the field. The Machamp can shove opponents away using the attack button but it's overall slower than the Pokémon Master's base walk speed and doesn't allow them to use their other special moves.

Up Special
Escape Rope
On ground, the Pokémon Master uses this as a lasso to pull themselves towards other fighters and then do a kick that deals 11% damage. In the air, they swing this to the nearest edge of the platform to pull themselves back up. It has some decent reach and will push other people on the ledge off into a meteor kick. If there is no platform nearby, the Pokémon Master will fall in a free fall state.

Customs

Custom 1 - Fly: The Pokémon Master calls upon a non-descriptive black bird to carry them, giving them about 2.5 seconds of air time before being let go. Does no damage but is a more effective recovery overall.
Custom 2 - Burning Flight: The Pokémon Master calls upon Charizard to help them recover, giving them 1.3 seconds of flight time, although Charizard will breathe fire on foes that are nearby, dealing 7% damage.
Custom 3 - Dragon Flight: The Pokémon Master calls upon Rayquaza to give them a lift up, allowing them to ride on Rayquaza for 3 seconds. Rayquaza is extremely slow and a big target, but can release energy orbs that deal 6% damage. As a recovery, this is surprisingly ineffective but can be used to hit opponents from far away.

Down Special
Snorlax! Go!
The Pokémon Master releases Snorlax to do Body Slam, which causes Snorlax to fall close to the Pokémon Master trainer and deal 15%-30% damage to anyone he squishes underneath. It has a long start up time, but is incredibly powerful.

Customs

Custom 1 - Litten! Go!: The Pokémon Master summons Litten, who releases a breath of fire in front of them, dealing 10% burning damage before going back into their ball. Knocks opponents away and has less start up time than Snorlax! Go!, but doesn't have anywhere near the same power.
Custom 2 - Maractus! Go!: The Pokémon Master summons Maractus, who dashes forward with Needle Arm and deals 7-12% damage, although as it is a physical attack, it can be countered pretty well.
Custom 3 - Celesteela! Go!: The Pokémon Master summons Celesteela, who floats up and performs a cutting airslash that deals 8-11% damage. Good against aerial opponents, but will usually miss smaller grounded opponents.

Final Smash
Searing Sunraze Smash
The Pokémon Master uses Solganium Z, doing a dance as it summons Solgaleo to do Searing Sunraze Smash, a powerful move which transports opponents through a Ultra Space wormhole as Solgaleo follows through to the other side and performs a rolling solar dash that deals 125% damage to everyone inside.
Taunts

Up Taunt - The Pokémon Master holds a Pokéball in one hand and points with the other.
Side Taunt - The Pokémon Master puts their hand to their side as they hold up their spread palm.
Down Taunt - The Pokémon Master holds both fists clenched and upraised close to their face in anticipation.

Special Team-Up Names

With Pikachu - Pokémon Adventurers

Alternate Costumes





Snivy is one of the Starter Pokémon hailing from Unova. Snivy is a intelligent and swift Pokémon that uses photosynthesis to make it's movement swifter. Uniquely as a fighter, Snivy features the ability to evolve, able to transform into Servine and later Serperior, becoming a faster fighter as it attacks more and more. A meter will slowly build as Snivy takes damage and deals damage, with a level being displayed

Move
Description
Entrance
Snivy emerges from a Poké Ball, then taps it's foot and tilts it's head back.
Gimmick
Evolve
Snivy's passive trait is Evolve. A level bar appears over his portrait in battle, which fills up with every single hit or point of damage he takes. Each point of damage he does to a opponent will fill up the meter by 2 points, while each point of damage he takes fills the meter up by 1 point. Snivy starts at Level 1, and can reach Level 2 with just 6 points, although each level demands more and more points by a rate of 1.2x the previous level.





With each five levels Snivy goes through, he will gain a extra point of damage to his specials. At Level 17, his appearance changes into Servine, and at Level 36 his appearance changes to Serperior.

His max level cap is 50 levels. Additionally, with each new form, his speed increases, although his defense decreases. Overall, Snivy gains 10 extra points of damage to his specials when fully evolved, although this takes quite a bit. Another note about Evolve is that it remains the same from stock to stock, although the current exp will be reset when Snivy loses a stock, but his level number will stay the same.

Servine and Serperior both give off a speed boost as well as enhance the moves the character has, either by extending the reach or speed or certain other properties, but they come with a major downside. Servine takes 1.5x as much damage as Snivy, as well has 1.5x the knockback effect from attacks. Serperior takes 2x as much damage compared to Snivy, as well as 2x the knockback. Evolution happens as soon as Snivy hits the level required and cannot be cancelled. While Serperior is an absolute beast with their moves when fully powered up (having quick moves that can deal quite a bit of damage), they are a huge glass cannon compared to the rest of the roster.

Neutral Special
Vine Whip
Snivy dashes forward with his tail wagging, dealing 4%(Max 14%) damage. This move has some start up and some lag during the middle that is slowly ironed out and improved with his transformation into Servine, which additionally improves the reach by extending out his tail. Serperior's version of Vine Whip is lightning fast and has the longest reach.

Customs

Custom 1 - Wrap: Snivy releases a purple coil in front of him that ensnares the opponent and deals 3 (Max 13%) damage. The range is increased with Servine, and the start up lag is completely reduced with Serperior, who additionally increases the range.
Custom 2 - Leer: Snivy leers at the opponent, which cancels any move they were about to do. It deals no damage, merely flinches them. The timing window is the most difficult as Snivy and the range of this move is poor with Snivy. Servine increases the range and extends timing, with Serperior extending that timing window even further. There is also a drawback of 5 seconds after this move is pulled off successfully that the move needs to cooldown.
Custom 3 - Grass Knot: Grass Knot is unique in that it will do the same amount of damage no matter what stage Snivy is at and operates the same. Snivy grabs the opponent and wraps them in a grass knot, which deals more damage depending on how heavy the character is. Lighter characters get 10% damage, mediumweights get 20% damage, and heavyweights get 30% damage. The trick is that this move has low range, requiring Snivy to get up close.

Side Special
Leaf Tornado
Snivy unleashes a small green tornado that dies out after 2 seconds, dealing 1% damage per 30 frames the opponent is trapped inside of it. Servine increases the size of the tornado and it's time, kicking it up to 3.5 seconds. Serperior increases the tornado's time to 4.5 seconds and it deals 1% damage every 15 frames.

Customs

Custom 1 - Leech Seed: Snivy launches a group of green seeds that leech off the opponent's health by 1% per second. Servine increases this to 3% per second, and Serperior increases this to 5% per second.
Custom 2 - Leaf Blade: Snivy slices forward with a green grass-like sword, dealing a slash that does 5% damage (max 15%). Servine increases the speed of the Leaf Blade while Serperior increases the length of it.
Custom 3 - Magical Leaf: Snivy sends out a leaf that does 5% (max 15%) damage, which goes in a boomerang arc. Servine increases the range and gets rid of the start up, where as Serperior continues to extend the range and speed.

Up Special
Nature Power
Snivy transforms into a ball of green energy, able to fly around slowly and dash into opponents to deal 5% damage (max 15% damage), although they can only do this for 1.5 seconds and enter a free fall state afterwards. Servine increases this period to 3 seconds, and Serperior increases the speed that Snivy flies at.

Customs

Custom 1 - Aerial Ace: Snivy does a very quick dash attack into the direction of the control stick, before dashing once again in the way of the control stick before slowly descending in a free fall state. Does 6% damage (max 16% damage) and becomes faster and farther reaching with each of the evolutions.
Custom 2 - Swords Dance: Snivy does a dance with two leaf swords, increasing his attack power to 1.5x for a short time. Comes with bonus knockback for Snivy and his evolutions when he gets hit and lacks any kind of recovery power.
Custom 3 - Double Team: Snivy increases his evasiveness for a short period, allowing him to avoid melee attacks for a 1 (3 max) second period. Lacks any kind of recovery power, doesn't deal damage.

Down Special
Giga Drain
Snivy deals a powerful blow with his hands and head that leeches half of the damage dealt to his opponent. Deals 6% damage initially (with 16% damage being the maximum), and increases in speed with Servine and in range with Serperior.

Customs

Custom 1 - Wring Out: This move deals the more damage the less damage the inflicted opponent has, with a simple formula being used to calculate the damage (3 × (20 if below 40%/10 if below 120%/1 if above 120%). This move does the same amount of damage regardless of any multipliers or any stage Servine is at.
Custom 2 - Gastro Acid: Snivy spits out a purple acid that prevents them from using the move that they were using for a period of 3 seconds. If the opponent is not using a move, this move does nothing. This move also destroys items and breaks shields quickly. Has no damage, and the range only increases with the next Snivy Stages.
Custom 3 - Mega Drain: A weaker version of Giga Drain that only deals 3% initially, and only up to 13% at maximum, but has a flinch effect that carries on after the move has been dealt. Increases in speed with Servine and in range with Serperior.

Final Smash
Bloom Doom
Snivy teleports the opponent into a cutscene where a Grassium Z floats in front of Snivy in a flowery field, allowing Snivy to perform a dance that powers itself up and then unleashes a huge solar beam that deals 120% to the opponents it's ensnared.
Taunts

Up Taunt - Snivy shakes it's head and crosses it's arms. Servine bows elegantly. Serperior hisses as it coils up.
Side Taunt - Snivy puffs it's chest out as it puts it's hands into fists. Servine looks around curiously. Serperior holds it's head up high.
Down Taunt - Snivy sits down with eyes drooped. Servine curls up and falls asleep. Serperior roars as it curls it's tail.

Special Team-Up Names

With Pikachu - Free Spirit Pokémon
With Pokémon Master - Ever Evolvers

Alternate Costumes





Round little Kirby lives on the peaceful Planet Popstar, in Dream Land. He can inhale things with his big mouth, either copying their abilities or spitting them out again. He likes to eat and eat a lot but despite this he's light as a feather!

Move
Description
Entrance
Kirby crashes into the stage using a Warp Star, flopping onto the ground before jumping up happily.
Neutral Special
Inhale
Kirby uses his inhale ability to suck in nearby opponents, able to swallow them and hold them for a limited time or copy their ability, being able to use their neutral special. When swallowed Kirby does 8% damage, and a spit will do 6% damage.

Customs

Custom 1 - Star Spit: Kirby cannot copy abilities, but he can swallow multiple opponents and blast them out in a huge damaging star spit that can do a whopping 35% damage at max size.
Custom 2 - Copy: Kirby uses the Copy Copy Ability to scan a opponent and get their power. It's quicker, although the functionality of Inhale is a bit less useful. It will do 7% damage upon scan.
Custom 3 - Jump Inhale: Kirby jumps forward before inhaling, dealing as a horizontal recovery and spitting out opponents will do 10% damage. However, swallowing to copy abilities will only do 6% damage.

Side Special
Hammer Flip
Kirby holds a hammer in his hand and begins to charge it up before letting it loose, flames and sparks going everywhere as he flips it. It is a effective KO tool and when in air, Kirby will do it twice before hitting the ground.

Customs

Custom 1 - Blizzard Hammer Flip: Kirby creates a series of increasingly-large icicles in front of him, the more the longer the move is charged. They launch off once the hammer been swung.
Custom 2 - Sizzle Hammer Flip: Kirby shoots out fireballs as he swings, the number of which depending on how long he charges up, and the fireballs explode on contact.
Custom 3 - Splash Hammer Flip: Kirby shoots droplets forward as he swings, the more the more he charges.

Up Special
Final Cutter
Kirby charges up a sword and slams it down into the ground, emitting a shockwave. It can meteor smash any opponents he comes into contact with upon descending. Somewhat predictable due it's start up animation.

Customs

Custom 1 - Double-Bladed Laser Sword: Kirby attacks with a double-bladed laser sword in a wide arc that can cancel projectiles tossed at it. It has a constant hitbox, protecting Kirby's back when not swung. When the blade is out, Kirby can only jump once and cannot float. Crouching or doing another attack will sheathe the blade.
Custom 2 - Super Boomerang: Kirby splits himself in a powerful cutting boomerang and a defenseless half that is vulnerable to damage.
Custom 3 - Explosive Ninja Stars: Kirby throws explosive Ninja Stars that get embedded into whatever he throws them into them, which blow up a second later.

Down Special
Stone
Kirby transforms into a stone and is unable to move while in this form, but can take some damage without getting hurt (although there is a set durability) and when in the air he will smash opponents when he hits them.

Customs

Custom 1 - Volcano: Kirby shoots firey rocks from his head, able to tilt it in any direction he wishes to fire. This deals 9% damage.
Custom 2 - Curling Stone: Kirby becomes a curling stone and slides along the ground, freezing anything in his path. This deals 7% damage.
Custom 3 - Drill: A drill grows from Kirby's arm which allows him to rocket sideways, massacring all enemies in his path. Kirby can release the drill and it continues on even through walls until it disappears. This deals 8% damage.

Final Smash
Hypernova
Kirby turns rainbow colors as his mouth opens wide, sucking platforms, items, and opponents and then spitting it out in a huge rainbow colored Star Spit as he reverts back to normal.
Taunts

Up Taunt - Kirby inward to face the screen and wave his arms while saying "Hi!"
Side Taunt - Kirby does a shuffle dance reminiscent of his victory dance from his home series.
Down Taunt - Kirby makes a evil grin similar to the Soul Melter expression from Kirby: Star Allies.

Special Team-Up Names
Alternate Costumes





Gooey is Kirby's friend who was split off from Dark Matter and has become a valuable ally to Kirby, even if he comes across as a little confused a little too often. Gooey is similar to Kirby in that he can use Copy Abilities and uses the Animal Buddies in his moveset, but can also copy abilities just like Kirby!

Move
Description
Entrance
Gooey pops out of a bag, looking bug-eyed as he hops out.
Neutral Special
Ingest
Using his tongue, Gooey can grab opponents and swallow them to spit them out or copy their neutral special. Gooey does not get a unique hat when he copies a opponent. He does 12% damage when swallowing a opponent and 4% spitting out.

Customs

Custom 1 - Latching Tongue: Gooey's tongue reaches out longer, although Gooey can only grab opponents and toss them for 14% damage and cannot copy their abilities.
Custom 2 - Black Thunder: Gooey opens his mouth to generate out black thunder, able to direct it up or down, dealing 7% damage per 30 frames to opponents touching the thunder.
Custom 3 - Nago Spark: Nago rubs against Gooey, building up a static charge. Gooey can then move around freely and sparks will shoot out and damage enemies.

Side Special
Rick Needle
Rick hugs Gooey from the front and the hair on Rick's back sticks out, like a porcupine. This attack only protects Gooey from the back.

Customs

Custom 1 - Nago Needle: Nago spins Gooey who shoots a blitz of spikes quickly, launching at slightly varied angles and dealing 10% damage to opponents.
Custom 2 - ChuChu Needle: ChuChu coats Gooey, launching five needles out from herself, two going left/right, one straight up, and two covering the angles in between. Each needle does 6% damage.
Custom 3 - Pitch Needle: Pitch flies straight forward until the button is released, sharp beak outstretched the whole time. This is useful for traveling across the stage quickly. It does 10% damage.

Up Special
Coo Ice
Coo launches three angled icicles as he carries Gooey, each icicle dealing 8% damage. He can only flap his wings five times before Gooey will be dropped in a helpless state.

Customs

Custom 1 - Nago Ice: Nago aims Gooey downward as they jet out a burst of cold breath and launch through the air, freezing opponents that touch their icy breath.
Custom 2 - ChuChu Ice: ChuChu jumps on Gooey's head and lobs multiple snowballs at different angles quickly, dealing 4%-20% damage to opponents.
Custom 3 - Rick Ice: Gooey gets on top of Rick and becomes a snowman, creating defensive ice shields that freeze the opponent if they're in the small radius and deals 4% damage. Also freezes projectiles.

Down Special
Nago Clean
Gooey turns into a cloth which Nago pushes along the ground. This deals 6% damage and can be used quickly.

Customs

Custom 1 - Pitch Clean: Pitch turns into a bucket of water, which Gooey dumps out for 14% damage. The water travels in a slight arc before exploding into smaller blobs, dealing some additional damage.
Custom 2 - Coo Clean: Coo becomes a feather duster wielded by Gooey, who can use it to sweep away opponents for 9% damage.
Custom 3 - ChuChu Clean: ChuChu and Gooey fly around on a broom for a limited The only part of the broom that deals damage are the bristles, which deal 5% damage. The broom crashes after 3 seconds, which deals 16% damage.

Final Smash
Dark Ascent
Gooey swallows the Love-Love Stick and takes flight, gaining orange orbs around him. He can spit out infinite amount of stars.
Taunts

Up Taunt - Gooey twirls a parasol with his tongue.
Side Taunt - Gooey spits out Kine, who flops out on land before Gooey eats him again.
Down Taunt - Gooey swings his tongue around like a whip.

Special Team-Up Names
Alternate Costumes




Samus' Power Suit isn't as speedy as her Zero Suit but deals more so with power, being cabable of shooting missiles and using powerful charged projectiles. She also has a new melee counter that can be used in air or on ground, knocking the baddies away. This suit has been severely buffed in this installment of the Smash series, giving Samus the upgrade she has sorely needed.

Move
Description
Entrance
Samus arrives out of a Save Station, before turning to the side, holding her Arm Cannon.
Crouch
Samus goes into her morph ball, giving her a bit of a smaller hitbox and some added speed, although her jump is greatly reduced to one smallish jump. She can activate her down special in this mode without reverting back to her normal mode, although any of her other modes will cancel the morph ball.
Neutral Special
Charge Shot/Melee Counter
Samus has her original Charge Shot move which fires out a projectile that can deal 3%-25% damage depending on the charge time. The more time charged, the bigger and more damaging the ball of energy will be. In addition, the charge shot can be aimed in a 360 direction at the cost of having Samus stand still while it's being charged, leaving her open to attack. The biggest change, however, is that Samus can now counter opponents with a parry with her energy cannon if she uses the attack as they attempt to hit her. This parry attack can also be powered through the charge Samus has, dealing 6%-20% damage with a energy counter attack.

Customs

Custom 1 - Ice Beam/Ice Counter: This custom move primarily changes the projectile into the Ice Beam, which cannot be charged and has a slow start up and only deals 4% damage, but freezes the opponent. Additionally, Samus's Melee Counter has the freezing effect as well.
Custom 2 - Plasma Beam/Plasma Counter: This custom move move changes the Charge Shot into the Plasma Beam, which again, cannot be charged and deals weak damage, but has the lowest start-up. The Plasma Beam does 2%-3% damage and causes the opponent to flinch. The Plasma Counter sends out a long reaching shockwave that keeps the opponent away from Samus through it's continuous knockback, dealing 6% damage.
Custom 3 - Wave Beam/Wave Counter: This custom move gives Samus the Wave Beam, which sends out a projectile that has a waving arc that continuously knocks back the opponent, with 1% damage being delivered on every 15th frame. However, Samus cannot fire another shot until the projectile disappears. The Wave Counter stuns the opponent upon being used, allowing for a shot from the Wave Beam to keep the opponent away from Samus.

Side Special
Missile
Samus fires out a Missile, which homes in on the opponent and deals 5% damage. Samus will fire a Super Missile, which travels in a straight line and deals 10% and knockback, if the special button is tapped like a Smash Attack. Both variations deal low knockback, but can be used to break a shield if used in conjunction with a fully charged Charge Shot.

Customs

Custom 1 - Seeker Missile: Samus charges up for a moment and then releases five homing missiles. These go slightly slower and cannot be switched for Super Missiles, but each does 5% damage and chain into heftier knockback. The start-up is also slower.
Custom 2 - Ice Missile: Samus charges up for a moment and releases an Ice Missile that deals 6% damage and freezes the opponent. While it has a bit of a start up, it's good for keeping an opponent where you want them.
Custom 3 - Super Grapple Beam: Samus shoots out a yellow energy beam that brings opponents close to her, as well as using it to grab ledges. While it does minimal damage (2%), it's good for bringing your opponents in and as a recovery option. This is not the same as her grab, but rather a enhanced, longer version of it that is better for pulling opponents in but doesn't deal the same amount of damage.

Up Special
Screw Attack
Samus jumps upwards into the air surrounding herself in a bluish electrical field. This inflicts damage on any opponents that touch her and pulls them somewhat towards her if they are within a certain range of the attack. The height of the jump overall has been somewhat increased, as well as adding a hitbox while rising upwards that deals 6% damage while the final hitbox does 1-12% damage.

Customs

Custom 1 - Double Screw Attack: Samus can jump twice up in the air before falling into a free fall state. The rising hitbox has been removed, although the hitbox at the end of the animation for the Screw Attack has changed from 2-10% damage.
Custom 2 - Screw Rush: Samus deals more damage (2%-15%) and knockback, which grants it better KO potential. However, it launches opponents horizontally instead of near the upper blast line. It covers more horizontal distance but less vertical distance, making it less useful for recovery.
Custom 3 - Apex Screw Attack: This version of the Screw Attack is a purely vertical leap that only damages at the beginning (2%) and end (15%). Extremely powerful and can KO at mid-percentages. Has no horizontal momentum.

Down Special
Bomb
Samus curls into a ball, dropping a bomb. Bombs no longer fall slowly to the ground but stay where they are, allowing for interesting traps on both ground and air. Bombs will only go off on contact with a opponent or projectile, or after 2.5 seconds. They deal 6% damage. Samus can lay up to three bombs at any given time. If Samus is on top of a bomb when it explodes, she will enter Morph Ball mode and bounce up.

Customs

Custom 1 - Weighted Bomb: Samus drops bombs that drop straight to the ground and have a shorter set-up time of 1.5 seconds. They deal 4-5% damage and Samus can lay as many as she reasonably wants.
Custom 2 - Mega Bomb: Samus drops one giant bomb that deals 15% upon exploding, although will explode in 3 seconds. She can only drop this one bomb, although it gives her a bigger bounce if she's standing on top when it explodes.
Custom 3 - Slip Bomb: Samus drops bombs that cause opponents to trip when they touch them but does only 2% damage. Meteor smashes airborne opponents. Explodes after 2.3 seconds.

Final Smash
Zero Laser
Samus unleashes a huge, giant blue laser that can be aimed across the stage. She additionally rides on top of her ship, giving her the option to scoot back and forth as needed, although she cannot turn around. The weaker version unleashed by the Final Smash Meter does not give her the ship and the beam is half the size.
Taunts

Up Taunt - Samus salutes with her left arm as her thrusters activate.
Side Taunt - Samus faces the screen and demonstrates her Arm Cannon's mechanics.
Down Taunt - Samus aims her Arm Cannon behind herself, then kneels while aiming it in front of herself.

Special Team-Up Names

With R.O.B. - Metal Partners

Alternate Costumes





Samus' Zero Suit is speedier and nimbler than her Power Suit, able to quickly kick at opponents and attack them with her Paralyzer, but she lacks a good projectile and doesn't have nearly enough attacking power as the Power Suit. Despite this, she can very well hold her own using the Zero Suit, even against tough opponents. There are rumors she has some kind of involvement with R.O.B...

Move
Description
Entrance
Zero Suit Samus jumps out of her Gunship and uses her Jet Boots to briefly hover before landing.
Neutral Special
Paralyzer
Zero Suit Samus kneels down and fires a laser off from her Paralyzer that deals 4% damage when uncharged and 7% damage fully charged. When a opponent is hit, they shake as they are paralyzed for a moment, allowing the speedy Zero Suit Samus to follow up with an attack.

Customs

Custom 1 - Blast Shot: Zero Suit Samus's shots go for much farther and faster, but deals 1-3% damage and loses the stun effect.
Custom 2 - Electromagnetic Net: Zero Suit Samus's shots go slower but spread into a explosion and hit multiple times. Maintains the stun effect, although range is incredibly small.
Custom 3 - Icicle Shot: Zero Suit Samus fires off a freezing beam that freezes opponents when it hits. While the range stays generally the same as the Paralyzer, the start up time is the longest out of the moves and Zero Suit Samus stays crouched until the shot disappears, preventing her from moving. The move deals about 6% damage and cannot be charged.

Side Special
Plasma Whip
Zero Suit Samus performs a kneeling lunge to unleash a whip of plasma forward in a swirling motion. The whip hits repeatedly for 6% damage, while its sweetspot is located at the whip's tip, which deals 8.5% damage. It is useful for spacing and can function as a tether recovery like her grab aerial.

Customs

Custom 1 - Plasma Dash: Zero Suit Samus performs a dashing strike with her gun. Doesn't use the whip, so it can't grab to edges.
Custom 2 - Whip Lash: Zero Suit Samus releases the whip and strikes foes with the tip of it, pulling foes toward her. The rest of the whip does nothing. Deals 10% damage, but requires a preciseness to it.
Custom 3 - Reflect Slash: Zero Suit Samus strikes forward with the whip, reflecting projectiles for 2x the original damage, acting as a kind of counter. The whip itself only deals 3% damage.

Up Special
Plasma Wire
Zero Suit Samus fires her whip upwards, pulling anyone above her downwards for 7% damage. On ground, this will push people back into the air for 6-7% damage. In the air, this gives Zero Suit Samus some extra air, but overall as a recovery move it's not great, as it'll only tether upwards. However, Zero Suit Samus has a ton of tether recoveries, so this may not be as big of a problem.

Customs

Custom 1 - Boost Kick: Zero Suit Samus performs a jet-propelled split-legged side kick that ends with an outside crescent kick. A more reliable recovery that deals 9% damage and is a reliable KO move, however it will always move Samus back slightly at a angle.
Custom 2 - Impact Kick: Zero Suit Samus performs the Boost Kick with a slight variation, the first kick dealing more damage (8%) and has higher knockback. However, the first kick does not consist of loop hits, which decreases its reliability of connecting with the second kick.
Custom 3 - Lateral Kick: As opposed to going straight up with the Boost Kick, Zero Suit Samus goes horizontal with her kick, giving her some horizontal range. It gives her less vertical range though and generally deals about the same damage. Can spike opponents downwards.

Down Special
Flip Jump
Zero Suit Samus flashes as she does a flip and an arching jump through the air, with after images trailing behind her. This provides some horizontal and vertical recovery and can act as a third jump without leaving Zero Suit Samus in a helpless state. While it does not damage in the air, if she lands on a opponent, it will ground them. However, the move has high ending lag overall.

Customs

Custom 1 - Shooting Star Flip Kick: The flying kick's sweetspot deals more damage (17%-14%) and it functions similarly to down aerial, albeit propelling Zero Suit Samus at a more horizontal angle. However, the jump covers less horizontal distance.
Custom 2 - Low Kick: The jump grants much more horizontal distance and jumping while flipping helps Zero Suit Samus land faster. However, the jump covers much less vertical distance and grants no intangibility, while the stomp and kick both deal less damage.
Custom 3 - Paralyzer Kick: Zero Suit Samus fires off the Paralyzer at a downward diagonal, stunning opponents for 4% damage. Lacks the kick and stomp hitboxes.

Final Smash
Gunship
Zero Suit Samus hops into her gun ship and a first person reticle appears over the fight, allowing her to fire at opponents with her laser to deal 25% damage. Has high end lag at the end of each shot, thus punishing her for missing. Deals somewhat high knockback. The Smash Meter version of this Final Smash decreases the time she gets in the Gunship as well as decreases the laser's time to 15% damage.
Taunts

Up Taunt - Zero Suit Samus tosses her Paralyzer into the air, spins once, and catches it behind herself while saying "Is that all?"
Side Taunt - Zero Suit Samus activates her whip, flicks it and says "Try me".
Down Taunt - Zero Suit Samus holds her Paralyzer near her waist, and then performs a pirouette while twirling a whip of plasma around herself and saying "You're mine!"

Special Team-Up Names

With R.O.B. - The Girl and The Robot

Alternate Costumes





Pit is the captain of Palutena's royal guard. Despite the wings on his back, Pit needs the Power of Flight from Palutena in order to truly fly. He gets teased by most of the gods, but when they need him most, he's there and ready to serve.

Move
Description
Entrance
Pit flies out from two doors, before landing on his feet, slightly tripping over himself.
Gimmick
Royal Charge
Pit is able to passively charge his projectile attack by not actively attacking for a period of a second, or continuously fire weaker projectiles. While not a huge gimmick, this gives Pit a couple more options whilst attacking than previous games.
Neutral Special
Palutena Bow
Pit shoots out a sky blue arrow from the Palutena Bow. The arrow can be charged, and during the charging animation it can be aimed left, right, or directly upwards. The arrow itself can be curved in any direction mid-flight. Additionally, Pit can now fire a powerful dash shot when he shoots out a arrow when dashing, which deals 6% damage. Uncharged still arrows do 4% damage while fully charged arrows do 8% damage.

Customs

Custom 1 - Fortune Bow: Pit can longer have the arrows move in mid-air and his projectiles have a smaller hurtbox. Additionally, he cannot charge the Fortune Bow. However, the arrows are faster, increase in damage over distance (3-13%). Aesthetically, the arrows change to a yellow color.
Custom 2 - Silver Bow: The Silver Bow is the only version of this move that is best for a close range attack. Has a homing ability as well. The arrows decrease in power (13%-3%) the longer they go on for, which doesn't help with their long firing range. Holding down the attack button after firing allows Pit to continuously fire projectiles that deal 4% damage but do not flinch opponents.
Custom 3 - Angel Bow: The Angel Bow fires pink heart shaped projectiles that while slow, home onto opponents to deal 10% damage. They can be easily dodged or shield guarded, but are a perfect punisher. Additionally, holding down on the bow after firing it allows Pit to deal multiple slowish hits that deal 3.2% damage but have decreased range.

Side Special
Upperdash Arm
Pit dashes forward with the Upperdash Arm to perform a uppercut. It has below-average knock-back but deals 11% damage ground and is relatively easy to pull off. It also grants super armor during the dash. While the aerial version deals less damage (9%), it can still KO middleweights past the 120% mark. The end lag however, will leave Pit open to several kinds of attack.

Customs

Custom 1 - Crusher Arm: The Crusher Arm is a slower version of the Upperdash Arm that grabs opponents during the dash before launching them away after a crushing attack that deals 25% damage. The beginning and end lag make this a less useful attack, but it's damage is quite punishing.
Custom 2 - Bowl Arm: The Bowl Arm is interesting in that the dash is extended and lag is minimal, but the melee attack itself does only 3% damage. It shoots out a bouncing projectile that can be charged prior to the charge, which can deal 7%-18% damage.
Custom 3 - Angel Ring: Pit spins forward with the Palutena Bow, while deflecting any incoming projectiles and dealing 1% damage per 15 frames. Pit can keep spinning the bow with the special button. He remains immobile when performing the move.

Up Special
Wings of Icarus
Pit's Wings of Icarus from Brawl make a return, but have been slightly nerfed in that Pit has a cool-down of 1.4 seconds after executing the move and landing, cannot cancel the free-fall animation with an aerial special, and the time he spends flying is reduced to 2.4 seconds. When activated, Pit's wings glow blue and he can fly freely in any direction at a fast speed.

Customs

Custom 1 - Gift of Flight: Pit launches from a mainly vertical direction that can be aimed in any direction with the directional buttons. Does not inflict damage, but can be used to recover. This move has been buffed slight in that the start-up is much more shortened, and the distance Pit launches off has been increased.
Custom 2 - Burner Wings: Pit's wings blast aflame as he launches off, dealing 8% damage to opponents but immediately putting him into a free-fall state. He can, however, use a aerial version of his specials to move forward, although it will put him back into a free fall state where he can no longer move.
Custom 3 - Breezy Flight: When Pit launches forward, he releases a gust of wind that blows opponents away. The launch distance is shortened.

Down Special
Guardian Orbitars
Pit summons the Gaurdian Orbitars to his right and left side. They reflect projectiles at twice the power and seventy percent more speed than the original projectile and block melee attacks. They break if they block a total of 50% damage while active, which requires 7 seconds to regenerate. Guardian Orbitars also push away opponents upon activation.

Customs

Custom 1 - Mirror Shield: While reflected projectiles do not do as much damage or increase in speed as much compared to the Gaurdian Orbitars, the shield is not capable of breaking. However, it leaves the back side of Pit open to punishment.
Custom 2 - Fairy Orbitars: The Fairy Orbitars reflect attacks but add the property that they confuse opponents, reversing their controls for a 1.5 second period as well as stunning them.
Custom 3 - Arlon Orbitars: Instead of reflecting an attack, the Arlon Orbiters fire off golden colored projectiles that cancel projectiles in mid air and deal 5% damage to opponents. They can be continuously fired to deal 1.5% damage by holding the special attack button and Pit can move while firing, although they fire only in one direction. They also do not flinch opponents.

Final Smash
Great Sacred Treasure
Pit hops onto the Great Sacred Treasure, which shifts into Pursuit Mode and allows Pit to fire lasers (which deal 12% damage) from the left or right side of the screen before unleashing Final Strike mode, a powerful laser that deals 100% damage. When metered, it skips straight into Final Strike, which deals 50% damage instead.
Taunts

Up Taunt - Pit separates the Palutena Bow and crouches down, then twirls its blades before standing up, crossing them over his head and saying "Come on!"
Side Taunt - Pit separates the Palutena Bow and then flourishes its blades before striking a pose while saying "That all you got?"
Down Taunt - Pit floats in the air and poses angelically, looking up while feathers fly from his wings.

Special Team-Up Names

With Palutena - Skyworld's Protectors
With Phosphora - Lightning Riders
With Hades - Sky and Soul
With Medusa - Underlings of Gods

Alternate Costumes





Palutena is the Goddess of Light and the ruler of Angel Land, as well as the commander of Pit and the Icarus Army. Her power is not above being corrupted, but she has a more humanistic insight than most other gods due to her son Strafe, who was born in the Fantendoverse which she periodically makes trips to. Her moveset uses her divine abilities that she would normally gift to Pit on his adventures, but anything a angel can do a goddess can do better.

Move
Description
Entrance
Palutena walks out of a golden door that is decorated with her halo's design and emits a bright, shining light as she brushes her hair aside.
Jump/Levitate
Palutena can jump an upwards of two times normally, but if the player hold the jump button after the first jump, Palutena goes into a levitate mode that gives her a somewhat increased speed but also a higher knockback when taking attacks.
Neutral Special
Centurion Summon
Palutena summons a Centurion to attack, which has a total of 15% health but fires projectiles that do 5% damage and fly over to enemies where they can. Their shields prevent them from being hit from the front. Palutena can summon up to two at a time, although she has a 5 second cooldown from summoning another one when one of them is defeated, giving her essentially two cooldown timers.

Customs

Custom 1 - Auto-Reticle: Palutena creates a reticle on her opponent and then fires off the energy blasts at the reticle. This move has changed a bit. It will always fire blasts at the target which deals 3.1% per blast. Palutena can move after the reticle is placed. It is handy for handling any foe near Palutena, regardless of whether they are below, above, behind, or in front of her. It also stalls her descent in mid-air. However, it has a bit of a end lag.
Custom 2 - Heavenly Light: Palutena emits a rectangular field of light above her. This move has a large range and can be kept open for 3 seconds, although it does 1.3% per 15 frames for opponents trapped in it. It cannot knockback or flinch opponents and Palutena cannot move while the move is being utilized. It can also be absorbed through specials such as PK Magnet.
Custom 3 - Staff Orbs: Palutena shakes her staff and creates three blue orb projectiles that have a slight home onto the opponent, dealing 4% damage each. These blue orb projectiles have somewhat of a slow start up but increase in speed the longer they are in the air. If they cannot find a opponent, they crash themselves into the ground.

Side Special
Grind Rail
Palutena dashes forward, creating a blue colored grind rail that can be controlled to tilt into any direction. She can only perform her Neutral Special after hopping on, although if she collides with an opponent she will do 8% damage and the grind rail will end. Additionally, the grind rail will stop if the player attempts to steeply go up or if she is knocked off by an attack.

Customs

Custom 1 - Angelic Missile: Palutena shoots herself forward to perform a corkscrew battering ram, dealing 13% damage. It has a high horizontal distance (nearly half of Battlefield) and doesn't render her helpless. It's also a good KO option. However, it can be interrupted by weak attacks and has noticeable start-up lag.
Custom 2 - Explosive Flame: Palutena creates a large explosion about three character lengths away from her. Good for spacing, has KO potential, and deals 6%-8% damage. However, it is a fairly predictable attack due to it's set distance.
Custom 3 - Super Speed: Palutena glides quickly across the ground while emitting her halo, ramming into her opponent. Covers the entirety of Battlefield when used on ground and propels her downwards while in the air. It deals 3%-9% damage and be cancelled with her other attacks, making it useful for a variety of things. It has a long cool-down of 3 seconds, which is signaled by a small ring of light around Palutena's torso when it is usable again.

Up Special
Rocket Jump
Palutena explodes beneath her feet, propelling her up. The grounded explosion (dealing 12% damage) can be a reliable KO option while near edges. The aerial explosion doesn't deal as much damage (10%) and is less reliable as a KOing option. Doesn't cover any horizontal distance and compared to her other recovery moves, doesn't cover as much vertical distance.

Customs

Custom 1 - Warp: Palutena disappears and then reappears in a chosen direction. It quickly covers both a respectable amount of vertical distance and a decent horizontal distance while rendering Palutena invisible. Leaves Palutena in a helpless state afterwards. No damage.
Custom 2 - Jump Glide: Palutena jumps a fair distance and then glides afterward, similarly to Peach Parasol, before entering a helpless state at the end of the glide. It can be canceled into any aerial move, which makes it great at maintaining vertical follow-ups, and covers more horizontal distance than Warp. If she attacks in the air, it will leave her in a helpless state and she cannot edge guard.
Custom 3 - Sky Jump: Palutena jumps up extremely high. Doesn't put her in a free-fall state and can be used in conjunction with her other moves afterwards. However this is all it does, and knockback is increased while jumping upwards, making it a risky move at times.

Down Special
Reflect Barrier/Sky Counter
Palutena puts up a Reflect Barrier against projectiles, which moves slowly away from her and reflects projectiles at twice the speed and damage of their original. It cannot reflect an attack that deals more than 50% damage or it will break, but there is no punishment as Palutena can just summon another one. Additionally, it will push back opponents and deal 5% damage. When against a melee attack, Palutena activates her counter, which allows her to attack with her shield and staff to deal 10% damage with upwards knockback.

Custom 1 - Lightweight: Palutena activates a green and yellow aura, nearly doubling her walking speed, dashing speed and jump height, but slows her falling speed, lowers her gravity, and nearly doubles the damage received (although knockback remains unchanged) for a little over 12.5 seconds.
Custom 2 - Celestial Firework: The Fairy Orbitars reflect attacks but add the property that they confuse opponents, reversing their controls for a 1.5 second period as well as stunning them.
Custom 3 - Libra Sponge: Palutena glows with a pink and blue aura. The attacks she takes on power her own attacks, nearly doubling their power for a short, 4 second period.

Final Smash
Palutena's Army/Black Hole Laser
Palutena is unique in that she has two Final Smashes, one which is based off the normal breaking of the Smash Ball to unleash and the other is her Metered Final Smash, which is the Final Smash that occurs when she fills up the Final Smash meter.
Her normal Final Smash, Palutena's Army, has her bask in light as she summons Centurions to invade the stage, with each Centurion flying over to the opponent to deal a total of 15-25% damage before they fall in battle. There are a total of 15 Centurions in all and the Final Smash officially ends when they all disappear. Palutena can freely move around and assist the Centurions in battle.


Her metered Final Smash, Black Hole Laser, has her create a Black Hole that sucks in opponents and then she fires a pink colored laser at them that deals 45% damage. It isn't as powerful as it's Smash 4 incarnation.

Taunts

Up Taunt - Palutena lifts her arms overhead and then brings them down while producing ethereal wings, emitting her halo, and saying "You shall be purified!"
Side Taunt - Palutena grabs her staff and poses one leg around it while twirling around it, laughing.
Down Taunt - Palutena lets go of her staff and telekinetically holds it next to herself, then brushes her hair aside while emitting her halo and saying "Ready when you are." before grabbing the staff again.

Special Team-Up Names

With Pit - Skyworld's Protectors
With Phosphora - From the Sky
With Hades - Pretty Palutena and Hunky Hades
With Medusa - Hard Feelings

Alternate Costumes


Robin




When Robin is found at the start of Fire Emblem: Awakening, she (or he!) discovers that, even without their memories, they are a master tactician. While Robin uses a electric sword called Thoron, Robin uses primarily magic attacks from their Tomes in their specials, making them a cut different than Marth or Ike. Their tomes and their sword can only be used so many times before they need to wait for them to get back.

Move
Description
Entrance
Robin wakes up from a field of yellow reeds, pulling out their spellbook.
Neutral Special
Thunder
Robin charges up a thunder attack that does 6% damage on it's lowest charge but 12% damage on it's highest charge (being named to Elthunder when fully charged). Like all of their tome moves, when they run out of uses, they must wait six seconds for it to return.

Customs

Custom 1 - Thunder+: Robin casts more powerful thunder magic. More powerful overall, but charges slower and the tome has less durability.
Custom 2 - Gronnwolf: Robin casts a green wolf head that bites at their opponent and sends them flying back, although only deals 3% damage.
Custom 3 - Gronnwolf+: A stronger version of Gronnwolf that deal more damage although the hitbox is more precise and charges slower with less durability.

Side Special
Arcfire
Robin attacks with a tiny fireball that travels diagonally downward from above their head and bursts into a pillar of flame on impact, dealing 4% damage. Like all of their tome moves, when they run out of uses, they must wait six seconds for it to return.

Customs

Custom 1 - Arcfire+: Robin attacks with a bigger and more damaging fireball, but is slower to execute and has less durability and a longer charge.
Custom 2 - Fire Wall: Creates a larger pillar which sticks around longer and offers mild protection against attacks. Cast directly in front of Robin.
Custom 3 - Flame Burst: Creates a large pillar of flame before launching a exploding sphere that explodes in a great radius and does a ton of damage. Has the least amount of durability out of all of Robin's attacks and charges the longest.

Up Special
Elwind
Robin casts wind magic twice below themselves from their Elwind tome, which propels them into the air. It hits twice, with the first hit being able to meteor smash. Like all of their tome moves, when they run out of uses, they must wait six seconds for it to return, meaning Robin will be without a recovery.

Customs

Custom 1 - Soaring Elwind: Alters the lifting power of each gust. The first hit has less recovery potential and deals less damage, but the second hit has much more recovery potential. Each gust takes significantly longer to cast.
Custom 2 - Deft Harpoon: Robin attacks with a harpoon, launching it upwards and the distance depends on the charge. Deals 10% damage. Does not have a durability or charge associated with it.
Custom 3 - Deft Harpoon+: A faster version of Deft Harpoon that has a tighter arc but less possible distance and only deals 7% damage. Does not have a durability or charge associated with it.

Down Special
Ignis
Robin dashes forward as a rune appears before them, marking the radius of their attack. They then attack with explosive charge that deals 12% damage. Like all of their tome moves, when they run out of uses, they must wait six seconds for it to return.

Customs

Custom 1 - Distant Ignis: Robin can hit opponents farther away but for less damage.
Custom 2 - Reposition: Robin can swap spaces with another character on the battlefield if activated with another character.
Custom 3 - Eltornado: Robin unleases a small tornado in front of them that blasts opponents upwards.

Final Smash
Pair Up
Robin teams up with Chrom, with Chrom slashing the opponent up in the air while Robin casts thunder and fire magic against the foe. After they finish their barrage, they perform a final simultaneous strike that spikes the opponent to the ground, which can KO at 45%. This also replenishes Robin's weapons.
Taunts

Up Taunt - Points their sword upwards and says, "Let's tip the scales!"
Side Taunt - Magically suspends their sword and tome above their hands, rotating the sword in place and flipping through the tome's pages using magic, retorting "Prepare yourself!"
Down Taunt - Robin encircles themselves with their sword and tome and says, "You're not ready!"

Special Team-Up Names

With Tharja - Plegian Mages
With Corrin - Avatars of Dragons
With Fjorm - Thunder and Ice
With Silver - Twilightborne

Alternate Costumes


Corrin




Corrin was born into the royal family of Hoshido, but was kidnapped and brought to the kingdom of Nohr as an infant, where they have spent much of their life as the prince or princess of the kingdom. Faced with a difficult choice between two families, Corrin chose neither and joined the fight in Smash. Corrin can transform themselves into a dragon, as well as use a rotating chain blade known as the Yato to fight with.

Move
Description
Entrance
Corrin drops to the ground in her dragon form before reverting back to her normal human form, brandishing the Yato.
Neutral Special
Dragon Fang Shot
Corrin's left hand transforms into a dragon's mouth and fires a ball of water. The ball of water can temporarily paralyze opponents in addition to sending them back, dealing 3%-11% damage. After the projectile is fired, Corrin's dragon hand will bite for 10%-20% damage before reverting to normal, hitting nearby opponents. This makes it act as both a projectile and melee move.

Customs

Custom 1 - Dragon Soaker: Corrin's left hand morphs into a dragon's mouth and blasts a jet of water that pushes opponents back while dealing 10-20% damage. This lacks the bite and the range isn't as great as the ball of water from Dragon Fang Shot, however it is a effective edge-guard and spacing tool and can be charged.
Custom 2 - Lightning Breath: Corrin's left hand morphs into a dragon's mouth and spews out a thunder bolt that paralyzes opponents while dealing 5% damage. While the attack is quick, it cannot be charged and leaves Corrin open to punishment due to the end lag. Lacks the bite.
Custom 3 - Dark Breath: Corrin's left hand morphs into a dragon's mouth and spews a black cloud that slows down opponents while inside of it. This retains the bite, which deals 15%-18% damage and can be charged. This is good for entrapping opponents and then following up with another attack.

Side Special
Dragon Lunge
Corrin hops a short distance into the air and transforms their arm into a draconian spear, aiming downward directionally and will get caught onto the terrain. Corrin's arm will also pin opponents in place, dealing 15/8/7% depending if the sweetspot on the spear is used. It then becomes a kick, which deals 12% damage clean or a jump. It can also be cancelled entirely. One of Corrin's greatest moves.

Customs

Custom 1 - Dragon Vault: Corrin's draconian spear goes directly down, which then can be kicked off into a farther kick jump. It has the same properties for the most part, just the horizontal distance Corrin travels is greater after the move is executed and the move goes straight down.
Custom 2 - Yato Burst: Instead of performing a kick when Corrin's arm gets grappled into the ground, they do a spinning lunge with the Yato instead, dealing 14% clean damage. The spear loses it's sweet spot, dealing only 8-7% damage.
Custom 3 - Double Dragon Lunge: Both of Corrin's arms form into draconian spears, making them immune to flinching and dealing 15/8/7% damage to pinned opponents. However, there is no follow up to this move, requiring Corrin to cancel to move any further.

Up Special
Draconic Ascent
Corrin grows wings and jumps upwards. Deals damage on the way up, a multi-hit move that deals 4% damage at the start, 1% damage per 10 frames, and a final 3% at the finish of the animation. Can be angled by 45°. Can be used to KO at 140%, but it's a overall very short distance recovery.

Customs

Custom 1 - Soaring Draconic Ascent: Corrin soars up higher overall, but deals no damage on their ascent up. However, they do cause opponents to flinch and fall into a helpless state on contact.
Custom 2 - Draconic Flutter: Corrin soars up less higher but can stay in the air longer by flapping their wings. The multi-hit-move is slightly altered in that there is no extra damage on the start or end of the animation.
Custom 3 - Draconic Spin: Corrin jumps up and then brings out the Yato while using their wings to propel themselves in a very fast spin that deals 5% damage on start up, 1% damage per 15 frames, and a final 5% damage at the finish of the animation.

Down Special
Counter Surge
Corrin transforms into a dragon when hit and executing this special, slamming the ground to release a surge of water that deals 1.2x damage the original attack would have done with good knockback. It defends Corrin from the back and front, although the slow start up and end lag makes this a punishable move when done too early.

Customs

Custom 1 - Yato Wrath: Corrin strikes with the Yato forward in a bunch of multi-hit slashes, with decent knockback. Not a counter move and deals upwards to 11% damage.
Custom 2 - Fate Maker: Corrin roars as their hands both turn into spears, grappling themselves into the opponent to deal 7-9% damage. They then can tap the special attack button again to fire off a water projectile to blast them straight into the air to deal 3% damage.
Custom 3 - Dragon Gaze: Corrin's head transforms into a dragon as they deal a headbutt that knocks the opponent into the air for 7% damage.

Final Smash
Torrential Roar
Corrin performs a motion similar to Counter Surge. If the move hits any opponents, they are transported to a rocky mountain scene where Corrin then transforms into a dragon and unleashes a whirlpool that traps all the fighters before launching them before going back to the standard stage. This move deals a total of 80% damage and 40% damage metered.
Taunts

Up Taunt - Corrin puts her head down, then raises it back up in its dragon form saying "I make my own fate!".
Side Taunt - Corrin twirls the Omega Yato before throwing it into the ground saying "This ends now!"
Down Taunt - Corrin shouts "You won't stop me!" as she pulls out the Yato and slashes it downward.

Special Team-Up Names

With Tharja - Connectors to the Dark
With Rhajat - Reincarnated Lovers?
With Robin - Avatars of Dragons
With Fjorm - Water and Ice

Alternate Costumes





Sora is from Destiny Islands, which was destroyed by the darkness. Looking for his friends across the worlds with his companions, he would end up getting involved in the ongoing fight against light and darkness, with Xehahort being the primary enemy. Brandishing his keyblade and magical abilities, Sora is a quick fighter with a speedy moveset that can chain into combos, but has floatiness and lack of real defensive options.

Move
Description
Entrance
A bright white keyhole appears, where Sora tumbles out of, his Keyblade pointed towards his direction.
Jump/Aerial Dodge/Glide
Sora has a high first jump and a second smaller jump that also acts as an aerial dodge. Additionally, Sora has a glide when the player holds down the jump button.
Neutral Special
Strike Raid
Sora leans forward as he tosses the Keyblade as a spinning projectile that deals multi-hitting damage that deals 1% damage per 10 frames, and an additional 6% damage when at the end of the animation. After going a certain length, about five character lengths wide, it reappears back in Sora's hand with some end lag.

Customs

Custom 1 - Blizzard Edge: Sora performs a high, leaping slash that deals 5% damage and causes ice to burst from the ground for an additional 6% damage, freezing opponents on the sweetspot.
Custom 2 - Quick Blitz: Sora performs a simple arced slash onto his opponent, dealing 7% damage. Has no start-up lag but a bit at the end.
Custom 3 - Tornado Strike: Sora performs a spin attack and creates a vortex that lifts enemies into the air, dealing 1% per 15 frames and an additional 5% damage at the end of the animation. The vortex can only stay on screen for 3.4 seconds before vanishing.

Side Special
Sonic Blade
Sora performs Sonic Blade, which allows him to quickly dash through the air with his Keyblade charged an upwards to seven times through tapping the attack button. He gains superarmor during the first charge, although loses it with each successive dash. Sonic Blade deals 5% damage each attack and causes the opponent to flinch when used. When Sora performs Sonic Blade seven times, he falls into a helpless state.

Customs

Custom 1 - Prism Windmill: Sora spins forward with their Keyblade, spinning it around as they boost forward onto the foe, dealing a multi-hit attack that deals 2% damage per 17 frames before launching them away. Has some end lag and if Sora were to do this in air and then do another aerial attack, he would be forced into a helpless state.
Custom 2 - Chain Rave: Sora holds the Keyblade by the chain instead of by the handle, swinging it back and forward and dealing 5% damage per swing, of which there are three. When done in air, Sora will be able to pull off another aerial attack before being forced into a helpless state.
Custom 3 - Fire Windmill: Sora spins forward with their Keyblade, spinning it around as they boost forward onto the foe, dealing a multi-hit attack that deals 1% damage per 20 frames before launching them away with a flame attack that deals 6% damage. Has a lot of end lag and forces Sora into a helpless state afterwards.

Up Special
Athletic Flow
Sora glows with a violet energy, able to jump off the ground or wall and leap into any direction that the control stick is aimed at. Additionally, pressing the special attack button again will have Sora perform a powerful energy attack with the Keyblade, dealing 10% damage to opponents. He can bounce off walls or other characters when in contact, dealing 5% damage. However, he has no superarmor when performing this, and will be rendered into a helpless state when attacked.

Customs

Custom 1 - Aerial Recovery: Sora can cancel knockback done to him with aerial recovery, which sets him upright and allows him to perform aerial attacks without going into a helpless state for a short time.
Custom 2 - Superglide: Sora can glide at a much slower rate than any other fighter, and at a high speed. Deals no damage but it's horizontal recovery is quite impressive and can be done on the ground to increase Sora's speed. Sora gains additional knockback from attacks while performing this move, however.
Custom 3 - Sonic Impact/Double Impact: Sora charges forward and knocks foes away for 7% damage, able to follow it up by tapping the special attack button again with Double Impact to do a attack that deals 8% damage. Will put Sora into a helpless state if he deals Double Impact in the air.

Down Special
Deck Command
Sora is able to cycle through magic commands to cast Fire, Blizzard, and Thunder. When casting a spell, it will change to the next attack in the list, so if Sora casts Fire, he would cast Blizzard next and it loops. Fire deals 6% damage and causes opponents to flinch, Blizzard deals 3% damage and freezes opponents, and Thunder deals 7% damage and has the shortest range out of all them, but is by far the fastest.

Customs

Custom 1 - Stun Impact: Sora creates a reddish transparent sphere around him with a shockwave that stuns opponents and deals 4% damage, allowing for follow ups. Has a bit of an end lag.
Custom 2 - Balloonra: Sora conjures up multiple balloons and knocks them toward enemies, stunning foes on impact and dealing 10% damage. The balloons generally go in a left, up, and down direction and there is a lot of end lag at the end of the animation.
Custom 3 - Stop: Sora lifts his key blade up and performs Stop, a short spell that freezes opponents for 3 seconds. However, it deals no actual damage.

Final Smash
Trinity Limit/Ragnarok
Trinity Limit is Sora's Final Smash, allowing him to summon the dreameaters Aura Lion and Chef Kyroo to his side and creating a giant sphere of light that entraps opponents before launching it diagonally downwards for a total of 100% damage.


Ragnarok is Sora's metered Final Smash, and when activated, Sora slashes at the opponent a total of five times, dealing about 15% damage, before launching them off with a giant spread of light bullets that deal 30% damage.

Taunts

Up Taunt - Sora spins the keyblade around him, before grabbing it and saying "Are you done rambling?"
Side Taunt - Sora holds the keyblade behind him while holding out his palm, saying "Give me strength!"
Down Taunt - Sora drops the keyblade, holding his hands behind his head and says "Whatever".

Special Team-Up Names

TBA

Alternate Costumes





Goku is a Saiyan sent to Earth to destroy it but grew up becoming it's greatest protector instead. Goku is defined by his mission to find a stronger, more powerful opponent to fight against, and his Saiyan blood allows him to increase his power over time. He has helped his opponents in the name of making fights tougher as it makes him just as strong. This can usually be at the detriment of the people around him, but he means well...

Move
Description
Entrance
Goku flies in riding the Nimbus Cloud, jumping off as he gets into a fighting stance.
Neutral Special
Kamehameha
Goku charges up a energy attack by cupping his hands and releases a long beam of blue energy. The move can be avoided just by ducking for most characters, although it's long reach and the area it covers makes it pretty decent as an attack. It does have a bit of start-up that if used in junction with Kaio-ken, could be cut down significantly.

Customs

Custom 1 - Bending Kamehameha: A version of the Kamehameha that can change the course mid-blast, allowing it to bend upwards or downwards. The downside is that it is slower.
Custom 2 - Continuous Kamehameha: Goku fires multiple one-handed Kamehamehas from both hands. These cover less area but has less start up and can be used to keep away opponents.
Custom 3 - Super Kamehameha: This has a ton of extra start up as Goku needs to fully charge the Kamehameha, but releases a wider and taller beam that covers a lot more area and does more damage.

Side Special
Shockwave Fist
Goku's fist pulses with energy before he unleashes it's power, releasing a powerful shockwave when he punches that pushes opponents back and deals quite a bit of damage.

Customs

Custom 1 - Soaring Fist: Goku's fist is outstretched as it releases a much more powerful shockwave that travels across the stage. It actually doesn't deal any damage but makes opponents get thrown back quite a distance if they get caught in the shockwave.
Custom 2 - Invisible Eye Blast: Goku can release a very weak attack by staring at a character. While it doesn't deal much damage or knockback, it doesn't have any start up time and can be used at a decent distance.
Custom 3 - Spirit Shot: Goku releases two shockwaves from his hands as he points them away from himself, which deal about half of the damage of Shockwave Fist each.

Up Special
Kaio-ken
Goku uses the Kaio-ken to turn his ki red and increase the power of his attacks. This in turn, makes his defense drop quite sharply, making him take double the damage from attacks. This only lasts a temporary amount of time.

Customs

Custom 1 - Super Saiyan: Goku's hair turns yellow and his ki turns yellow, with his attacks becoming speedier at the cost of damage output. His defense is unaffected. This only lasts a temporary amount of time.
Custom 2 - Super Saiyan Blue: Goku's hair turns blue and his ki takes on a brilliant bright blue, with his attacks mostly unaffected but his defense increases while his speed drops somewhat. This only lasts a temporary amount of time.
Custom 3 - Ultra Instinct: Goku's ki becomes white and he can avoid attacks while standing still. His attacks, speed, and defense are unaffected. This only lasts a temporary amount of time.

Down Special
Spirit Bomb
Goku outstretches hands upwards and charges up a Spirit Bomb that can then be released down as a energy projectile that goes down diagonally downwards. If Goku is hit three times, the Spirit Bomb is cancelled and Goku takes additional damage, but the Spirit Ball and it's range and power increase the longer Goku charges it.

Customs

Custom 1 - Super Spirit Bomb: Goku starts with a bigger Spirit Bomb but it takes longer to charge to full size. The full size Spirit Bomb is also twice as big as the normal Spirit Bomb attack, as well as twice as devastating.
Custom 2 - Instant Spirit Bomb: Goku unleashes a Spirit Bomb instantly, although the charging aspect is dropped entirely in the name of killing it's start-up and is weaker.
Custom 3 - Spirit Bomb Absorption: Goku can charge up the Spirit Bomb and then absorb it to gain additional damaging. Combined with his Kaio-ken/transformations, this can seriously increase his attacking strength, but it is much quicker to expire than those transformations and requires a full charge.

Final Smash
Further Beyond
Goku transforms into Super Saiyan 3, allowing him to unleash powerful golden Kamehamehas and teleporting and flying across the stage.
Taunts

Up Taunt - Goku spins a umbrella similar to this Dragon Ball eyecatch.
Side Taunt - Goku sticks out his staff in a similar pose to this Dragon Ball eyecatch.
Down Taunt - Goku raises up his left arm while his right arm is folded over his chest similar to this Dragon Ball Z eyecatch. Any item he's holding will be perched in his arm.

Special Team-Up Names
Alternate Costumes
Unlockable Characters
Image + Name
Info





Luigi was introduced mostly as a palette swap for Mario for the second player, but in Lost Levels and in Super Mario Bros. 2 he was made more distinct. While he may live in Mario's shadow, he is making a name for himself and even recently celebrated a year named after him.

Move
Description
Entrance
Luigi opens up a door and peeks his head in, looking scared. He then pushes himself out, attempting to look braver.
Neutral Special
Electroball
Luigi fires out a shocking green electric ball that does not bounce. While uncharged, it only does 4% damage, but if Luigi spends the time to charge it, it can deal a whopping 11% damage.

Customs

Custom 1 - Green Fireball: Luigi fires a green fireball that is good for spacing and deals 6% damage, but can only be charged to deal 9% damage.
Custom 2 - Booball: Luigi can fire a white boo-shaped projectile that deals more damage if the opponent is facing away from it. 5% damage if facing it, 8% damage if not facing it.
Custom 3 - Fast Electroball: Luigi's electroball move is much faster to execute and charge, but only deals 8% damage charged and 2% damage uncharged.

Side Special
Green Missile
Luigi charges up and fires himself like a missile, dealing 7% damage. Luigi can do an additional attack in the air that covers his body in green fire when the player taps the attack button again, dealing 9% damage with 2% recoil damage.

Customs

Custom 1 - Aqua Missile: Luigi now bounces and moves like a seal, with water emitting from him. This allows him to make multiple attacks in missile formation without having to charge up again. Each attack does 6% damage but he looses the ability to form green energy around him.
Custom 2 - Shadow Missile: When Luigi hits someone, they are damaged for 6% and a random negative effect is placed on them, similar to Luigi's shadowzone effect. Cannot be charged.
Custom 3 - Sluggish Missile: A slower but stronger version of the attack that deals 11% damage on contact; cannot be charged.

Up Special
Green Hammer
Luigi propels up into the air with a green hammer, doing a body spin the air before slamming into the ground. Opponents can be harmed for 8% damage.

Customs

Custom 1 - Baby Hammer: Luigi uses a much smaller hammer that deals less damage (5%) but gives a huge squeaky jumping boost.
Custom 2 - Baahammer: Luigi uses a hammer with a sheep's head on it, dealing 6% damage and putting the opponent to sleep.
Custom 3 - Fast Hammer: Luigi executes the move much faster, but deals 7% damage and doesn't jump quite as high.

Down Special
Green Drill
Luigi jumps up high into the air, before coming straight down with his body twisting as green energy surrounds him, resembling a green drill. This deals 3% damage but breaks shields.

Customs

Custom 1 - Scoot Drill: Luigi moves forward with the drill under him like a jackhammer, dealing 9% damage.
Custom 2 - Ice Drill: When Luigi drills into a character, they become frozen temporarily and Luigi can push them away provided he's fast enough. The drill only does 5% damage.
Custom 3 - Luiginary Typhoon: Using Luiginoids, Luigi can send out a devastating attack dealing 12% damage using Luiginoids. It has a huge charge period and needs to be executed in the air; should Luigi hit the ground before fully charging it, it will fail.

Final Smash
Poltergust 3000
Luigi sucks in his opponents and blasts them out for 130% damage.
Taunts

Up Taunt - Makes a L sign with his hand, before firing it off like a gun with sound effects from Luigi.
Side Taunt - Falls over and uses his stomach as a balancing point for his body.
Down Taunt - Kicks the ground; this taunt can actually deal damage (5%) and is a powerful meteor smash when done in midair.

Special Team-Up Names

With Mario - Mario Bros.
With Peach - Waltzing Brawlers
With Bowser - Greenskinned Grapplers
With Wario - Mirrorside Frenzies
With Yoshi - Green Machine
With Rosalina - Photo Friends

Alternate Costumes
Unlock Conditions
TBA





Rosalina is essentially a space goddess, having recreated the universe after it's destruction by Bowser during the events of Super Mario Galaxy. She finds time to hang out with Mario and the other denizens of the Mushroom Kingdom, though. Rosalina and Luma work as a pair, with Rosalina serving as the leader of the duo. Rosalina can set up Luma to deal damage at a distance away from her or set them up as a projectile to charge forward at opponents.

Move
Description
Entrance
Rosalina & Luma fly onto the stage while accompanied by a trail of stardust.
Neutral Special
Luma Shot
Rosalina launches off Luma to deal a corkscrew battering ram to opponents, dealing 5%-16% depending on how charged it is. The Luma has super armor, but Rosalina does now. Luma stops after either hitting something or at the end of it's path. It used also to space out Luma, as Luma will remain in place unless Rosalina presses Neutral Special again.

Customs

Custom 1 - Luma Spin Shot: Rosalina fires off Luma, who spins as they charge forward. Has less distance than Luma Shot, but knocks opponents farther and Rosalina spins as she launches the Luma, which deals 7% damage.
Custom 2 - Luma Arc Shot: Rosalina launches Luma up in a arc, giving the move a new aerial arc that can meteor spike opponents in the air and launches Luma farther. However, the move ignores ledges and Rosalina cannot call Luma back to her side, needing to be next to the Luma to redo the attack.
Custom 3 - Power Luma Shot: Rosalina launches Luma a much shorter distance, but deals a immense powerful 24% damage. Has a long start-up time and has decreased range compared to even the Luma Spin Shot.

Side Special
Star Bits
Luma shoots off three Star Bits forward, which pierces opponents for 2.8-8.8% damage. They are not projectiles despite appearing to be as such, and thus cannot be reflected or absorbed. Allows Rosalina to attack via the Luma after using Luma Shot. This move is useless after the Luma is killed off and needs to respawn, similar to Luma Shot.

Customs

Custom 1 - Star Chunks: Luma releases bigger Star Bits that deal 5-7% damage, although they are now treated as projectiles. They also have a smaller range.
Custom 2 - Far Flinging Star Bits: Luma releases smaller Star Bits with far more range, although they are treated as projectiles similar to Star Chunks. They deal a total of 3-5% damage.
Custom 3 - Luma Shield: Luma creates a shield that can reflect projectiles when activated, although this move completely looses it's damaging applications.

Up Special
Launch Star
Rosalina uses a multicolored Launch Star to launch herself upwards. Can be angled to help launch her purely vertically, horizontally or diagonally. However, it will leave her in a helpless state.

Customs

Custom 1 - Rocket Star: Rosalina gains a hitbox while launching, which deals 3-11% damage. However, it is much shorter and cannot be angled.
Custom 2 - Pull Star: Rosalina sets up a pull star that she can later float towards as a recovery. Does no damage and the Pull Star only exists for 15 seconds. An additional one cannot be set up.
Custom 3 - Power Star: A version of Launch Star with more horizontal distance but cannot be aimed to give her more options. Deals no damage.

Down Special
Gravitational Pull
Rosalina waves her wand and pulls in items and projectiles gravitate towards her. She will automatically equip items pulled towards her. She can gimp certain recoveries like Ness's PK Thunder with this move or steal R.O.B's gyro. It deals no actual damage.

Customs

Custom 1 - Catch & Release: Rosalina pulls in characters instead of items, dealing 8% damage with an explosion of energy around Rosalina. Can be interrupted when performed, unlike the original move.
Custom 2 - Hungry Luma: Rosalina feeds a summoned Hungry Luma star-bits, which causes it to then explode into energy that deals 33% damage. Has a long start up time, but can be interrupted multiple times without actually breaking the attack, thus allowing Rosalina to fill up the Hungry Luma over the course of several different periods, which is handy for making opponents actually come towards it.
Custom 3 - Chance Cube: Rosalina summons a Chance Cube from Super Mario Galaxy 2. If it lands on the 1-Up Mushroom, it will heal her by 10%. If it lands on the Coin, it will make the Luma a golden color and increase it's knockback. If it lands on the Bowser symbol, a large explosion dealing 15% damage will occur near Rosalina. There is a cooldown timer of 5 seconds after using this move.

Final Smash
Power Star
Rosalina summons a giant Power Star, which slowly expands as it fires small stars around itself. The Power Star itself can deal extreme amounts of damage to opponents. Throwing the opponent into the Power Star can cause up to around 250%, potentially turning it into a one-hit KO. The metered version can only deal up to 50% damage and has a shorter span and size overall.
Taunts

Up Taunt - Rosalina & Luma lean forward and twirl like a planet on its axis while Luma chirps cheerfully.
Side Taunt - Rosalina puts her hand on her hip, leans back, waves her wand and says "Mmm hmm!" while Luma nods its head in agreement. Rosalina's animation is slightly different if she is facing left.
Down Taunt - Rosalina crouches and then slowly rises up while waving her wand and while Luma dances around.

Special Team-Up Names

With Mario - Stargazed Somethings
With Peach - Planet Princesses
With Bowser - Galactic Empires
With Wario - Conquerors of Destiny
With Yoshi - Parents of Thousands
With Luigi - Photo Friends

Alternate Costumes
Unlock Conditions
TBA





Cosmetta is the sister of Rosalina who was introduced in Super Mario: Elemental Journey, stolen from her family and made to be the protector of the Cosmic Lighthouse and the Black Hole Gun. She is notably fairly terrible at her job, leading to all the black holes that were carelessly scattered across the galaxy that Mario came across in Super Mario Galaxy 1 and 2. In Smash, she plays very differently than her sister, utilizing earth attacks and black holes into her moveset, making her a fairly interesting fighter that attacks by changing the battlefield or magnetizing her foes via black holes.

Move
Description
Entrance
Cosmetta appears out of a violent looking teleport, which disperses in black particles as she bites her lip and examines her opponent curiously.
Neutral Special
Black Hole Gun
Cosmetta aims her Black Hole Gun before firing it. The player can control the angle by tilting the control stick in the direction they want before pressing the attack button to fire. It immediately draws items, projectiles, and opponents all to that spot if they are within range, what can be seen with a fuzzy radiating circle of effect around the black hole. It does no active damage, although any projectiles inside will deal damage to their opponents as normal even if they were the ones to fire the projectile. Stays active for 120 frames.

Customs

Custom 1 - Black Hole Boomerang: Cosmetta fires off a boomerang with the black hole effects that returns to her with all the things it collected. Deals no damage and will heal Cosmetta if it collects projectiles. However, it's range of effect is smaller.
Custom 2 - Black Hole Stop: Cosmetta fires a black hole right in front of her that sucks in foes, cancelling any move they were about to do before dropping them. Has a bit of a start up.
Custom 3 - Mini Black Hole: Cosmetta flicks small Black Holes that stay active for 300 frames and deal 7% damage on contact, with an suction effect towards opponents. They have a very small range, though.

Side Special
Gaia Charge
Cosmetta releases a dirt ball that slowly expands in size, dealing 1-30% damage depending on how much ground it absorbs. The further it goes, the bigger it gets. It only expires if a projectile cancelling move is used or after 7 seconds, being one of the longest-lasting projectiles in the game. Requires Cosmetta to charge for 60 frames.

Customs

Custom 1 - Earth Charge: Cosmetta shoots out a simple dirt ball that rolls across the ground, dealing 5% damage. She can charge it up to make it bigger and deal 9% damage.
Custom 2 - Green Thumb: Cosmetta creates a grind rail of vines that she uses to slide into opponents, dealing 8-9% damage via her hip ala Peach Bomber.
Custom 3 - Gaia Ball: Cosmetta releases a large ball of dirt that absorbs items and opponents, dealing 9% damage when they get hit as well as locking them into the ball so Cosmetta can follow up with attacks. They can mash out of it.

Up Special
Black Hole Pull
Cosmetta shoots a black hole directly above her, which pulls her into it's orbit. She encircles inside it before it disappears. This is a incredible recovery move that will allow Cosmetta to continue jumping and dealing attacks as it won't put her in a helpless state, however it is incredibly easy to punish and won't deal damage.

Customs

Custom 1 - Black Hole Attractor: Cosmetta releases a black hole just above her head that sucks in airborne opponents or anyone not on the ground in the radius. She can then follow up with an attack with the opponents that are trapped inside. Active for 200 frames.
Custom 2 - Black Pull Star: Cosmetta pulls back on a black pull-star, which launches her a little bit vertical and mostly horizontal, allowing her to deal 9% damage as launches.
Custom 3 - Lighthouse Pillar: A pillar resembling the Cosmic Lighthouse raises underneath Cosmetta, lifting her up from the ground and acting as a temporary platform. It can be destroyed by attacks, having 30% health.

Down Special
Red Bubble
Cosmetta surronds herself in a harming red bubble that knocks opponents back and deals 1% damage per 30 frames for the next 4 seconds. Protects against melee attacks and projectiles but can only be out for a total of 20 frames.

Customs

Custom 1 - Absorbing Bubble: Cosmetta surrounds herself in a bubble that absorbs projectiles but does nothing against melee attacks. It builds up her resistance to getting launched.
Custom 2 - Growing Bubble: Cosmetta covers herself in a bubble that is very weak at the start, but expands slowly and fortifies against any kind of attack or even people even being able to walk through it. Active for 270 frames.
Custom 3 - Telescoping Bubble: Cosmetta surrounds herself in a glossy bubble that allows her to fire off stars by tapping the attack button while it is active. It does not protect against attacks, but will deal 10% damage with it's star effects. Active for 230 frames.

Final Smash
Cosmic Lighthouse
Cosmetta summons the Cosmic Lighthouse and hops onto it, steering it away from the stage and then readies her Black Hole Gun to fire a massive blackhole that sucks in opponents and deals 100%/50% damage to those sucked inside.
Taunts

Up Taunt - Cosmetta laughs as she moves her right arm in a beckoning way.
Side Taunt - Cosmetta bites her right pointer finger as she floats.
Down Taunt - Cosmetta showcases some dark magic from the palms of her hands as she does a very loose zero-gravity float.

Special Team-Up Names

With Rosalina - Sisters from the Stars

Alternate Costumes
TBA
Unlock Conditions
TBA








Pauline was one of the first female characters in gaming, first appearing in Donkey Kong as a character named "Lady" who was captured by Donkey Kong. Since then, Pauline has evolved to become more of her own character, eventually taking office shortly before the events of Super Mario Odyssey. In Super Smash Bros. Discord, she uses her three lost items from Donkey Kong to attack, as well as a powerful jump inspired by the lyrics of her song Jump Up! Super Star! Her customs reference other Donkey Kong games as well as the Mario vs. Donkey Kong series, and even her brief appearance in NES Pinball!

Move
Description
Entrance
Pauline grabs a microphone as she jumps in from off the stage.
Neutral Special
Hat Trick
Pauline throws her hat, able to deal 6% damage as it spins as a projectile. She can then jump on it, able to throw it again for 6% damage while in the air and dive towards it using her air dodge. By spinning with the control stick quickly and then throwing the hat, Pauline is able to have it spin while creating a rainbow, dealing 12%. This gives her a lot of air but isn't the most effective damaging move.

Customs

Custom 1 - Upward Throw: Pauline throws her hat upwards, which spins to deal 12% and knocks opponents downwards in a spike. Pauline cannot jump off it or perform the spin move.
Custom 2 - Homing Throw: Pauline throws her hat, which has homing properties and deals 8% damage. Pauline can jump off it once but not again as the hat will attempt to home on the second attempt. She can perform a spin move that deals 11% damage, although it's homing range becomes shorter.
Custom 3 - Downward Throw: Pauline throws her hat at a downwards diagonal as it spins sideways. Like Upward Throw, it cannot be jumped on or perform the spin move. It deals 12% damage and launches opponents upwards.

Side Special
Pauline's Umbrella
Pauline stabs her umbrella forward for 8% before unfolding it to knock foes back, dealing 4% damage. Allows her to negate being pushed back by wind moves and bounce projectiles back for 1.2x of the original damage.

Customs

Custom 1 - Barrel: Pauline hoists a barrel up in her hands and then throws it to deal 12% damage. The barrel does not break on impact, continuing to roll around unless it's hit three times or takes over 25% damage. Pauline can only put one barrel out on the field at a time.
Custom 2 - Bug Spray: Pauline sprays bug spray, dealing 4% damage with each press of the button. Has no lag during sprays, but has some start up. Multiple doses of bug spray will confuse your opponent or even cause them to fall asleep. Tilting the control stick up will allow Pauline to spray upwards.
Custom 3 - Vine: Pauline swings on a vine, dealing 14% damage and launching the opponent far. She can use this as a horizontal recovery, but should jump at the apex of the swing or she will swing back and deal 7% damage before the vine comes to a dead stop. The vine is held up by a bug from Donkey Kong 3.

Up Special
1UP Girl
Pauline rises high into the air as she sticks out her hand, mimicking Mario's own jump, propelling her high into the air. When she lands down on the ground, she performs a quick dance, hitting opponents with her hips for 7% damage and doing some knockback. The dance can be cancelled if Pauline tries to do another move while in the air, resulting in that move being performed instead when she hits the ground. While late, this allows Pauline to use Hat Trick, Pauline's Umbrella, or Purse Spin in addition to the dance with no tell, making her hard to read for opponents.

Customs

Custom 1 - Pinball Bumpers: Pauline is launched via a pinball bumper, which goes up and down when she attacks and stays active on the screen for a total 220 frames. When a opponent stands on it, nothing will happen unless Pauline attacks, in which it will deal 12% and launch the opponent upwards!
Custom 2 - Over the Moon: Pauline does 1UP Girl with an even higher jump, although becomes helpless upon descent. She cannot move while moving upwards and deals only 3% damage on the rocketing start upwards.
Custom 3 - Miles Above the Rest: Pauline performs 1UP Girl and slowly falls down with her hat, doing no damage. It gives her her best recovery option, with the descent giving her a lot of speed to move horizontally.

Down Special
Purse Spin
Pauline grabs her purse and swings it around for 5% damage, able to keep opponents away from her. If the player tilts the control stick, they can control her movement, which is slower but allows her to cover more ground. She cannot jump while performing this attack. Cancels melee moves.

Customs

Custom 1 - Mini-Pauline: Pauline grabs a Mini-Pauline capsule out of her purse and has it follow her, only to explode after 130 frames. The explosion does 5% damage. Mini-Paulines are slower and cannot jump, meaning they can be spaced away from Pauline. They also explode when attacked. Pauline can send out three at a time.
Custom 2 - Mini-Mario: Pauline grabs a Mini-Mario capsule out of her purse and has it follow her, dealing damage via it's hammer attacks which deal 6% damage but has minimal knockback. They explode harmlessly when hit. Pauline can send out three at a time.
Custom 3 - Through Two Dimensions: Pauline transforms into a sprite, able to dodge attacks by running through the background as a pixellated sprite before popping out and dealing 5% damage.

Final Smash
Jump Up! Super Star!/Break Free
Pauline performs one of two songs with the New Donk City band:

Unmetered - Jump Up! Super Star! will play as the New Donk City crowd appears in the foreground and a 8-Bit Donkey Kong throws barrels at opponents, which each deal 18% damage. Lasts for 10 seconds.
Metered - Break Free (Lead the Way) will play as the New Donk City crowd appears in the foreground, with a 8-bit Bowser blowing fire at opponents, which deal 10% damage. Lasts for 4 seconds.

Taunts

Up Taunt - Pauline grabs her hat and throws it before placing it back on.
Side Taunt - Pauline dances in place as she spins the mic.
Down Taunt - Pauline taps her chin as she rests her arm on her hand.

Special Team-Up Names

With Peach - Damsels No More

Alternate Costumes
Unlock Conditions
TBA


Geno





Geno is a Star Spirit who was introduced in Super Mario RPG as an emissary from beyond that aided Mario and his friends on recovering the Star Pieces and defeating Smithy and gang. Taking the form of a wooden doll, Geno's power is immense at the cost of low resistance to attacks, making him take more knockback from attacks.

Move
Description
Entrance
A yellow star shoots down onto the ground and hops inside the lifeless Geno doll, bringing it to life.
Neutral Special
Geno Beam
Geno pops his arm to reveal a gun, firing off a rainbow beam at opponents that deals 9% damage. The player can hold down on the attack button to charge it, with three stars appearing over Geno to increase the beam's size and damage it does, dealing up to 19% damage if fully charged.

Customs

Custom 1 - Geno Muzzle: Geno pops off three star shaped projectiles that explode on contact to deal 7% damage each. Cannot be charged.
Custom 2 - Geno Pulse: Geno fires off a ball of energy that pulses as it moves slowly through the air. Geno can then tap the attack button to cause it to explode, dealing 11-18% damage.
Custom 3 - Geno Fist: Geno sends his wooden fist flying towards his foe, dealing 9% damage. If the player then presses the attack button afterwards within 100 frames, they can then drag the opponent towards Geno, dealing a kick that does 5% damage.

Side Special
Geno Whirl
Geno generates a disc of light over his head and then fires it quickly across the stage in his direction. The disc can quickly zip over to the edge of most stage boundaries and deals a total of 10-30% damage! However, it has a bit of a start up animation and thus makes it very easy to telegraph. It also has no homing capability, going horizontally across with some downward momentum.

Customs

Custom 1 - Geno Spin: Geno spins around and generates two discs of light, firing them off. These work similar to Geno Whirl but each disc only deals 7-11% damage. It is slightly faster and can cover more area.
Custom 2 - Geno Cutter: Geno creates a jagged, sharp cutting disc that has homing properties, dealing 12% damage. It is slightly slower and has half of the start up time of Geno Whirl.
Custom 3 - Geno Arc: Geno creates a disc of light that zig-zags up and down, dealing 5% damage each time it comes in contact with an opponent. Easily the slowest disc Geno creates as well as the one that covers the least amount of area, only covering about four character distances away.

Up Special
Geno Cannonball
Geno transforms his body into a cannon and then fires in the direct that the player tilts the control stick into, becoming a cannonball that deals 15% damage on contact. Can be used to recover, although it is ultimately kind of a poorer recovery move.

Customs

Custom 1 - Geno Boost: Geno boosts his speed and attack by 1.4x for a short time at the cost of even more knockback and less defense.
Custom 2 - Geno Flash: Geno transforms into a cannon but releases a large ball of light that looks around as it expands, dealing 10-20% damage. Covers a wide range but has a cooldown after it is executed that prevents Geno from using it for 400 frames.
Custom 3 - Geno Cape: Geno floats for a bit as his Star Spirit inside illuminates. He can float in any direction the control stick is tapped for a total of 300 frames.

Down Special
Geno Blast
Geno summons star shaped projects to hail a distance before him, acting as a way to hitstun opponents out of attacks while dealing 10% damage.

Customs

Custom 1 - Geno Pillar: Geno releases a large pillar of energy from his gun arm, covering a wide vertical distance and dealing 12% damage. Leaves him open to punishment as it cannot be cancelled.
Custom 2 - Star Leap: Geno can avoid all damage by temporarily jumping out of his body, leaving the Geno doll lifeless on the ground as the Star Spirit within leaps high into the air quickly.
Custom 3 - Star Twist: Geno releases a rainbow colored twisting beam of star energy that encircles around him which damages those who come in contact with him. It is active for 110 frames.

Final Smash
Higher Authority
Geno summons the Star Pieces, which each utilize a different colored beam attack, with the seven beams able to cover most of the stage, dealing a total of 45% damage as he floats behind the Star Pieces. He then collects the seven star pieces and creates a rainbow disc that will deal 999% damage if it hits an opponent, although this disc cuts straight across the middle of the stage and can be easily dodged. On metered Final Smashs, the disc does not occur.
Taunts

Up Taunt - Geno holds his arm which pops off to reveal the gun before popping back on the arm.
Side Taunt - Geno's Star Spirit briefly flutters outside of Geno's body before snapping back in.
Down Taunt - Geno lifts up both of his arms as star particles emit downwards before folding his arms.

Special Team-Up Names

With Mario - Star Warriors
With Peach - Star Battlers
With Bowser - Star Warriors
With Rosalina - Cosmic Deities

Alternate Costumes
TBA
Unlock Conditions
TBA





Wario is a treasure hunter, entrepreneur, and a game designer. He has a rich and checkered history, first appearing as a villain who took over Mario's castle. Wario has been drastically altered from his past appearances in the Smash series, although all his old moves are still there in the form of customs. This is a fundamental overhaul for the character, although his physics are more or less the same as past appearances. His new moves call more back to the Wario Land series, with his new improved version of his Dash Attack as a neutral special and completely changing both his side and down specials. He even has moves from Wario World and Wario: Master of Disguise thrown in as part of his new base moveset and customs.

Move
Description
Entrance
Default costume: Wario crashes in a red plane, similar to the opening of Wario Land 3 before popping out.


Biker outfit: Wario speeds in with his motorcycle, hopping off as he swings his arms.

Neutral Special
Dash Attack
Wario charges forward with his shoulder, able to build up speed over time or by tilting the left control stick. This move deals 7-12% damage depending on how fast Wario is going. In the air, it can be used as a horizontal recovery as Wario will barely lose any air while performing it. It has a high launch rate and can be used to kill at 130%+.

Customs

Custom 1 - Chomp: Wario bites in the direction he faces, chewing on opponents and acting as a command grab. Wario will heal 1% for each Chomp he performs, and he will heal 3% for items he consumes or eating healing items will heal 1.5x the damage as usual. This also charges Wario Waft if he is using the move. Deals 2% for each bite, before launching for 5% damage.
Custom 2 - Dash Tackle: Wario tackles forward, although he leans back to his original position after performing the attack. This attack deals 10% damage, however lacks the movement options that Wario's Dash Attack has and has a poorer launch rate.
Custom 3 - Hyper Suction: Wario opens his mouth and sucks in items and characters near him. Does not act like a grab or an attack like Chomp, instead acting as a way to pull foes in before performing another attack. It's range is somewhat large.

Side Special
Flaming Wario
Wario is lit on fire, running forward as he is engulfed in flames. He will dash in the direction he faces, although will turn on ledges and edges. On contact, Wario will deal 7% damage. Lasts a total of 200 frames, with a very long end-lag. Wario gains super armor against attacks in this form, even during ending animation, save Wario shaking off the soot on him.

Customs

Custom 1 - Wario Bike: Wario rides his motorcycle, which he can deal 8% damage by ramming into foes with it, but deal more damage (15%) and gain a speed up by jumping. However, jumping will cause the bike to not stop and turn around near ledges. Wario can cancel out of the bike and throw it as a weapon, as well as eat it via Chomp to gain back health.
Custom 2 - Wild Swing-Ding: Wario command grabs his opponent and swings them around, dealing 10% damage via a swing to both his opponent and anyone else he swings them into before launching them away.
Custom 3 - Mega Toss: Wario command grabs his opponent and can tilt the control stick to throw them, dealing 8% damage normally and 15% damage to both his opponent and target if he throws it at another opponent.

Up Special
Corkscew Conk
Wario propels upwards, spinning as a ball, which the player can direct. It greatly increases Wario's vertical distance and if the player pushes the control stick, they can control his horizontal movement. It also deals 8% damage. Cannot be cancelled out of. Wario will not regain control unless he hits a ledge or the floor. On slopes, he will continue to roll.

Customs

Custom 1 - Spring Corkscrew: Wario transforms briefly into Spring Wario, able to hop around for 3 seconds before turning back to normal, with each hop acting as a dodge. Additionally, if the player jumps, Wario will leap high into the air and spin his body like a corkscrew, dealing 12% damage to aerial opponents.
Custom 2 - Corkscrew: Wario spin-jumps into the air, hitting enemies multiple times for 4% damage each swing. The final hit has good diagonal knockback. The direction can be altered while in the air, although not by much. Has more hit and stun than Corkscrew Conk, but doesn't go as high. Easy to cancel out of.
Custom 3 - Puffy Wario: Wario becomes puffy and lifts up into the air, his cheeks heavily inflated. Deals no damage but Wario can press the attack button to let out more air and end the move early with a faster propelling into the air.

Down Special
Steel Pound
Wario's overalls take on a metallic appearance as he performs a ground pound, dealing 17% damage and stunning opponents nearby via shockwaves. When performing this move, it cannot be cancelled. Wario gains super armor on the way down that prevents him from being launched or knocked out of the attack.

Customs

Custom 1 - Wario Waft: Wario releases pent up gas inside him that is gained from hitting or getting hit by opponents, and it can also be filled up via Chomp. Wario will lift up from the fart attack when it is released on higher levels of charge. It can deal up to a max of 27%, with the lowest charges merely sending out a small 1% damage attack of gas.
Custom 2 - Piledriver: Wario command grabs his opponent and then slams their body into the ground, driving them into the ground and keeping them grounded. This move does 9% damage.
Custom 3 - Electric Wario: Wario is shocked by a bolt of lightning, dealing 20% damage to opponents nearby as Wario jumps back and stumbles around a bit. This move does a ton of damage but has a huge punishment period for Wario that can only be cancelled during the first stagger.

Final Smash
Wario-Man
Wario eats a golden garlic clove that transforms him into Wario-Man. In the full-powered version of this Final Smash, Wario has access to all of his moves and can change his moveset via the triggers as much as he wants with no consequence. The ending lag to all of his moves also decreases. In the metered version of this Final Smash, a cinematic instead plays where Wario lands a flurry of punches as multiple cartoon-styled onomatopoeia such as "BOOM!!" and "POW!" (reminiscent of those found in superhero comics) appear on-screen.
Taunts

Up Taunt - Wario holds his hand up, his fingers pointed out to resemble a W.
Side Taunt - Wario closes one eye before pointing his pointer finger at the screen.
Down Taunt - Wario picks up a weight and lifts it, before putting it down and showing off his biceps. If the player holds down the button, he will keep lifting the weight with no sign of fatigue.

Special Team-Up Names

With Mario - Bitter Rivals
With Peach - Living Royal
With Bowser - Crude Conquers
With Rosalina - Conquerors of Destiny
With Yoshi - Big Eaters
With Luigi - Mustached Doppelgangers

Alternate Costumes
Unlock Conditions
TBA





Mona has gone through a lot of jobs in her time, although she generally ends up working under Wario one way or the other. It's not hard to see why, given Mona thinks Wario is cool and has a crush on him, but usually has to juggle another job with fierce competitors that will do anything to keep her from arriving on time to it. Despite the job changes though, Mona remains a mostly consistent character, being deceptively cute with strange or gross mini-games, having a odd sense of style. Her moveset isn't necessarily about inflicting damage, but more so messing with the opponent so she can punish them greatly with her other attacks. She also carries out a similar move to Wario's old bike move, although it differs in a couple ways.

Move
Description
Entrance
Mona drives onto the stage through her scooting, hopping off as she
Neutral Special
Elephant Sludge
Mona summons her pet elephant, who sprays sludge in her direction, dealing 3% damage while slowing down her opponent. Additionally, the sludge makes her opponent take even more knockback, allowing Mona to use it to aid her in KOing opponents. Has somewhat of a limited arc range.

Customs

Custom 1 - Pig Ball: Mona summons her pet pig, who fires off a soccer ball at an upwards diagonal, launching opponents for 20% damage. The ball can be kicked back to kill the projectile, but it's a hard hitting move with an aerial lift that can be good for opponents attempting to dodge attacks.
Custom 2 - Monkey Banana: Mona summons her pet monkey, who throws a banana that damages for 5% and then leaves a banana peel behind that can trip opponents for 7% damage.
Custom 3 - Hi-Tech Monkey: Mona summons her pet money, who puts on a pair of hi-tech goggles and throws three banana peels which deal 7% damage. Lack the original banana attack.

Side Special
Scooter
Mona rides her scooter, which damages for 5% when opponents get into contact with it, and can leap high and deal 20% damage. When jumping, it will ignore ledges. Mona can cancel out of the scooter, which will cause it to vanish. One thing of note is that Mona can immediately go into this move after summoning one of her pets, and it will rest on her head as it does it's attack.

Customs

Custom 1 - Super Scooter: Mona rides her scooter, which now has a snow plow on the front, allowing it to deal 10% damage on contact. It is slower and cannot jump. Mona can cancel out of it after 30 frames.
Custom 2 - Blinding Light: Mona rides her scooter, which cannot jump and deals 6% damage on contact. When the player presses the jump button, it instead flashes a light that stuns or paralyzes opponents. Mona can cancel out of it.
Custom 3 - Moon Scooter: Mona's scooter deals 7% damage and will jump incredibly high with a slow descent. Mona can only cancel out of it when in the air. It will deal 8% damage when in it's jump frames but deals no aerial damage otherwise.

Up Special
Monettes
Mona takes out two pom poms and strikes upwards, dealing 5% damage. After the first strike, Mona can do her up special again and get two of the Monettes to lift her up into the air, with it being able to follow up from the first hit and deal 8% damage. Finally after performing it a third time in succession, three more Monettes go underneath and lift Mona even higher, for her to deal an upwards strike that deals 15% damage. At the second and third successions, Mona can jump and gain a boost from her fellow Monettes but attempting this on the first will have nothing occur.

Customs

Custom 1 - Mona Scoop: Mona shoots a photo, aiming the camera and it's flash above her. It stuns opponents while they're in the air, causing them to drop down onto the ground. Has a high priority rating. Has no recovery properties.
Custom 2 - Cute Cuts: A stylus appears above the screen and does a diagonal cut to the left and right, dealing 20% damage. Has no recovery properties and appears directly above Mona.
Custom 3 - Hot Slice: Mona brings out her bass guitar, leaping high into the air as she plays a riff off it. The player can tap the button to keep Mona in the air or stop playing to have her come down. When playing music, Mona deals 3-6% damage.

Down Special
Mona Pizza
Mona holds out a pizza box and opens it, flinging up to nine slices of pizza that deal 7% damage and have the chance to burn opponents, dealing 2-3% damage per 35 frames for 3-5 seconds. When flinging pizza, Mona is unable to defend herself. Mona can cancel it early, although it adds some end-lag that becomes punishable.

Customs

Custom 1 - Roller Blades: Mona puts on a pair of roller blades that make her much faster on the ground, although make her heavier in the air and thus descend faster. When she runs with the rollerskates, she can deal 4% damage on contact. Lasts a total of 440 frames.
Custom 2 - Crayon Epic: Mona puts up a crayon drawn shield that can defend against projectiles, being out as long as Mona wants to, although it will not defend her from physical attacks.
Custom 3 - Mini-Spin: Mona command-grabs her opponent and then spins them around tightly, causing them to have reversed controls for 220 frames and take 8% damage.

Final Smash
The Dinosaurs
Mona's heated rivals, the Dinosaurs, invade the fight by attacking with a giant machine that runs across the stage, dealing 15% damage and huge knockback on touch. In the metered version of this final Smash, it lasts for 3 seconds, while unmetered it goes out for 7 seconds.
Taunts

Up Taunt - Mona looks panicked, realizing that she's about to be late for something.
Side Taunt - Mona holds up two ice cream cones and winks.
Down Taunt - Mona picks up her bass guitar and plays a couple notes of "Mona Pizza".

Special Team-Up Names

With Wario - Big Weirdos
With Captain Syrup - Fierce Leaders

Alternate Costumes
Unlock Conditions
TBA








Donkey Kong is a carefree Kong on Donkey Kong Island who spend his days collecting bananas and spending time with his family and friends. When trouble arises, whether it be the banana hoard stolen or a kidnapping or a threat to the very island he lives on, Donkey Kong pounds his chest and gets it done. Donkey Kong is the third of his kind; his grandfather Cranky Kong is the first Donkey Kong and his father Donkey Kong Jr. is the second. He has been part of Mario's earlier adventures as well, usually as a villain.
Donkey Kong has been retooled entirely. The only move to survive the transition from this game from the last is Spinning Kong. His punch can now launch into a multi-hitting attack, he can stun opponents with a powerful clap from far away, and he can now throw barrels as powerful ground-rolling projectiles. This makes him more of a menace, although his increased options also make him punishable as well if not done right.

Move
Description
Entrance
Donkey Kong bursts out from a DK Barrel and strikes a flexing pose.
Neutral Special
Fury Punch
Donkey Kong punches forward. If it connects, it acts like a command grab where the opponent is physically stuck in place while Donkey Kong can whale on them. The player can tap the special button multiple times to inflict more damage, dealing 7-22% damage depending on different conditions such as the opponent mashing out of the punch or how many times the button was pressed. The more damage a opponent has, the harder it is for them to escape the punches. At the end of the punching a launching punch will be used at either 75 frames or when the player lets go of the special button. If this move does not connect, it is very easily punishable.

Customs

Custom 1 - Giant Punch: Giant Punch is a chargeable move that charges fully after seven wind-ups. The punch initially deals 10% damage, but each wind up adds a total of 4%+ to the overall damage. Slows Donkey Kong's descent when used in the air. This move charges faster when Donkey Kong has more rage.
Custom 2 - Grounder Punch: Works similar to Giant Punch in that it can be wound up to five times. Deals 7% damage initially, with each wind up adding 5%+ the overall damage. When used, Donkey Kong slams his fists together and bashes the opponent into the ground, burying them.
Custom 3 - Lightning Storm Punch: Donkey Kong charges forward with an electrical fist attack that deals 11% damage and can put the opponent into paralysis when used. Cannot be charged or used to deal more damage.

Side Special
Sound Wave
Donkey Kong slaps his hands together and a green and red shockwave will emit out. The green shockwave stuns opponents and has a larger range, while the red shockwave will command grab foes and allow Donkey Kong to shove them into the ground, burying them. This deals 10% damage but has a much shorter range.

Customs

Custom 1 - Coconut Shooter: Donkey Kong fires a coconut from a oak gun, dealing 9% damage with the low arced projectile. If it touches the ground, it deals 19% damage on explosion with a sweetspot.
Custom 2 - Donkey Konga: Donkey Kong bangs against two Bongos as he crosses his legs, killing momentum to an absolute halt as he beats to the rhythm that appears above his head, directing sound waves that deal 10% damage each to the direction he was facing, which can be aimed via the control stick. It leaves him open to attacks, although the sound waves can kill projectiles as well.
Custom 3 - Headbutt: Donkey Kong punts forward with his head, which will bury the opponent and deal 10% damage. The aerial version will meteor smash the opponent if they are hit by the sweetspot. Full power shields will break if this move is used against them.

Up Special
Spinning Kong
Donkey Kong rapidly spins around, trapping opponents and damaging them with a clothesling spin attack. Grants invicibility on the first couple frames and it can do moderate knock back. Does 7% damage in the air and 10% in the air, with follow up hits doing 4% damage. Good horizontal recovery but bad vertical recovery.

Customs

Custom 1 - Strong Kong: Donkey Kong is surrounded by three Crystal Coconuts as his attacks are powered to deal 1.2x more damage and 1.7x more knockback. His attacks also grow slower by 1.2x and his knockback received is increased by 1.5x. The move lasts as long as the Crystal Coconuts swirl around him, with one breaking every 220 frames. When all the Crystal Coconuts are gone, Donkey Kong reverts to normal.
Custom 2 - Barrel Blast: Donkey Kong straps himself into jet powered barrels as he strikes fist forward, dealing 8% damage on contact and dealing slight knockback. Tilting the control stick allows the player to direct Donkey Kong's trajectory.
Custom 3 - Barrel Launch: Donkey Kong is launched out of a barrel, dealing 15% damage and lots of spinning knockback. The player can tilt the control stick to choose the trajectory that Donkey Kong launches out of.

Down Special
Barrel Toss
Donkey Kong hoists a Barrel above himself, dealing 8% damage in this motion, before tossing it forward. Holding the special button will cause the barrel to bounce while tapping it will roll it at a slower pace. Contact with the barrel deals 10% damage will launch the opponent back.

Customs

Custom 1 - Rambi: Donkey Kong hops onto Rambi, who can trample opponents and bury them into the ground with his powerful charge, which deals 13% damage. Donkey Kong can hop off Rambi by pressing the shield button or the grab button.
Custom 2 - Squitter: Donkey Kong hops onto Squitter, who creates webs when Donkey Kong jumps and can spit out web projectiles that trap opponents and leave them still and defenseless while dealing no damage. Donkey Kong can hop off Squitter by pressing the shield button or the grab button.
Custom 3 - Enguarde: Donkey Kong hops onto Enguarde, who is surrounded by a water shield that will make opponents wet on contact. Enguarde also deals 12% via a sweetspot on his pointed swordfish tip. Donkey Kong can hop off Engaurde by pressing the shield button or the grab button.

Final Smash
Ultra Barrel DK
Donkey Kong straps on the Ultra Barrel rockets and goes extremely fast, which causes fire to surround him as he punches forward, flying around fast while dealing 15% damage with each dash.
Taunts

Up Taunt - Donkey Kong beats his chest while scowling.
Side Taunt - Donkey Kong shakes himself as if he was wet, during which he will sport a toothy grin before making a humorously confused expression. This actually does get rid of the wet status condition when this taunt is used.
Down Taunt - Donkey Kong faces the camera and shrugs his shoulders while grunting and making a humorously confused expression.

Special Team-Up Names

With Diddy Kong - DK Crew
With King K. Rool - Brutes of the Jungle

Alternate Costumes
Unlock Conditions
TBA








Diddy Kong is Donkey Kong's trusty partner and has gone on his own adventures from time to time. He has a signature look that no Kong can ever match- just look at that star shirt and Nintendo Cap! Excitable if a little childish at times, Diddy Kong has a ton of energy and speed that matches well with Donkey Kong's strength and reservedness. In Smash, Diddy is a quick and agile fighter with a ton of options. None of that has changed, although Diddy fans who want to try something new can use Diddy's new balloon moves based off Diddy Kong Racing, which can be used to do various effects and attacks.

Move
Description
Entrance
Diddy Kong bursts out of a DK Barrel and claps his hands above his head.
Optional Gimmick
Balloons
Diddy Kong has a total of five different new Balloon Moves that can be used. None of these are part of his default moveset, instead all being customs. However, they can all be stacked on top of each other and give different effects. Each effect is listed in the moves. However, it should be noted that:

Diddy can only stack three balloons at a time. While attacks and effects are stacked when Diddy pops the balloons via a Balloon move, he can only create Balloons based off the attack he last used. If Diddy has two Balloon moves in his moveset and he uses Red Balloon to create one Red Balloon and then uses Rainbow Balloon to create a Rainbow Balloon, when he uses Red Balloon again he will pop both Balloons and create a combined effect.
Diddy inflates new Balloons based off his last used Balloon Move. Diddy inflates each Balloon when he deals 15% damage, but it will be the Balloon type he used last.
Each Balloon has a different attack/effect based on how many of it's type Diddy has. Some Balloons completely differ when paired together in a group of two or three.
If Diddy has four Balloon moves and attempts to use one that is not part of his active Balloons while he already has three, all three balloons will pop and Diddy will have to tap the button again to create a new balloon.

Neutral Special
Peanut Popgun
Diddy charges up his pop-gun to fire peanut projectiles that have a low arc, dealing 3-12% damage. If Diddy Kong over charges the attack, the pop-gun will explode and leave him very vulnerable, but deal 24% damage.

Customs

Custom 1 - Rainbow Balloon: Diddy has a rainbow balloon pop onto his back when he first uses the move. Tapping it again will pop the balloon and create a magnet effect, pulling Diddy close to fighters within a weak range. Diddy can charge up this attack by doing damage to opponents, with each 15% damage creating another balloon. When Diddy has two balloons, Diddy is able to deal a headbutt with a extended magnetizing range, dealing 10% damage. When Diddy has three balloons, he can pull opponents from a far range towards him as he deals a powerful double slap that deals 20% damage.
Custom 2 - Banana Popgun: Diddy fires a banana from his popgun, dealing 8% damage. Cannot be charged but is much faster than his usual pop-gun. Has a longer range as well.
Custom 3 - Freezy Popgun: Diddy fires blue peanuts from his popgun, dealing 4-10% ice damage depending on how long he charges. If he overcharges, the pop-gun will explode in a icy explosion that freezes opponents and deals 24% damage but leaves him vulnerable.

Side Special
Monkey Flip
Diddy performs a sideways hop that has the potential to launch him onto an opponent's face if timed correctly, dealing 14-7% damage depending on how clean the attack was. By tilting the control stick, Diddy can perform a shorter hop. Diddy can then grab the opponent and deal up to 7-11% damage. The player can cancel the grab into a flying kick that deals 3% and long knockback by pressing the special attack button instead.

Customs

Custom 1 - Red Balloon: Diddy has a red balloon pop onto his back when he first uses the move. Tapping it again will pop the balloon and create a forward firing missile that deals 7% damage with low knockback. Diddy can charge up this attack by doing damage to opponents, with each 15% damage creating another balloon. When Diddy has two balloons, Diddy is able to create a homing rocket that deals 10% damage with low knockback. When Diddy has three balloons, he can fire off 10 smaller rockets that deal 5% damage each but have homing properties.
Custom 2 - Back Flip: Diddy hops backwards and deals 17-8% damage on impact, and can follow it up with a kick via the special attack button, dealing 5% more damage. Can't grab.
Custom 3 - Flying Monkey Flip: Diddy hops farther, but only deals 10% damage on contact and his grab deals only 8% damage. The kick is more powerful, dealing 7% damage and able to meteor smash opponents.

Up Special
Rocketbarrel Boost
Diddy Kong charges his rocketbarrel pack from Donkey Kong 64 in a powerful attack that deals 10% damage upon launching off and 6-8% damage when he collides into foes. Has high recovery flight potential and is very fast, but will be cancelled once Diddy makes contact with anything, be it projectile, wall, or opponent. If he hits a surface, Diddy takes 5% damage.

Customs

Custom 1 - Blue Balloon: Diddy has a blue balloon pop onto his back when he first uses the move. Tapping it again will pop the balloon and create a small jetpack boost that propels him into the air, dealing 7% damage with low knockback on contact with foes. Diddy can charge up this attack by doing damage to opponents, with each 15% damage creating another balloon. When Diddy has two balloons, Diddy is able to propel up much further and deal 15% damage on contact with another foe. When Diddy has three balloons, he can fire off with his jetpack and deal 19% damage on contact while still propelling up, being able to reach the top of the screen before being rendered into a helpless state. Unlike his jetpack move, it will not be cancelled on contact with anything.
Custom 2 - Rocketbarrel Attack: Diddy Kong takes longer to charge but deals 18% damage upon launch explosion. The distance is slightly lower and the speed is slower than the original move.
Custom 3 - Rusty Rocketbarrel: Diddy Kong charges up faster with this version of Rocketbarrel Boost, but it sputters out during the launch boost. On the explosion, it will turn characters rusty and deal 6% damage.

Down Special
Banana Peel
Diddy Kong tosses a Banana Peel over his shoulder and into the air to have it fall onto the ground. Grounded opponents who touch the peel while on the ground or are hit by the peel when thrown will slip and trip on the floor, dealing 5% damage. The Banana Peel can picked up and thrown to deal more damage. Only a single banana peel can be out a time for a Diddy player.

Customs

Custom 1 - Yellow Balloon: Diddy has a yellow balloon pop onto his back when he first uses the move. Tapping it again will pop the balloon and create a shield that protects against a single hit. Diddy can charge up this attack by doing damage to opponents, with each 15% damage creating another balloon. When Diddy has two balloons, Diddy is able to create a shield that can protect against two hits. When Diddy has three balloons, he can create a shield that protects against three hits. It also makes opponents flinch on contact, as well as having a 10% chance of inflicting the lemon scent status effect.
Custom 2 - Green Balloon: Similar to the Yellow Balloon move, but allows Diddy to create a oil slick when he has one green balloon that causes opponents to trip and take 5%. Having two balloons creates a spinning, stationary landmine that deals 13% damage and explodes on contact with anything. The third balloon ensnares opponents in a bubble that consistently makes the opponent under the wet effect and slows their movement to half of what it was.
Custom 3 - Shocking Banana Peel: Diddy throws an electrified Banana peel that deals 5-7% damage and stuns opponents for a bit. They are stunned longer if they jump onto the banana peel.

Final Smash
Taj the Genie
Diddy Kong slaps his hands together and summons Taj the Genie, who attacks via Golden Balloons that swim up to the top of the stage, acting as rising platforms that will bring opponents to the blast lines. Additionally, Taj rams into foes to deal 15% damage upon collision. Taj is active for 3 seconds in the metered version of this Final Smash and 7 seconds in the unmetered version.
Taunts

Up Taunt - Diddy tosses his cap in the air and has it land on his head.
Side Taunt - Diddy does a playful fighter's stance, trying to assert his dominance.
Down Taunt - Diddy claps his hands above his head four times, switching feet in the process.

Special Team-Up Names

With Donkey Kong - DK Crew
With King K. Rool - Krem and Kong
With Villager - Balloon Fighters

Alternate Costumes
Unlock Conditions
TBA








King K. Rool, the Kommander of the Kremlings, returns to Smash. Having gone against Donkey Kong's clan multiple times under the guise of different roles, King K. Rool is a theatrical bad guy who loves nothing more than putting on a good show and taking out Kongs, making his fights in the original Donkey Kong Country series incredibly memorable due to how unique and different they are from fight mechanics to theming. In Smash, King K. Rool is a heavy weight with a ton of different tools from his various appearances, utilizing two different projectile attacks and being able to use his golden stomach armor to counterattack. Additionally, his recovery is actually really good for a heavy weight and he has a ton of kill options. However, King K. Rool does have a few weaknesses- while he has super armor for a lot of his moves, it has a huge downside. Additionally, one of his attacks can be straight up taken away from him.

Move
Description
Entrance
King K. Rool drops from the sky with his arms crossed before chuckling. His pose is based on how he appears in Donkey Konga.
Gimmick
Belly Armor
King K. Rool's golden belly armor is utilized in many of his attacks (forward tilt, dash attack, up smash, down smash, neutral aerial, up aerial, down aerial, and side taunt) and gives him superarmor. However, taking damage with these moves cracks his stomach armor, with K. Rool getting dazed upon it breaking completely after sustaining too much damage. The armor regenerates when not using belly attacks.
Neutral Special
Blunderbuss
K. Rool pulls out a blunderbuss and fires a Kannonball, donning a pirate hat as he does. Only one Kannonball can be out at a time. Press the special button again to use the Blunderbuss' vacuum function, sucking in nearby enemies or the Kannonball itself. The Kannonball deals 14% damage initially, but if it's sucked backed in and then fired, it will deal 17% damage. Sucking in foes to shoot them will deal 12% damage and launch them away. K. Rool can drop through soft platforms while the Blunderbuss is active, as well as move left or right. Has good KO potential.

Customs

Custom 1 - Blundergass: K. Rool fires a gassy skull projectile that deals 5% damage and has an effect that ranges from the mushroom effect, freezing the opponent, or poisoning the opponent. These effects are not random and are shot out in the order described. The projectile is slow moving and won't have as much range, but will cause opponents to flinch when in contact with it.
Custom 2 - Spiked Blunderbuss: K. Rool fires a spiked Kannonball that deals 19% damage and stays on the ground, dealing 7% damage on contact. He can't use his vacuum function again and must wait for the Kannonball to disappear.
Custom 3 - Backfiring Blunderbuss: K. Rool can fire off a special gold Kannonball that deals 17% damage, but can be picked up and thrown when K. Rool uses his vacuum function, which will make it backfire and deal 8% recoil damage to K. Rool. When he vacuums in his foe, he can launch them away for 11% damage.

Side Special
Crownerang
K. Rool flings his crown forward similar to a Boomerang for 9% damage. Has normal armor while K. Rool throws his crown. Deals 7% damage when returning. The crown will try to return to K. Rool when possible, but will lose altitude and land as a item that can be thrown for 11% damage. It can also be interrupted by otherwise projectile killing attacks. K. Rool cannot perform the move until the crown is back on his head. It will reappear on his head after 12 seconds or if he touches it again.

Customs

Custom 1 - Crownado: K. Rool throws his crown in a spinning motion, which will not return to him but will reappear on his head after the animation completes. The attack deals 11% damage and flips the opponent's direction, as well reflecting projectiles. A sweetbox at the bottom of the tornado will cause opponents to get dizzy.
Custom 2 - Crownizzard: K. Rool throws his crown with a chilling gust, freezing opponents who make contact with it and deals 7% damage. It reappears on his head after it comes in contact with someone, although if it fails to do so it will appear as an item to be thrown.
Custom 3 - Crownenage: K. Rool throws the crown with a mighty force, dealing 12% damage and the bleed effect. His crown is unusable for 4 seconds after the attack.

Up Special
Propellerpack
K. Rool flies upward using the Propellerpack. Covers excellent distance both horizontal and vertical. Changing direction is difficult and has input delay. K. Rool drifts down in a helpless state when he reaches apex height. The propellers above K. Rool deal 3% damage on contact and can protect him from edgeguards. He can drag opponents to the blast line, although this can be directionally influenced out of.

Customs

Custom 1 - Kremling Bounce: While on the ground, K. Rool can bounce up to three times, successively getting higher as he does while creating shockwaves that deal 5% damage that get further out. When he lands on a opponent, he can deal 7% damage and bury them.
Custom 2 - Flapping Propellerpack: K. Rool gets less air as he puts his hands and feet out in a thrashing motion, dealing 11% damage and spiking foes that get near him.
Custom 3 - Scepter Slap: K. Rool pulls out a golden scepter and swings it, dealing 4% damage uncharged. K. Rool can charge it up and deal up to 20% damage with large knockback, although this will keep him completely still. Has huge killing power but gets rid of K. Rool's recovery. It can also reflect projectiles.

Down Special
Gut Check
K. Rool puffs out his stomach and retaliates against attacks, working as a counterattack by dealing 12-42% damage depending on the strength of what he is countering. The counter hitbox is localized to K. Rool's belly, making the rest of his body vulnerable.

Customs

Custom 1 - Kannonball Fall: K. Rool stands still as three Kannonballs, each dealing 14% damage, fall from the top of the stage. Really effective anti-air move, although the pattern for the Kannonballs is predictable and can be spotdodged.
Custom 2 - Jetting Blunderbuss: K. Rool pulls out his Blunderbuss and rockets forward, powered by it's jet exhaust as he moves forward quickly. Can be used for horizontal recovery and deals 10% damage when colliding with a foe.
Custom 3 - Tesla Rays: K. Rool places a platform underneath himself as an electrical green ray shoots across horizontally on the screen. The ray deals 11% damage and turns foes rusty. Has good range and K. Rool can use the platform to recover or do off stage shenanigans, which will stay on screen for five seconds. However, he is not immune to the ray and others can use the platform he creates.

Final Smash
Blast-O-Matic
K. Rool stomps, stunning any nearby opponents for 3%, and lunges forward while catching those in his path. If at least one opponent was caught, a cutscene plays in which K. Rool sits on his throne on Crocodile Isle before firing a massive laser from his Blast-o-Matic cannon. The laser then fires through Donkey Kong Island, destroying the island and dealing massive damage on the victims (45% metered, 100% damage unmetered). This move now just deals one hit during the cutscene as opposed to two.
Taunts

Up Taunt - King K. Rool viciously snaps forward.
Side Taunt - King K. Rool slaps his belly once in amusement. This taunt also uses K. Rool's belly super armor.
Down Taunt - King K. Rool does a sumo-esque stomp. Similar to Luigi's side taunt, this can spike opponents hanging on ledges.

Special Team-Up Names

With Donkey Kong - Brutes of the Jungle
With Diddy Kong - Krem and Kong
With Ridley - Cold Blooded Killers
With Bowser - Kings of K

Alternate Costumes
Unlock Conditions
TBA








Yoshi is a dinosaur that was first hatched from an egg in Super Mario World and has been there in the Mario series in some way or another as a friend to Mario. He even has his own adventures that take place before Mario was anything but a baby. In Super Smash Bros. Discord, Yoshi has gotten a big overhaul by making his Eggs ammo in his moveset, effecting a lot of his moves. Additionally, his recovery has been changed. These make Yoshi more effective but also present new disadvantages to his overall buffed moveset. This also makes him play close to Yoshi's past appearances in the Yoshi's Island series.

Move
Description
Entrance
Yoshi hatches from an egg, growing from a baby Yoshi to a full sized Yoshi before striking a pose.
Jump/Flutter Jump
Yoshi has a total of two jumps, with a first jump acting as a normal jump and the second jump being the the flutter jump that extends Yoshi's height in the air. By holding down the button, Yoshi can extend his jump by doing the Flutter Jump, dipping down and up as he travels in the air. After this, he will be rendered helpless.
Neutral Special
Egg Lay
Yoshi swallows the opponent and the pops them out while creating a Yoshi Egg. The move does 6% damage, but can be done multiple times in succession, creating up to six Yoshi Eggs that follow and bounce behind Yoshi. This move is fundamentally different from past installments in that it does not encase the opponent in a egg and Yoshi is able to use the eggs he creates for his side special. When Yoshi has a total of six eggs behind him, he will only deal 4% damage and be unable to create further eggs.

Customs

Custom 1 - Yoshi Tongue: Yoshi swallows the opponent and can then spit them out, dealing 8% damage if just spat out, and 11% damage if they collide with an opponent when spat out. The opponent can mash the button while inside Yoshi to force Yoshi to spit early and deal only 4% damage.
Custom 2 - Yoshi Fireball: Yoshi swallows the opponent and spits them out as a spreading fireball, dealing 9% damage to foes hit by the triple fireball. The actual opponent turned into a fireball transforms back after 60 frames, unaffected and is not damaged.
Custom 3 - Yoshi Swallow: Yoshi swallows the opponent and encases them in a Yoshi Egg, dealing 7%. While trapped, the opponent receives less damage and can they use button mashing in order to break free, but they are completely immobile and vulnerable to Yoshi's attacks while trapped. They also stay trapped longer the more damaged they are.

Side Special
Egg Throw
Yoshi can throw the eggs he has following him, able to target and control where they go by tilting the control stick while in a throwing pose. When Yoshi is hit in this throwing pose, he will be stunned out of this move unless it is a non-flinching move. When Yoshi throws his eggs, they deal 5% damage and have a secondary explosion hitbox that deals 7% damage. Yoshi cannot throw eggs if he has none behind him. This is generally a powerful edge guarding tool and gives Yoshi one of the most versatile projectile options.

Customs

Custom 1 - Egg Crate: Yoshi's eggs take on a cubic shape instead, and he is able to throw them as a homing projectile that deals 3% damage on hit and 5% damage on explosion. Generally weaker with a homing property that is supposed to offset the loss.
Custom 2 - Red Eggs: Yoshi's eggs are red spotted instead, and deal 1% damage on hit and 21% damage on explosion. They are more powerful than Yoshi's usual eggs, but if the opponent can dodge the explosion, they will receive the minimal damage possible.
Custom 3 - Yellow Eggs: Yoshi's eggs are yellow spotted instead, and deal 9% damage on hit and 4% damage on explosion. They have a vaccuum property when exploding, drawing opponents near to get damaged.

Up Special
Helicopter Morph
A bubble appears around Yoshi and he turns into a helicopter, able to fly upwards in the direction of the player's control stick. Allows Yoshi a lot of control but won't do damage to opponents and on contact with an opponent or their attack, will cancel Yoshi's helicopter morph early. Is active for up to 180 frames. Yoshi can cancel the form with the special button.

Customs

Custom 1 - Car Morph: Yoshi transforms into a car, generally increasing his speed. Yoshi can climb walls in this form as well dodge attacks by stretching his wheels up using the attack button, which if pressed again will have Yoshi go down and deal 15% damage to those underneath him. Can also act as a spike. Is active for up to 200 frames. Yoshi can cancel the form with the special button.
Custom 2 - Train Morph: Yoshi transforms into a train, following tracks that are actually controlled by the player by pressing the control stick. Train Yoshi deals 13% damage on contact and is active for 150 frames. Yoshi can cancel the form with the special button.
Custom 3 - Hot-Air Balloon Morph: Yoshi transforms into a hot air balloon as whirling energy surrounds him. The Hot-Air Balloon is active for up to 330 frames but rises slower than the helicopter and doesn't have as much control.

Down Special
Yoshi Bomb
Yoshi slams down in a ground pound, dealing 15% damage to the opponents around him. Stars that deal 4% damage pop out from his ground pound as well, which count as projectiles. When done on the ground, it is weaker and only deals 8% damage with 4% damaging stars, but both versions are able to kill shields relatively fast.

Customs

Custom 1 - Mole Tank Morph: Yoshi transforms into a mole tank and is able to dig into the stage and pop out to deal 18% damage attacks. Yoshi's movement across the ground is very slow. On thin platforms, he will be unable to dig, making this move somewhat situational.
Custom 2 - Yoshi Roll: Yoshi encases himself inside a Yoshi Egg in order to roll around. Yoshi can barrel through opponents, which deals 5-14% depending on the momentum, or quickly retreat. He can roll while jumping to deal 7-17% damage depending on his momentum.
Custom 3 - Good Egg: Yoshi transforms one of his eggs into a giant egg resembling Good Egg Galaxy from Super Mario Galaxy and then throws it forward in a straight horizontal line, dealing 25% damage. Shielding against the good egg will allow opponents to dodge it's power while destroying their shield. Has a long start up time.

Final Smash
Yoshi Herd/Mega Eggdozer
Yoshi has two Final Smashes. His first, which is obtained through a Smash Ball, is Yoshi Herd, which transports the opponent into a cutscene where a herd of Yoshis stampedede over them for 100% damage. This is based off Yoshi's scene in Super Smash Bros. Melee's opening and returns from Ultimate. The second, obtained through a metered Final Smash, sees Yoshi get a giant Mega Eggdozer from Yoshi's New Island and throw it forward, dealing 45% damage.
Taunts

Up Taunt - Yoshi dances around in a circle and then says "Yoshi!" upon finishing.
Side Taunt - Yoshi chases his tail, then briefly pauses to stare at it.
Down Taunt - Yoshi looks towards the screen, then jumps excitedly up and down while flailing his arms and saying "Yoshi! Yoshi!"

Special Team-Up Names

With Mario - Childhood Friends
With Yoshi - Fruit Pals
With Bowser - Legendary Dragons
With Luigi - Green Machine
With Rosalina - Parents of Thousands
With The Stork - Baby Saviors
With Link - Woken Warriors
With Yoshi - Yoshi! Yoshi!

Alternate Costumes
Unlock Conditions
TBA





The Stork is argubably one of the most important characters in the entire Mario lore. I mean, he's how we got Mario and Luigi! If he didn't deliver them to Mario's parents, then we would have never had the two brothers living it up in Brooklyn and then disappearing into the Mushroom Kingdom. The Stork is a truly unorthodox fighter, with his weapons being his beak and babies. He utilizes every single baby from Yoshi's Island DS in his moveset, as well as incorporating things such as the stilts and the very rope Kamek used to kidnap him with!

Move
Description
Entrance
The Stork hangs by his legs before pecking the rope to fly free, landing on his feet.
Flap
If the player holds jump while in the air, the Stork takes flight close to the ground and will be able to flap it's wings even when off stage for about 78 frames before it begins to descend.
Neutral Special
Baby Wario Magnetize
The Stork unfolds the sack to reveal Baby Wario, who uses his magnet to magnetize opponents and items, allowing the stork to carry all the things Baby Wario has magnetized before launching them away for 7-17% damage. Opponents can mash out of it, requiring the Stork to launch them quickly to deal damage. Damage is increased the more Baby Wario magnetizes.

Customs

Custom 1 - Polarity Reverse: Baby Wario uses his magnet instead to push opponents and items away, allowing the Stork some space. This has a bigger range than Baby Wario Magnetize but inflicts no damage.
Custom 2 - Coin Launcher: Baby Wario magnetizes a bunch of gold coins to his magnet before launching them off at the direction of the nearest opponent, dealing 8% damage per coin. Baby Wario magnetizes 3-5 coins each time the move is executed.
Custom 3 - Baby Bomb: The Stork unfolds the sac to reveal the WarioWare bomb, which promptly explodes to deal 10-25% damage.

Side Special
Baby DK Dash Attack
The Stork holds Baby Donkey Kong, who performs a dash attack that deals 12% damage to opponents with significant knock back. It is a quick jabbing dash without much range, but has very little end lag, which allows the Stork to quickly use it.

Customs

Custom 1 - Spin Peck: The Stork does a corkscrew spin with his bill, dealing 11% damage. If the player hits an opponent, they can mash the attack button to make The Stork peck for an additional 5-8% damage.
Custom 2 - Cutting Feathers: The Stork raises his wings and three razor sharp feathers float away, dealing 7-9% damage to opponents. The feathers will float in the air for 80 frames and count as a projectile.
Custom 3 - Baby DK Vine Attack: Baby Donkey Kong grabs a long vine which he uses to whip around. The Stork can move after the inital attack, allowing Baby Donkey Kong to mindlessly whip around the vine and deal 5-8% damage to opponents nearby.

Up Special
Baby Parasol
The Stork uses Baby Peach to add additional air to his jumps as well as increasing the length of his Flap jump hold. Baby Peach is active for a total of 7 seconds. The Stork will have it's defense lowered considerably due to acting lighter.

Customs

Custom 1 - Parasol Redirect: Baby Peach uses her Parasol to redirect the wind, creating a cutting gale that deals 9-11% damage.
Custom 2 - Stilts: The Stork gets atop stilts, increasing the range of it's normal attacks for about 10 seconds before they break. Attacks dealt to the Stork will also begin to break the stilts.
Custom 3 - String Up: The Stork ties a rope around his opponent's legs and hangs them up, which they can mash out of but allows the Stork to freely punish them.

Down Special
Baby Flamethrower
The Stork holds Baby Bowser as he breathes fire, dealing 13-5% damage depending on how long it has been out. It decreases over time. This differs from Bowser's version as the Stork can continue to walk around while Baby Bowser releases fire, with the attack button needing to be pressed to cancel it.

Customs

Custom 1 - Kangaroo Bounce: The Stork hops into the pouch of a Kangaroo, which allows the Stork to do a high hop and then a ground stomp, dealing 12% damage.
Custom 2 - Baby Bubble: The Stork leaves Baby Bowser in a bubble, causing them to cry, which will damage opponents the closer they are to the bubble, dealing 1-3% damage per 30 frames. The Stork has to collect the baby in 30 seconds or they will be dealt 100% damage. Opponents can hit the bubble to speed up this timer.
Custom 3 - Pecking Pulverize: The Stork jabs forward with his beak in a flurry of pecks, which continue as long as the player holds down the button. The Stork continues to move forward while dealing 1-2% per 20 frames if he is in contact with a opponent. This move has very low knockback.

Final Smash
Superstar Mario
The Stork tosses a Super Star using his beak to Baby Mario, who gains a cape and the ability to run, who proceeds to dash around the stage and into the air to deal a ton of damage. A giant Yoshi Egg then slams through the center of the stage, dealing 50% damage. In the metered version of this Final Smash, the giant Yoshi Egg does not appear.
Taunts

Up Taunt - The Stork unfolds his bag to reveal either Baby Peach, Baby Wario, Baby Donkey Kong, Baby Bowser, Baby Luigi, or Baby Mario before folding the bag up again.
Side Taunt - The Stork raises his wings and screams, nearly dropping the bag before catching it in a panic.
Down Taunt - The Stork folds his wings across his chest. as he taps the ground.

Special Team-Up Names

With Mario - Caretaker and Baby
With Luigi - Lost Child and Kidnapped Heron
With Yoshi - Baby Saviors

Alternate Costumes
TBA
Unlock Conditions
TBA





Linkle is a young woman who takes care of Cuccos, and believes herself to be the Hero of Time, using her compass as proof as it has been handed down from generation to generation. She is a hero at heart, but she is so bad at directions despite owning a compass and map. Her primary weapons are crossbows.

Move
Description
Entrance
Linkle floats in by carrying a Cucco, pulling out her twin bows.
Neutral Special
Heroine's Bows
Linkle pulls out her twin crossbows, firing two arrows in her direction, doing 5% damage for each arrow.

Customs

Custom 1 - Shock Arrows: Linkle uses shock arrows, which shocks the opponent when used, dealing 4% damage for each arrow with a shock effect attached.
Custom 2 - Bomb Arrows: Linkle uses bomb arrows, which do 10% damage each and explode when they make contact with anything.
Custom 3 - Ancient Arrows: Linkle uses very powerful arrows that can only be used once before a very long cooldown preventing her from using them occurs. In the meantime, she can only use weak bronze tipped arrows that deal 1% damage.

Side Special
Bomb Kick
Linkle fires a large bomb into the air, then kicks it to make it go off, launching the explosive away from her.

Customs

Custom 1 - Small Bomb Kick: Linkle kicks a smaller bomb with less radius, although she can kick it farther and faster.
Custom 2 - Cucco Kick: Linkle winces as she kicks a Cucco, sending a swarm near the opponent she kicked it to. This move can backfire on Linkle if there is nobody near by.
Custom 3 - Four Bomb Squadron: Linkle launches bombs in four directions around her and comes down with a sliding kick.

Up Special
Flight of the Cucco
Linkle hoists a Cucco over her head and can jump higher as a result, as well as float down. Should players hit the Cucco while she has it over her head, Cuccos will swarm the stage and attack whoever attacked the Cucco. This has the side effect of killing Linkle's recovery though.

Customs

Custom 1 - Big Cucco: Linkle hoists a bigger Cucco that can't make her jump higher or let her float, but opponents are less likely to miss the Cucco when firing at Linkle.
Custom 2 - Crystal Cucco: Linkle hoists up a reflective Cucco that will reflect projectiles, although it will not summon other Cuccos when it reflects projeciles. It has slightly worsened effects of a normal Cucco.
Custom 3 - Black Cucco: Linkle hoists up a black Cucco that shoots out thunder of it's beak when in the air. It cannot summon other Cuccos to attack when it is attacked, although it has the same properties of her normal Cucco attack.

Down Special
Rapid Crossfire
Linkle moves around while shooting arrows in rapid-fire straight in front of her, until her meter depletes. After this meter depletes, she has to wait for it to go back up before performing this move again.

Customs

Custom 1 - Reckless Crossfire: Linkle twirls while shooting arrows rapidly, allowing her to shoot from behind and in front of her. This drains her meter faster.
Custom 2 - Fire Crossfire: Linkle fires off fire arrows while shooting arrows rapidly, doing slightly more damage. This drains her meter faster.
Custom 3 - Ice Crossfire: Linkle fires off ice arrows while shooting arrows rapidly, allowing her to freeze opponents. This drains her meter faster.

Final Smash
Heroine of Time
Linkle points to her opponent and the Triforce surrounds them ala Triforce Slash, and she shoots hundreds of arrows rapidly into her opponent, dealing up to 130% damage.
Taunts

Up Taunt - Linkle takes on/off her hood on her cloak.
Side Taunt - Linkle pets a Cucco on the head, giggling.
Down Taunt - Linkle looks at her compass, which spins around.

Special Team-Up Names

With Link - Heroes of Time
With Cia - Possessive Girls

Alternate Costumes
Unlock Conditions
TBA




Cia was the Guardian of Time who harbored affections towards the Hero of Time, which in turn opened herself up to corruption of her soul by Ganon. She isn't quiet about her desires, having a strong sense of ego and self. She wants to make the world and everything in it hers, especially Link.

Move
Description
Entrance
Cia cackles as she enters out of the Gate of Souls. If Link or Linkle is in the match, she will proclaim "You're mine~!"
Neutral Special
Scepter of Time
Cia reverses the flow of time of any projectile thrown at her, being able to project it back at the opponent who shot it or someone who gets in the way.

Customs

Custom 1 - Scepter of Broken Time: Cia breaks any projectile that gets within her radius upon this move's activation, cancelling it out.
Custom 2 - Scepter of Unwound Time: Cia snaps the projectile back at the original opponent who threw it, causing it to explode into darkness and dealing 8% damage.
Custom 3 - Scepter of Shattered Time: Cia shatters the projectile into a million shards, dealing small bits of damages with the shards.

Side Special
Dark Orb
Cia shoots a slow moving but powerful dark orb that swerves towards the opponent, dealing 10% damage.

Customs

Custom 1 - Umbra Orb: Cia shoots an evil slower orb that explodes when it makes contact with anything, dealing 15% damage.
Custom 2 - Corrupt Orb: Cia shoots a faster dark orb with a red tint that turns projectiles into dark projectiles that heal Cia when they hit her.
Custom 3 - Light Orb: Cia shoots a dazzlingly fast orb that does very little damage made of light magic.

Up Special
Crackling Scepter
Cia releases a smattering of thunder, dealing 4% damage before releasing three dark orbs at nearby opponents, dealing 3% damage each.

Customs

Custom 1 - Cackling Scepter: This version of the attack just releases the dark orbs at a boosted 4% damage each.
Custom 2 - Skyward Dark: Cia points her staff skyward and temporarily surrounds herself in dark energy, charging up a dark aura around her that makes her immune to flinching.
Custom 3 - Whipward Dark: Cia unleashes her whip, whipping opponents around upwards before shooting off a blast of dark energy at them.

Down Special
Whiplash Shockwaves
Cia transforms her scepter into a whip, whipping at opponents to deal 10% damage or at the ground to create dark shockwaves, with each shockwave dealing 8% damage.

Customs

Custom 1 - Umbric Shockwaves: Cia uses her staff to create dark shockwaves that are much larger but only deal 6% damage each.
Custom 2 - Midnight Pools: Cia creates four pools of dark energy on the ground around her. If an opponent steps on one of them, they will erupt with dark energy and damage enemies.
Custom 3 - Daylight Pools: Cia creates four pools of light energy on the ground around her. If a opponent steps on one of them, they will encased in a light crystal and be unable to attack for a temporary amount of time.

Final Smash
Darkness Within
Cia unleashes a dark version of Link to attack with a dark version of the Triforce slash, before summoning them away to whip them hard and then finally blasting them with a dark energy blast.
Taunts

Up Taunt - Cia spins her scepter around and says "You underestimate me at your peril."
Side Taunt - Cia leans on her staff and teasingly says "Why don't you cool down?"
Down Taunt - Cia laughs as she stomps the ground, shouting "This keep is MINE!"

Special Team-Up Names

With Linkle - Possessive Girls
With Link - Green Hearts

Alternate Costumes
Unlock Conditions
TBA








Fox McCloud is the main protagonist from the Star Fox series and leader of the Star Fox team. The son of James McCloud, Fox is an expert pilot and has saved the Lylat System from numerous threats. He has many enemies such as the mad, demented scientist known as Andross and the Star Wolf crew, one of which was responsible for the death of his father inadvertently.

Fox is a quick character who has a lot of mobility, good projectile options, and can prevent camping through his Reflectors. They give him a fast approach and while his low knockback is usually a weakness, his fast speed allows for good combo set ups and some of his moves still give him good KOing options, negating the need for general moves for good knockback. However, Fox has a fast falling speed and subpar air speed. He can be easily comboed and KO'd and his recovery options are linear and predictable.

Move
Description
Entrance
Fox ejects from an Arwing and lands on his feet.
Neutral Special
Blaster
Fox takes his blaster out of it's holster and fires at the opponent. The blaster's lasers are fired rapidly but do not make the opponent flinch or take any kind of knockback. They lose power the further they travel, dealing 1.4%-3% damage depending on how close the opponent is to Fox's range.

Customs

Custom 1 - Feathered Blaster: Fox's blaster shoots slower blue beams but consistently does 3% damage no matter what the range and is able to flinch opponents, although it can not knockback opponents. It can also be used to hitstun opponents from any percent.
Custom 2 - Bunny Blaster: Fox's blaster shoots yellow beams that have a wider hitbox but can only shock and stunlock opponents, but not deal any actual damage. As such, it's a good combo starter.
Custom 3 - Frog Blaster: Fox's blaster fires green beams that expand in size as they go over a further distance. They inflict the flower effect on opponents to continuously damage them.

Side Special
Fox Illusion
Fox dashes forward at a blindingly fast speed, leaving behind after images. Fox will launch opponents at an upwards angle on contact, dealing 3% damage. It can also be used to recovery in favorable situations.

Customs

Custom 1 - Falco Phantasm: Fox dashes forward at a blinding speed, leaving behind afterimages of his team member Falco. Falco Phantasm will spike airborne opponents on contact, as well as having 2 less start up frames. On grounded opponents, it'll send them upwards so that Fox can use a back aerial to follow up. It deals 8% damage grounded and 6% damage in the air.
Custom 2 - Barrel Roll: Fox readies himself like a missile and then launches forward in a spinning barrel roll to inflict 4% damage on a first hit, then 3% damage on loop in a multi-hitting attack that traps opponents. Afterimages of his team member Peppy appear behind him when he uses this move.
Custom 3 - Frog Illusion: Fox jumps forward at a fast rate, afterimages of his team member Slippy Toad appearing behind him. This attack is used best on the ground, allowing Fox to quickly leap across the stage and deal 8% damage. It also spikes aerial opponents. It's cancelled upon being hit.

Up Special
Fire Fox
Fox cloaks himself in fire and suddenly fires himself in one of many directions, depending on what direction is held. While charging, he deals 2% damage on contact and can deal either 16% damage clean or 8% damage if late.

Customs

Custom 1 - Fire Bird: Fox cloaks himself in blue flames before firing off in any direction, depending on what direction is held. This attack hits multiple times up to 9 times for 2-3% damage each, but won't travel as far as Fox's Fire Fox.
Custom 2 - Fire Rabbit: Fox cloaks himself in yellow flames, bouncing around while on fire to deal 6-8% to opponents in his path. Can't be used effectively in the air, instead acting as a way to gain stage control through unpredictable hopping that deals damage. Can spike aerial opponents.
Custom 3 - Fire Frog: Fox cloaks himself in green flames, bouncing around similar to Fire Rabbit but it deals 12-15% damage on contact is much slower, but contains super armor while in the air. Like Fire Rabbit, it's can't be used in the air very effectively but will meteor spike opponents in the air.

Down Special
Reflector
Fox activates a Reflector around himself, deflecting projectiles for 1.4x the original damage. The Reflector also deals 2% damage to nearby opponents, but won't flinch or launch them.

Customs

Custom 1 - Kick Reflector: Fox activates a deep blue-colored Reflector that he kicks away from him, reflecting any projectiles for 1.2x the original damage and hitting opponents that it comes in contact with for 7% damage. It will return to him as if magnetized. This move can be used as a poking tool that can lock or trip low damaged opponents.
Custom 2 - Punch Reflector: Fox activates a yellow colored Reflector that he punches away from him, which will reflect projectiles for 1.3x the original damage, but the Reflector itself does not contain a hurtbox. Instead, Fox deals 8% damage with the punch forward.
Custom 3 - Snatch Reflector: Fox activates a green colored Reflector, which pulls in opponents nearby within a certain radius but won't deal damage. Reflected projectiles are reflected for 1.5x the original damage.

Final Smash
Star Fox Assault/Landmaster
Fox has two final smashes depending on whether he activates it using meter or the Smash Ball:

Star Fox Assault is his metered Final Smash. When activated, a crosshair briefly appears on screen and flashes upon activation, bringing all foes into a cutscene where Fox and a couple of Arwings fire at the opponent to deal 45% damage, meteor smashing them after the cutscene is over.
Landmaster is his unmetered Final Smash. When activated, Fox comes down on a giant tank-like vehicle that deals 5% damage upon activation. While piloting it, Fox can drive it around and hover by holding down the jump button. The Landmaster also has many methods of attacking, such as firing the laser turret that deals 8% damage upon firing and the actual projectile itself deals 15% damage. It can also run over foes for 5-17% damage. It lasts for a total of 7 seconds.

Taunts

Up Taunt - Fox charges up a fiery field around himself similarly to when he performs Fire Fox, saying "Here I come!".
Side Taunt - Fox throws his Blaster into the air, then allows it to land back into its holster.
Down Taunt - Fox backs up, bends down slightly, and says "Come on!" (かかってこい!, Come at me!) whilst waving his hand in a beckoning gesture.

Special Team-Up Names
Alternate Costumes
Unlock Conditions
Complete 10 matches on the stage Lylat Cruise.








Falco Lombardi is a member of an avian race and is an ace pilot on the Star Fox team. He is a friendly rival to Fox McCloud, appearing as a brash, cool, but collected wingmate to his team. Although he is an ace pilot, Falco sometimes needs the assistance of Fox when he finds himself in a difficult situation, which he usually reacts with chagrin.

Falco is reclassified as an Echo Fighter for Fox, keeping all the special attributes he had previously as a fighter such his variants on Fox's moves and his damage being much better in the air than on the ground. As such, he is generally able to combo opponents easily and has more power for his attacks that don't reach as long as Fox's. However, he has many of Fox's weaknesses and his moveset does little to combat those, mostly just offering a different approach to his playstyle.

Move
Description
Entrance
Falco ejects from an upside down Arwing and lands on his feet.
Neutral Special
Feathered Blaster
Falco takes his blaster out of it's holster and fires at the opponent. Falco's blaster shoots slower blue beams but consistently does 3% damage no matter what the range and is able to flinch opponents, although it can not knockback opponents. It can also be used to hitstun opponents from any percent.

Customs

Custom 1 - Fox Blaster: The blaster's lasers are fired rapidly but do not make the opponent flinch or take any kind of knockback. They lose power the further they travel, dealing 1.4%-3% damage depending on how close the opponent is to Falco's range.
Custom 2 - Bunny Blaster: Falco's blaster shoots yellow beams that have a wider hitbox but can only shock and stunlock opponents, but not deal any actual damage. As such, it's a good combo starter.
Custom 3 - Frog Blaster: Falco's blaster fires green beams that expand in size as they go over a further distance. They inflict the flower effect on opponents to continuously damage them.

Side Special
Falco Phantasm
Falco dashes forward at a blinding speed, leaving behind afterimages. Falco Phantasm will spike airborne opponents on contact, as well as having 2 less start up frames. On grounded opponents, it'll send them upwards so that Falco can use a back aerial to follow up. It deals 6% damage grounded and 8% damage in the air.

Customs

Custom 1 - Fox Illusion: Falco dashes forward at a blindingly fast speed, leaving behind afterimages of his team member Fox. Falco will launch opponents at an upwards angle on contact, dealing 3% damage. It can also be used to recovery in favorable situations.
Custom 2 - Barrel Roll: Falco readies himself like a missile and then launches forward in a spinning barrel roll to inflict 4% damage on a first hit, then 3% damage on loop in a multi-hitting attack that traps opponents. Afterimages of his team member Peppy appear behind him when he uses this move.
Custom 3 - Frog Illusion: Falco jumps forward at a fast rate, afterimages of his team member Slippy Toad appearing behind him. This attack is used best on the ground, allowing Falco to quickly leap across the stage and deal 8% damage. It also spikes aerial opponents. It's cancelled upon being hit.

Up Special
Fire Bird
Falco cloaks himself in blue flames before firing off in any direction, depending on what direction is held. This attack hits multiple times up to 9 times for 2-3% damage each, but won't travel as far as Fox's Fire Fox.

Customs

Custom 1 - Fire Fox: Falco cloaks himself in orange fire and suddenly fires himself in one of many directions, depending on what direction is held. While charging, he deals 2% damage on contact and can deal either 16% damage clean or 8% damage if late.
Custom 2 - Fire Rabbit: Falco cloaks himself in yellow flames, bouncing around while on fire to deal 6-8% to opponents in his path. Can't be used effectively in the air, instead acting as a way to gain stage control through unpredictable hopping that deals damage. Can spike aerial opponents.
Custom 3 - Fire Frog: Falco cloaks himself in green flames, bouncing around similar to Fire Rabbit but it deals 12-15% damage on contact is much slower, but contains super armor while in the air. Like Fire Rabbit, it's can't be used in the air very effectively but will meteor spike opponents in the air.

Down Special
Kick Reflector
Falco activates a deep blue-colored Reflector that he kicks away from him, reflecting any projectiles for 1.2x the original damage and hitting opponents that it comes in contact with for 7% damage. It will return to him as if magnetized. This move can be used as a poking tool that can lock or trip low damaged opponents.

Customs

Custom 1 - Body Reflector: Falco activates a Reflector around himself, deflecting projectiles for 1.4x the original damage. The Reflector also deals 2% damage to nearby opponents, but won't flinch or launch them.
Custom 2 - Punch Reflector: Falco activates a yellow colored Reflector that he punches away from him, which will reflect projectiles for 1.3x the original damage, but the Reflector itself does not contain a hurtbox. Instead, Falco deals 8% damage with the punch forward.
Custom 3 - Snatch Reflector: Falco activates a green colored Reflector, which pulls in opponents nearby within a certain radius but won't deal damage. Reflected projectiles are reflected for 1.5x the original damage.

Final Smash
Wild Bird
When activated, a crosshair briefly appears on screen and flashes upon activation, bringing all foes into a cutscene where Falco and a couple of Arwings wildly fly and then fire at the opponent to deal 45% damage metered or 100% damage unmetered, meteor smashing them after the cutscene is over. Falco's version of the meteor smash is angled, making it slightly more difficult to tech.
Taunts

Up Taunt - Falco kicks his Reflector around like a hacky sack and says "Piece of cake!" before catching it.
Side Taunt - Falco poses by standing on one foot with his wing raised before saying "Get some!"
Down Taunt - Falco spins once and crosses one wing before saying "Hands off my prey!"

Special Team-Up Names

With Fox/Slippy/Peppy - Star Fox

Alternate Costumes
Unlock Conditions
Complete 10 matches on the stage Corneria.








Peppy Hare was an original team member of Star Fox back when it was manned by James McCloud and Pigma. An experienced pilot, he has learned many tricks in his years of flying, and is also very knowledgeable about Andross's forces, since he once had to escape captivity at their hands. He is fairly wise and is the eldest member of the Star Fox team, although he gave leadership to Fox and serves as a mentor to him.

Peppy is an Echo Fighter for Fox, generally featuring stranger approaches to his moveset such as a Reflector that doesn't deal any damage except for the punching animation that accompanies it, or a bouncy version of Fire Fox. He also has a completely unique move in place of Fox Illusion. However, Peppy is slower and doesn't really have much to offer aside from increased power to his moves. While his version of Blaster can allow him to perform combos, it is very tricky to utilize his decreased speed in accordance with it. As such, Peppy mainly needs to stay on the stage and look for windows to make his toolset effective.

Move
Description
Entrance
Peppy Hare ejects from an spinning Arwing and lands on his hands, getting up a bit clusmily.
Neutral Special
Bunny Blaster
Peppy takes his blaster out of it's holster and fires at the opponent. Peppy's blaster shoots yellow beams that have a wider hurtbox but can only shock and stunlock opponents, but not deal any actual damage. As such, it's a good combo starter.

Customs

Custom 1 - Fox Blaster: The blaster's lasers are fired rapidly but do not make the opponent flinch or take any kind of knockback. They lose power the further they travel, dealing 1.4%-3% damage depending on how close the opponent is to Fox's range.
Custom 2 - Feathered Blaster: Peppy's blaster shoots slower blue beams but consistently does 3% damage no matter what the range and is able to flinch opponents, although it can not knockback opponents. It can also be used to hitstun opponents from any percent.
Custom 3 - Frog Blaster: Peppy's blaster fires green beams that expand in size as they go over a further distance. They inflict the flower effect on opponents to continuously damage them.

Side Special
Barrel Roll
Peppy readies himself like a missile and then launches forward in a spinning barrel roll to inflict 4% damage on a first hit, then 3% damage on loop in a multi-hitting attack that traps opponents. Afterimages appear behind him when he uses this move.

Customs

Custom 1 - Fox Illusion: Falco dashes forward at a blindingly fast speed, leaving behind afterimages of his team member Fox. Falco will launch opponents at an upwards angle on contact, dealing 3% damage. It can also be used to recovery in favorable situations.
Custom 2 - Falco Phantasm: Peppy dashes forward at a blinding speed, leaving behind afterimages of his team member Falco. Falco Phantasm will spike airborne opponents on contact, as well as having 2 less start up frames. On grounded opponents, it'll send them upwards so that Fox can use a back aerial to follow up. It deals 8% damage grounded and 6% damage in the air.
Custom 3 - Frog Illusion: Peppy jumps forward at a fast rate, afterimages of his team member Slippy Toad appearing behind him. This attack is used best on the ground, allowing Peppy to quickly leap across the stage and deal 8% damage. It also spikes aerial opponents. It's cancelled upon being hit.

Up Special
Fire Rabbit
Peppy cloaks himself in yellow flames, bouncing around while on fire to deal 6-8% to opponents in his path. Can't be used effectively in the air, instead acting as a way to gain stage control through unpredictable hopping that deals damage. Can spike aerial opponents.

Customs

Custom 1 - Fire Fox: Peppy cloaks himself in orange fire and suddenly fires himself in one of many directions, depending on what direction is held. While charging, he deals 2% damage on contact and can deal either 16% damage clean or 8% damage if late.
Custom 2 - Fire Bird: Peppy cloaks himself in blue flames before firing off in any direction, depending on what direction is held. This attack hits multiple times up to 9 times for 2-3% damage each, but won't travel as far as Fox's Fire Fox.
Custom 3 - Fire Frog: Peppy cloaks himself in green flames, bouncing around similar to Fire Rabbit but it deals 12-15% damage on contact is much slower, but contains super armor while in the air. Like Fire Rabbit, it's can't be used in the air very effectively but will meteor spike opponents in the air.

Down Special
Punch Reflector
Peppy activates a yellow colored Reflector that he punches away from him, which will reflect projectiles for 1.3x the original damage, but the Reflector itself does not contain a hurtbox. Instead, Peppy deals 8% damage with the punch forward.

Customs

Custom 1 - Body Reflector: Peppy activates a Reflector around himself, deflecting projectiles for 1.4x the original damage. The Reflector also deals 2% damage to nearby opponents, but won't flinch or launch them.
Custom 2 - Kick Reflector: Peppy activates a deep blue-colored Reflector that he kicks away from him, reflecting any projectiles for 1.2x the original damage and hitting opponents that it comes in contact with for 7% damage. It will return to him as if magnetized. This move can be used as a poking tool that can lock or trip low damaged opponents.
Custom 3 - Snatch Reflector: Peppy activates a green colored Reflector, which pulls in opponents nearby within a certain radius but won't deal damage. Reflected projectiles are reflected for 1.5x the original damage.

Final Smash
Arwing Assualt
When activated, a crosshair briefly appears on screen and flashes upon activation, bringing all foes into a cutscene where Peppy and a couple of Arwings spin in barrel rolls and then fire at the opponent to deal 45% damage metered or 100% damage unmetered, meteor smashing them after the cutscene is over. Peppy's version of the meteor smash causes the opponent to fall helpless, making it dangerous for his opponent over the edge of a stage.
Taunts

Up Taunt - Peppy puts his hands behind his head, attempting to look relaxed and cool but looks tense.
Side Taunt - Peppy sticks his pointer finger up, stating "Surprise attack incoming!"
Down Taunt - Peppy looks exhausted, sitting down for a moment before getting up and stretching.

Special Team-Up Names

With Fox/Falco/Slippy - Star Fox

Alternate Costumes
Unlock Conditions
Complete 50 matches on the stage Lylat Cruise.










Slippy Toad is a childhood friend of Fox's and has flown alongside him for several years. Slippy serves as an inventor and mechanic for the team, randing from the Arwing, Landmaster, and more. Slippy is mostly a support type, although he is fairly prominent in the Star Fox series. He might act like a hyper-doofus at times, but he's a fairly excellent mechanic.

Slippy is an Echo Fighter for Fox, who much like Peppy, also features a weirder approach to Fox's gameplay. Unlike Peppy who traded a lot of Fox's speed for power with his moveset, Slippy traded off horizontal mobility for vertical mobility. Slippy jumps higher and features a wall cling and jump. Additionally, he moves faster while in the air and falls much slower than the other space animals. However, his moves generally only work while on the ground, including his version of Fox Illusion and Fire Fox, which make him a bouncy fighter.

Move
Description
Entrance
Slippy comes out spinning from a spinning airwing, landing on his stomach before getting up and dusting himself off.
Neutral Special
Frog Blaster
Slippy takes his blaster out of it's holster and fires at the opponent. Slippy's blaster fires green beams that expand in size as they go over a further distance. They inflict the flower effect on opponents to continuously damage them.

Customs

Custom 1 - Fox Blaster: The blaster's lasers are fired rapidly but do not make the opponent flinch or take any kind of knockback. They lose power the further they travel, dealing 1.4%-3% damage depending on how close the opponent is to Fox's range.
Custom 2 - Feathered Blaster: Slippy's blaster shoots slower blue beams but consistently does 3% damage no matter what the range and is able to flinch opponents, although it can not knockback opponents. It can also be used to hitstun opponents from any percent.
Custom 3 - Bunny Blaster: Slippy's blaster shoots yellow beams that have a wider hurtbox but can only shock and stunlock opponents, but not deal any actual damage. As such, it's a good combo starter.

Side Special
Frog Illusion
Slippy jumps forward at a fast rate, afterimages appearing behind him. This attack is used best on the ground, allowing Slippy to quickly leap across the stage and deal 8% damage. It also spikes aerial opponents. It's cancelled upon being hit.

Customs

Custom 1 - Fox Illusion: Slippy dashes forward at a blindingly fast speed, leaving behind afterimages of his team member Fox. Slippy will launch opponents at an upwards angle on contact, dealing 3% damage. It can also be used to recovery in favorable situations.
Custom 2 - Falco Phantasm: Slippy dashes forward at a blinding speed, leaving behind afterimages of his team member Falco. Falco Phantasm will spike airborne opponents on contact, as well as having 2 less start up frames. On grounded opponents, it'll send them upwards so that Slippy can use a back aerial to follow up. It deals 6% damage grounded and 8% damage in the air.
Custom 3 - Barrel Roll: Slippy readies himself like a missile and then launches forward in a spinning barrel roll to inflict 4% damage on a first hit, then 3% damage on loop in a multi-hitting attack that traps opponents. Afterimages of his team member Peppy appear behind him when he uses this move.

Up Special
Fire Bird
Slippy cloaks himself in green flames, bouncing around similar to Fire Rabbit but it deals 12-15% damage on contact is much slower, but contains super armor while in the air. Like Fire Rabbit, it's can't be used in the air very effectively but will meteor spike opponents in the air.

Customs

Custom 1 - Fire Fox: Slippy cloaks himself in orange fire and suddenly fires himself in one of many directions, depending on what direction is held. While charging, he deals 2% damage on contact and can deal either 16% damage clean or 8% damage if late.
Custom 2 - Fire Frog: Slippy cloaks himself in blue flames before firing off in any direction, depending on what direction is held. This attack hits multiple times up to 9 times for 2-3% damage each, but won't travel as far as Fox's Fire Fox.
Custom 3 - Fire Rabbit: Slippy cloaks himself in yellow flames, bouncing around while on fire to deal 6-8% to opponents in his path. Can't be used effectively in the air, instead acting as a way to gain stage control through unpredictable hopping that deals damage. Can spike aerial opponents.

Down Special
Tongue Reflector
Slippy activates a green colored Reflector with his tongue, which pulls in opponents nearby within a certain radius but won't deal damage. Reflected projectiles are reflected for 1.5x the original damage. Slippy's version of the Snatch Reflector can also tether as it uses his tongue.

Customs

Custom 1 - Body Reflector: Slippy activates a Reflector around himself, deflecting projectiles for 1.4x the original damage. The Reflector also deals 2% damage to nearby opponents, but won't flinch or launch them.
Custom 2 - Kick Reflector: Slippy activates a deep blue-colored Reflector that he kicks away from him, reflecting any projectiles for 1.2x the original damage and hitting opponents that it comes in contact with for 7% damage. It will return to him as if magnetized. This move can be used as a poking tool that can lock or trip low damaged opponents.
Custom 3 - Punch Reflector: Slippy activates a yellow colored Reflector that he punches away from him, which will reflect projectiles for 1.3x the original damage, but the Reflector itself does not contain a hurtbox. Instead, Slippy deals 8% damage with the punch forward.

Final Smash
Landmaster
When activated, Slippy comes down on a giant tank-like vehicle that deals 5% damage upon activation. While piloting it, Slippy can drive it around and hover by holding down the jump button. The Landmaster also has many methods of attacking, such as firing the laser turret that deals 10% damage upon firing and the actual projectile itself deals 18% damage. It can also run over foes for 6-19% damage. Slippy's version of the Landmaster has a faster airspeed and deals more damage overall, but won't last as long. It lasts for a total of 3 seconds metered and 5 seconds unmetered.
Taunts

Up Taunt - Slippy closes his eyes and cowers in place, before opening one eye and standing back up.
Side Taunt - Slippy spins around while rapidly flapping his arms, looking confused.
Down Taunt - Slippy pulls out a small mechanical drone and works on it for a bit before returning back to battle.

Special Team-Up Names

With Fox/Falco/Peppy - Star Fox

Alternate Costumes
Unlock Conditions
Complete 50 matches on the stage Corneria.





Marx originally enlisted Kirby's help to stop the Moon and Sun from fighting, to grab pieces of Star Power to get a wish from Galactic Nova. Once Kirby did this, Marx wished for his own selfish vie for power, and took over Popstar for himself. Since then, Marx has come back from his apparent death and teamed up with Kirby to escape the Nova Zoo, although he really isn't that great of a friend, always lying to Kirby. Marx reappears with most of his moves seen in his Kirby Super Star boss appearance, giving him a wide range of powerful elemental abilities.

Move
Description
Entrance
Marx spreads his wings before hopping on his ball, dancing atop it.
Jump/Soar
Marx has a standard three jumps (which are somewhat shorter than the rest of the fighters by average) and if the player holds down on the jump button while he's in the air, he will extend his wings out. He can stay up in the air so long as he is not hit by a physical attack, which will place him back into a helpless state. He can last up to 2.5 seconds in flight mode, but is locked to the height he started wing mode in and cannot ascend or lower while in flight mode. Additionally, Marx forfeits any further jumps he might have had.
Neutral Special
Ball Kick
Marx kicks his ball forward as a bouncy projectile, which can bounce a upwards of two times or a total of 125 frames before disappearing. It deals 8% damage and he can have up to balls out on the field at once. This move, if done while in his flight mode, will briefly cancel his flight before putting him back into it. Additionally, if the move is merely tapped instead of held down for a given amount of time, he will just roll on the ball, which prevents him from attacking or jumping but increases his speed. He can also not turn while on the ball. All customs feature a identical version of this "ball mode".

Customs

Custom 1 - Bluster Ball Kick: A version of the ball kick that is powered by wind. The ball descends more slowly, giving it more air time. Deals 12% damage.
Custom 2 - Blizzard Ball Kick: A version of the ball kick that is powered by ice. When the ball bounces across the ground, it will create icy spikes that can deal up to 14% damage but only a single ball can be thrown out at a time.
Custom 3 - Splash Ball Kick: A version of the ball kick that has a total of four bounces that leave a splash of water each time it bounces, with the final bounce having a huge damaging area that deals 21% damage, although only deals 5% damage per kick. Only one can be sent out at a time as well.

Side Special
Arrow Stream
Marx releases a flurry of arrows from himself which fly in a vertical direction before vanishing. Each arrow has a small bit of hitstun and deals 3% damage. While overall a weak projectile, it's quickness and low penalty cost for reflects makes it a reliable damaging move.

Customs

Custom 1 - Rainbow Teleport: Marx dashes forward before disappearing, appearing roughly three character lengths away from where he just was. The move deals 7% damage if Marx teleports near a opponent, although it will leave Marx in a helpless state if he was in flight mode.
Custom 2 - Crescent Blades: Marx fires off three crescent blades in his direction, dealing 5% damage for each blade. In the air, he will fire them below him, covering the right, center, and left.
Custom 3 - Laser Light: Marx has a long start up before firing off a thin laser that stretches four character lengths away. The column is rather thin but deals a whopping 25% damage but has low knockback.

Up Special
Splitting Sides
Marx jumps up in the air, going into flight mode as he charges up an attack. While he can stay up in the air for a total of five seconds, he cannot move in anyway until the player releases the button or the timer runs to five seconds, in which he will release a powerful black hole attack that attracts nearby items or players and deals 22% damage, which immediately makes him drop down, albeit not in a helpless state (although he is not able to activate flight mode until he touches ground again).

Customs

Custom 1 - Thorn Tower: Marx creates a thorny tower from underneath him as he ascends, which deals 10% damage on contact and has downwards knockback. Will automatically put him into flight mode, which can be followed up into other combos. If he activates this move already in flight mode, he will instead have a circle of thorns spin around him that deals 5% damage until he touches the ground.
Custom 2 - Radiant Wings: Marx jumps and enters into flight mode right away, with his wings glowing with energy. Contact with him in this enhanced version of flight mode deals 5% damage.
Custom 3 - Zap Wings: Marx jumps up and enters into flight mode similar to Radiant Wings, but instead releases two diagonal thunder projectiles that paralyze opponents for a short time while dealing 3% damage.

Down Special
Marx Flip Ultima
Marx descends down into the ground, which can deal 7% damage, becoming a shadowy purple mist that is unable to be attacked with projectile based attacks before ascending up in a dark uppercut that deals 9% damage and knocks opponent slightly aback.

Customs

Custom 1 - Marx Flip Bluster: Marx releases a ring of wind around him that blows back opponents and deals 3% damage when he ascends upwards. Additionally, his recovery upwards is greatly increased.
Custom 2 - Marx Flip Blizzard: As opposed to releasing a dark uppercut at the end of the ascend animation, Marx creates a cluster of icicles that spike opponents upwards while dealing 14% damage, although the descension no longer has a hitbox. A reliable kill move for Marx.
Custom 3 - Marx Flip Splash: Marx releases four giant water droplets that drop down at the end of the animation when he ascends back up, which deal 5% damage each. While it covers generally a bigger area of effect, it's power is somewhat weakened compared to the other moves.

Final Smash
Nova Wish
Nova appears in the background as Marx wishes for ultimate power, gaining the power to spawn multiple thorn towers and giant icicles that swing across the stage before breathing out a giant laser beam. In the metered version of this Final Smash, Marx merely attacks with the laser beam attack.
Taunts

Up Taunt - Marx hops back and forth on the spinning ball.
Side Taunt - Marx laughs with a high pitched laugh while showing off his wings.
Down Taunt - Marx sits on his ball, looking pleased.

Special Team-Up Names

With Kirby - Dream Allies
With Gooey - Innocence and Deception

Alternate Costumes
Unlock Conditions
TBA




A triad of mages hailing from the sinister dark Jambastion Cult. Their names are Zan, Francisca, and Flamberge, descending from center, to left, to right. Their goal is to revive their dark god, given orders by a hooded man named Hyness. These three mages have no time for friendship, fighting as a triad of sorts- each special attack switches which Mage is playable. Zan is the default mage. By switching out custom moves, a player can have a entire moveset focused around their favorite mage, or have all three join together for their versions of Kirby's friendship powered moves.

Move
Description
Entrance
Flamberge, Francisca, and Zan descend down slowly from the top of the screen before brandishing their weapons and looking angry. Franchisa and Flamberge generally hide behind Zan after this.
Jump/Float
Each of the Jambastion Mages possesses two jumps and a float that allows them to stay 1-character length high while on the stage. This float can be executed by holding the button- and then the player can release when a circle over the Jambastion Mage's hud appears. This allows them to continue their float until they are either launched or fall off a platform. After that, they will float only slightly above the ground.
Neutral Special
Electrical Partisan
Zan strikes with her partisan in a swirling slash, dealing 5% damage with the chance to paralyze if the opponent is above 100%. Zan can charge the swing to deal 8% damage, with a chance to paralyze if the opponent's health is 80% or higher.

Customs

Custom 1 - Fiery Flamberge: Flamberge flings around her burning flamberge, steadily moving forward a total of three character lengths, dealing 5% damage per hit with a total of 3 hits in total.
Custom 2 - Snowflake Labrys: Franchisa thrusts forward with her labrys, dealing 10% damage with high knockback. Generally has the shortest range out of all of the moves.
Custom 3 - Friend Circle: Flamberge, Franchisa, and Zan attempt to form a donut circle, spinning forward until the circle falls apart 110 frames later. The rolling attack deals 7% damage on contact and limits their movement to moving forward and jumping.

Side Special
Flamberge Fury
Flamberge pulls back on her Flamberge before releasing a powerful strike that releases a flurry of fireballs, which can be destroyed via projectiles (each which deals 7%) but still cover a massive range. Has some end lag and the strike itself does nothing.

Customs

Custom 1 - Partisan Beam: Zan forms thunder drums behind her as she ascends upwards at a diagonal, before launching her partisan down, dealing 10% damage. A giant laser then forms between Zan and the partisan for a total of 100 frames, dealing 7% damage on contact before Zan summons her spear back.
Custom 2 - Freezing Soaker: Franchisa uses a gun filled with icy water, shooting it at a downwards diagonal before it shoots out in a zig zag pattern that covers 4 character lengths. Can freeze characters and deal 8% damage on contact.
Custom 3 - Friend Train: Flamberge, Franchisa, and Zan form a line as Zan puts on a conductor hat, the three marching forward and dealing 12% damage to anyone in their path. Stops at the end of a stage ledge. Can be cancelled in air.

Up Special
Friend Star
The Jambastion Mages jump onto a Friend Star, which allows them brief full movement in the air for 3 seconds before the Friend Star fails and turns into dark energy. They can fire bullets that deal 3% damage in the direction they face.

Customs

Custom 1 - Flamberge Rain: Flamberge rises into the air as she creates multiple flaming flamberges that slam into the ground, dealing 8% damage. fire pillars rising. She creates a total of four fire pillars in total, which each have 15% health and can be destroyed via projectiles. Contact with the fire pillars deals 4% damage. Lasts for 220 frames.
Custom 2 - Partisan Storm: Zan swirls her partisan around as clouds form around it, before being able to move around as two thunder pillars come down from it, zapping a total of two times for 10% damage each before the cloud vanishes. Has long start up.
Custom 3 - Labrys Icicles: Franchisa leaps into the air, forming three icicles in the air, which she knocks with her labrys, causing them to float down fast in a waved pattern, dealing 11% damage.

Down Special
Avalanche Labrys
Franchisa pulls up with her icy Labrys before descending back down, dealing 11% damage and sending icy blue stars that bounce around and freeze opponents.

Customs

Custom 1 - Flamberge Jabs: Flamberge pulls back on her flamberge before releasing a furious set of jabs, each jab, of which there are six in total, dealing 3% damage and does no knockback until the final strike.
Custom 2 - Partisan Mine: Zan slams her partisan into the ground, creating an electrical orb that deals 9% damage on contact, zapping the opponent. She can have up to four of these traps out at a time, as well as deal 5% damage with the partisan slam.
Custom 3 - Friend Bridge: Flamberge, Franchisa, and Zan form a bridge, crawling across the ground and getting underneath opponents to then launch them high into the air while dealing 13%. They can still be hit, but their hitbox becomes long but short.

Final Smash
Void Termina
The Jambastion Mages are sacrificed by Hyness to revive their dark lord Void Termina, who towers in the background, slamming his fists into the ground to send off white ground-crawling projectiles that shine brightly, each dealing about 15% damage, sending three at a time. It then grows wings, sending off elemental arrows that can cause burning and ice effects. Finally, it unleashes it's true form, releasing a powerful laser over the entire stage that deals 30% damage. On a metered Final Smash, Void Termina will appear in his true form, skipping the initial fist slamming and arrows. After the final Smash is over, the Jambastion Mages float back to the stage.
Taunts

Up Taunt - Zan readies her electrical partisan.
Franchisa laughs, tilting her labrys to the side.
Flamberge furiously swivels around her flamberge.
Side Taunt - Zan swivels around her partisan slowly.
Franchisa puts her hand to her chest.
Flamberge curls her fists, punching forward.
Down Taunt - Zan unleashes her thunder drums before they vanish.
Franchisa grunts before holding her Labrys over her chest.
Flamberge shakes her fists up and down.

Special Team-Up Names

With Kirby - Friend and Foes
With Marx - Evil Powers United
With Gooey - Connectors of the Dark

Alternate Costumes
Unlock Conditions
TBA





Mimikyu just wants to be loved. He never got it because of his deathly appearance, so it hides under the rags of Pikachu merchandise that ironically is no longer loved. Lurking in shadowy desolate corners, all it really wants is a friend. If it has to fight to get one, it will do so! Mimikyu is a short-ranged fighter for the most part, although is able to leave it's body for a long range attack that will also restore it's Disguise, which allows it to get hit without taking damage and becomes unaffected to status inflictions it's opponent deals to it. While Mimikyu is fairly powerful and has some long-range options, they are locked under customs and their long range options are not as powerful. Mimikyu also has a hard time recovering, with Playing Rough being a powerful move that gives Mimikyu very little options to help recover.

Move
Description
Entrance
Mimikyu wobbles as he runs into the fight, before a shadowy hand underneath fixes his head.
Gimmick
Disguise
Mimikyu is able to utilize it's trademark ability Disguise to defend against attacks, propping it's head up. In this state, Mimikyu is able ignore damage for a single hit. It's Down Special, Shadow Sneak will restore it's Disguise, however this has a cool-down that prevents Mimikyu from constantly "repairing" itself- the disguise will only straighten itself out after 300 frames from when it was last broken after use of Shadow Sneak. While Mimikyu also becomes immune to status infliction from his enemies while using Diguise, Disguise only works against the first hit of a move, meaning multi-hit moves can break it.
Neutral Special
Astonish
Mimikyu lets out a hallowing screech that can stun foes nearby, as well deal 8% damage. It has a short damaging range, while a second stunning run extends past it, although it is generally a short range attack.

Customs

Custom 1 - Wood Hammer: Mimikyu grabs it's wooden tail and slams it forward, launching the opponent as it deals 7% damage. Has some end lag but is good for spacing.
Custom 2 - Feint Attack: Mimikyu spins around, pretending to throw a punch with it's shadowy arms, which draws in nearby foes, before sucker punching them for 8% damage. Causes opponents to flinch but does no knockback.
Custom 3 - Double Team: Mimikyu moves speedily, making it appear as if there are two Mimikyus lurking about. It then goes into a speedy pummel attack if it can touch an opponent, dealing 6% damage in two separate but close hits.

Side Special
Shadow Claw
Mimikyu sprouts a shadow arm from underneath it, which slashes at foes for 9% damage. It's reach can extend to three character lengths. It then returns to back underneath Mimikyu. Has a low launch rate but is generally one of Mimikyu's longest range attacks.

Customs

Custom 1 - Shadow Ball: Mimikyu charges a ball of shadow from it's palm before firing it, which goes in a zig-zag pattern and goes as far as six character lengths. It deals 2.5% damage uncharged and 25% damage fully charged.
Custom 2 - Dark Scratch: Mimikyu's shadow arm lunges, dealing 15% damage in a short range attack. One of Mimikyu's shortest range moves but an absolute punisher.
Custom 3 - Dark Slash: Mimikyu's shadow arm slashes forward in a upwards manner, dealing 8% damage while launching the opponent upwards. Good KOing option at 110% or higher.

Up Special
Play Rough
Mimikyu jumps up and pounces on the nearest opponent, whacking them with a flurry of shadowy arms before twisting it's head to deal a final strike. Mimikyu can overall do 5-35% damage depending if the opponent attempts to mash out of it, which will be punished for more damage. As a recovery move, it only adds a short extra hop with more horizontal distance than vertical distance. If Mimikyu doesn't land on a opponent, he will look around confused for 20 frames, allowing opponents to punish him.

Customs

Custom 1 - Light Screen: Mimikyu sends out a pane of light that protects them from projectile attacks. Interestingly, the shield can stay out as long as the whole match if the opponent continues to feed it projectiles. It will phase through physical attacks, although not be destroyed.
Custom 2 - Out of Body: Mimikyu gets two shadowy arms underneath it before launching itself high into the air. On the apex of the jump, the disguise will briefly separate, revealing Mimikyu's true form, which is censored through a black fog that deals 15% damage on contact. The disguise will then come back on as Mimikyu makes their descent.
Custom 3 - Bulk Up: Mimikyu's body pulses with dark energy as it bulks up, increasing it's attack and strength for 120 frames. Has a cooldown of 220 frames.

Down Special
Shadow Sneak
Mimikyu briefly leaves it's disguise in the form of a shadow, which travels across the floor and has a very thin hitbox overall. When it touches a opponent, it will launch into a frenzied attack that deals 7% damage on the first hit and then the player can tap the button again for a much more furious attack that deals 9% damage. Mimikyu quickly returns to his body. If Mimikyu lost his disguise, he gets it back when he returns to his body after 300 frames from when he lost the disguise. The player can perform this move and then cancel it by moving forward and then tilting the control stick back to Mimikyu's body. Mimikyu cannot jump in this form, however, attacking his disguise will not deal damage to him. The move will also be cancelled if Mimikyu does not reach an opponent within 220 frames.

Customs

Custom 1 - Speedy Shadow: Mimikyu's shadow form is faster, but if the opponent attacks his disguise while he's outside of it, he will not get his Disguise back even if he meets conditions. Additionally, he only deals 6% damage on the first hit and 4% damage on the second.
Custom 2 - Shadow Twister: Mimikyu's hitbox is bigger, but allows him to jump. He deals a single attack that deals 12% damage.
Custom 3 - True Form Glance: Mimikyu releases a shadowy aura as it's eyes dart around outside of it's disguise. Has a short range but if anyone makes contact, they are damaged for 25% damage.

Final Smash
Let's Snuggle Forever
Mimikyu is powered by the Z-Crystal it keeps in it's body, it's eyes glowing as it snatches an opponent and attacks them fiercely under it's disguise before launching them away. It deals 45% damage metered and 100% damage unmetered.
Taunts

Up Taunt - Mimikyu opens up a magazine with Pikachu's face on it, looking through the pages.
Side Taunt - Mimikyu rolls around a Pikachu figurine before snatching it back up into it's body.
Down Taunt - Mimikyu's head tilts a little as Mimikyu puts it back in place. When the Disguise is broken, Mimikyu will try and set it back in place before giving up.

Special Team-Up Names

With Pikachu - Four Pikachus? I Must Be Seeing Double
With Pokémon Master - Mimikyu and Trainer Friend
With Snivy - PokeSlashers
With Lillie - Hiders of Alola

Alternate Costumes
Unlock Conditions
TBA