Introduction
Super Smash Bros. Combat is the sixth instalment in the Super Smash Bros series for the Nintendo Next. It is a crossover fighting videogame developed by Sora Ltd and Bandai Namco Studios, published by Nintendo. The lead developer and director is Masahiro Sakurai, with a large team at Sora and Bandai Namco as well. The fighting gameplay is platform based, where you fight on a 2-D stage to blast opponents off the screen. The higher their percent is, the more likely they will be hit, or fall, off screen. The sixth instalment is released on October 12th, 2025 to widespread acclaim from critics, like most Smash games.  
Going into development, the main theme of Super Smash Bros. Combat was new ideas and creations into the Smash series. It was decided that they would have more new content than any other Smash title. It has the most newcomers in the smash series, being 23 newcomers in the base game and 8 as DLC. However, it's gameplay is very similar to previous games and it's engine is similar to Super Smash Bros. Ultimate.
Gameplay
The game's controls are very simplified from other fighting games, not having to do multiple button actions for one move, but instead pressing one button for a move. The controls are the same from older smash games, with the main stick for directions, c-stick for smash attacks, D-pad for taunts, A for attacking, B for specials, X and Y for jumping, L and R for shielding/dodging and Z for grabs. (Controls for a Gamecube controller).
There are a few new gameplay elements added to Super Smash Bros. Combat. Firstly, there is a new "boost" system, one for running and jumping. At the start of a dash, if you double tap, you perform a boost dash, which happens for a very short time which they leap forward a short distance at a very fast pace. Afterwards the player either continues running, or they can quickly perform a dash attack. With a boost jump, the player has to quickly crouch down before jumping up. This will make them rise higher in the air a short distance than a regular jump. This can't be done in the air.
In the air, air attacks can be directed as well. Forward and back specials can be tilted a bit upwards and down, whilst up and down air attacks can be tilted a bit left and right. As well, shielding can be done in air. Directional air dodges are still in the game but shielding replaces a neutral dodge. However, a long period of freefall happens after escaping a shield, like a regular dodge.
Roster
Super Smash Bros. Combat features a total of 93 characters in total, with 82 in the base roster and 11 as DLC. The game also features the return of Echo fighters from Super Smash Bros. Ultimate, which there are now 9 Echo fighters. The total newcomers, including Echo fighters, is 31, with 8 newcomers as DLC. Diffferent from Super Smash Bros. Ultimate is the unlocking mechanic; every newcomer is unlockable in the game and every returning character is in the starting roster. The three methods of unlocking characters are through Classic mode, fighting an amount of matches or unlocking through the adventure mode. Each character is announced before the games release and the full roster is revealed. This is the full character select screen.​​​​​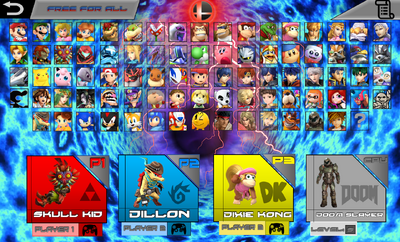 FULL LIST OF CHARACTERS:
MARIO
LUIGI
PEACH
DAISY (echo)
BOWSER
BOWSER JR
PIRANHA PLANT
KING BOO (new)
DONKEY KONG
FUNKEY KONG (new echo)
DIDDY KONG
KING K. ROOL
DIXIE KONG (new)
LINK
ZELDA
SHIEK
IMPA (new echo)
YOUNG LINK
GANONDORF
SKULL KID (new)
SAMUS
DARK SAMUS (echo)
ZERO SUIT SAMUS
RIDLEY
SYLUX (new)
YOSHI
KIRBY
META KNIGHT
KING DEDEDE
BANDANA DEE (new)
MARX (new)
FOX
FALCO
WOLF
ARWING (new)
PIKACHU
JIGGLYPUFF
MEWTWO
POKEMON TRAINER
INCINEROAR
EEVEE (new)
HO-OH AND LUGIA (new)
NESS
MARTH
ROY
CHROM (echo)
IKE
ROBIN
HECTOR (new)
LYN (new)
ICE CLIMBERS
MR GAME AND WATCH
PIT
PALUTENA
MEDUSA (new echo)
WARIO
WALUIGI (new)
OLIMAR
VILLAGER
ISABELLE
K.K. SLIDER (new)
SHULK 
REX AND PYRA/ MYTHRA (new)
DUCK HUNT
INKLING
OCTOLING (new echo)
SPRING MAN (new)
KARATE JOE (new)
DILLON (new)
LIP (new)
SONIC
SHADOW (new echo)
TAILS (new)
MEGA MAN
PROTO MAN (new)
RYU
KEN (echo)
CLOUD
CRASH BANDICOOT (new)
DOOM SLAYER(new)
SORA (new)
TINGLE (new) (free dlc)
LUCARIO (DLC pack 1)
LITTLE MAC (DLC pack 1)
CALLIE AND MARIE (new) (DLC pack 1)
HEIHACHI (new) (DLC pack 1)
MONSTER HUNTER (new) (DLC pack 1)
ROSALINA (DLC pack 2)
PAPER MARIO (new) (DLC pack 2)
LLOYD (new) (DLC pack 2)
SHOVEL KNIGHT (new) (DLC pack 2)
TRACER (new) (DLC pack 2)
Stages
The stages in Super Smash Bros. Combat are wide and unique from layout and design. There is a total of 101 stages in Super Smash Bros. Combat with 7 as DLC, releasing with the DLC packs. Battlefield and Omega forms of stages also return from Super Smash Bros. Ultimate and selecting series music also returns. This is the full stage secetion screen.
Modes
SMASH MODES
SMASH: SMASH Mode is similar to previous instalments in Super Smash Bros. Combat. There is classic Smash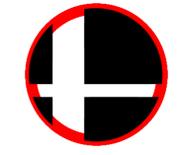 mode, where from 2 to 8 players pick a ruleset, a stage and a character and duke it out in a match against players or CPU's. The main types of smash battles return; Time, Stock and Stamina working the same as they do in Ultimate. But a new type of smash battles is added to Smash; Crown. In this mode, there is a set time of the match like Timed mode, but a crown spawns in the match. When a player gets the crown, it tallies the amount of time wearing it. When the time runs out, the person with the most time with the crown wins. Up to 8 players.
SQUAD STRIKE: Squad Strike returns from Super Smash Bros. Ultimate, being relatively the same. Players fight each other in a squad of fighters that they're controlling in three formats; Tag Team, Elimination or Best Of. In Super Smash Bros. Combat, Squad strike is no longer limited to a team of 3 or a team of 5, but the team number is decided by the player, from a range of 2 characters to 10 characters.
SPECIAL SMASH:
TURBO SMASH:
TRAINING:
GAMES MODES
CLASSIC MODE: Classic mode returns from previous Smash games and playing the same as Super Smash Bros. Ultimate.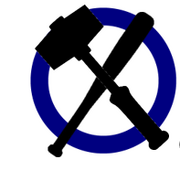 STADIUM:
STAGE BUILDER
ALL- STAR
SMASH RUN: 
SMASH DESTROY: Smash destroyer is a brand-new mode introduced in Super Smash Bros. Combat. The objective is simple; destroy everything around you. It is like Smash Run where you are against three opponents, CPU or players in splitscreen, where the most points you get from destroying things around you wins the game. There is a customisable time limit from 3 to 20 minutes. Each map has landmarks which can be destroyed, enemies around to distract you and items to help destroy the world, like bombs and laser guns. Like Smash Run, there are now more maps to explore now, with only minor changes from smash run's maps.  But most of the map can be destroyed, unlike Smash Run. The world changes the more you destroy, with the land becoming smaller. At the end of the game, the winner throws a MEGA bomb straight down onto the remaining stage, which explodes the entire stage.
BOSS RUSH:
MAPS (For Smash Run and Smash Destroy)
| | |
| --- | --- |
| | MUSHROOM KINGDOM |
| | HYRULE RUINS |
| | SAFFRON CITY |
| | SR- 388 |
| | DREAM LAND |
| | KONG ISLAND |
| | CASTLE BATTLEGROUND |
| | ALREST |
| | TOWN |
| | GREEN HILL |
| | WILY'S CASTLE |
| | SMASH WORLD |