This article covers all the items seen in Super Smash Bros. Calamity.
1-Up Mushroom

When a 1-Up Mushroom is touched, it will give the player an extra stock in Stock Matches and a point in Time Matches.
Assist Trophy

When an Assist Trophy is grabbed, the user will hold it above their head and summon a random character from it.
Back Shield

When a Back Shield is grabbed, it will appear from behind the user, protecting them from behind attacks and reflecting projectiles.
Banana Peel

When a Banana Peel is grabbed, characters can throw it forward, damaging and tripping opponents. When it doesn't touch an opponent, it will stay on the stage, tripping anyone, including the user if they touch it, disappearing after a short time.
Beam Rod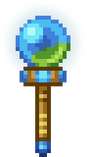 When a Beam Rod is grabbed, the user can fire electric shots from it, dealing low diagonal upwards knockback and electric damage. Can be charged by doing a smash attack with it in hand button to fire a larger shot. After firing up to eight times (the charged shot takes up two), it will not fire anymore.
Beam Sword

When a Beam Sword is grabbed, the user can slash forward with it, and can even do a charged slash if they do a smash attack with it in hand.
Beehive
When a Beehive is grabbed, it can be thrown at an opponent, releasing bees and attacking the opponent who gets hit by the beehive. If it doesn't hit anyone, then the bees will attack the user. The hive can be attacked, but you will be chased by bees afterwards, so do it if you dare. The bees have a one and a half second delay in between attacking, and when they do, it does small hitstun.
Beetle

When a Beetle is grabbed, it can be thrown, causing it to fly straight forward. If an opponent touches it, it will grab onto them and carry them to the upper blast line to K.O them. They can escape its grasp by mashing buttons, but after 50%, escaping is virtually impossible.
Blast Box

When a Blast Box is grabbed, it can be thrown to deal damage, and sometimes it will explode, dealing high damage and knockback. It can explode if attacked enough, and will instantly explode should it be hit with a flame attack.
Bob-omb

When a Bob-omb is grabbed, it can be thrown, and should it hit anything, it will explode, dealing high damage and knockback. After not being harmed, it will walk around for a few seconds before exploding. Instantly explodes when it is hit with a flame attack.
Bombchu
When a Bombchu is grabbed, it can be thrown. If it hits the floor, it will scurry around, exploding when it touches an opponent. It remotely detonates after scurrying around for eight seconds. If it touches an opponent while thrown, it will explode instantly.
Boo
When a Boo is touched, the player who touches it will be transparent for a few seconds, taking no damage, but still suffering knockback.
Boomerang

When a Boomerang is grabbed, throwing it will cause it to fly forward in a slight arc,returning back to the user. If it misses the user when returning, it will fly off-screen, never to return.
Boss Galaga
When a Boss Galaga is grabbed, it can be thrown. When thrown, it will do a few shuttle loops before eventually stopping above an opponent, and activates its tractor beam. Should the opponent touch the beam, they will be captured by Boss Galaga and taken up to the upper blast line to instantly K.O them, but they can escape by mashing buttons. Can be attacked to make it have a different color scheme, making it weaker and easier to escape, and attacking it again will cause it to be destroyed.
Bullet Bill

When a Bullet Bill is grabbed, the player will turn into a Bullet Bill and fly forward, dealing moderate knockback. The flight can be angled diagonally up or down.
Bunny Hood

When a Bunny Hood is grabbed, the player will wear it on their head and become faster and jump higher than normal. This lasts for twelve seconds, but the effects can wear off early if hit hard enough or K.Oed.
Bumper

When a Bumper is grabbed, the player can throw it. After thrown, it will stick onto the ground or suspend in midair. When touched, it will launch the opponent at a semi-spike trajectory if touched by the sides or below it or diagonally upwards if touched above it with high knockback and hitstun.
Cape Feather
When a Cape Feather is grabbed, the player gains a yellow cape, which allows them to do a spin attack with it, reflecting projectiles, and slow down their air descent.
Capsule

When a Capsule is grabbed, the player can throw it. After thrown, and it hits something, or after attacking it, it will either break open, revealing a random item (if it is turned on) or explode.