This subpage contains all the assist trophy characters in Super Smash Bros. Calamity.
Bold indicates an unlockable assist.
Andross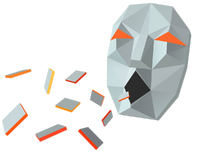 When Andross is spawned, he will appear in the background and spew tiles at the opponent. There is also another version of Andross seen in the Smash Arena, though this one takes his appearance in the final boss fight from the original Star Fox for the SNES.
Ashley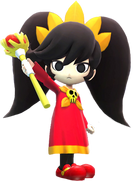 When Ashley is spawned, she will create a dark vortex which can either bury opponents or make them disappear for a few seconds and rapidly damages them every nanosecond by 1%. Also, while in the vortex, any food eaten inside will instead do damage than recover damage.
Barbara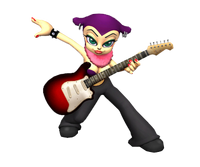 When Barbaba is spawned, she will play her guitar, sending out damaging soundwaves.
Bandit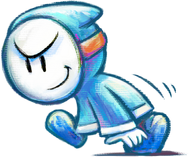 When Bandit is spawned, he will chase after the nearest player. Should he touch them, they will take damage and they will steal any item they have in hand.
Bass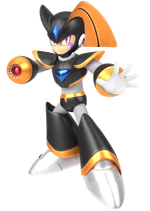 When Bass is spawned, he will walk around the stage, shooting with his Bass Buster. Sometimes he can charge up his shots and do a rising or somersault kick if he gets close to an opponent for heavy knockback. Bass can be launched and K.Oed like a regular player.
Boom Boom
When Boom Boom is spawned, he will spin around with his arms outstretched, dealing damage. He can be jumped on, so he can retreat into his shell and spin around for the remainder of the time he is out.
Chain Chomp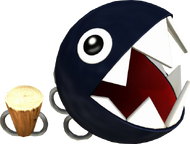 When Chain Chomp is spawned, it will appear on a stump on the ground. Occasionally it will lunge forward to attack opponents for moderate knockback. The stump can be attacked and if attacked enough, it will release the Chain Chomp, and it will dash forward.
Color TV-Game 15
When CT-G15 is spawned, two paddles appear and bat a ball back and forth. Fighters that touch the ball or paddles receive damage and are launched.
Chargin' Chuck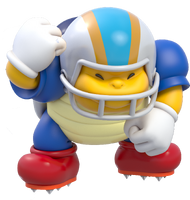 When Chargin' Chuck is spawned, he will start charging with his shoulder similar to Wario's Shoulder Bash. He can be jumped on to temporarily stun him and cause his helmet to fall off if stomped on the first time, though this makes him faster and stronger during his shoulder charge.
Dark Pit
When Dark Pit is spawned, he will say "It's time!" while flying around the stage. After a while, he will fire a piercing shot from his Dark Pit Staff, dealing high damage and knockback before launching them.
Dark Samus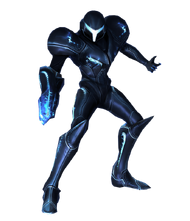 When Dark Samus is spawned, she will start attacking opponents with balls of Phazon energy. When they get close to her, she will create a Phazon barrier that deals high knockback. Dark Samus can be attacked and defeated.
Daroach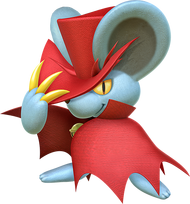 When Daroach is spawned, he will flies around the stage, using his ice specter to freeze enemies, drop bombs and use his Triple Star to fire damaging stars. Daroach can be attacked and defeated.
Devil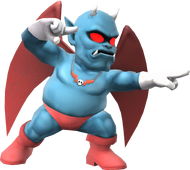 When Devil is spawned, he points in various directions, which then causes the screen to scroll in the opposite direction, effectively altering the offscreen boundaries of the stage.
Community content is available under
CC-BY-SA
unless otherwise noted.