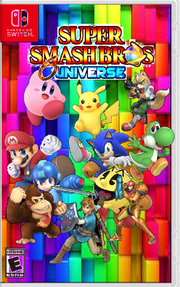 Originally created by AretonX, Super Smash Bros. 6 Universe is a large project built from the ground up and started by three die-hard Smash Bros. fans-made. Our goal is to create a Smash Bros. game packed with characters and stages from the most memorable video games of all time as well as create a Smash Bros. experience that combines the greatest features that all official Smash Bros. fangames and fan-made versions have to offer, Fantendo and more!
by AretonX
Languages - Japanese, English, Europe, and Korean Intro
(*)=Unlockable
Smash
Gervations

Squad Strike
Tourney
Special Gervations
Tag Team Gervations
Games & More
Adventure Mode
Classic Mode
Classic Mode Co-Op*
All-Star Mode*
Training
Target Smash
Board the Platforms
Multi-Man Smash
Crystal Smash
Home-Run Contest
Race to Finish*
Smash Run*
Boss Battles*
Mii Fighters
amiibo
Stage Builder
Challenger's Approach
Spirits
Spirits Board
Spirits Rush*
Spirits Shop
Spirits Launcher
DLC Spirits☆
Coin Launcher
Sounds
Replays
Records
Challenges
Shop
Chronicles
Masterpieces
Gervations
Spectate
Shared Content
Characters[4]
Alternate Costumes[6]
Adventure Mode[7]
It was confirmed that there would be a new adventure mode.
See World of Light 2 - Planet of the World Darkness.
Items, Assist Trophies and Pokémon[8]
See Items and Weapons.
See Assist Trophies.
See Pokémon.
Enemies and Bosses[9]
Final Smashes[10]
Event Matches[11]
Unlockables[12]
Music
Masterpieces and Chronicles[13]
See Masterpieces.
See Chronicles.
Community content is available under
CC-BY-SA
unless otherwise noted.