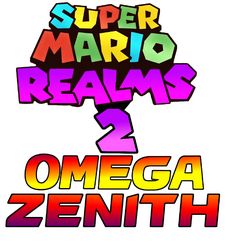 Logo by Bearjedi (t∣b∣c).
Super Mario Realms 2: Omega Zenith is a sidescrolling platformer and the sequel to Lone Planet's smash hit, Super Mario Realms. As the original game's goal was to liven up the 2D Mario formula, Omega Zenith takes that one step further and dives into even weirder and more obscure concepts. It is also the first Lone Planet title to be released on the Nintendo Polygon and Nintendo Push consoles developed by Step Ahead Studios in cooperation with Nintendo themselves.
Gameplay
Overall, gameplay of Super Mario Realms 2: Omega Zenith greatly resembles the previous game. The player must take control of a character and make their way through a wide variety of sidescrolling stages. There are multiple playable characters the player can choose from, each with their own different skills and abilities.
One new feature in Omega Zenith is the return of the Power Meter from Super Mario Bros. 3 and New Super Mario Bros. 2. To fill it up, the player's character must run without stopping. Once the meter is filled up all the way, the P Icon will flash, and the character will be able to run at maximum speed. A major change to the Power Meter's capabilities is that it now enhances abilities for any power-up, and not just the Raccoon/Tanooki forms like in previous games. For instance, filling up the Power Meter while using a Fire Flower will create a burning barrier in front of your character, allowing them to boost forward and defeat any enemies in their path.
In Omega Zenith, you do not need to go through the worlds in a specific order. You will be able to travel around a hub map and enter a Realm Gate to visit a world, like you can in Super Mario Land 2: Six Golden Coins; however, the bosses of these worlds must still be defeated to be able to access the final levels.
Story
A while after the destruction of the Realm Destroyer, Aqualea's right-hand man Blue Bowser finds the legendary Cosmic Hammer and uses it to break holes in the barrier between Mario's world and an alternate universe -- Aqualea's home dimension where she rules with an iron (and sassy) fist. Mario and co. must journey into this new realm and team up with its rebels, led by two teenage girls named Maria and Luise, to put a stop to Aqualea and Blue Bowser's plans. All the while, though, they must watch out for the Iwatasaurs, a group of prehistoric monsters that have been revived by Aqualea's minions.
Characters
Playable
Character
Description
Stats


Mario
Debut: Donkey Kong (1981)

---

Mario is always prepared for new journeys, and this one isn't any different. He's a bold, kind adventurer with a passion for pasta, and whatever the situation may be, he'll be heading out the door in no time at all.

---

Mario can use Triple Jumps to gain greater height.

Speed: 3/5
Jump: 3/5
Power: 3/5
Traction: 3/5
Swim: 3/5
Weight: 3/5


Maria
Debut: New Super Mario Bros. Omega (2011)

---

In a parallel dimension ruled by Aqualea, Maria is the leader of the rebellion. She's spunky and energetic, and upon meeting Mario, she starts competing with him for Princess Peach.

---

She can use a Maria Tornado attack to whip up enemies.

Speed: 4/5
Jump: 3/5
Power: 2/5
Traction: 3/5
Swim: 3/5
Weight: 3/5


Luigi
Debut: Mario Bros. (1983)

---

Luigi is the less popular of the Mario Bros., but he continues to put his best effort into his goals nonetheless. His experience with the supernatural has made him braver over the years... well, for the most part.

---

He can briefly use energy from an alternate dimension to teleport a short distance in the specified direction. This ability is known as a Negative Dash.

Speed: 3/5
Jump: 4/5
Power: 3/5
Traction: 2/5
Swim: 3/5
Weight: 3/5


Luise
Debut: New Super Mario Bros. Omega (2011)

---

Ironically, Luise is more popular than Maria, even though the latter is the resistance leader. She is actually somewhat wiser than her, and although she knows her sister is envious, she prefers to keep it to herself and not cause drama.

---

Luise uses a Green Missile attack to spin and home in on enemies. This move can also be used to speed past obstacles or escape bottomless pits.

Speed: 3/5
Jump: 3/5
Power: 4/5
Traction: 3/5
Swim: 2/5
Weight: 3/5


Toad

Debut: Super Mario Bros. (1985)

---

Toad may be a bit of a coward, but he has a strong history with the Mario Bros. and will take steps to defend his homeland as necessary.

---

Toad can perform Dream Jumps, which are the equivalent of Long Jumps from the 3D games, channeled through the Subcon dream energy flowing through him.

Speed: 5/5
Jump: 2/5
Power: 1/5
Traction: 1/5
Swim: 4/5
Weight: 1/5


Toadette

Debut: Mario Kart: Double Dash!! (2003)

---

Toadette may question the less-than-bold antics of her companion Toad, but they make a great team and she was more than willing to come along with him to the Omega Realm.

---

Toadette can use Toad's old Ground Pound from the first Realms game, letting her break through objects under her with ease.

Speed: 5/5
Jump: 3/5
Power: 1/5
Traction: 1/5
Swim: 3/5
Weight: 1/5


Peach

Debut: Super Mario Bros. (1985)

---

Peach is the kind, benevolent leader of the Mushroom Kingdom, and although she's dealt with a lot of kidnappings over the years, she's not the kind of princess who goes down without a fight.

---

Peach can float through the air if you hold the jump button after jumping.

Speed: 2/5
Jump: 4/5
Power: 3/5
Traction: 5/5
Swim: 2/5
Weight: 1/5


Wario

Debut: Super Mario Land 2: Six Golden Coins (1992)

---

Wario is a tough rival to Mario and can definitely put on a show with a real smackdown, although he lets his greediness get the best of him more often than not.

---

Wario can use a Dash Attack and burst straight through enemies and some blocks with his shoulder.

Speed: 1/5
Jump: 3/5
Power: 5/5
Traction: 4/5
Swim: 2/5
Weight: 5/5


Daisy

Debut: Super Mario Land (1989)

---

Daisy's the former princess of Sarasaland, which she has recently allowed to evolve into a republic now that she isn't feeling the position anymore. Now she's even more confident to kick her enemies to the stars!

---

Daisy can use a Double Jump.

Speed: 4/5
Jump: 5/5
Power: 2/5
Traction: 2/5
Swim: 4/5
Weight: 2/5


Waluigi

Debut: Mario Tennis (2000)

---

Waluigi likes to portray himself as a skilled sportsman, but he's not exactly willing to acknowledge that he frequently cheats. What exactly is he good at, anyway...?

---

Waluigi can use a gliding Aerial Swim maneuver to gain a decent horizontal distance in midair.

Speed: 3/5
Jump: 4/5
Power: 3/5
Traction: 1/5
Swim: 5/5
Weight: 3/5
Worlds
World 1
Grain Plains
In the heart of the Omega Realm's Plantain Kingdom, there lies a once thriving town that has faded into history ever since Aqualea took over. This world is a twist on traditional grass worlds in Mario games, combining the usual grass features with elements of ruins levels.
World 2
Cyclone Crater
A huge crater in the ground has trapped a tornado in its walls, with seemingly no way for it to get out. Since then, desert peoples have found a way to inhabit this windy area, using their strongest alloys to build extremely tough buildings for a civilization that stands its ground even as the tornado continues to swirl around it.
World 3
Dust Bunny Central
Once upon a time, there lived four giants -- Fiona, Fyrus, Fomold, and Fummika. They met on a mountain, built a house and lived happily ever after, with the house still standing tall to this day. People have set up towns and cities all around the giant house over the years.
World 4
Mealtime Mountain
Legend has it that Mealtime Mountain got its name from a wizard named Master Mealtime, who tried to create an infinite food supply so all of his followers could live more enjoyable lives. His wish has certainly come true -- in a way. Now, wildlife has evolved to match up with the wide variety of food found throughout the mountain.
Community content is available under
CC-BY-SA
unless otherwise noted.