This page is a production by yours truly, Puddle (t∣b∣c).
Please don't edit this page or any of its subpages without my permission - unless it's for something like grammar or organisation. If you want to contribute to the project, please ask me first! With that being said, enjoy the article!
Super Mario Quartz
Developer(s)
Button Studios, Nintendo EPD
Publisher(s)
Nintendo
Platform(s)
Nintendo Switch
Genre(s)
Platformer, Action-Adventure
Release Date(s)
November 26th 2018
November 26th 2018
November 26th 2018
December 2nd 2018
Super Mario Quartz is a 2018 3D Action-Adventure Platformer game for the Nintendo Switch, acting as a sequel to Super Mario Odyssey. Super Mario Quartz expands on Odyssey's gameplay, with a range of new features and increased difficulty. The story follows Mario, who is exploring many new kingdoms to stop Bowser from gathering the four Elemental Quartz. The game is much larger than Odyssey, with 18 Kingdoms and a total of 1202 Power Moons to collect.
Gameplay & Features
Super Mario Quartz is the sixth main-series 3D Super Mario game (excluding 3D Land, 3D World and remakes), and as such, Mario retains his move set from Super Mario Odyssey with some small tweaks. Mario can now freely perform a Spin in the same way as Super Mario Galaxy, and he can perform combos using certain moves after each other.
Minigames
One of the main new features in Super Mario Quartz is the inclusion of minigames, which can be unlocked through exploring in the story and later played from the main menu.
Mario Quartz Bros.
In every kingdom, the player can find and speak to NES Mario to initiate 2D stages in the style of Super Mario Bros. in a minigame called 'Mario Quartz Bros.'that replace the 2D segments from Super Mario Odyssey. In each kingdom, NES Mario offers 5 stages, each one more difficult than the previous, and by completing them, Mario can earn Power Moons.
Colosseum Siege
See full article: Super Mario Quartz/Colosseum Siege
Colosseum Siege is a combat minigame which is operated by Pauline. In the game, Mario must fight against waves of enemies, which increase in difficulty. Mario can win Power Moons from reaching higher waves.
Boohunter
Once King Boo is defeated in the Haunted Kingdom, Mario can speak to Gadd in the mansion to play the Boohunter game. In this mode, Mario and Gadd hunt for Boos, Peepas, Eeries and other ghosts in the haunted house to earn coins and Power Moons. Boolossus even makes an appearance as a boss in the later levels of the minigame.
Balloon World
Now that Luigi has joined Mario's side in collecting Power Moons, Bingo has taken over from Luigi's balloon game and rebranded it. Now, players have longer to hide balloons and they can set traps for other players that may be looking for their balloon.
Plot
Opening
Mario visits Peach and Tiara at Peach's Castle when suddenly, Bowser Jr. lands in the castle and steals Peach and Tiara. While Bowser Jr. transforms into Shadow Mario to make his getaway, Mario must chase him through the castle lobby and into the gardens. Bowser Jr. eventually gets away into his Koopa Clown Car, but just in time, Cappy shows up, having brought the Odyssey with him to follow Bowser Jr. and save Peach.
Mario and Cappy follow Bowser Jr. to the Zen Kingdom, and they notice that Bowser Jr. has gone inside the Stone Temple - the player must collect 12 Power Moons to enter the Temple of Serenity. When they enter, Bowser Jr. orders Pink Gold Peach to defeat Mario, while he gets away. However, Mario wins and, while both the Odyssey and Koopa Clown Car are in the air, snatches Peach from Bowser Jr. while he tries to get away. Peach and Tiara are saved, but Bowser Jr. fires a cannonball at the Odyssey and it crash lands in Genesis Park in the Techno Kingdom.
Act I - Chaos in the Kingdoms
Peach asks the locals for help - they accept, as long as Mario helps them figure out why some of the Cydroids have turned rogue. Mario explores Genesis Park and eventually finds Kamek, who tells him that he has stolen the Quartz Shard of Genesis Park, causing the Cydroids to malfunction. Mario chases Kamek around the Futuria Power Plant's exterior until he reaches the roof, where he has to fight Metal Mario by capturing a Thwomp and crushing him to earn a Multi Moon. From here, Mario can either go to the next kingdom (if he has obtained 30 Power Moons), or stay in the Techno Kingdom to find more Power Moons. When he attempts to leave, he will encounter Retro Mario, who teaches him about his minigame, Mario Quartz Bros. If he stays in the Techno Kingdom, he will find Kamek again and discover that he planted a hacking device in the power plant. Mario will then have to fight Blue Silver Luigi and destroy Kamek's hacking device to earn a Multi Moon.
The next kingdom Mario and Cappy go to is the Dust Kingdom, known as Sarasaland. When they arrive, a sinkhole appears in the sand, swallowing up the Odyssey with Peach and Tiara still inside. Cappy suggests going to the land's ruler for help, who turns out to be Princess Daisy. She tells Mario that sinkholes have been appearing all over Sarasaland and he should investigate. They go to the Petal Pyramids, where an enormous earthworm-like creature called Pymaw appears out of the ground, terrorising the local Shy Guys. Later, when Mario is exploring the Crystal Springs, one of Pymaw's sinkholes appears, sucking Mario into the ground. He wakes up in the underground Sarasaland Ruins, exploring for a while until he finds the Odyssey on an island in a lava lake. While he tries to find a way across, the ground beneath him collapses and he must fight Pymaw, which is done by capturing a Swoop and breaking the stalactites on the cave ceiling. When this is done three times, Mario earns a Power Moon and he and the Odyssey rise to the surface, where, with an extra 20 Power Moons, the Odyssey can depart for the Cave Kingdom.
The Odyssey (somehow) lands in the Cave Kingdom. Here, Mario and Cappy meet Bowser Jr., who tells them that he has gone to the caves to find an elemental Lightning Gem that his father has asked him to find. Mario must quickly find the Lightning Quartz in the cave before Bowser Jr. does. When Mario finds it, Bowser Jr. quickly steals it from him, trapping him in the chamber while the lava in the lake begins to rise. Once he escapes, Mario needs to find Bowser Jr., who is preparing to exit the caves from his Koopa Clown Car's drill. Suddenly, Gemsect, a giant crystal insect, appears, angry that someone moved the Lightning Quartz. He targets Mario while Bowser Jr. escapes and a fight ensues. Despite the fact that Mario defeats Gemsect by capturing Snifits and shooting at it, earning a Multi Moon in the process, Bowser Jr.'s escape route is unfollowable, so they must find clues to his location in other kingdoms. If Mario collects 10 more Power Moons, he can leave the Cave Kingdom and go to the next Kingdom, the Olympus Kingdom.
Here, Peach suggests that Mario visits Morava Colosseum to find out about the Elemental Quartz. At the entrance, he meets Pauline, who promises to tell him about the Elemental Quartz if he can defeat five enemy waves in the Colosseum. When this is completed, Mario will unlock a minigame, Colosseum Siege. Additionally, Pauline will reveal that she possesses and guards the Fire Quartz, telling him that the Water Quartz is guarded in the Abyss Kingdom. With 8 Power Moons, Mario can depart for the Abyss Kingdom.
Here, the Odyssey lands on a small island on the ocean surface, Cappy reveals that the Odyssey can transform into a submarine, which the group use to reach the Deepest Trench in the Abyss Kingdom. At the deepest point, Mario leaves the Odyssey and enters an enormous underwater chamber, where Bowser and Bowser Jr. are seen with the Water Quartz. Here, Bowser gives details on his plans to destroy the world with the Four Elemental Quartz which Bowser Jr. is gathering for him. He and Bowser Jr. enter their Koopa Submersible to watch as Mario faces off against Blooplantis, an enormous kraken-like Blooper boss. Mario goes to steal the Quartz back from Bowser, but before he can do anything, Bowser uses the power of the two Quartz he has to create a vortex which consumes Mario, warping him to another location.
Act II - Collecting Quartz
He wakes up on a sinking island in the middle of a toxic lake in the Rainforest Kingdom. With Cappy's help, he escapes the poisonous waterfall and finds a rainforest village, led by Chief Ukiki. He tells Mario about Jungle Wilds and how their jungle is being covered in poisonous sludge thanks to a monster. Mario must navigate a rainforest maze and temple of poison to reach another poison lake, where he faces off against Sludgemire, the monster that covered the jungle in poison. When it is defeated, the poison is cleared away and Mario can go to the Odyssey which had landed at the top of the hillside.
The next stop on their journey is the Cliff Kingdom, specifically Wario's Island. When the Odyssey lands there, Peach notices that boulders are tumbling down the mountain, threating the coastal village. Wario refuses to let Mario help him, but when Baron Boulder, the creature that took over the island, captures him, Mario has no choice but to climb the rest of the mountain and save Wario. Wario eventually thanks Mario and tells him that the Earth Quartz is located within the Terra Fortress in Quarre Valley. With enough Power Moons, the Odyssey can go off to Quarre Valley.
Mario explores Quarre Valley, which turns out to be a swamp of nuclear waste. He finds the Terra Fortress and solves puzzles to reach to top floor. However, there is no Earth Quartz and Cappy concludes that Wario lied to them. Suddenly, Kamek appears, filling the room with enemies before getting away. In pursuit of Kamek, Mario runs across a collapsing bridge over a lake of acid, and corners him in a cave tunnel. When Kamek finally fights back, Mario can defeat him by capturing the Toxic Chomps that he summons and shooting sludge. Peach suggests they search for the Earth Quartz at Chamera, a large ravine in the Canyon Kingdom.
There, Mario must navigate across the ravine, through difficult platforming challenges. After many difficult jumps and close encounters with enemies, Cappy notices a dungeon at the bottom of the canyon. They go inside and discover Waluigi inside, searching for the Earth Quartz. When Mario finds the Earth Quartz, Waluigi leaves in defeat, but he is captured by Bowser Jr., who thought that Waluigi had the Quartz. He then notices Mario, who has the Quartz, and summons Piranhazilla, an enormous dinosaur-piranha plant hybrid to steal the Quartz from Mario. However, this fails because Mario defeats the monster by capturing Bullet Bills. Giving the Quartz to Peach to look after, Mario goes back to the Odyssey to follow Bowser Jr. to the Steel Kingdom.
Act III - Bowser's Ultimate Weapon
In pursuit of Bowser Jr., Mario is confront by Three Shadow Marios. He must defeat all three by capturing Sherms to discover that Bowser Jr. has created hundreds of Shadow Mario clones to stall Mario while he returns to Bowser. If Mario can make it through the abandoned trainyard and factory, he will face off against Bowser Jr. in the factory's fire room. By capturing Mechakoopas and setting Bowser Jr's clown car on fire, Bowser Jr will be easily defeated, yielding a Multi Moon. In order to reach Bowser, Mario must go through the Haunted Kingdom and Volcano Kingdom to collect enough Power Moons.
Firstly, Mario stops off at the Haunted Kingdom. However, Cappy is stolen by a Boo, who disappears off into a haunted house, which is unlocked. When the key is found, Mario needs to navigate the haunted house with only his own jumping skills. He can use Light Boxes to repel Boos and other ghost enemies. During his exploration, he hears a voice cheering him on, telling him the locations of keys. When he finds four keys around the house, he can enter the Attic, where King Boo awaits, holding Cappy with E. Gadd trapped in a painting behind him. To defeat King Boo, Mario must surround him with Light Boxes and slowly burn him with the light. King Boo drops a Multi Moon, regains Cappy and E. Gadd is released from the painting, thanking Mario. He offers to play his game, Boohunter, with him. Alternativelym Mario can go to explore the rest of Spookstown. If he collects 20 more Power Moons, he can board the Odyssey and go to the Volcano Kingdom.
Mt. Hailfire is in the midst of a blizzard, so Mario must navigate the volcanic lava caves for now. Here, he is attacked by Iceburn, a fiery ice spirit, who knocks him down into the magma chamber. Here, Mario must quickly climb up the volcano as the magma rises, leading to a spectacular eruption during the blizzard. Iceburn appears again, trapping Mario underneath an avalanche. He lands in some ice caves, and meets with Pauline, who has the Fire Quartz and wants to hide it deep within the volcano. However, the caves begin to fill with lava from the eruption. Eventually Mario and Pauline escape and face off against Iceburn. To defeat him, he must use both Lava Bubbles and Ice Bubbles to attack his icy and fiery halves respectively. Iceburn drops a Mutli Moon upon defeat and the residents of Mt. Hailfire thank Mario and Pauline for saving them from him.
However, Tiara runs out of the Odyssey, panicked, stating that Bowser Jr. appeared and stole Peach, as well as the Earth Quartz. Mario, Cappy, Tiara and Pauline quickly head towards Bowser Jr's Kingdom, only to be caught in a thunderstorm conjured by Kamek. Mario falls onto a thundercloud, now in the Storm Kingdom, and must fight Skydra, a large storm dragon created by Kamek. Mario can defeat Skydra by avoiding its attacks and waiting for it to wear itself out. Then, he can capture a Ty-Foo and blow away the dragon, before re-boarding the Odyssey in pursuit of Bowser Jr. and Kamek.
They arrive in Bowser Jr's Kingdom, which is an enormous Bowser-themed amusement park. Very difficult challenges await Mario as he navigates through swarms of enemies, lava, toxic sludge and an underground water tunnel. Ultimately, he has to climb up a giant robotic Bowser statue. At the top, Kamek and Bowser Jr. team up to fight Mario. By attacking Kamek, Mario can remove his hat and capture him to attack Bowser Jr. with Kamek's magic. When Kamek and Bowser Jr are defeated, Mario climbs aboard Bowser's airship, where he faces off against him in an epic showdown. Midway through the battle, Metal Mario, Blue Silver Luigi and Pink Gold Peach show up to construct Bowser's ultimate weapon, after they kidnapped Pauline from the Odyssey and stole her Fire Quartz.
Mario defeats Bowser but it is too late as the weapon has been fully charged. The only way to avert a disaster is to carry the device into space. Cappy and Tiara come to Mario's aid, both lifting up the small, but heavy, weapon, and carrying in upwards. Mario tries to stop Cappy from sacrificing himself, but Peach assures Mario that Cappy's sacrifice will save the world. They view as the ultimate weapon explodes in space, creating a brilliant display of fireworks. Pauline and Peach tell Mario that the world is saved, and he can go back to Peach's Castle to rest. (credits roll)
Act IV - A Ray of Hope (Postgame)
To cheer up Mario, Peach decides to take him to a familiar place. As the Odyssey rises into space, Mario notices a familiar space station in the distance - the Comet Observatory. Here, Mario and Peach are greeted by Rosalina, Mario can bring Cappy and Tiara back to life if he goes to the Sun Shrine, which is further away in the Space Kingdom. Grabbing a Red Star, Mario can fly into space and make his way to the Sun Shrine, a series of ruins on a lava planet. Here, he discovers that the Sun Shrine must be activated with 10 Kingdom Stones. Mario must go back to several kingdom to obtain the stones, catching up with the characters that give them to him:
Techno Stone (from a Cydroid in Genesis Park)
Dust Stone (from Princess Daisy)
Cave Stone (from Dorrie)
Olympus Stone (from Pauline)
Rainforest Stone (from Chief Ukiki)
Cliff Stone (from Wario)
Canyon Stone (from Waluigi)
Haunted Stone (from Professor E. Gadd)
Evil Stone (from Kamek in Bowser Jr's Kingdom)
Space Stone (from Lubba, found in the Space Kingdom)
With the stones placed together at the shrine, a blinding light appears and Cappy and Tiara appear from it. Peach, Rosalina and Polari come to see Cappy and Tiara brought back to life. Tiara happily rejoices around Peach, while Cappy goes back on Mario's head for more adventures. Polari tells Mario that with 700 Power Moons, he can go to a new kingdom. Rosalina also informs him that the Sunshine Kingdom is now accessible, where Mario can explore Delfino Plaza.
When 500 Power Moons are collected, Mario can visit Solar Flare Wilds, a boss gauntlet where Mario rematches against all of the bosses he has fought up to this point in one long challenge. After defeating Bowser at the end, he is rewarded with a Power Moon. However, he will need to collect a grand total of 1201 Power Moons in order to access the Fire Sea, an insanely difficult final challenge at Solar Flare Wilds. Upon completing this, the player receives a "Congratulations" image with all of the main cast present in the photo.
Characters
Super Mario Quartz focuses on including Mario characters that are exclusive to spin-off titles to give them more importance as characters. For example, many minor characters will make their first appearances in a main series Mario game. There are several new characters as well as characters returning from Odyssey and other 3D titles.
Playable
| Character | Image | In-Game Bio |
| --- | --- | --- |
| Mario | | Mario is the hero that everyone's come to know and love! With a new and improve move set, Mario can now perform extra tricks such as the Spin, as well as combos such as the Twirling Wall Kick, Cannonball and Hyper Backflip. He can also use Cappy to capture enemies and perform additional jumps and dives. In Multiplayer, Player 1 controls Mario. |
| Cappy | | Cappy the Bonneter is back to help Mario in his adventure to save Peach, and later defeat Bowser! Cappy is now even more useful, being able to travel further distances, although his main ability is to capture foes to allow Mario to gain their powers. In Mulitplayer, Player 2 controls Cappy. |
| Luigi | | Once you complete the game, Luigi joins Mario in recovering the remaining Power Moons, teaming up with Cappy. Luigi has higher jumps than Mario but is generally slower. In the postgame, Luigi can play with Mario in multiplayer, with Player 2 playing as Luigi, who has a clone of Cappy. |
Supporting
| | | | |
| --- | --- | --- | --- |
| Character | Image | In-Game Bio | Role |
| Princess Peach | | Peach was kidnapped by Bowser Jr. at the start of the game, but after being saved by Mario quickly after, she decided to help Mario by piloting the Odyssey with help from Tiara. She is kidnapped again before Mario visits the final kingdom. | Pilots the Odyssey. |
| Tiara | | Tiara appears alongside Peach once again, being kidnapped by Bowser Jr. at the start of the game. She helps Peach pilot the Odyssey and also manages Mario's costumes. | Pilots the Odyssey and manages costumes. |
| NES Mario | | NES Mario can be found in every kingdom after completing the kingdom's main quest. When you speak to him, you can play 2D Mario levels to earn more Power Moons! | Manages the 'Mario Quartz Bros.' minigame. |
| Captain Toad | | Captain Toad is present in every kingdom (except Solar Flare Wilds) in a remote location, rewarding Mario with a Power Moon when he arrives. | Gives Mario Power Moons. |
| Princess Daisy | | Princess Daisy is the ruler of Sarasaland who asks for Mario's help when sinkholes begin appearing across her kingdom. | Ruler of Sarasaland (Dust Kingdom) |
| Dorrie | | Dorrie lives in a deep underground lake, swimming serenely around the islands in the lake. He will offer Mario a ride in his back around the lake. | Lives in Calamity Caves. |
| Pauline | | Pauline, retired from her mayor occupation, now owns Morava Colosseum. She also helps Mario later in the game to protect the Fire Quartz from Bowser and Iceburn. | Helps Mario find the Elemental Quartz. Runs the 'Colosseum Siege' minigame. |
| Chief Ukiki | N/A | The Ukiki Chief helps Mario after he appears in Jungle Wilds, and asks for his help in return to get rid of the toxic sludge covering the Ukikis' once beautiful rainforest. | Ruler of Jungle Wilds (Rainforest Kingdom). |
| Wario | | Wario spends his days on his own private island in the Cliff Kingdom. However, things go pear-shaped when one of Bowser's minions takes over the island, capturing Wario and threatening the livelihood of the garlic-like creatures that live there. | Ruler of Wario's Island (Cliff Kingdom). |
| Waluigi | | Waluigi went to Chamera to find the Earth Quartz, but in his effort, was stopped by Mario, and captured by Bowser Jr and his pet monster, Piranhazilla. After he is freed by Mario, he spends time exploring int he Canyon Kingdom. | Lives in Chamera. |
| Professor E. Gadd | | In the Haunted Kingdom's haunted mansion, Professor Elvin Gadd researches and hunts ghosts, appearing there after Mario frees him from a painting after defeating King Boo. Mario can earn many Power Moons hunting ghosts with him. | Manages the 'Boohunter' minigame. |
| Rosalina | | In the postgame, Rosalina helps Mario achieve his wish of bringing back Cappy. She lives at the Comet Observatory with Polari and helps Mario by giving him hints to Power Moons that he has missed in other Kingdoms. | Lives in the Space Kingdom. |
| Lubba | | Lubba can be found in the Space Kingdom, on a spaceship known to many as Starship Mario. Here, he will give the player a Power Moon and reveal that he has hidden 5 Moon Shards around the Starship for Mario to find. | Lives in the Space Kingdom. |
| Bingo | | Bingo runs the minigame, 'Bingo's Balloon World', replacing Luigi's role from Super Mario Odyssey, after Mario defeats Bowser. Bingo has added some extra features to Balloon World to make it more fun for all! | Manages the 'Balloon World' minigame. |
Locals
In most of the larger kingdoms, there are a local species that make up most of the kingdom's population. These characters will appear prominently throughout the world, with roles such as managing that kingdom's Crazy Cap store, or Time Challenges.
Antagonists/Bosses
In each kingdom, Mario will have to fight a boss in order to complete the main quest of that kingdom. Additionally, each kingdom will have a 'secret boss', which are returning bosses from other Mario games that can be fought after Bowser is defeated.
Villain
Image
In-Game Bio
Fought at...
Bowser

Bowser is back at it again with his evil plots! This time, he wants to destroy Earth to create his own planet where he can live out a life of luxury with his son. He intends to do this by creating a superweapon out of the four elemental quartz - the Lightning Quartz, Water Quartz, Earth Quartz and Fire Quartz.
TBA
Bowser Jr.

Bowser Jr. returns to help his dad, carrying out his dirty work. Bowser Jr. unsuccessfully kidnaps Peach, but spends his time setting up disasters in kingdoms for Mario to deal with while he helps Bowser, and collecting elemental quartz for him.
TBA
Kamek

Under Bowser's orders, Kamek helps Bowser Jr. create chaos in the different kingdoms.
TBA
Pink Gold Peach

Pink Gold Peach was hired by Bowser Jr. to distract Mario and Cappy while he got away with Peach. Unfortunately for Bowser Jr, Pink Gold Peach as defeated and his plan was foiled.
Sakura Falls - Stone Temple Sanctum
Metal Mario

Metal Mario was created by Kamek to defeat Mario, using the same moves as him, yet more powerful. Metal Mario's weakness is that he doesn't have Cappy's powers, which means Mario can defeat him by capturing a Thwomp and crushing him.
Genesis Park - Observation Area
Blue Silver Luigi

Just like Metal Mario, Kamek created Blue Silver Luigi to kill Mario, as a more powerful version of Luigi with extremely high jumps and high speed. Mario and Cappy defeat him by capturing Thwomps and crushing him three times.
[Optional]
Genesis Park - Quartz Power Reactor
Pymaw

Pymaw appears in Sarasaland, where he creates many sinkholes across the kingdom so he can eat anything that falls down into his cave. Mario and Cappy defeat him by capturing Swoops and destroying the stalactites in his cave.
Sarasaland - Sarasaland Ruins
Gemsect

Gemsect lived peacefully in Calamity Caverns, guarding the powerful Lightning Quartz. However, when Bowser Jr. stole it, Gemsect mistakenly attacked Mario.
Calamity Caverns - Deepest Chamber
Blooplantis

Blooplantis is a giant creature that lives in the Deepest Trench, summoned by Bowser to defeat Mario. However, Mario can defeat it fairly easily by ramming into its tentacles with a Cheep Cheep, then ramming into its eyeball with an Urchin.
Deepest Trench
Enemies
All enemies can appear in Colosseum Siege. Enemies from later levels in the game will appear in later waves.
Enemy
Image
Description
Locations
Goomba

The original Mario enemy, the Goomba, can be defeated by simply jumping on it. Goombas can be captured but they have little function other than being able to sneak past other Goombas unnoticed.
Sakura Falls
Volcano Lotus

Returning from Super Mario World, Volcano Lotuses can only be defeated by crushing them with thrown rocks. They can shoot fire upwards and create small pools of lava from the fireballs.
Sakura Falls
Porcu Puffer

Porcu Puffers swim in rivers and lakes, jumping out of the water when Mario gets close. You can capture one to swim quickly through water, even against a current.
Sakura Falls
Piranha Plant

Piranha Plants cannot be captured but are easily defeated by throwing Cappy, spinning or jumping on them.
Sakura Falls
Klepto

When Mario returns to Sakura Falls after completing Genesis Park, a Klepto will steal Cappy and Mario must go to the top of the temple to retrieve him, earning a Power Moon.
Sakura Falls
Pebble Goomba

Pebble Goombas are rock-like Goombas that are immune to being stomped on. To defeat one, Mario needs to knock it into water.
Sakura Falls
Bloombox

The Bloombox appears in flowery areas and they can attack Mario from a range using sound waves. If you want to defeat one, Cappy should be used since they cannot be approached without taking damage.
Sakura Falls
Malfunctioned Cydroid

Many of the Cydroids have malfunctioned due a hacking device that Kamek planeted at the core of the Futuria Power Plant in the Techno Kingdom. They attack Mario with laser beams and require a ground pound to defeat.
Genesis Park
Fuzzy

Fuzzies are invincible enemies that can be found along Power Lines, damaging Mario if he touches them.
Genesis Park
Cheep Cheep

Cheep Cheeps live in water bodies and they can be captured by Mario, allowing him to freely swim underwater.
Genesis Park
Deepest Trench
Thwomp

Thwomps return to the main series, being capturable by Mario. When he captures one, he can crush blocks beneath him. Unlike in other 3D Mario games, Mario will take damage from making contact with Thwomps.
Genesis Park
Calamity Caverns
Gao

Gao will shoot fireballs at Mario from a distance until he gets close, when they will charge at him. If captured, Mario can shoot fire balls and run around at high speeds, like riding Jaxi.
Sarasaland
Angry Sun

The Angry Sun will wait in the sky until Mario gets close, when it will swoop down to attack. They cannot be defeated.
Sarasaland
Pokey

Mario can capture Pokeys and stack them on top of each other to reach tall heights.
Sarasaland
Swoop

Swoops make their first appearance in a 3D game since Super Mario 64. They swoop down from cave ceilings to attack Mario. If he successfully captures one with Cappy, he can flap his wings to fly.
Sarasaland
Calamity Caves
Superballer

Superballers are humanoid enemies that fire bouncing balls at Mario, which bounce off all surfaces. Mario can capture one to gain their Superball-shooting powers.
Sarasaland
Snifit

Snifits dwell in the depths of Calamity Caverns. If Mario captures one, he can shoot metal bullets, and also gain immunity from the poisonous gas in the caves.
Calamity Caverns
Buzzy Beetle

In cave areas, Mario can step on a Buzzy Beetle to transform it into a shell that will bounce around off surfaces.
Calamity Caverns
Gravel Goomba

Gravel Goombas are stronger versions of Pebble Goombas, that charge at Mario with their spiked heads. To defeat one, knock it into lava.
Calamity Caverns
Gem Larva

Gem Larvae attack Mario by shooting a shower of crystals at him. By capturing one, the player can shake the controller to shoot sharp crystals around.
Calamity Caverns
Lava Bubble

Lava Bubbles can be captured by Mario to swim through lava. Before being captured, they can damage Mario by jumping at him.
Calamity Caverns
Marbletail
N/A
Marbletails are large dragon enemies that attack Mario with their poisonous smoke breath, appearing to attack Mario every five waves in the Colosseum Siege.
Morava Colosseum
Deep Cheep

Deep Cheeps will follow Mario, unlike Cheep Cheeps. They can still be captured and they are much faster than regular Cheep Cheeps.
Deepest Trench
Octokeni

Octopus creatures that have mind control powers. If Mario gets too close to one, he will become less responsive to the player's controls, take damage and eventually lose a life.
Deepest Trench
Urchin

Urchins can be captured by Mario, allowing him to bounce through the water and damage other enemies with the Urchin's spikes.
Deepest Trench
Wiggler

Wigglers wander around in set paths, becoming angry and chasing Mario if he steps on them. They can be captured, which allows Mario to climb up vertical surfaces.
Jungle Wilds
Flutter

Flutters are flying Wigglers that will lose their wings and turn into angry Wigglers when attacked. They cannot be captured, and if Mario tries to catch one, it will simply turn into a Wiggler.
Jungle Wilds
Trapeetle

These evil creatures will follow Mario through the rainforest, trying to harm him. If he throws Cappy at one, it will become a time bomb as it tries to pull him back.
Jungle Wilds
Cataquack

Cataquacks cannot harm Mario, but they will prove to be annoying as the follow him and try to fling him into the air. He can use Cataquacks to his advantage to launch himself and other objects into the sky.
Wario's Island
Monty Mole

Sometimes, Mario will be ambushed by a Monty Mole which jumps out of the surrounding rocks. They can't be captured but they are easily defeated using Cappy or a stomp attack.
Wario's Island
Brolder

Indestructible, Brolders roll down slopes aimlessly, crushing anything in their paths. They are more like obstacles than actual enemies since they cannot be defeated or captured, nor do they target Mario.
Wario's Island
Hammer Bro.

Hammer Bros. will jump around, throwing hammers at Mario, and just like in Super Mario Odyssey, he is able to capture one by first knocking off their helmets. Then he will gain the ability to throw hammers.
Wario's Island
Chukya

Inhabiting high-altitude locations, Chukyas attempt to throw Mario down from where they are, severely hindering his progress. You can defeat one using another enemy's capture powers, such as a Hammer Bro.'s hammer attack.
Wario's Island
Dry Bones

Mario is able to stop the attacks of a Dry Bones by jumping on them, however this will only work temporarily until they resurrect themselves. The best way to permanently defeat one is to knock the skull down a pit while they are unconscious.
Quarre Valley
Rocky Wrench

When Mario gets nearby, these foes will pop out of the ground and throw wrenches at him. If he stomps on one to remove their metal helmets, he can capture them to throw wrenches himself.
Chamera
Monty Tank

Monty Tanks are tough foes that attack Mario by throwing wrenches and launching Bullet Bills. Only three of these powerful enemies can be found in the entire game: two in the Canyon Kingdom, and one in the Fire Sea, the final level.
Chamera
Boomerang Bro.

Like their Hammer Bro. relatives, Boomerang Bros. jump around while throwing their weapons at Mario. Boomerang Bros. can also be captured, which allows Mario to throw a Boomerang, which is useful to wipe out large groups of enemies.
Rustdust Factory
Mechakoopa

In the boss fight(s) against Bowser Jr., he will occasionally drop Mechakoopas out of his clown car. Once stomped on, they turn into explosives and a timer begins, which is the key to defeating Bowser Jr.
Rustdust Factory
Boo

Boos return to the 3D Mario series, where Mario now has the ability to capture them, gaining an ability similar to that of the Boo Mushroom where he can levitate and turn invisible.
Spookstown
Peepa

Unlike Boos, Peepas cannot be captured and they do not chase Mario, instead wandering around in circles or paths.
Spookstown
Crowber

Another capturable enemy, Crowbers fly around the sky, occasionally swooping down to attack Mario. They are possible to be captured, giving Mario temporary flight.
Spookstown
Kingdoms
Once the player repairs the Odyssey after completing the main quest in the Techno Kingdom, they can access the world map and visit the different kingdoms of the world. The world map has many Power Moon Gates, which require a certain number of Power Moons to pass through. For example, once Genesis Park is cleared, 30 Moons are needed to go to the Dust Kingdom. After that, 50 Moons are needed to reach the Cave Kingdom.
In total there are 18 Kingdoms in Super Mario Quartz. 4 of these are post-game exclusive.
Kingdom
Location
Description
Main Boss
Power Moons
Purple Coins
Zen Kingdom
Sakura Falls
Sakura Falls is located in a peaceful valley, and it is a popular site due to the soothing nature of the crystal-clear flowing water, the cherry blossom trees swaying in the breeze and the zen gardens that are used for meditation. Sakura Falls' most famous attraction is the Stone Temple, an ancient construction built to honour a sacred warrior.
Pink Gold Peach

50
100
Techno Kingdom
Genesis Park
Supposedly warped from the future, Genesis Park is a futuristic park with a Power Plant that was in fact built many years ago, and no one knows how such futuristic structures were made. The Cydroids that live here are robotic creations made by an unknown inventor, but they are very welcoming and co-operative.
Metal Mario

75
100
Dust Kingdom
Sarasaland
Most of Sarasaland is sun-bleached desert. However, the north quarter of the desert is dry grassland where Daisy's Castle and several other important sites are located. Within the desert, there are several important sites such as Easton Ruins, but watch out for enemies such as Gao and Angry Sun!
Pymaw

100
100
Cave Kingdom
Calamity Caverns
An abandoned mine located deep beneath the Earth's surface. There are four cave chambers - one of these is filled with water, and the deepest one is filled with lava. The walls of the cave are lined with colourful reflective gems, and Mario can use many small tunnels as shortcuts between the cave chambers.
Gemsect

50
50
Olympus Kingdom
Morava Colossem
An ancient island in the sky, Morava Colosseum is an ancient construction that works as an arena and a museum, owned by Pauline. The main feature of the Kingdom is the Colosseum Siege minigame where Mario fights against enemies in waves.
None

50
50
Abyss Kingdom
Deepest Trench
An extremely deep underwater trench, lined with volcanic vents, algae, coral and shelled crustaceans. There are several tunnels in the trench walls where Bowser creates his plans and schemes.
Blooplantis

15
0
Rainforest Kingdom
Jungle Wilds
A remote rainforest land, dotted with ancient ruins, tribes, enormous trees, waterfalls and poisonous lakes. Many creatures live in this kingdom, many threatening to Mario.
Sludgemire

100
100
Cliff Kingdom
Wario's Island
After making a fortune in the microgame industry, Wario purchased his own island where a population of garlic-like elves live. The island features some sandy beaches and a tall rocky mountain.
Baron Boulder

50
50
Nuclear Kingdom
Quarre Valley
This once beautiful valley became a toxic waste dump site, and ever since, the environment has become less and less forgiving. There are many destroyed buildings and lakes of acid.
Kamek

50
75
Canyon Kingdom
Chamera
Chamera is a canyon of wonders, with tar pits, dinosaur fossils, mud volcanoes and dungeons, there are many sites for toursits to visit, as long as they keep away from the Bullet Bills and Rocky Wrenches.
Piranhazilla

100
100
Steel Kingdom
Rustdust Factory
An abandoned factory depot, with a trainyard outside. Bowser Jr. spends most of his time here, creating Shadow Mario clones to help with his dad's plots.
Bowser Jr.

35
50
Haunted Kingdom
Spookstown
Spookstown is located on a remote island, where it is permanently night time. Mario can explore the hillside, beach, ghost ship and haunted mansion after he saves Cappy and E. Gadd from the maniacal King Boo.
King Boo

100
100
Volcano Kingdom
Mt. Hailfire
The summit of Mount Hailfire is a deadly mix of hot and cold. There many caves, both freezing ice tunnels and scorching volcanic chasms. The local Flareflakes live in fear of an eruption melting all of the ice and creating a flood.
Iceburn

75
100
Storm Kingdom
The Thunderdome
In the middle of a thunderstorm lies a small arena, where Mario faces off against Skydra, a dragon of lightning and storms. There are several other thunderclouds for Mario to explore.
Skydra

15
0
Bowser Jr's Kingdom
Bowser Jr's Koopa Park
For this game, Bowser Jr's base is in his giant amusement park, built by his father's henchmen. He operates with his father from the top of a giant Bowser statue.
Bowser Jr. & Kamek
Bowser

75
100
Space Kingdom
Mushroom Galaxy
After defeating Bowser, Mario can explore the Mushroom Galaxy. The main locations are the Sun, the Comet Observatory and Starship Mario. The kingdom is full of references to the Super Mario Galaxy games.
None

100
100
Sunshine Kingdom
Delfino Plaza
After reviving Cappy, Delfino Plaza becomes open for exploration. Here, Mario can go to the Shine Gate where Toadette will give him Power Moons based on achievements he has completed during his adventure.
Gooper Blooper

150
100
Solar Flare Kingdom
Solar Flare Wilds
Two final challenges await Mario and Cappy on the sun's surface. Solar Flare Wilds is a boss gauntlet where Mario fights almost every boss in the game again. When he has collected 1201 Power Moons he can go to the Fire Sea, an insanely difficult final level.
Pink Gold Peach
Metal Mario & Blue Silver Luigi
Pymaw
Gemsect
Blooplantis
Sludgemire
Baron Boulder
Kamek & Bowser Jr.
Piranhazilla
King Boo
Iceburn
Skydra
Dry Bowser

2
0
Brochures
Gallery
Trivia
This game features almost all recurring characters in the Mario franchise, with several main exceptions. Most notably, Yoshi and Donkey Kong make no appearance whatsoever.
Unused game files suggest that the Crazee Dayzee was originally intended to be an enemy in the Zen Kingdom.
References to Other Games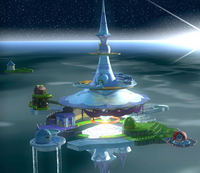 Mario Bros. (1983) - A fossilised Sidestepper from this game appears in the museum in the Olympus Kingdom.
Super Mario Bros. (1985) - Mario Quartz Bros. directly references Super Mario Bros., using the same sprites and mechanics as this classic game.
Super Mario Bros. 3 (1988) - The Angry Sun enemy makes it first appearance since its debut in this game.
Super Mario Land (1989) - The Dust Kingdom, Sarasaland, is the setting for Super Mario Land, and there are many references to Super Mario Land including the Gao enemy, the Superballer enemy, which is a reference to the Superball Flower power-up from this game, and many of the ruins which depict sprites from this game. Additionally the music for this kingdom is a remix of the Birabuto Kingdom theme.
Super Mario 64 (1996) - Calamity Caverns contains many references to the Hazy Maze Cave from this game. Specifically, the Hazy Chasm of the Cave Kingdom is a reference to the poison gas section of the Hazy Maze Cave that must be navigated as Metal Mario in Super Mario 64. Furthermore, Dorrie and Snifits make appearances in the cave, and the music is a remix of the Hazy Maze Cave theme.
Luigi's Mansion (2001) - The Haunted Kingdom contains many references to this game, namely Gadd's minigame, 'Boohunter', which has gameplay almost identical to Luigi's Mansion. The inclusion of Gadd, King Boo and Boolossus is also a major reference to this game.
Pikmin (2001) - A Red Pikmin appears in the Rainforest Kingdom as an easter egg. When Mario interacts with it, it burrows itself into the ground and a Power Moon appears.
Super Mario Sunshine (2002) - Mario can travel to the Sunshine Kingdom in the postgame, which is a replica of Delfino Plaza and Delfino Airstrip, where Power Moons are replaced with Shine Sprites. Bowser Jr. transforms into Shadow Mario during the scene in which he kidnaps Peach and Tiara, and Mario must follow him through her castle, mirroring the chase scenes that would occur as the final mission in every level of Super Mario Sunshine. The boss fight against Blooplantis uses a remix of this game's boss music. Bowser Jr's magic paintbrush appears in the Morava Colosseum museum.
Mario Kart: Double Dash!! (2003) - King Boo retains his appearance from this game. Furthermore, the Red Fire kart appears in the museum in the Olympus Kingdom.
Mario Kart DS - After defeating Bowser, Waluigi mentions that he spends most of his days playing pinball, waiting for a time to shine, which is a direct reference to the track, Waluigi Pinball.
Mario & Luigi; Partners in Time (2005) - Pymaw's sinkhole attack is inspired by Petey Piranha's sinkhole attack from this game, where Mario must keep jumping to avoid sinking into Pymaw's mouth. Toadsworth mentions his role in this game, where he had to look after Baby Peach. Additionally, a stone formation that resembles a Shroob can be found in the Sarasaland Ruins and the Morava Colosseum museum.
Super Paper Mario (2007) - In the Morava Colosseum, there are several artefacts referencing this game. For example, a damaged mask resembling Dimentio, a stone Pure Heart and a painting of a creature that strongly resembles Tippi.
Super Mario Galaxy (2007) - Mario regains the Spin move from this game, and when he uses the Spin, the cream-coloured Luma appears from underneath Cappy. Additionally, in the Space Kingdom, Mario can access the Comet Observatory. Rosalina and Polari appear here, giving Mario a Power Moon when he arrives.
Super Smash Bros. Brawl (2007) - The Negative Zone originally appeared as Luigi's final smash in Super Smash Bros. Brawl.
Mario & Sonic at the Olympic Games (2008) - Peach's pilot outfit originates from this game.
New Super Mario Bros. Wii (2009) - The music that plays in the Canyon Kingdom is a remixed version of World 6's map music.
Super Mario Galaxy 2 (2010) - Lubba makes his first appearance since his debut in this game. Also, Mario can visit Starship Mario in the Space Kingdom, where he can speak to the Co-op Luma, a Whittle, a Star Bunny and a Jibberjay.
New Super Mario Bros. 2 (2012) - Just like in this game, Dry Bowser appears as the secret final boss in Super Mario Quartz, being a much more difficult version of the Bowser fight and having retained his ability to throw bones and breathe blue fire. A Gold Flower also appears in the Olympus Kingdom's museum.
Mario Kart 8 (2014) - Pink Gold Peach originates from this game.
Community content is available under
CC-BY-SA
unless otherwise noted.