SuperRex is a reboot of the SuperRex franchise, created by Sr.Wario, Exotoro, and Pablo, set for release in 2015. The game is an affectionate parody of the franchise and other Clover Entertainment franchises, as well as an open-world destruction based game split into various modes.
Gameplay
TBA
Modes
Campaign 1: LA Carnivore

The default mode, this mode features SuperRex as a veteran cop taking care of LA crime. It's a fairly serious mode with jabs sprinkled in, but primarily it's affectionate. The mode does not feature any gimmicks.
Campaign 2: SuperRex: Mall Cop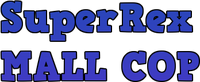 An absolutely ridiculous mode, unlocked by visiting the mall in Campaign 1. This mode features SuperRex as a mall security guard stopping a heist. Players are limited to the mall and it's surrounding areas, but has a wider range of shops and some exclusive vehicles.
Campaign 3: Genoside

SuperRex is created to stop the mad dinosaur mutant: Genoside. Faster, stronger, smarter, SuperRex has to do all he can. The main gimmick of this mode is repeated encounters with Genoside, who learns new tactics each time you fight him.
Rampage

This mode, unlocked by completing Campaign 1, allows players to roam around and cause absolute chaos. The goal is to rack up as many points as possible.
Super(Rex) Smash Bros.

A fighting mode where up to four players can pick a character and duke it out. This mode is unlocked when players score a 9999 on Rampage.
Characters
TBA
Areas
TBA
Vehicles
TBA
Bosses and Enemies
TBA
Reception
TBA
Trivia
TBA
Community content is available under
CC-BY-SA
unless otherwise noted.