This article is about the player character from Style Savvy. For information about the copy ability in the Kirby series, see Stylist (Copy Ability).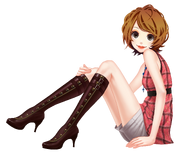 The Stylist, also known as the Savvy Stylist, is a young female character that represents the player in the Style Savvy series. The Stylist can have its appearance altered and be given a new name according to the player, so not every Stylist looks the same.
The Stylist's job in Style Savvy is to sell fashionable clothes, bags and shoes. In the beginning of the game, the Stylist works at someone else's boutique before she can run her own. In Style Savvy: Trendsetters, the Stylist actually gets the boutique handed over to her by her previous boss Michaela (Known as Evie in the European version).
A Stylist with her own boutique can also participate in a fashion contest and have a model showcasing stylish clothes on the contest halls catwalk.
Appearances
Gallery
For more artwork, check Fantendo:Resources/Style Savvy.