This article is part of the Medieverse. Surely you're not looking for the original Strafe?
Strafe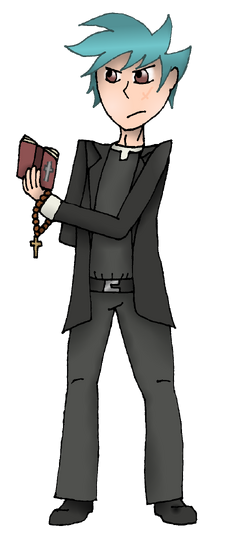 GENERAL INFO

GENDER
♂ Male
SPECIES
Human
CURRENT STATUS
Alive
AGE
22
BIRTHPLACE
Septent
PERSONAL INFO

OCCUPATION(S)
Pastor
MISCELLANEOUS INFO

SERIES
Medieverse
CANON APPEARANCES

TBA
Strafe is a character in the Medieverse who takes a major role in the story.
History
Strafe was birthed by unknown parents, but it seemed they didn't want a child and left him at the doors of the monastery. The true reason of why his parents gave him up are unknown, although Strafe thinks there is more behind it. He was taken in by Waxy, the mother superior of the monastery, and was taught the ways of the Goddess of the White, the main religion in Septent. He was brought up to be made in Waxy's vision.
Physical description
Strafe remains pretty much the same as his Fantendoverse counterpart. The most notable differences lie in his attire. He wears the clothing of a pastor and a necklace with a crucifix. His hair is similar, but a tad more neat and pulled back a little bit.
Personality
Due to his upbringing in the monastery under Waxy, she shaped him up to be the person that she expects him to be. Strafe is someone who emits authority and is a strong believer of his religion. He dislikes same-sex relationships, and is very discriminating to those who don't fall in the White Goddess criteria that Waxy taught him, and diminishes them to be creations of the Black God. He claims himself to be one of the many sons of the White Goddess that walks the Earth to protect is against heathens. That is what he made up for himself so he wouldn't be reminded that his biological parents don't want him. His personality takes a great turn when he realizes the White Goddess in his dreams is real and reveals him his true origin. He turns against Waxy and tries to bring the White Goddess' rules into the kingdom.
Abilities
While he has no true powers, he holds high authority and has a say when laws are enforced in Regno. Later he discovers that he has the ability to talk to the White Goddess and may even request for some divine intervention when needed.
Relationships
Waxy
White Goddess
Silence
Trivia