Steve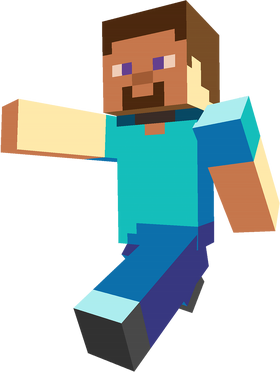 Steve from Minecraft: Pocket Edition
GENERAL INFO

GENDER
Genderless / Male

*

SPECIES
Humanoid
CURRENT STATUS
Alive
BIRTH LOCATION
Overworld
MISCELLANEOUS INFO

CANON APPEARANCES
Steve, originally parsed as Steve?, is one of the two main protagonists of Minecraft. Steve is essentially one of the default skins given to the player upon creating a Minecraft account, and is used whenever a player's skin can not be loaded/is not present. The 1.8 update of Minecraft added Alex, a female equivalent to Steve.
Physical Appearance
Steve can easily be recognized by his square face, each side being eight by eight Minecraft blocks if to scale. He has blue eyes, brown hair, a small rectangular nose, and a smiling mouth. Due to his eyes being two pixels wide, Steve appears to be cross-eyed. Prior to update "0.24 SURVIVAL TEST" of Minecraft Classic, Steve had a brown beard.
He is commonly depicted wearing a light blue T-shirt, untucked from his dark blue pants at his right hip, and grey shoes.
Game Appearances
In Minecraft: Wii U Edition, Steve appears as the playable character and replays his adventures on the Nintendo console.
In the upcoming Nintendo-PC game, PC Smash Bros., Steve will be the main character, taking a role similar to the one Mario takes in the Super Smash Bros..
Movest
Neutral Attack: Punch. Steve punches with his fist.
Side Smash: Diamond Sword Swing. Steve swings is Diamond Sword
Up Smash: Diamond Sword Stab. Steve thrusts his Diamond Sword upward.
Down Smash: Diamond Sword Spin. Steve spins around, dealing damage with his Diamond Sword.
Neutral Special: Bow Shot. Steve takes out his Bow and charges a shot.
Side Special: Axe. Steve swings his Diamond Axe to the side.
Up Special: Pickaxe. Steve swings his Diamond Pickaxe in an arch.
Down Special: Shovel. Steve uses his Diamond Shovel to pick up a Dirt Block, which can be thrown.
Home Stage
Steve's homestage is the Biome Distortion stage. On this stage, the Biome is constantly changed from a savannah to a desert to a mountain, and back.
Steve appears as a playable character in Super Smash Bros Overdrive, representing Minecraft along with Iron Golem and Enderman.
Steve is supporting character in the film Super Mario and Friends: Zennu Quest. He is a guest for Nintendo's 125th anniversary party.
Steve appears in Minecraft Party. His powerful move is the pickaxe.
Steve (stylised as Steve? in game) is a default character in Super Smash Bros. A New End. He wears diamond armour and has a diamond sword. Steve has a pallet swaps for him without armour, his various other versions, Alex and Jesse.
Gallery
Alternate Console Edition Skins
Navigation Templates
Playable Characters
Assist Characters
Obstacles
Other Characters
Alolan Grimer · Amul · Ann Takamaki · Big Urchin · Blizzy · Bravoman · Buzz-Buzz · Cutiefly · Don-chan · Dragoneel · Fierce Deity · Gil · Happy Mask Salesman · Judge · King · Kissy · K.K. Slider · Litwick · Lloyd · Mappy · Mareanie · Mii · Missile · Morgana · Perry · Pidgit · Pooka · Rabbid Luigi · Rabbid Yoshi · Red Baron · Ribbon · Rowlet · Runner · Ryuji Sakamoto · Sandy · Smasher · Rusty Slugger · Servbot · Sima Zhao · Swanna · Tarosuke · Timmy Nook · Toadsworth · Tommy Nook · Tron Bonne · Valkyrie · Wonder Momo · Ziggy
Collectibles

Trophies

Stickers

Boolossus · Boo Mario · Bowser · Captain Toad · Cat Peach · Chain Chomp · Cloud Mario · Fire Mario · F.L.U.D.D. · Koopa Clown Car · Mega Mushroom · Mario · Penguin Mario · Peach · Propeller Mario · Rock Mario · Toad · Toadette · Waluigi
Birdo · Boo Buddies · Blooper · E. Gadd · Fuzzy · Metal Form · Waluigi · Whomp

Candy Kong · Lord Fredrik

9-Volt · Fauster

Ball and Chain · Deku Leaf · Majora's Mask · Mipha

Abra · Drifloon · Spinarak

Katrina · Mr. Resetti

Adam Malkovich · Arachnus

Nightmare · Noddy · Prank

Mr. Chicken

Back Shield · Centurion · Eggplant Wizard

Disco Kid · Doc Louis · Donkey Kong · Giga Mac · Glass Joe · King Hippo · Little Mac · Von Kaiser

Blue Falcon · Captain Falcon · Pico · Rick Wheeler · Wild Goose

Louie

Pyra

Franklin Badge · Negative Man

Apollo Justice · Franziska von Karma · Miles Edgeworth · Larry Butz · Judge · Phoenix Wright

Dr. Wright · Hammer Slam Bowser
Devil · Dr. Wright · F-Type · Rusty Slugger · Zethia
Community content is available under
CC-BY-SA
unless otherwise noted.