Starfy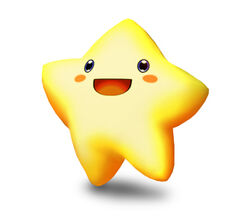 GENERAL INFO

BIRTHPLACE
Pufftop
PERSONAL INFO

RELATIONSHIPS
CLASS
Hero
WEAPONS
His Attacks
Starfy (also known as Stafy) is a legendary celestial star that has his own series, The Legendary Starfy series. Starfy is really the prince of Pufftop. He is known for his many moves and attacks when under and over water. His best friend is Moe the clam and his sister is Starly.
Abilities
Starfy was many abilities. Here is a list of them:
Air Jump
Dash
Dash & Jump
Duck & Slide
Glide
Mighty Star Spin
Shooting Star
Star Spin
Surf Jump
Swim
Turbo Swim
Ultra Star Spin
Super Smash Bros. Blue Heat
Starfy appears as a new unlockable character in Super Smash Bros. Blue Heat. Players unlock him once they either play 300 VS. matches or meet up with him in the game's Story Mode. If players play 300 VS. matches, they will have to face him in a one-on-one battle. Starfy is very quick, but at the same time, very weak. He can squirt water from his body, inflicting damage on his opponents, while pushing them back. Starfy can perform various topspin moves and even some unique aerial attacks. His Final Smash move is called "Whirlpool." Starfy goes into the background of the stage, and players then have control of a massive wave of water, which is difficult to escape.
Attacks
Normal
Neutral side- Spits out a star.
Up Tilt - Jumps up in a cometlike form. Opposite of the down tilt.
Down Tilt - Jumps up and rockets down. This may be Shooting Star.
Dash Attack - Rolls in a snowball. This is based off Snowball.
Special Moves
Mii's Special Moves
Standard Special
Star Spin
Side Special
Dash & Jump
Up Special
Baloon
Down Special
Good Night...
Final Smash
Monstar
Taunts
Up - Staggers around with swirly eyes. This may be Dizziness.
Side - Picks up a telephone, waits a bit, and puts it down. This may be based off Public Telephone.
Down - Dances for a small bit. This may be based off Dance.
Entrance
Star spins from the abyss onto the stage
Wins
Repetitively does Star Spins.
Loses
Looks down and frowns.
Star Team Heroes
He's one of the victims of the Kirthar's Snap Finger.
Gallery