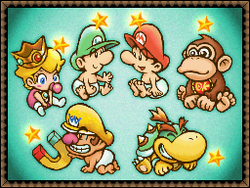 The Star Children is a term given to seven children who are destined for greatness and have a special star power entrusted into them. This concept was introduced in the 2006 DS game Yoshi's Island DS. Due to their power, Bowser attempted to time travel and kidnap them to use their power to take over the universe. They are the main characters in the Diaper Duty Series.
List Of Final Star Children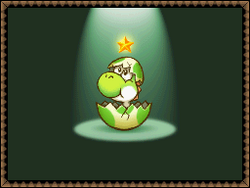 Former Star Children
Nega Star Children
During Diaper Duty 7: The Nega Star Children the star power was stolen from the star children, corrupted and turned into an evil force with seven different evil star children.
Baby Bowser - Baby Bowser was the leader of the Nega Star children and was the one that had the ability to steal the star power from the other babies.
Shadow Princess - A mystical entity that took the solid form of an evil Baby Peach who called herself the Shadow Princess, she sucked the star power from the babies.

Prince K. Rool

- He was actually a young child opposed to a baby when he became a Nega Star Child. He is seen as the strong man of the group.
Baby Wart - A baby frog from a land called Subcon he seemed to be an acquaintance of Baby Bowser and was asked to become a Nega Star Child.
Baby Cackletta - A baby beany from the Beanbean Kingdom she was a friend of Baby Bowser and served as one of the only two females on the team.
Koopa Kid - The cousin of Baby Bowser who was first seen in Diaper Duty 5. He was another Nega Star Children approached by Bowser.
Baby Waluigi - Not usually evil in fact before and after Diaper Duty 7 he was seen as an ally to the Star Children however being a Nega Star Child suited his interests at the time best so he decided to join up with Baby Bowser. However in

Yoshi's Story 3

he becomes a Star Child.
Space Children
During Diaper Duty 4: Piranha Plant Storms four babies were blasted up into space where they made a new team called the Space babies.
Possible 8th Star Child
At the end of Diaper Duty 10: Koopa Kid's Revenge the Ztar power that Kamella created for Koopa Kid was turned into another Star Child and it was shown to be possible one of five children which received the final power. It was revealed in Wrapped Up that Funky was the final Star Child.