"Stanley is a plucky exterminator who takes on Donkey Kong and an army of insects in the third installment of the original Donkey Kong series. Stanley has a tough job: he has to chase Donkey Kong away to another greenhouse with his insect repellent, then climb up the ivy to pump the main hive with the deadly spray."


— Super Smash Bros. Melee trophy description
Stanley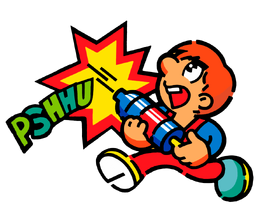 GENERAL INFO

NICKNAME(S)

The Fumigator

GENDER
♂ Male
BIRTHPLACE
Mushroom Kingdom
PERSONAL INFO

CLASS
Gardener
WEAPONS
Pesticide
Stanley the Bugman, also referred to as simply The Fumigator or Stanley, is a character from the Donkey Kong franchise. Stanley serves as the main protagonist of Donkey Kong 3 where he must defeat Donkey Kong, who has taken up residence in the rafters of his greenhouse and disturbed a nest of bugs living there. In the 1980's animated series Saturday Supercade Stanley appears solely in the episode Greenhouse Gorilla, where he is shown to take care of a carnivorous plant named Herman.
Appearances
Stanley appears in his own unique series called Bugman Land, a three dimensional platformer featuring a unique cast of characters and a completely new universe ignoring Stanley's past in the Donkey Kong series universe. Though, it does include references to the classic Donkey Kong series such as Pauline returning as a playable character. So far, there have been two releases- one on the Wii U, and the other on the Nintendo 3DS. 
Stanley appears a secret character in the game Super Smash Bros. Havoc. He also has a role in the Adventure Mode with Lucas.
Stanley also appears as a secret character in Super Smash Bros. Universe, where one must beat him in a fight before unlocking him.
While Stanley does not appear in the first season of Super Mario Revival, he makes his debut in season 2, Super Mario Ultra, along with Donkey Kong, Diddy Kong, Pauline, and a new character named Gary. He also returns for season 3, Super Mario Innocence, and season 4, Super Mario Unite!.
Gary initially has a strong dislike for bugs and makes it his duty to exterminate all insects from the Mushroom Kingdom. This is until he is walking peacefully in a forest until he notices Ferochia, a new villain, attacking a family of Wigglers and other various insects.
Stanley learns to appreciate bugs and see that they aren't so bad. This somehow strengthens him and gives him a new power. He is able to grow butterfly wings and fly, as well as summon bugs as a means of attacking and other insect-related powers.
In the series, Stanley gets along really well with Princess Daisy, because of their mutual interest in nature, both bugs and plants. Stanley is also best friends with Gary, and the two are almost always seen together.
In the ending credits for Super Mario Unite!, Stanley and Gary are shown dancing together.
Gallery
Community content is available under
CC-BY-SA
unless otherwise noted.