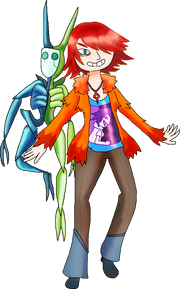 Standing Ripple is a concept in the New Fantendoverse used to refer to projections of fighting spirits created by contact with the metal Ripplite. These fighting spirits are created from the hosts' Aura and general will to fight and host incredible but bizarre abilities. These Standing Ripples name themselves, usually off musical artists, and often do not speak or act on their own, but do follow their host everywhere. They have an arguable consciousness; while they can act on their own when not in combat, they do not seem to be consciously aware of their own actions.
A dark counterpart to Standing Ripples that pull from Abyssal energy likely exist as well, although currently only are speculative.
Origin
Standing Ripples are created by contact with the mysterious Ripplite metal that is inside the comets created by Vokkskar that land on a planet's surface. These comets are exceedingly rare- the metal inside them even more so. They have not been found in any planet's surface and due to the dense structure of the comets, stay within the shell until broken open.
Currently there are five known fragments, three originate from an Earth-borne comet and the other two originate from a Nuine-borne comet, they're known to be in the possession of:
Ocean 11's leader Hammerhead, who has the largest fragment recovered, has used it for monetary gain and on every member of his mob gang.
CHELPRO as corporation has a smaller fragment that they are experimenting with.
Trent Corona has a very small fragment that he uses in the blade of a laser sword known as the Ripple Ripper.
Peregrine has a tiny fragment that he currently has on his ship
An unknown organization on Nuine possesses most of the Nuine-borne comet and appears to be aware of its abilities
Application
When reflected through a prismatic laser, Ripplite creates a powerful beam that passes through a person. This beam has the possibility of killing a person, making it incredibly risky to attempt. If successful, the person's fighting spirit manifests in the form of a Standing Ripple, a term coined after the visual effect of this laser appearing almost like a "ripple" over the subject before emerging as a standing being. While the suggested way to figure out if someone will die to the Ripplite's effects is possibly based off their willingness to fight for their convictions, it's not entirely proven.
Additionally, it is suggested that Standing Ripples are a very advanced Aura technique that can be activated through intense training. When created by Ripplite, these Standing Auras are somewhat improperly created and the user doesn't have full control of them. When created through an Aura technique, they are temporary but can be synchronized or commanded directly into battle. These Aura-created Standing Ripples are still somewhat random but can be guided to serve a specific purpose to it's user.
Behavior
Standing Ripples have varying abilities, although are usually limited to two at a time. The user of the Standing Ripple must use their abilities wisely, as not every ability is traditionally good for combat or a obvious purpose. Standing Ripples are visible to all parties, but cannot be traditionally interacted with unless through another Standing Ripple. While Standing Ripples can interact with the environment around them, they unchain themselves from being able to phase through reality otherwise and can be hurt.
A Standing Ripple is also tied to the lifeline of their user. While they do not appear visibly hurt even when their user is near death, they will die when their user does. A Standing Ripple can die independent of their user, however. Standing Ripples can also phase back into their user and then be unleashed when needed, however doing so is unwise as it requires them to be triggered again.
Standing Ripples cannot be attached onto spirits from the Spirit Universe, although they are usable by undead characters. Additionally, if one were to die with a Standing Ripple still attached to their soul, they are not granted access into the Spirit Universe- if you die with a Standing Ripple, you die forever. If a Standing Ripple dies but the user doesn't, they lose the will to fight but can slowly regain this drive and form a complete soul once more. Due to the splitting effect on the soul this has, it makes having two Standing Ripples at once impossible through normal means.
The Standing Ripple a user gets is completely random in both application and appearance. It is not based off the mental waves of the victim, but rather the latent soundwaves in the air that combine with an person's latent Aura. Even if you were to be struck with the prismatic laser multiple times on different attempts, you would gain a different Standing Aura each time. No two Standing Auras are alike.
Common Abilities
Standing Ripples tend to share some of the same base powers on top of their unique abilities. Not all Standing Ripples necessarily have these but it's worth noting.
Physical Attacks - Much like a real physical being, Standing Ripples are able to utilize fighting moves like punches, kicks, and other forms of martial arts. While they are relied much more on their unique abilities, it's not impossible to see a Standing Ripple let out a series of punches or kicks alongside their user.
Intangibility - Standing Ripples are intangible to normal attacks unless they are interacting with the environment in some way. The only way to attack a Standing Ripple not interacting with the environment is through another Standing Ripple's attacks.
Body Melding - Standing Ripples can form partially out of their user, either by sticking a limb or head or just their torso from any part of the user's body. This can be used to activate their power without attracting too much attention, as Standing Ripples can be seen by anyone.
Ripple Hold - Standing Ripples can carry items like bags and other items while inside the user, acting as a very limited storage system. The Standing Ripple can only carry what it's capable of, so hoisting a giant box atop of it might cause it to slip out of the user and drop the box as it attempts to hold it inside of the mysterious space it exists in when not in use.
Communication - Standing Ripples have a mind of their own and vary on how much they communicate with their users. Some are willing to only tell the user their name and abilities, some may be more talkative. In any case, they follow orders when given but have some element of free thinking and will.
List of Users
There are currently 40 known users.
Standing Ripple Users

Sabrine Lee

Juliani Crimsoze

Penny Loafer

Trent Corona

Skimp the Shrimp

Wayne Goldrein

Arthur Magus

Sarah Auvic

Circe Lotte

Angela Kravitz



Robert Tuvillo


Hammerhead

Turbo Crafter



Bienna


Mary Azkaban
TBA
Sarah Needlenam
TBA
Primus



Eddie Warmann




Anubi Arlon


Sabrine Lee
(Hyper Mode)

Phoebe
TBA
Kest Velaxation



Wobbegang

TBA
Britt "Hit" Cormeum
TBA
Norfleet

Turbo Crafter
(Hyper Mode)

Veniz

Gettysburger
TBA
Sarah Needlenam
(Hyper Mode)

Juliani Crimsoze
(Hyper Mode)
TBA
Tucker Elliot
TBA
???
TBA
Hal Jeskin
TBA
Type: Baal
TBA


Bleach Manhattan

TBA


Callum Jackson

TBA
Ana La Ladrón

Zhurenno

Fuega Nitro

Peregrine Liber



Penny Hope

TBA
???

Mary Azkaban
(Hyper Mode)

Captain Lee
TBA
Altair Allen
TBA
Kai Zephyr
TBA
???
TBA
???
TBA
???
TBA
Louis Murphy
TBA


Gordon Niccals

TBA


Ruby Friday

TBA


Jane Friday

TBA


Henry Briggs

TBA


Jack Trade

TBA


Anna Fitzgerald
List of Standing Ripples
There are currently 40 known Standing Ripples.
Standing Ripples

Alien Ant Farm

65daysofstatic

Gorillaz

Night Drive

Yung Bae

Lemon Demon

Rone

James Bond

BABYMETAL

The Black Queen



Black Caviar


Blackway

Xavier Bluzen



Broken Bells


Digitalism
TBA
Comfortably Numb
TBA
Dead Man's Party



Puddle of Mudd




Children of Bodom


Alien Ant Farm
(Always and Forever)
GHOST DATA
TBA
Smash Mouth
?
TBA
REO Speedwagon
TBA
Logic
Bobby Tarantino//Young Sinatra
TBA
Xavier Bluzen
(Divine Fur)

Carpenter Brut

Silver Scepter
TBA
Comfortably Numb
(Hey You)

65daysofstatic
(Decomposition Theory)
TBA
Flatbush Zombies



Synthetica

TBA
Weezer
TBA
Yeezus
TBA


Ancient Hunters

TBA


Rolling Stone

TBA
Avril Lavigne

Zutomayo

HELLYEAH

Atomic Swing & Stone Groove



Spacemonkeyz

TBA
The Pretender

65daysofstatic
(The Ism)

Papa Roach
TBA
Last Train To London
TBA
Talking Head
TBA


Strawberry Fields Forever

TBA


Space Oddity

TBA


Immigrant

TBA
Tally Hall
TBA


BROCKHAMPTON

TBA


Sex Bob-Omb

TBA


The Creator

TBA


100 gecs

TBA


Micropop

TBA


Mouth Moods
Trivia
Standing Ripples are inspired by the concept of Stands from JoJo's Bizarre Adventure. The name of the concept is even a reference to both the shorthand (Stand) and it's meaning (Ghostly Ripple).

One key difference is that if Standing Ripples interact with the environment, they can be hurt and attacked like a normal character. Additionally, they can be seen by anyone.

Standing Ripples could possibly be seen as a new extension of the music numbers that have been present in both the original Fantendoverse and the new Fantendoverse- where as music punctuated pivotal moments in past stories, now they are literally powering characters.
Coincidentally, Standing Ripples and Stands were both introduced in the third "part" of their respective series' on going narratives- Standing Ripples in Phase 3 of the New Fantendoverse and Stands in Part 3 of JoJo's Bizarre Adventure.
---