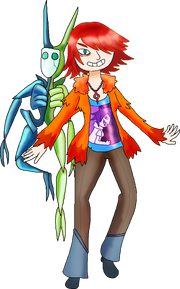 Standing Ripple
is a concept in the
New Fantendoverse
used to refer to projections of fighting spirits created by contact with the metal
Ripplite
. These fighting spirits are created from the hosts'
Aura
and general will to fight and host incredible but bizarre abilities. These Standing Ripples name themselves, usually off musical artists, and often do not speak or act on their own, but do follow their host everywhere. They have an arguable consciousness; while they can act on their own when not in combat, they do not seem to be consciously aware of their own actions.
Origin
Standing Ripples are created by contact with the mysterious Ripplite metal that is inside the comets created by Vokkskar that land on a planet's surface. These comets are exceedingly rare- the metal inside them even more so. They have not been found in any planet's surface and due to the dense structure of the comets, stay within the shell until broken open.
Currently the only three known fragments from an Earth-borne comet are known to be in the possession of:
Ocean 11's leader Hammerhead, who has the largest fragment recovered, has used it for monetary gain and on every member of his mob gang.
CHELPRO as corporation has a smaller fragment that they are experimenting with.
Trent Corona has a very small fragment that he uses in the blade of a laser sword known as the Ripple Ripper.
Application
When reflected through a prismatic laser, Ripplite creates a powerful beam that passes through a person. This beam has the possibility of killing a person, making it incredibly risky to attempt. If successful, the person's fighting spirit manifests in the form of a Standing Ripple, a term coined after the visual effect of this laser appearing almost like a "ripple" over the subject before emerging as a standing being. While the suggested way to figure out if someone will die to the Ripplite's effects is possibly based off their willingness to fight for their convictions, it's not entirely proven.
Additionally, it is suggested that Standing Ripples are a very advanced Aura technique that can be activated through intense training. When created by Ripplite, these Standing Auras are somewhat improperly created and the user doesn't have full control of them. When created through an Aura technique, they are temporary but can be synchronized or commanded directly into battle. These Aura-created Standing Ripples are still somewhat random but can be guided to serve a specific purpose to it's user.
Behavior
Standing Ripples have varying abilities, although are usually limited to two at a time. The user of the Standing Ripple must use their abilities wisely, as not every ability is traditionally good for combat or a obvious purpose. Standing Ripples are visible to all parties, but cannot be traditionally interacted with unless through another Standing Ripple. While Standing Ripples can interact with the environment around them, they unchain themselves from being able to phase through reality otherwise and can be hurt.
A Standing Ripple is also tied to the lifeline of their user. While they do not appear visibly hurt even when their user is near death, they will die when their user does. A Standing Ripple can die independent of their user, however. Standing Ripples can also phase back into their user and then be unleashed when needed, however doing so is unwise as it requires them to be triggered again.
Standing Ripples cannot be attached onto spirits from the Spirit Universe, although they are usable by undead characters. Additionally, if one were to die with a Standing Ripple still attached to their soul, they are not granted access into the Spirit Universe- if you die with a Standing Ripple, you die forever. If a Standing Ripple dies but the user doesn't, they lose the will to fight but can slowly regain this drive and form a complete soul once more. Due to the splitting effect on the soul this has, it makes having two Standing Ripples at once impossible through normal means.
The Standing Ripple a user gets is completely random in both application and appearance. It is not based off the mental waves of the victim, but rather the latent soundwaves in the air that combine with an person's latent Aura. Even if you were to be struck with the prismatic laser multiple times on different attempts, you would gain a different Standing Aura each time. No two Standing Auras are alike.
List of Users
There are currently 40 known users.
List of Standing Ripples
There are currently 40 known Standing Ripples.
Trivia
Standing Ripples are inspired by the concept of Stands from JoJo's Bizarre Adventure. The name of the concept is even a reference to both the shorthand (Stand) and it's meaning (Ghostly Ripple).

One key difference is that if Standing Ripples interact with the environment, they can be hurt and attacked like a normal character. Additionally, they can be seen by anyone.

Standing Ripples could possibly be seen as a new extension of the music numbers that have been present in both the original Fantendoverse and the new Fantendoverse- where as music punctuated pivotal moments in past stories, now they are literally powering characters.
Coincidentally, Standing Ripples and Stands were both introduced in the third "part" of their respective series' on going narratives- Standing Ripples in Phase 3 of the New Fantendoverse and Stands in Part 3 of JoJo's Bizarre Adventure.
Community content is available under
CC-BY-SA
unless otherwise noted.