Staldra
are enemies that appeared in 2011
Wii
game
The Legend of Zelda: Skyward Sword
and they have three heads and can bite as their attack. To defeat a Staldra,
Link
has to cut off all three heads at once, but whenever cutting a head a Red
Rupee
is recieved. Since Staldra's heads are in a horizontal way, Link must cut the three swords with his sword in a horizontal way.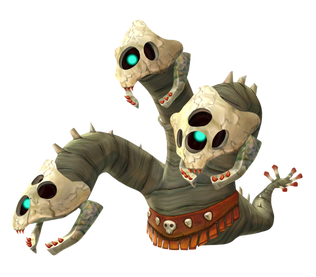 Appearance
Staldra has three heads which look like Skulls (which have red teeth on them) and they have a Blue eye. They have long necks which have spikes on them and they have a tail.
Trivia
It is possible to kill all three of the heads with one bomb, when all the three heads are looking at the rolling bomb.
Community content is available under
CC-BY-SA
unless otherwise noted.