"Are you sure? I mean...we could die doing this!"


— Stafy, Super Princess Peach Wii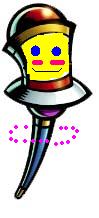 This article is about the Super Princess Peach Wii character. For the partner in Paper Princess Peach, see Staffy.
Stafy is a talking staff, and your last team member in Super Princess Peach Wii in the Super Paper Luigi game. He was apparently a party member who was cancelled and got banished here, invisible to everyone else. He is very cowardly, but he has very powerful abillities. He is found in level 5-1 at the beginning but you must get through the level for him to deem you trustworthy and join your team.
Trivia