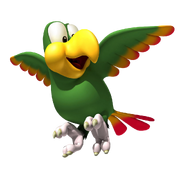 Squawks the Parrot is an Animal Buddy first appeared in the Super Nintendo title Donkey Kong Country, and is one of the most recurring Animal Buddies to appear in the Donkey Kong series since. Squawks would fly around the player and, starting from Donkey Kong Country 2, could spit eggs at enemies; which was one of the only ways to destroy Zingers.
Appearances
Squawks appeared as one of the flying Animal Buddies in the Wii racing game Donkey Kong Racing. Squawks was of average speed but was strong with weak stamina. Squawks' attack was to throw eggs at foes which would reduce the foes stamina. Squawks was one of the few flying Animal Buddies that carried you instead of letting you ride on their back.
Squawks makes an appearance as a new Assist Trophy summon in Super Smash Bros. Switch, marking his first appearance in the series as something other than a trophy or sticker. Similar to what he does to assist the Kongs in the Donkey Kong Country titles, Squawks will fly around the stage and bring any items laying around to the one that summoned him; though opponents could attack Squawks to make him drop them prematurely.
Gallery
Community content is available under
CC-BY-SA
unless otherwise noted.