Spring Man did not originate from fanon, and more information can be found on their respective wiki(s). You may read more about it on the following wiki(s):
Spring Man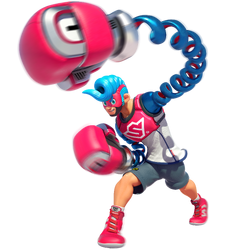 Spring Man's basic appearance
GENERAL INFO

NICKNAME(S)
GENDER
♂ Male
SEXUALITY
male
SPECIES
Human
AGE
20
HEIGHT
1.82m
WEIGHT
76kg lbs
BIRTH LOCATION
Spring Stadium
PERSONAL INFO

LIKES
WEAPONS
ARMS (Toaster, Boomerang, Tribolt)
MISCELLANEOUS INFO

SERIES
ARMS
CANON APPEARANCES
Spring Man is one of the default fighters in ARMS. He's actually the latest ARMS fighter to join the ARMS League Grand Prix, representing the Spring Gym, at which he works out. His associated stage is Spring Stadium.
Spring Man can charge up his ARMS permanently when he's in a pinch.
Appearance
Spring Man appears to be a regular human being, except the irises of his blue eyes have a spiral pattern, and his ARMS resemble metallic, sky blue and pink springs. Outside of the tournament reveals his hands are also blue, wearing pink sweatbands with his logo on it. His extraordinary cyan pompadour is coiled up to resemble a spring, making it seem fake. he also wears a pink face mask.
His outfit consists of a white shirt, gray shorts, pink boxing boots, and pink torso armor with his logo on it.
Stats
Trivia
Spring Man can eat up to 12 slices of pizza in one go.
Spring Man shares his name with a Boss character from Mega Man 7.
Some fans has stated that he and Max Brass are related in some way due to them sharing the "Permanent ARMS" ability.
Gallery
Navigation Templates
Playable Characters
Assist Characters
Obstacles
Other Characters
Alolan Grimer · Amul · Ann Takamaki · Big Urchin · Blizzy · Bravoman · Buzz-Buzz · Cutiefly · Don-chan · Dragoneel · Fierce Deity · Gil · Happy Mask Salesman · Judge · King · Kissy · K.K. Slider · Litwick · Lloyd · Mappy · Mareanie · Mii · Missile · Morgana · Perry · Pidgit · Pooka · Rabbid Luigi · Rabbid Yoshi · Red Baron · Ribbon · Rowlet · Runner · Ryuji Sakamoto · Sandy · Smasher · Rusty Slugger · Servbot · Sima Zhao · Swanna · Tarosuke · Timmy Nook · Toadsworth · Tommy Nook · Tron Bonne · Valkyrie · Wonder Momo · Ziggy
Collectibles

Trophies

Stickers

Boolossus · Boo Mario · Bowser · Captain Toad · Cat Peach · Chain Chomp · Cloud Mario · Fire Mario · F.L.U.D.D. · Koopa Clown Car · Mega Mushroom · Mario · Penguin Mario · Peach · Propeller Mario · Rock Mario · Toad · Toadette · Waluigi
Birdo · Boo Buddies · Blooper · E. Gadd · Fuzzy · Metal Form · Waluigi · Whomp

Candy Kong · Lord Fredrik

9-Volt · Fauster

Ball and Chain · Deku Leaf · Majora's Mask · Mipha

Abra · Drifloon · Spinarak

Katrina · Mr. Resetti

Adam Malkovich · Arachnus

Nightmare · Noddy · Prank

Mr. Chicken

Back Shield · Centurion · Eggplant Wizard

Disco Kid · Doc Louis · Donkey Kong · Giga Mac · Glass Joe · King Hippo · Little Mac · Von Kaiser

Blue Falcon · Captain Falcon · Pico · Rick Wheeler · Wild Goose

Louie

Pyra

Franklin Badge · Negative Man

Apollo Justice · Franziska von Karma · Miles Edgeworth · Larry Butz · Judge · Phoenix Wright

Dr. Wright · Hammer Slam Bowser
Devil · Dr. Wright · F-Type · Rusty Slugger · Zethia
Community content is available under
CC-BY-SA
unless otherwise noted.