Spree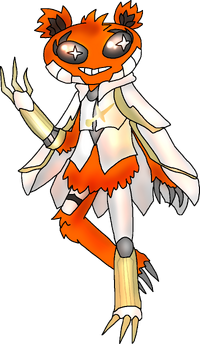 Look at this lovely lad
GENERAL INFO

NICKNAME(S)

Reten #2
Sage of Blades

GENDER
Male ("born" female)
SEXUALITY
⚥ Bisexual
SPECIES
uHive Beorn
CURRENT STATUS
Alive n Kicking
AGE
19 (biologically)
2 (chronologically)
BIRTHDAY
July 15
BIRTHPLACE
¯\_(ツ)_/¯
PERSONAL INFO

RELATIONSHIPS

Reten

- Mind Clone

Prim

- Student of

CLASS
Sage

Swordsman

WEAPONS
Rapier
Spree is a uHive Beorn who due to an error obtained all of Reten's memories.
Appearance
Tba
Personality
Due to Reten's memories Spree starts out acting similar to a younger Reten, being rather reckless and quick to anger. As he forms his own identity he mellows out and becomes much friendlier and more patient but also a bit too trusting.
Abilities
Spree's main form of combat is through the blade, specifically the rapier. He inhereted this due to Reten having swordfighting lessons as part of his Fissurite training when he was younger which Spree liked a whole lot more than he did. He is probably a better swordsman than even Reten "due to on-the-job experience".
Its worth noting that Spree lacks the Descension ability of other Beorns due to uHive being incapable of replicating it.
Sage of Blades: Spree is the 2nd Sage of Blades, being bestowed the title and powers by the original Sage

Prim

. This gives him a near-comprehensive understanding and adeptitude with melee weapons, and the ability to summon various swords, axes, chainsaws, daggers etc.

Summon Swords - Spree can summon any form of bladed weapon so long as he can lift it and has a limit of about 20-30 blades at once. He can also fling light weight blades like telekinesis and can use heavier swords to swing around him, although again, this seems to be just limited to his actual lifting strength.

Gold Resin Generation: Spree can shoot clouds of Gold Resin Powder from his hands, which can cling to metal in order to electrify it for a short amount of time. it can also be used as a regular form of dust, such as using it ala pocket sand to blind someone.
Sword Proficiency: Spree is an adept swordsman, being capable with all manner of blade.
No Descension:  As an artificial beorn Spree lacks descension, uHive being unable to replicate it.
History
TBA
Relationships
TBA
Gallery
Trivia
Spree's name comes from a pormeantu of Spunten and Reten to make "Spreten" which was then shortened to Spree.
Spree originally was able to generate a dust that would apply electrical effects to objects like his swords. This was changed to straight-up electrokinesis for simplicity's sake. This was then changed back to the gold resin idea cuz its cooler.